As an agency, we're always on the lookout for new digital marketing trends. Yes, some are overhyped, but it's our job to sort through the junk and focus on the things that will truly matter, make a difference, and propel your marketing forward. Digital marketing moves fast, and if you're not paying attention your company could find itself way behind the curve.
To kick off the new year, we asked our digital marketing team at Element Three to share their thoughts about upcoming digital marketing trends and what to expect in 2018. Let's get down to it.
Digital Marketing Predictions for 2018
1. Traditional Paid Media Will Move into the Digital Space
2018 will be the year that traditional paid media—radio and television—moves into the digital space. Connected TV and radio have become biddable through programmatic channels in large quantities.
The benefit of the high-impact formats provided by TV and radio, coupled with the data and tracking capabilities that are inherent to online advertising, create what will be a highly effective channel that will be quickly adopted.
With such large amounts of inventory available and limited adoption among both digital and traditional advertisers, there is a significant delta in the market between demand and inventory, meaning low costs and high performance for advertisers. For innovative brands, this presents a huge opportunity to take advantage of.
-Nash Haywood, Senior Paid Media Manager
2. Consumer Data Will Be a Key Driver to Re-establishing Trust with Leads
With the amount of information that can be obtained from marketing activities, there is no reason for any marketing material that is distributed to not be targeted to one or several key factors that a person cares about. Understanding these pieces of information about each lead and utilizing segmentation for drip campaigns, content production, and sales tactics will improve your marketing metrics and show your leads that you understand their connection to your products and services.
-Grady Neff, Senior Digital Marketing Manager
3. Consumers Won't Stand for Creepy
Marketers will need to spend some time thinking through how to be segmented and personal, but not creepy. In 2017, we saw several high-profile hacks that compromised personal information, including Equifax. I believe there's a general level of acceptance of how much of your information is being sold and leveraged.
However, I also believe that individuals are starting to draw a line in the sand with how much personalization is needed and how much information they're willing to part with. GDPR, ad blockers, and premium memberships indicate to me that personal privacy and how marketers get products and services in front of people will continue to be a hurdle.
-Lynsey Johnson, Digital Marketing Manager
4. User Experience Will Become a Core KPI
In 2018, digital advertisers have a greater responsibility to build strategies with the user experience weighted almost as heavily as the core KPI. Cookie-cutter, full-site retargeting campaigns are becoming white noise as consumers are becoming more digitally savvy and protective of their data. The responsibility of the digital marketer is to build a strategy that targets the right user in the right moment with a relevant offer—one that is tailored to their specific customer journey and interests. This strategy is aimed to add value to not only the business, but also to the customer.
-Katie Payne, Paid Media Manager
5. AI Will Revolutionize Everything (and That Includes Digital Marketing)
Given the plethora of data users leave behind (both knowingly and unknowingly), AI provides a new and exciting opportunity for digital marketers to capitalize on. Using artificial intelligence to drive a better user experience, more robust analytics, and focused marketing will provide marketers with immeasurable opportunities for new growth.
Up until now, many marketers have been hesitant to incorporate artificial intelligence into their marketing strategies. But given advancement of marketing applications and associated processes (IoT, big data, and machine learning, to name a few) over the past few years and the reduced uncertainty regarding ROI, AI is poised to take off in 2018.
-Andy Stuckey, Senior Digital Marketing Manager
6. Messaging Platforms Will Be Increasingly Important for Brands
The ability for users to personally message companies through the variety of platforms (company website, Facebook page, company app, etc.) their brand exists on is going to continue to become a key component of digital marketing. Brands will continue hearing about the impact chatbots are having on other companies and will continue to approach agencies and marketers with plans on implementation.
That being said, there are two major focal points that digital marketers will want to focus on. The first will be figuring out which chatbots and messaging platforms make sense for the brand—how the technology will be used and what problems it can solve. The second part will be focused on advertising within the platforms—Facebook messenger ads or promoting personalized sales via chatbot—and monetizing it.
-Tim Morse, Digital Marketing Manager
7. Video Will Become One with Interactive Content
I'm not going to be so dramatic as to say that video is going to die. It's not. It never will (especially product videos or learning-based videos...like makeup tutorials. So. Many. Makeup. Tutorials). But what will change is how marketers, brands, and even consumers think about video.
"Optimizing" a video for Facebook by chopping it to 30 seconds long will no longer cut it. There's too much clutter. Too much competition. Too much scrolling. Plus, brands are certainly getting tired of investing lots of money in video and simply getting "impressions" without any real engagement results.
So in 2018, I'm predicting that we'll see video used in more creative, interactive ways. Video won't be the end-all-be-all, but rather an element to a greater idea. Example? HQ Trivia, the app that spread like wildfire over the holidays. Part gameshow, part video, entirely fun, weird, and engaging.
-Mollie Kuramoto, Content Marketing Specialist
What's Not Changing in 2018
Now that we've covered the things that you should be preparing for, it's time to talk about digital marketing "trends" that are here to stay—the things that have been happening for a while and will continue to be major players in the new year.
8. Content Will Be Critical to Data Collection
Content continued to explode in 2017, surprising no one. As consumers become more protective of their data, digital marketers will have to work harder to win over audiences—and content is the best way to do this. In 2018, brands will need to continue to invest in content to truly earn consumers' trust (and their information).
Educating a consumer about your industry is your first foot in the door. Having a trove of content that expands multiple levels of the consumer funnel is key to gaining and retaining customers. I know we're tired of hearing about content…but it's here to stay.
-Katie Payne, Paid Media Manager
9. Martech Continues to Grow and Grow and Grow
Marketing technology shows no signs of slowing down—in fact, according to Martech Today the marketing technology landscape grew by 43% last year, from around 3,500 technology companies to nearly 5,000 that serve marketers with software and applications that help manage data, content, advertising, sales, and more. What's changing about this trend? I'd bet nothing, as more and more companies enter the game, with more of what Scott Brinker calls "citizen developers, integrators and analysts" getting into the game due to the ease of use of many of these platforms.
-Dustin Clark, Digital Marketing Director
10. The Struggle to Crack the Martech Code
Too many marketers are behind in adopting the use of these technologies, or in mandating that someone, anyone for the love of God, be in charge of integrating, monitoring, and utilizing them. Organizations continue to pour money into technology to learn things, without the same dogged determination to combine the things they learn. Some of these technologies, particularly the data integrators, make it much simpler to combine complex applications and softwares to come very close to achieving every marketer's holy grail: true closed-loop reporting, with allocation of every dollar spent to every marketing activity, and every customer "prospect-to-closed-won" opportunity.
What will make the difference in the future between the haves and the have-nots? The haves will be the ones who dedicated time, energy, and budget to cracking the code of martech—and the have nots will be the broken marketing departments on the outside looking in.
-Dustin Clark, Digital Marketing Director
11. Digital Marketing Foundations Will Hold Steady
Regardless of all the shiny new things for marketers to get excited about in 2018, the fundamentals are what matter most. So many marketers today jump from one buzzword or acronym to another—AI, CRO, IoT, etc.—in hopes of finding the silver bullet that will solve all their woes and make them a digital marketing superstar.
But the funny (sad funny, not "haha" funny) thing is, most of these marketers neglect even the most basic tenets of digital optimization. Their pages are broken, their content is poor, and their strategy is a jumble of shiny things from years past.
What good is a house without a foundation? The same goes for a website. Without a firm grasp of digital marketing basics, there's no reason to jump to advanced strategies that will only serve to waste time and effort and distract from the strategy (or strategies) that you've previously abandoned. You have to learn to walk before you can run, and the same goes for digital marketing.
-Andy Stuckey, Senior Digital Marketing Manager
12. Mobile Experiences Matter. A Lot.
As long as Apple, Samsung, and even Google continue to release more advanced phones with increasingly limitless capabilities, people will continue to search for solutions to their problems on their phone more than on desktop. Providing a delightful brand experience in the palm of a person in need of your product or service will remain a critical part of having a successful marketing strategy in 2018.
-James Crowley, Digital Marketing Associate
Wrapping It All Up
2018 will be an exciting year for marketers. And while it seems like digital marketers need to master all the technologies of the future (partially true), they also need to keep age-old, foundational marketing principles front of mind. After all, what good is a chatbot if you're talking to all the wrong people?
If you're looking for more marketing insights, head on over to our resources page where you'll find things like webinars, ebooks, and courses to keep your digital brain sharp.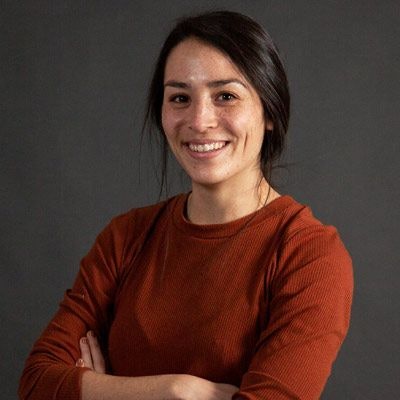 From competing with her brothers while growing up to captaining Purdue's soccer team, Mollie seeks out challenges wherever they may lie. That's why she's perfectly suited for her role as Brand Marketing Manager at High Alpha—building a brand from scratch is a challenge, and supercharging an existing brand isn't exactly a piece of cake. Mollie knocks it out of the park every time. When she's not hard at work, Mollie's usually playing or coaching soccer, traveling, or drawing, and she hopes to become a part-time cheesemonger someday because "the title is funny."
Feed your marketing mind and keep your skills sharp by opting into our weekly newsletter, packed with lessons we've learned firsthand. You won't regret it.