According to SHRM, 69% of employees are more likely to stay at a company for three or more years if they had a positive onboarding experience. The problem isn't that we don't believe quality onboarding is important, it's that we fail to recognize that it isn't a "set it and forget it" type of thing—it should be ever-evolving.
About three years ago, we decided to give our onboarding process a nice, big overhaul. We created a slick box that gave the new employee a "mission" with different tasks to complete over the course of their first four weeks of employment. And while it was pretty darn cool (it even won an award), we knew it would require ongoing updates in order to serve its number one purpose—to retain employees for years to come.
Times Are a-Changin': Why the Onboarding Process Needs to Evolve
When was the last time you updated your onboarding process? Was it six months ago? One year ago? Five years ago?
We get it—time flies. And while it might feel like it was just yesterday when you created your awesome new onboarding process, before you know it, a year has passed and it is time to review, refine, and update again. Here are a few reasons why it might be time to update your onboarding experience:
1. Your brand, product, or service has evolved.
The key to great onboarding is clarity. When you have a new employee join your ranks, you need to make it easy for them to understand all they can about what you do, how you do it, and how they fit into the big picture. And if the heart of what you do as a business shifts, you might need to double-check your onboarding communication to ensure everything is aligned and that you're communicating all information accurately. Onboarding should make things more clear, not more confusing—so make sure what you say is what you actually do.
2. Your organization's culture has shifted.
Social integration and knowledge of culture are two more vital elements to great onboarding. And while your defined core values really shouldn't change much, if you have gone through a cultural shift you'll likely have to update your onboarding materials.
Be warned: not all cultural changes are apparent without reading the fine print. For example, if you decide to include some office inside jokes with the intention of making the new hire feel welcome, you might have to go through and actually put yourself through the process. Do the jokes still make sense? If you tell them most people eat their lunch in the cafeteria, make sure it's still true. While your core values may not have changed, behaviors and cultural norms of the office may have.
3. Your employer branding just got updated.
Lastly, you should update your onboarding experience if your employer branding has changed. It's safe to assume that like your brand, your employer branding has evolved over time. And while you might not formally update your employer branding through brand guidelines, you can still look at the way you're communicating to new hires and determine whether or not it feels like your organization.
A Real Life Example of Onboarding Evolution
Every company is different. Which means onboarding will be different for us than it will be for you. But rather than trying to give you a blanketed approach to updating your process, we hope that sharing our own story will get the wheels turning for you.
E3 Onboarding Circa 2016
As a full-service marketing agency, we've gone through some tremendous growth in the past several years. Which means we needed to figure out a better way to get our new hires up to speed quickly and effectively. So in 2016, we created a cool box filled with custom swag that welcomed new hires to embrace their new mission—a career at E3.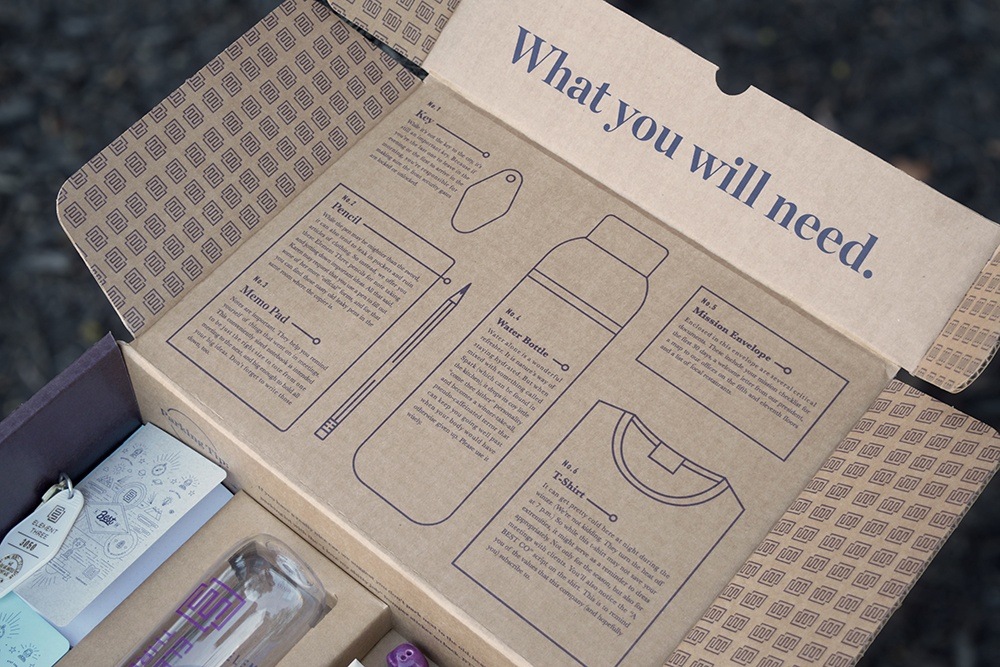 Inside our original onboarding box. New hires were encouraged to complete their "mission."
The box was filled with goodies and Element Three humor. And it was really successful. From a brand perspective, it represented the creative swagger part of the business while onboarding new hires to the culture of the company.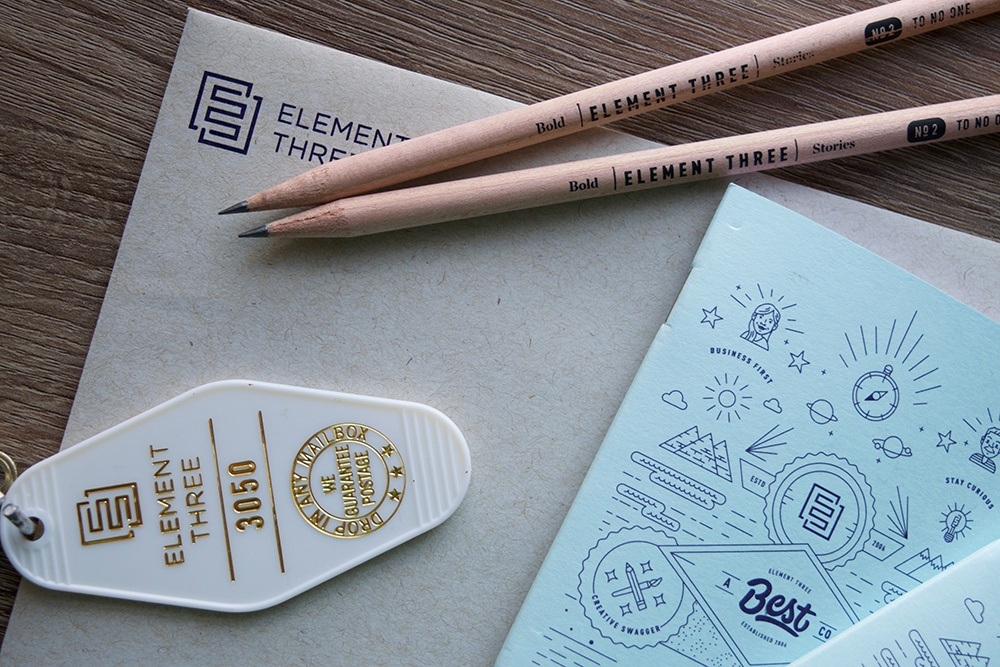 A closer look at the swag inside the onboarding boxes.
We loved the box. But over time, it needed a little love—everything from the housekeeping that comes with company updates to a look that better aligned with our employer branding. It didn't need to be completely reworked—just revised (something we'd recommend you do too).
What's New: Boxes, Handbooks, and Technology
When evolving our onboarding process, we didn't look to reinvent the wheel. You don't have to, either. We just wanted to make sure that the experience still felt like us, the information was clear and accurate, we addressed the culture transparently, and we made the whole thing more efficient through technology by investing in a comprehensive software to seamlessly pull it all together and to make the process simple.
While we were at it, we went ahead and updated the styling to better align with our current employer branding. While it may sound obvious, a refreshed look and tone can do wonders and even help immerse your new hire in your organization's brand. We liked the box design from the old kit, so we simply updated the exterior and some of the messaging within the box.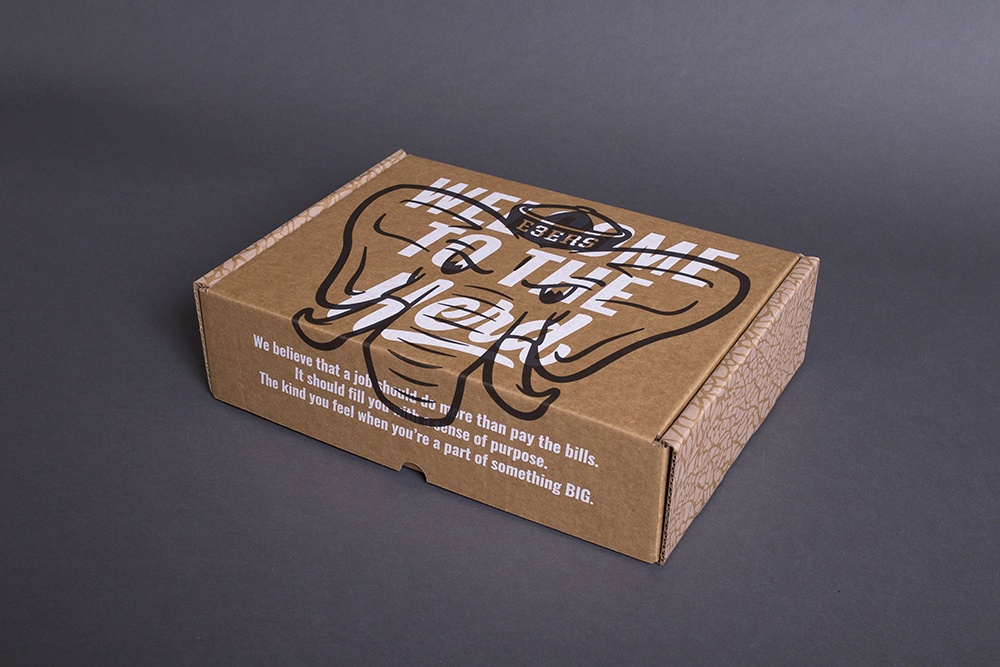 "Welcome to the Herd"—Outside the new onboarding boxes.
The swag we included in the old boxes was also out of date, so we made sure to fill the new box with current, up-to-date swag.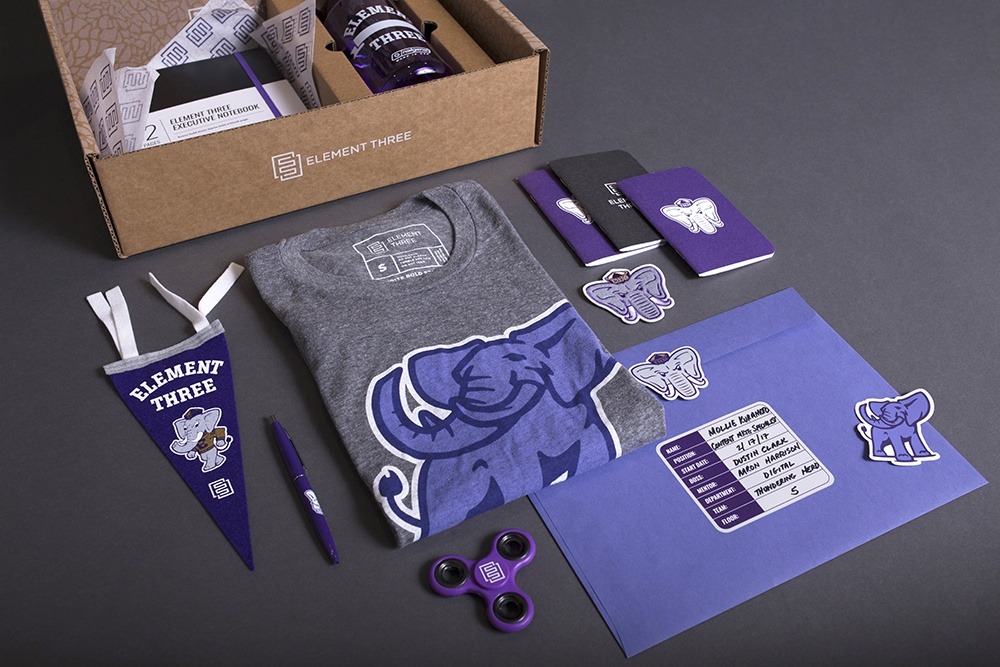 Inside the onboarding boxes.
So now the box looked more like the "current" us. Great! But we also needed to update the information contained inside the box in a way that would showcase our culture. When we looked at all the assets we had, we settled on one area that was very boring and definitely needed attention—our employee handbook.
Every new E3er has to read the handbook, so we figured we'd make it worth reading—filling it with more "Inside the Real E3"-type content.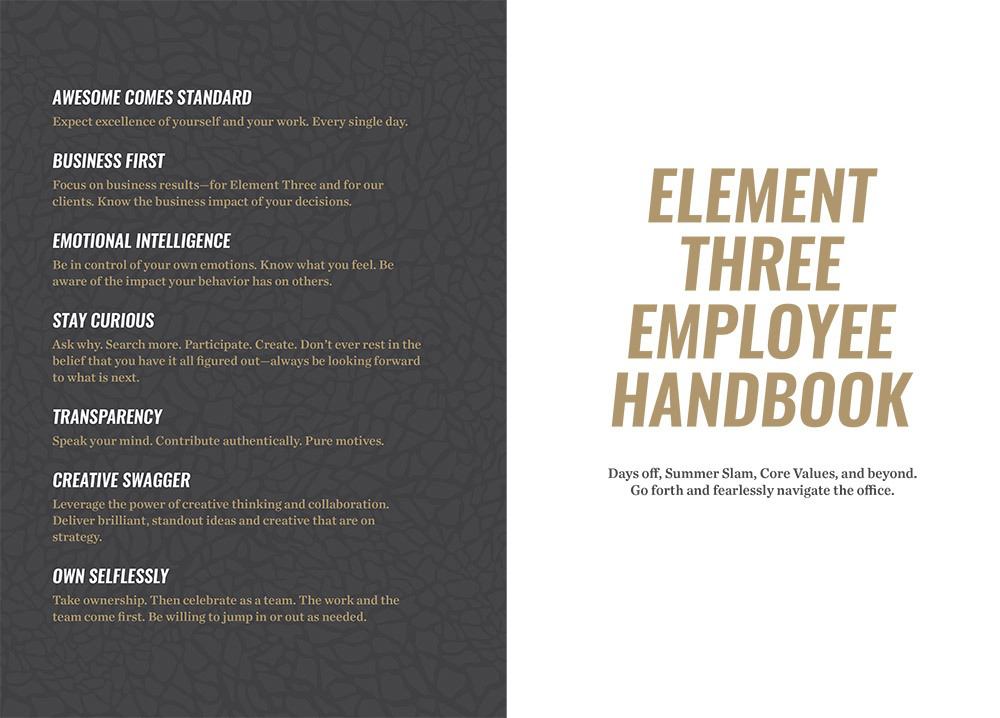 A peek inside our employee handbook.
The last part we wanted to improve was the part everyone hated—paperwork. As professionals in the talent space, we didn't like it. New hires sure as hell didn't like it. Plus, we were looking for a solution to streamline everything from PTO requests to personal development goals.
In the past, on their first day of work new hires had to fill out a ton of paperwork. The problem? Everything was paper-based and disconnected, and sometimes people didn't know or have access to the information they needed to complete paperwork accurately. Employee documents, company information, and all other HR essentials were dispersed in a myriad of locations.
So, we invested in a software hub—we use BambooHR—to ease the pain of paperwork where we house all the data, making what has typically been the most time-consuming and least enjoyable part of onboarding a whole lot easier on everyone involved.
Now, What Does Yours Look Like?
Great onboarding leads to great things—increased retention, a reduction in ramp-up time, and increased employee engagement. But it's not easy to get it right the first time around. Case in point: our onboarding process has gone through multiple iterations, revisions, and "rebrands." But if you invest the time and energy to refine your process, you'll be one step closer to creating an experience that will benefit your organization for years to come.