Happy New Year! It's officially 2017 and it's a brave new SEO world.
User expectations, not to mention Google's algorithm updates like yesterday's interstitial update, will continue to keep marketers busy, regardless of industry.
Resting on your laurels will get you nowhere these days and may even be extremely detrimental as we venture into the latest SEO frontier. With that in mind, we thought it would be a good idea to take a look at some of the biggest developments shaping up in 2017, how they'll affect marketers, and what we all can do to stay ahead of the curve.
Mobile-First or Customer-First?
As the wise philosopher Ricky Bobby once said, "If you ain't first, you're last." Given Google's aggressive pivot towards mobile, it would follow that the same would apply to those sites that choose to focus on their desktop visitors at the expense of mobile users in 2017.
Assuming this isn't your first day as a digital marketer, this should come as no surprise to you. Google has been pushing websites to focus on mobile-friendliness for quite some time now; as soon as they realized more searches were being conducted on mobile devices than desktop computers, it was the only course of action for a company that relies so heavily on advertising revenue.
So what does this mean for marketers?
In 2017, mobile should be the primary focus of all digital marketers. Plain and simple.
If your site is not properly optimized for mobile in 2017, you will most likely see a decline in overall search visibility, which will ultimately affect your traffic and conversions.
But even if your site is responsive, it's still imperative that you evaluate from a technical perspective as well. Aesthetics are not enough – it's critical to understand how your site performs on mobile, as that affects engagement (and subsequent rankings) just as much as content.
So what should you do?
Confirm your mobile site delivers a cohesive experience – this means satisfying users that land on your pages with engaging content that addresses their intentions in a seamless manner, all while ensuring full availability and accessibility across a variety of mobile devices.
Tailored Fit
Your content should be tailored to user needs and engagement. This means understanding the difference between what your desktop users are looking for and what your mobile visitors are searching. Can you answer the following questions about your visitors?
What percentage of your traffic is coming from mobile?

What devices are they using?

Where are those mobile users disproportionately interacting with on your site?

What content are they interested in?

Do they prefer visuals or text?
As with any marketing endeavor, the better you understand your audience, the easier it is to deliver an experience and content they find valuable. Tailor your mobile experience to fit your users, rather than forcing your desktop experience to fit mobile. Nobody likes hand-me-downs.
Let's Get Technical
As important as content is, site performance is just as important to ruling the mobile results. What good is a tailored mobile experience if it doesn't work properly? Here's what you need to focus on:
Page speed – Minify code, leverage caching, and keep redirects to a minimum.

Don't block CSS/JS/images – These assist the Googlebots trying to understand your site.

Don't use Flash – Use HTML5 instead.

Don't use pop-ups – Intrusive interstitials earn mobile penalties. Enough said
This Time, It's Personal (and Localized)
In line with their push for "mobile-first," Google's focus on local search algorithm updates in 2016 confirms the significance local and personalized search will have in 2017.
With mobile search continuing to build momentum, local/personalized search naturally follows. Consumers expect better results for everything, no matter the query. They're not only looking for where, but who, when, what, and why – "I want pizza," "What's the weather forecast?" or even "Need a plumber in San Francisco." Long story short, Google is taking local seriously – they want trustworthy local data and they really want reviews.
So what does this mean for marketers?
It means that Google is becoming increasingly confident in the data it's collecting, especially when it comes to local businesses. Information such as ratings and reviews, popular times, price range, and many other details are all available directly in SERPs.
That said, while their own crawl data is valuable, every new data point Google showcases is a chance to serve up incorrect information, which is a potentially risky move. This is why they're supplementing that crawl data with Local Guides, "a global community of explorers sharing their discoveries on Google Maps," as Google puts it. This means they have an army of users verifying current information and adding information each and every day – crowdsourcing at its finest.
So what should you do?
You need to ensure your local listing information and any reviews are available in one place and formatted in such a way that Google's crawlers can easily understand them.
Check your business listings
I know this is day one stuff, but it bears repeating – make sure your business listings are accurate. All the information you enter into Google My Business isn't worth squat if Google still doesn't trust it. And Google doesn't trust what it can't verify. So make sure your business listing information is complete and accurate anywhere it's listed. The last thing you want is conflicting business information between various sources.
Mark up or shut up
Google loves Schema. And you should too. Google's own Schema page explicitly states that it can be used "to give your content more prominence in search results and to surface it in new experiences like voice answers, maps, and confirmation cards." Seeing as they've provided marketers with every tool they need to implement (and thereby make Google's job easier), including the Structured Data Testing Tool and the Structured Data Markup Helper (the latter allows marketers to highlight their addresses, contact information, reviews, etc. and provides the HTML for use on your site), you have everything you need to start using Schema right meow.
Review your reviews
According to a study by BrightLocal, 80% of people trust online reviews as much as a personal recommendation and over 50% will visit a website after reading positive reviews. That's why Google wants those reviews in their own SERPs. And that's why it's imperative that marketers utilize markup (see above) for the reviews shared on their own sites using Structured Data Markup Helper, and at the same time, develop a process for following up on customer reviews, both positive and negative.
Rise of the Machine (Learning)
If you've read any articles about SEO in the past year, you're probably aware of the ever-increasing use of machine learning by search engines. According to Sundar Pichai, 2017 will be no different –
"Machine learning is a core, transformative way by which we're rethinking how we're doing everything. We are thoughtfully applying it across all our products, be it search, ads, YouTube, or Play. And we're in early days, but you will see us — in a systematic way — apply machine learning in all these areas.
RankBrain was introduced in October 2015 in an effort to better understand natural language; taken at face-value, this means the algorithm will change faster and can adjust specifically to scenarios, queries, individuals, devices, etc.
But its potential to disrupt the search industry is much larger than any of us can imagine. This due to the fact that no one – not you, not me, and none of the "SEO gurus" that profess to know exactly what will get you to the "top of search results fast!" – will know why content ranks where it does; even the engineers who built the system will not be able to reverse-engineer the formula and adjustments used. Sort of sound like the premise for The Terminator, right?
Google's number one goal is better user experience; it always has been. In 2017, that means accelerated development regarding the pairing of user's search intent with the best possible search results.
So what does this mean for marketers?
I'll go ahead and be a broken record here, because it's important – it means we need to do a better job of matching content with user intent, which means we'll be going head-to-head with those trying to match that same user intent and the SERPs will be more dynamic than ever before. Buckle up, it's about to get bumpy.
So what should you do?
The reason so many companies (not just Google) are interested in machine learning is because it helps search engines to better understand intent and deliver pages that best match that intent.
Machine learning further solidifies Google's past guidance, which is "write content for the users." And as it continues to understand and identify user intent, we as marketers need to rethink the way we approach keyword research and how we incorporate this research into our content.
Learn the Language
Rather than utilizing keyword research to ensure we've used keywords the right amount of times in the right places, we need to utilize this keyword research to understand our customers' intent when searching for solutions. Use keyword research to learn how to address the audience, not Google. It really is as simple as that.
The Customer is Always Right
If you've made it this far, you're probably tired of hearing me say "focus on your customer," but it's the only way to ensure your site and your content are not adversely affected by algorithm updates in the future.
Rest assured, Google follows user trends, not the other way around. If you provide your users with a superior user experience that leads them to the product/service/information they are looking for, Google will serve it up. Where are your customers coming from? What content are they engaging with? Where are they falling off?
In 2017, don't chase the algorithm, chase your customers.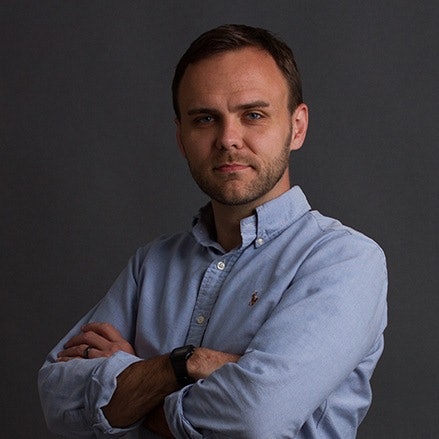 Andy has overseen digital marketing strategy, online functionality implementation and data analytics for some of the nation's largest brands, including Sears, Rackspace and Intuit, among others. Today, Andy serves as the Global SEO and Analytics Manager at Genesys, a leader in omnichannel customer experience and contact center solutions.
Feed your marketing mind and keep your skills sharp by opting into our weekly newsletter, packed with lessons we've learned firsthand. You won't regret it.
Subscribe.
Fill out the form to receive weekly insights, straight to your inbox.