If you've been keeping up with your marketing legislative news lately, you're likely to have seen some buzz surrounding the Canadian Anti-Spam Legislation (CASL). Essentially, CASL limits how businesses send commercial electronic messages (think: email, social media, texts, etc.) to prospects in Canada. If your marketing strategy depends on Canadians, this law will likely impact how you're designing forms and executing on email nurture campaigns.
If you're feeling overwhelmed, join the club. As the strictest anti-spam law ever, there are a lot of questions surrounding CASL. But after quite a bit of research, we're hoping to answer some of those questions.
Let us be clear. This blog and white paper are not substitutes for sound, professional, legal advice. We've read the law and have a pretty good handle on its implications (read: hefty fines for non-compliant businesses), and we're just hoping to give you more information and help you understand what all those pesky acronyms stand for.
The Nuts and Bolts
CASL is a new anti-spam law that will crack down on companies sending commercial electronic messages (CEMs) to Canadian individuals. This includes things like texts and emails. Under CASL, businesses must receive explicit consent from individuals to send messages. (If you think this sounds a lot like an opt-in best practice—you're not exactly wrong.) No proof of consent? Be prepared to fork over up to $10 million dollars if you're a US business.
To make things a little trickier, how businesses gain consent will also be regulated—say goodbye to pre-checked opt-in checkboxes. For the sake of your sanity, we're not going to go into all the fine details in this blog post (that's what our Canadian Anti-Spam Legislation white paper is for). But to sum it up, Canada wants you to be clear about who you are and what you're sending them. No tricks allowed.

When to Be Compliant?
CASL was originally rolled out in 2014, but gave businesses three years to transition their online materials to be compliant for a July 1, 2017 enforcement date. As of June 8, this part of the legislation was suspended indefinitely.
Don't take this as a free pass—the European Union is rolling out the General Data Protection Regulation (GDPR), which is similar legislation to be enforced in 2018.
What to Do
Get explicit consent from the Canadian portion of your database.
This means you need to very clear about what you will be sending to their inbox: marketing materials, sale information, special offers, etc.
Make sure future opt-ins are clear about what they're signing up for.
This means you need to include language on your forms letting users opt in to receiving future notifications or emails. This can be as simple as including an unchecked box at the bottom of your form with clear language.
Get a timestamp on current customers for implied consent.
If you've got an existing relationship with an individual (e.g., they've bought something from you, they've reached out to you, etc.), good news! You're free to contact them via a CEM—but only for two years. After that two years is up, you'll need to—you guessed it—get explicit consent to continue marketing to them.
The Bottom Line
No one likes spam, but the Canadians (and soon, the European Union) are taking what we know to be best practice and putting some stringent guardrails around it. The best thing you can do is read up on how this might impact your business.
That being said, this blog post just scrapes the surface. For everything you need to know, download our free white paper, which includes everything from sample text to real life examples of compliant lead gen forms and emails.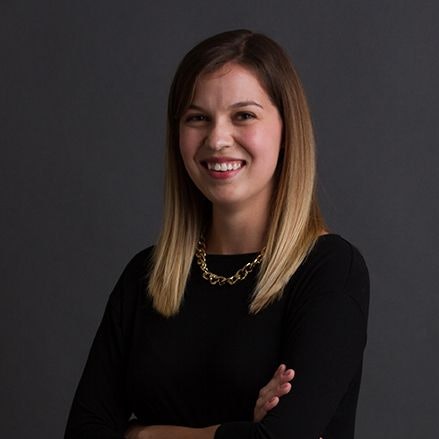 Lynsey Johnson is "mostly a Hoosier," but she's a digital marketer through and through. Marketing leverages her love of reading and writing, but her skills in math – honed in school and her past work as a financial analyst – help her find the best ways to maximize our clients' digital spend. And she's also an expert gardener, as it turns out!
Feed your marketing mind and keep your skills sharp by opting into our weekly newsletter, packed with lessons we've learned firsthand. You won't regret it.