When your internal marketing team, or marketing partner, is developing new materials — be it ad assets, emails, website content, or presentations — image sourcing, video product, and illustration can be arduous tasks. You may perceive the best, or at least easiest, approach to be sourcing stock assets from any number of available websites. However, research shows that consumers, particularly gen Z, are quick to differentiate an authentic, transparent brand amongst a sea of 'fake news' and phony hype. 
As attention spans continue to decline, the pressure is on to make an impact through a potential customer's first glance. The Behavior and Information Technology Research Journal finds that the first impression of a website is made within a measly 50 milliseconds. This statistic is even more daunting considering if your website serves as the first touchpoint between seller and potential buyer. Your digital and print are both primary components of your business that serve a major role in stimulating revenue. Think about your current marketing – how does your business show up online and in print? Do you want your brand to speak as being ordinary, stiff, dull, and transactional? Stock photography and generic designs may be the inexpensive and faster route, but if your focus lies on reinforcing your brand, growing credibility, and increasing sales, original creative assets are far worth the investment. Let's dive into the key benefits that uniquely crafted visuals can bring to your marketing effort by:
Humanizing your brand

Telling your story — your way

Building up brand recognition
Building Trust & Connection
The visual components of your brand are a key way for consumers to understand your business and connect on an emotional level. They humanize the numbers, data, and business that occurs behind the scenes of the organization. Consider the following: You're browsing a potential company's website. You click through multiple tabs of information and absorb their words and images of the brand. On the About Us page, you start scrolling and see a generic looking "company culture" image that has three employees, all wearing fake smiles, looking at the camera in blue dress shirts and suit jackets, sitting in a gray room at a round table. An eerie feeling begins to creep in — this seems a little too perfect. Curiosity for the company fades, eyes begin to glaze over, and the emotional connection disappears. Their online presence looks like everyone else's. The few moments you took to scan the site don't exhibit clear visuals of what they do, who you'd be working with, or what they stand for. The company doesn't prioritize showcasing its own credibility — will they put much more effort into your own business? 
Displaying your real team, workspace, and authentic representation of what you do matters to your audience — it presents them with the vision of what they can expect in making a purchase from you and the relationship of working together. An eye tracking study conducted by Nielsen Norman Group revealed that when viewers are presented with a company's team page filled with biographies and actual individual portraits, they spent 10% more time viewing the portrait photos, even though the biographies took up 316% more page space. The power of an authentic visual presents a make-or-break moment for a potential customer, and an easy opportunity to establish trust in your team.
Best Fit Storytelling 
Visual assets are a main player in the role of storytelling. The power lies in your hands to control the audience's perception through your brand's creative visuals. Do you want to impress? Educate? What kind of emotion do you want to evoke? Visuals should create this emotion and uniquely represent your product, service, team, or workplace. Assman Corporation is an excellent example of strategically crafting perception through visuals. The company sells polyethylene chemical storage tanks and recently underwent a brand refresh, including the creation of a library filled with original imagery and videos. Their website, brochures, and brand identity are now brimming with unique visuals that can be described as feeling "of-the-moment yet down-to-earth. Grit and humility come through on purpose". Displayed online are moments of Assmann employees in the workshop, manufacturing and crafting custom fit products in real time. This case study specifically shows how visuals deliberately align a business's integrity with customer's values. The bottom line is simple — original creative assets provide power to tell your story – your way.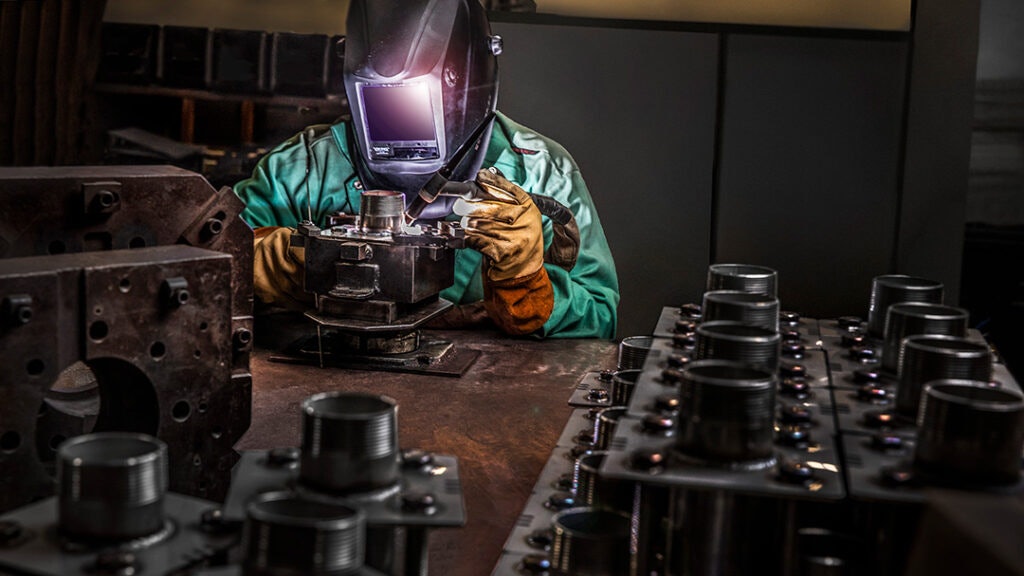 Brand Consistency & Credibility 
A strong brand shows up time and time again with recognizable messaging, a clear visual presence, and consistent customer experience. These consistent visuals plant the seed for easy brand recognition, quality of product or service, and the expertise your business brings to the table. Using inauthentic visuals lends to a watered down brand image — doing a disjustice to the time and effort your team invests in your prospects and customers. Having these resources in your back pocket, ready-to-go, decreases the chance your company blends into the background of an already crowded marketplace. Investing in real-time photos of your employees, videos of your processes, and illustrations unique to your company's 'why' uphold your brand's integrity.  
Whether it be a photo, video, illustration, or animation – one visual has the power to sway your target audience towards a sale or away from it. Your audience is made up of humans. Your employees are human — showcasing the human side of your work is more likely to result in an emotional connection with your brand. Investing in original visual assets isn't cheap, but great creative is a guaranteed way to level up your marketing— and the good news? You already have the basis of what you need; a solid team, a product worth selling, and core company values.