Assmann Corporation of America Places Quality First—And Forever.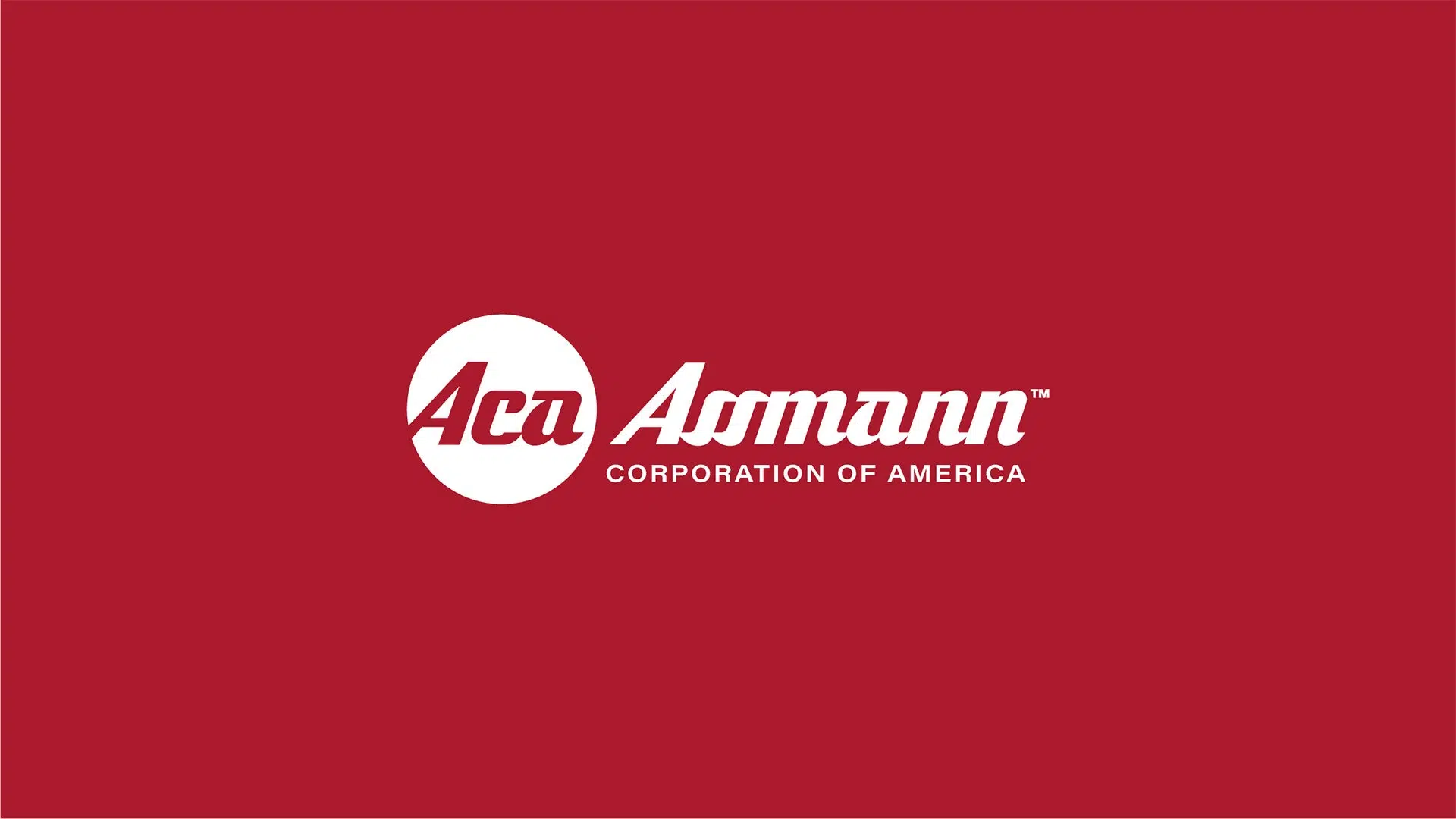 The Assmann name is Austrian (pronounced azz-man), but the company is fully rooted here in the U.S. From the very beginning of our discovery together, we found that Assmann's quality standards and production process for their polyethylene storage tanks are second to none — not unlike our client Airstream. There's the easy way to make a product and then there's the right way. It's the ones who stay committed to the right way — even when it takes longer or does less for their bottom line — that have a really special story to tell. 
Like many of our clients, Assmann was at a tipping point. They were ready to take their company and their brand to the next level, take on their top competitors, and speak up. That's our sweet spot. Since our partnership started in 2020, we've overhauled the brand, the marketing strategy, and Assmann's website. We're hard at work getting the Assmann name out there and their story told in the right ways, to the right people, at the right time.
WHAT WE DID
COMPETITIVE RESEARCH
TARGET AUDIENCE RESEARCH
BRAND MESSAGING + POSITIONING OVERHAUL
VISUAL BRAND + LOGO REFRESH
WEBSITE DESIGN + DEVELOPMENT
AWARENESS MARKETING
Assmann is a storied organization that needed Element Three's help to move the brand from the 1980s to the 21st Century
Steve Rowlison
President, Assmann Corporation
What's unique about polyethylene chemical storage tanks? More than you think.
Right from the first discovery interviews with the Assmann team and their customers, it was clear that Assmann had the kind of values their audience was truly looking for. While their competitors have turned to methods that quickly produce more tanks for less, Assmann remains focused on the tried-and-true process of low-and-slow rotational molding.
Why? Because it produces a more uniformly strong tank without the weak points that quick heating and cooling introduce. Assmann's tanks are used for everything from wastewater to toxic chemicals; tank integrity is a BIG deal. We discovered what customers have quietly known for years: that Assmann's tanks are the most reliable tanks on the market.
Now that's something we can market.
If clothes are how we express our personality. Assmann got a whole new wardrobe.
One by one, we strategically tackled updating Assmann's brand assets so they could feel as proud of how they show up in the marketplace today as they are of the way they work. The first step was a logo evolution.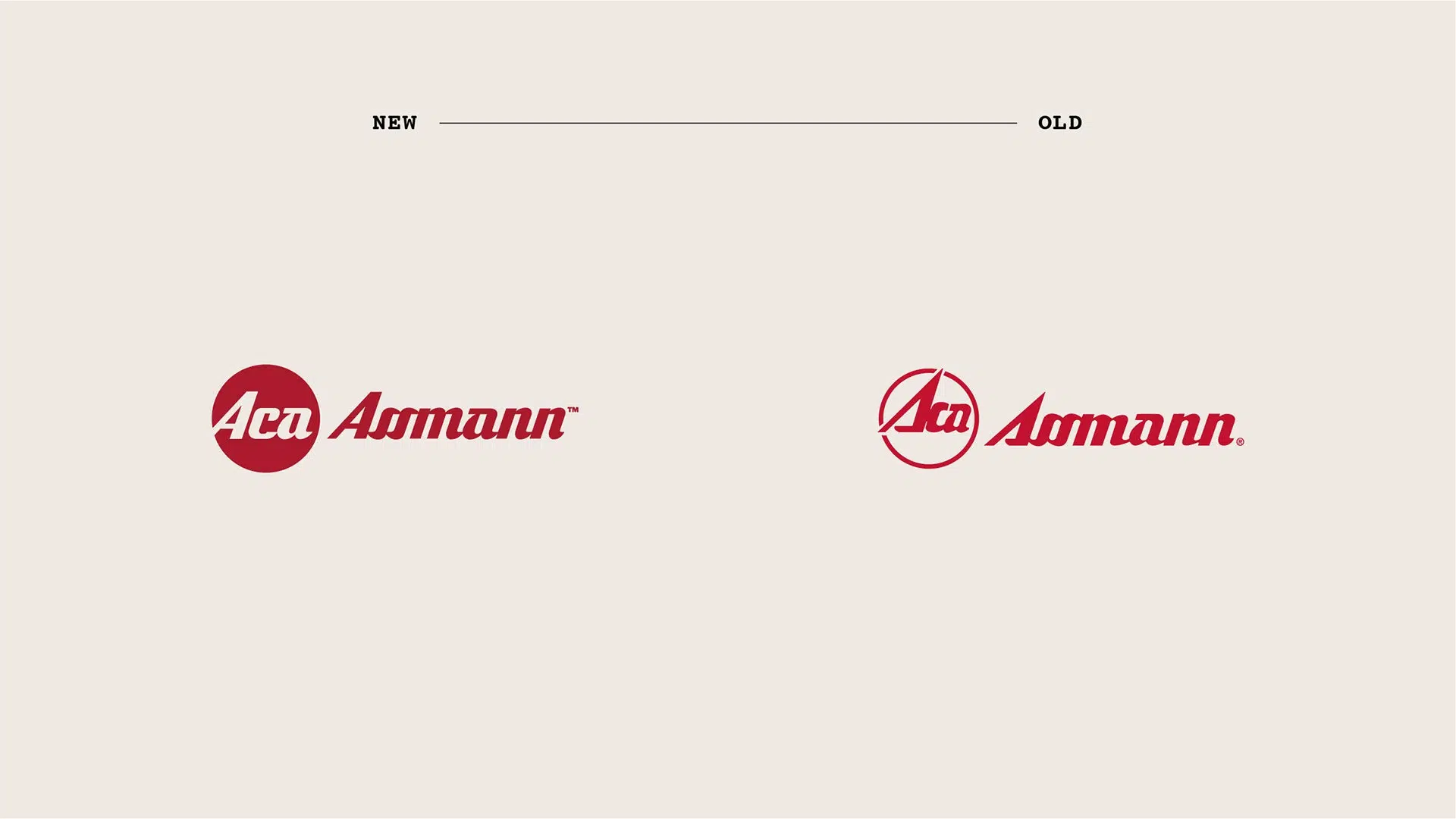 QUALITY: FIRST AND FOREVER
Next was their messaging. Assmann knew their USP was their commitment to quality, but it hadn't yet been formed into a clear, tangible story. We conducted a full messaging audit and overhaul, including not just the claims Assmann should make in the market, but also the proof points to support those claims. 
A new tagline emerged organically through the messaging evolution. Assmann's existing tagline was touching on the right thing but wasn't specific enough to feel wholly Assmann. Their new tagline is inspired by their unwavering ability to put quality first while the market around them cuts corners. They've always done it this way, and they always will.
Tagline before: The difference is inthe PROCESS
Tagline after: Quality: First and Forever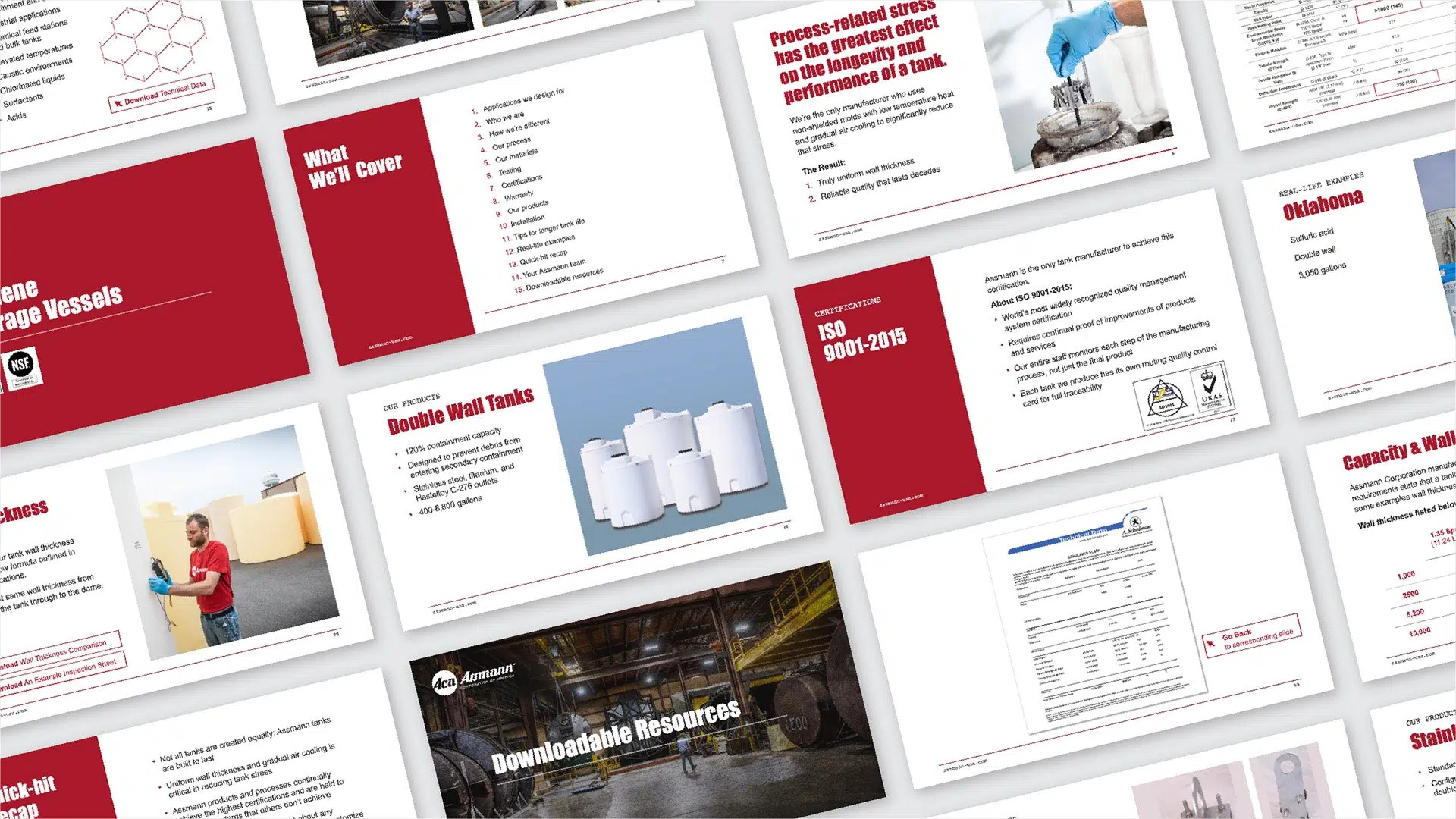 With the visual and verbal brand foundation in place, it was time to refresh Assmann's website. Beyond look, feel, and messaging, we also built in the Assmann Knowledge Base, which is full of thought leadership and engineering resources to make customers' research and shopping process easier. When they're ready to engage with Assmann, the new Request a Quote feature makes it easy.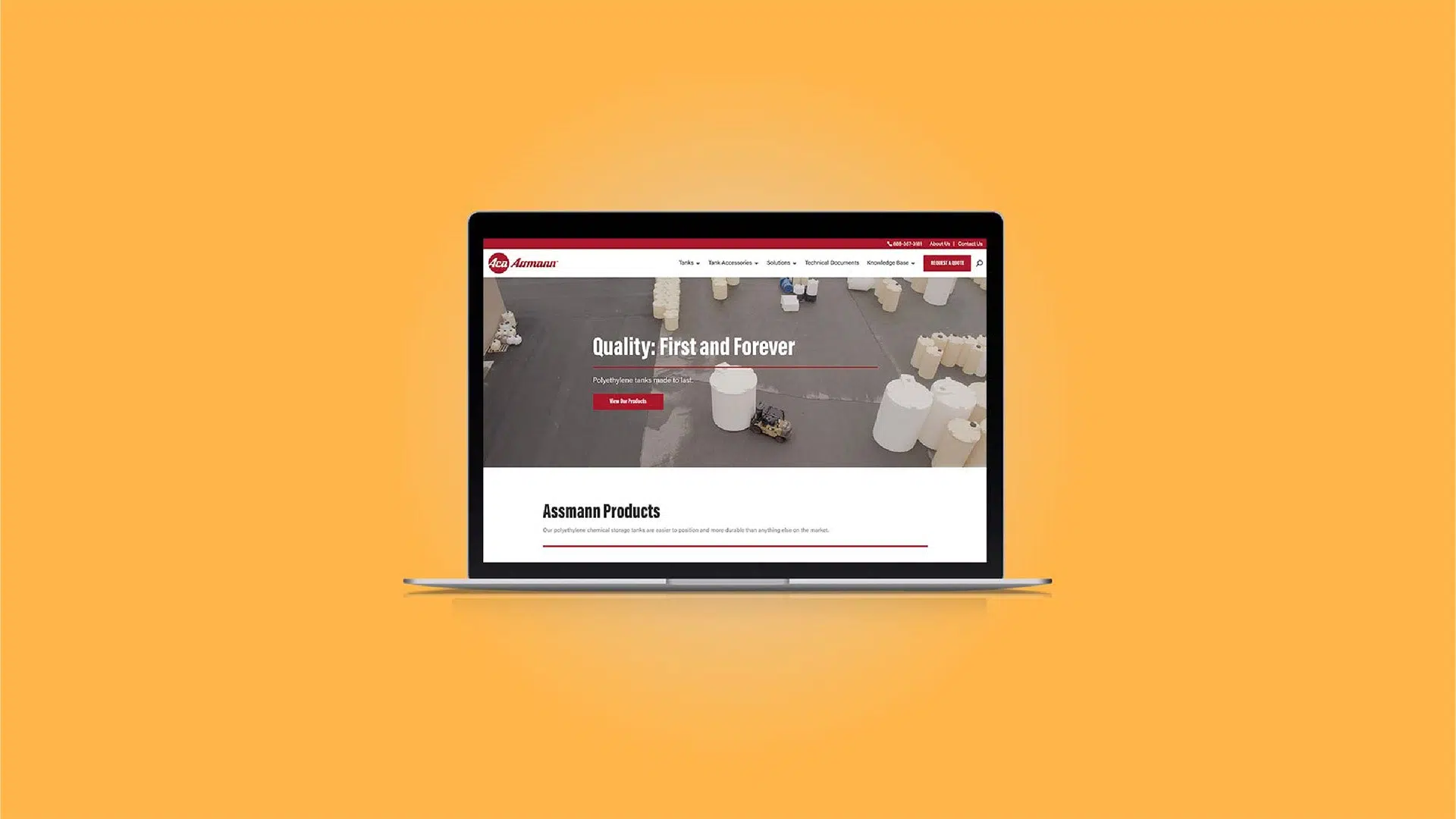 The brand and website launch came at the perfect time for Assmann to take advantage of a post-pandemic sales headwind. With new ad creative, media targeting, and conversion activities, Assmann is experiencing higher lead quality and the deepest sales pipeline in recent memory–to which marketing has been a key contributor. 
Bounce Rate: Down 42%
Page Depth: Up 115%
Session Time: Up 26%
YoY Online Lead Submissions: Up 60%+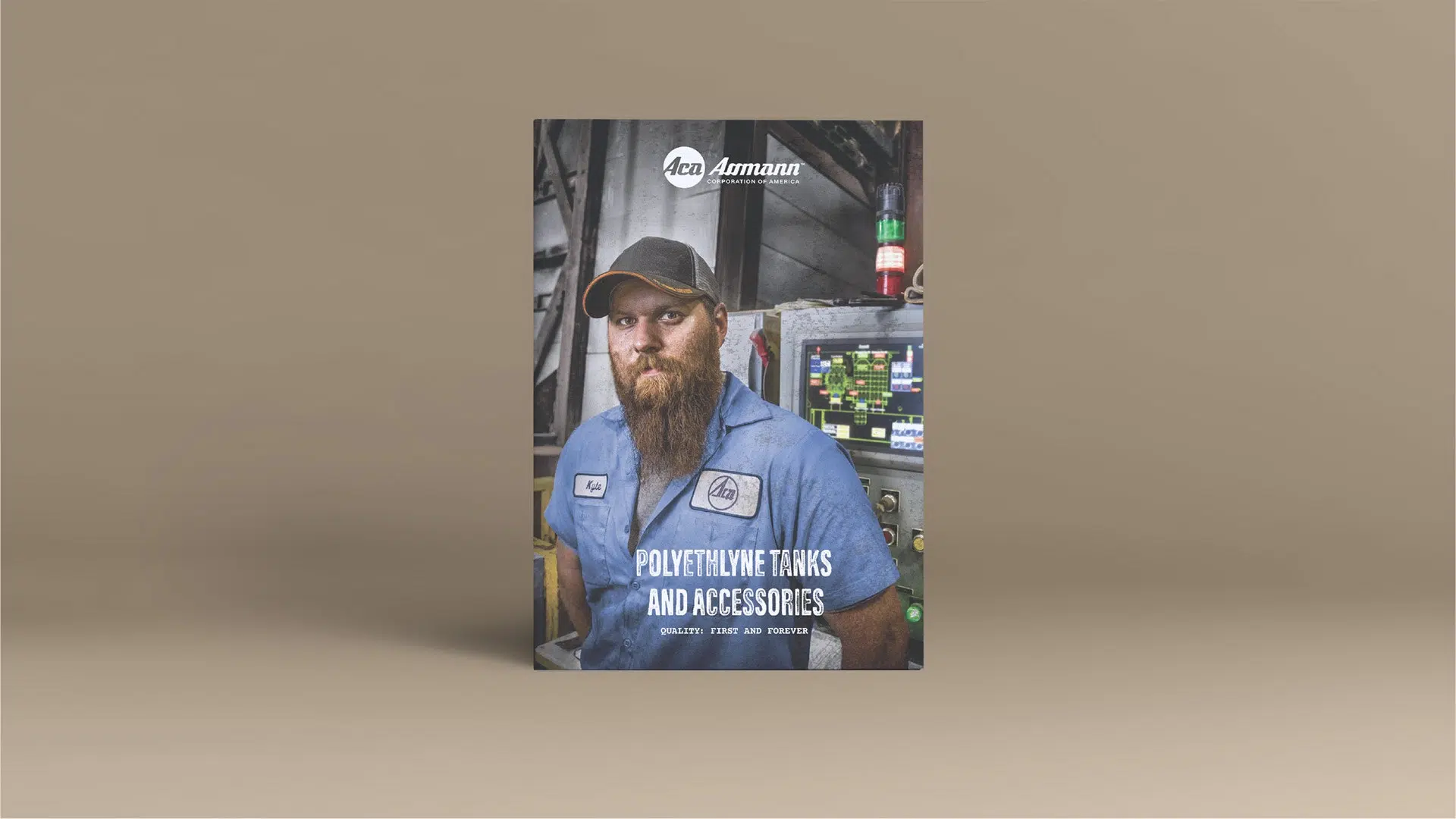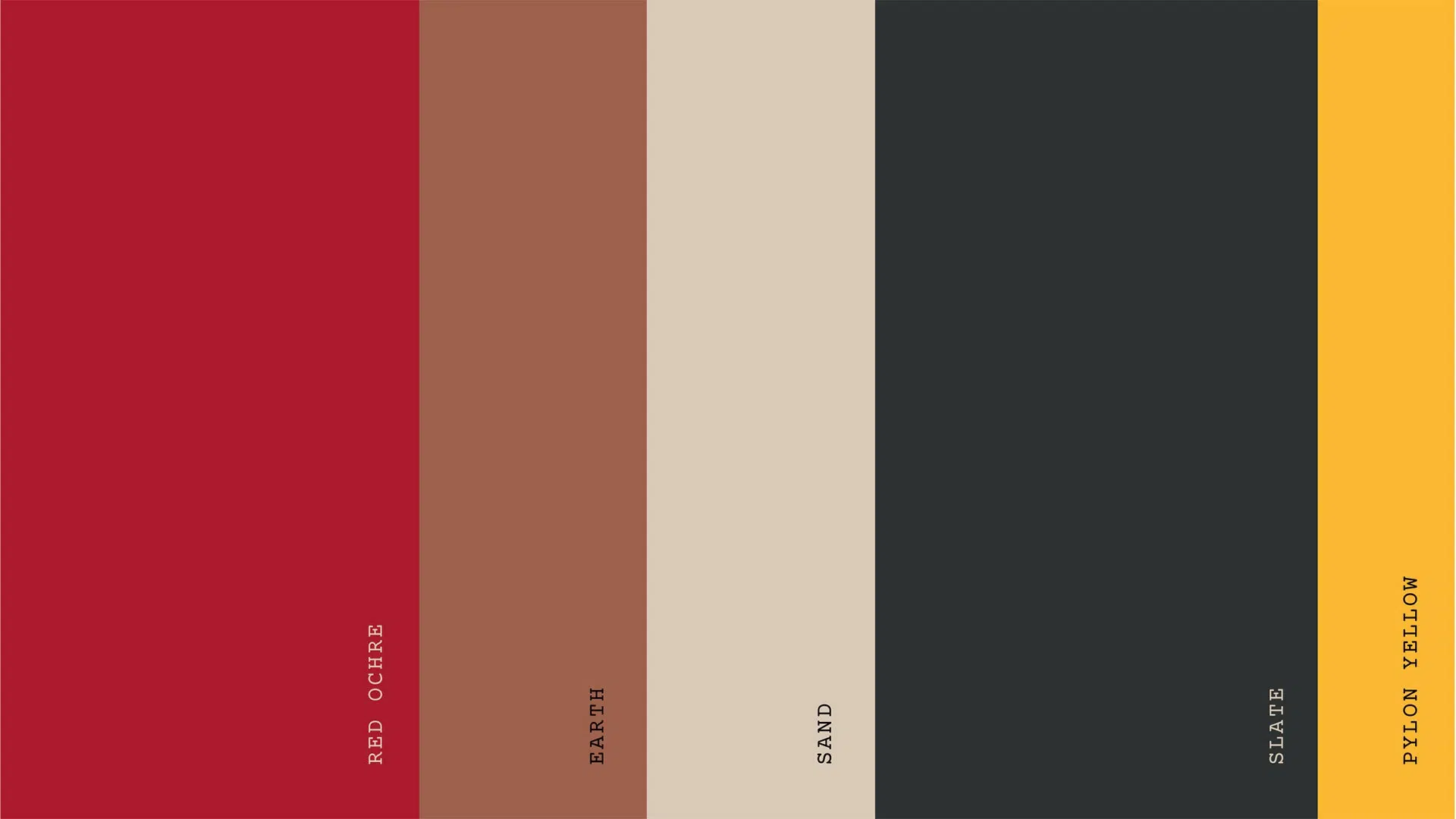 As we continue to partner with Assmann to grow their leadership in the tank industry, our eyes are on creating more touchpoints with potential customers, nurturing leads, and making experiences even better for existing customers. 
Interested in something similar?
Reach out to our Business Development Manager, Joe.