My first job out of college was as a content writer at an e-commerce company. With zero digital marketing experience (ex-film major over here), I was fortunate enough to be surrounded by people who did know what they were doing—especially when it came to content marketing.
These individuals taught me the theory behind content marketing, how to write beyond college research papers, the basics of SEO, how to find relevant topics to cover, and much, much more. Essentially, they taught me how to create content that wasn't garbage.
The only problem? When I eventually became "the content person" at Element Three, I realized that writing good content is a completely different skill set than managing a content marketing program and strategy.
70% of marketers are investing in content marketing, and nearly 40% of marketers say content marketing is a very important part of their overall marketing strategy. Which means that in order to create quality content at scale, you can't just rely on good writers—you need someone to own (or, at the very least, think about) content operations, too.
What is content operations?
A great way to think about content operations is through the lens of marketing operations. For those of you who aren't familiar with marketing operations, it can be defined as:
"A broad term that collectively describes the function of the marketing organization, including people, process, and technology, that enables marketing to operate efficiently and to scale with quality and consistency."
If you place "content" in front of "marketing" in all instances above, it provides a pretty good definition of content marketing operations:
"Content marketing operations is a broad term that collectively describes the function of the content marketing organization, including people, process, and technology, that enables content marketing to operate efficiently and to scale with quality and consistency."
Summarized, content operations ensures your content marketing efforts run smoothly while driving an impact for your business.
Why is content operations important?
Being able to produce a lot of consistent, high-quality content is hard. SMEs can't always be the ones writing content. Content needs to stay aligned with the brand. Leadership wants to see results. And to top it all off, content marketers often feel like they don't have enough time to do it all—write, interview, research, edit, publish, optimize, source, distribute, share, track, and create again.
When you're always rushing to publish the next blog post, it can get really challenging to see the bigger picture—opportunities to improve the process, how you're tracking against strategy, what types of content are generating the biggest impact on the company, and more.
So, in many ways, content operations has become a focus so that companies can build a well-oiled content marketing machine that works efficiently. That way writers, designers, strategists, brand experts, and SMEs can focus on the things they're good at and, theoretically, higher volumes of better, strategic content that drives an impact get produced.
Who is in charge of content operations?
Content writer, content marketing specialist, content marketing manager—they all sound similar, but in fact they should have different focuses. For the day-to-day content writer, they're probably going to be thinking more about each individual piece of content they produce, asking questions like:
What angle should I take on this topic?
What tone does our content need to have?
Is this helpful to my audience?
Can I tell a compelling story?
Does this align with our brand?
Is the piece optimized for search engines?
On the flip side, content marketing managers typically focus more (but certainly not all) of their energy on content operations. While they may still write content, they're more likely to ask themselves questions like:
Do we have the necessary assets or guides to limit questions writers may have when contributing to our blog?
What is the goal of our blog?
Where are pieces of content getting held up? How can we improve this process?
How are we measuring the success of our content?
How do we bring in an SME's opinion when they have limited time to devote to content?
What technology could we implement that would enhance our content or make the process more efficient?
How do we prove that content is helping our company?
Content writers and managers do more than the above, and there's definitely crossover between the two—some writers may think more strategically or holistically while other content marketing managers might still write a lot. Plus, many companies still tend to have a single "content person" which means they really have no choice—they have to do it all.
In any case, it's important for whoever is responsible for your content marketing to understand that creating a content marketing program is more than just writing—it's a lot of project management and creative problem solving as well.
5 tools to make content operations run smoothly
Have I freaked you out yet? If all of this is making your head spin, fear not. Here are the major things you'll need—everything from people to technology—to run a content marketing program successfully.
1. A Content Strategy
Let's be clear: content operations (the process of making everything run a little better) is not a content marketing strategy (who you're targeting, what the goals are, etc.).
According to Content Marketing Institute, in 2018 91% of B2B marketers were using content marketing, but only 37% had a documented content marketing strategy. Even if you, as the "content person," know the strategy in your brain, documenting it reduces miscommunication by helping communicate that vision to stakeholders and contributors alike.
2. Style Guide, Contributor Guidelines, Brand Guidelines
As your content marketing grows, the number of people who contribute to your blog or website is likely to follow suit. To make things easier for authors, you should have a style guide that outlines parameters—things like tone, word count, topic realms, and more. Your style guide will likely be informed by your brand guidelines, so you'll need those too.
If you're looking for a style guide to make you feel bad about yourself (just me? Okay.), MailChimp has a great example to draw inspiration from.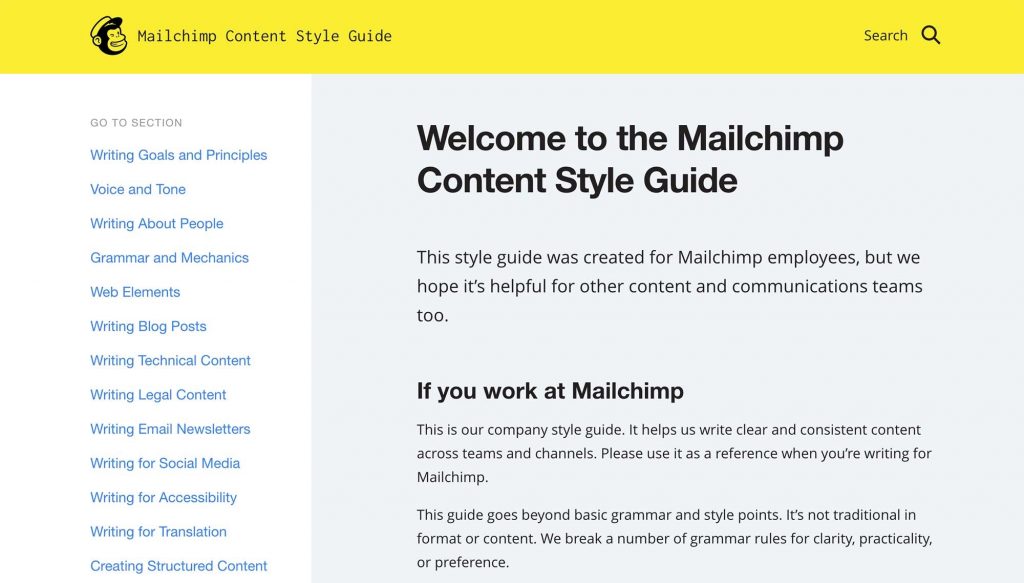 3. Process/Production Workflow
This is where consulting your favorite project manager is extremely helpful. A content process or production workflow helps you know what should happen when, and helps save time from unnecessary revisions.
A simple example might be:
Assign a topic and provide relevant keyword research
Write the rough draft
First draft review by SME and/or content manager
Editorial revisions
Proofing/editing
Design/image sourcing
Content loading
Publishing
Content distribution
Inventory update
Another thing to keep in mind when thinking about the workflow is file structure. It can be really easy to lose track of blog posts or save them in strange folders that made sense at the time. Make sure your team knows where to save certain types of content and how to name them so that you don't have to go on a scavenger hunt later.
4. Technology
This one is a doozy, because there's a ton of technology that you might need to produce a single piece of content. Here's what we use at Element Three:
CMS (to publish the content): WordPress
Marketing Automation (to publish across owned channels): HubSpot
Asset Inventory/Editorial Calendar (to keep track of what you've written and plan for the future): Airtable*
Project Management (to communicate with contributors and assign tasks): Mavenlink
Author Tools (to write): Google Suite, CoSchedule Headline Analyzer
Research Tools (for keyword research and content optimization): SEMrush, Moz, Keyword Planner, BuzzSumo
Design Tools (to create graphics): Adobe Suite
Imagery (to support content): Unsplash or our own
*I'd like to give a special shoutout to Airtable. It's by far the best free software I've come across for editorial calendars and content inventories, which were the bane of my existence until stumbling upon this fine tool.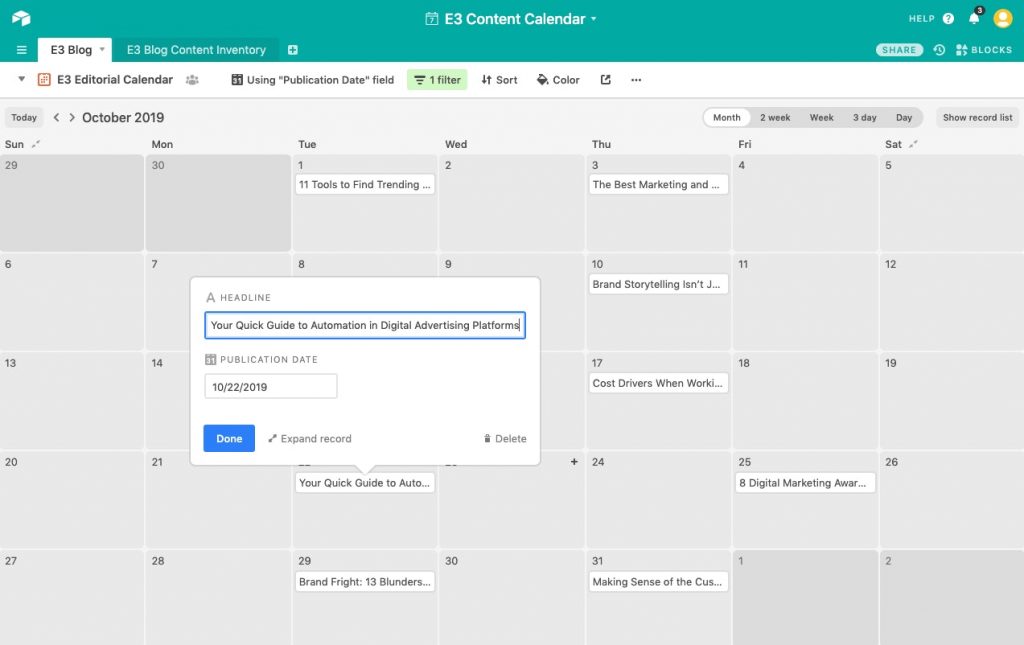 So beautiful. So easy.
5. People
The last major thing you'll need to create a content marketing machine is people (maybe robots in the future…but we're not there just yet). A few roles that might be helpful include:
Writers, authors, and contributors: These can be full-time writers, SMEs, or even people outside of your organization. They're responsible for writing or creating the content.
Marketing managers, project managers, content marketing specialists: These are the content operations people who make sure you're actually creating consistent, high-quality content. Again, this might not be their full-time gig, but rather a part of their job.
Specialized content creators: Including, but not limited to, videographers, developers, designers, and audio engineers.
Content operations—it's a process.
Bad puns aside, anyone who has ever tried to run a content marketing program knows how challenging it can be to keep track of all the moving pieces. Even if you hate process (I may or may not be one of those people), having the right assets handy and at least a vague flow of events in place will ensure quality content gets created consistently.
Plus, then you'll have more time to think about the overarching strategy and the impact content is driving on your business. And what's more fun than that?