Growing a More Impactful Media Presence

How we helped Transitions expand across new channels to create a full-funnel experience.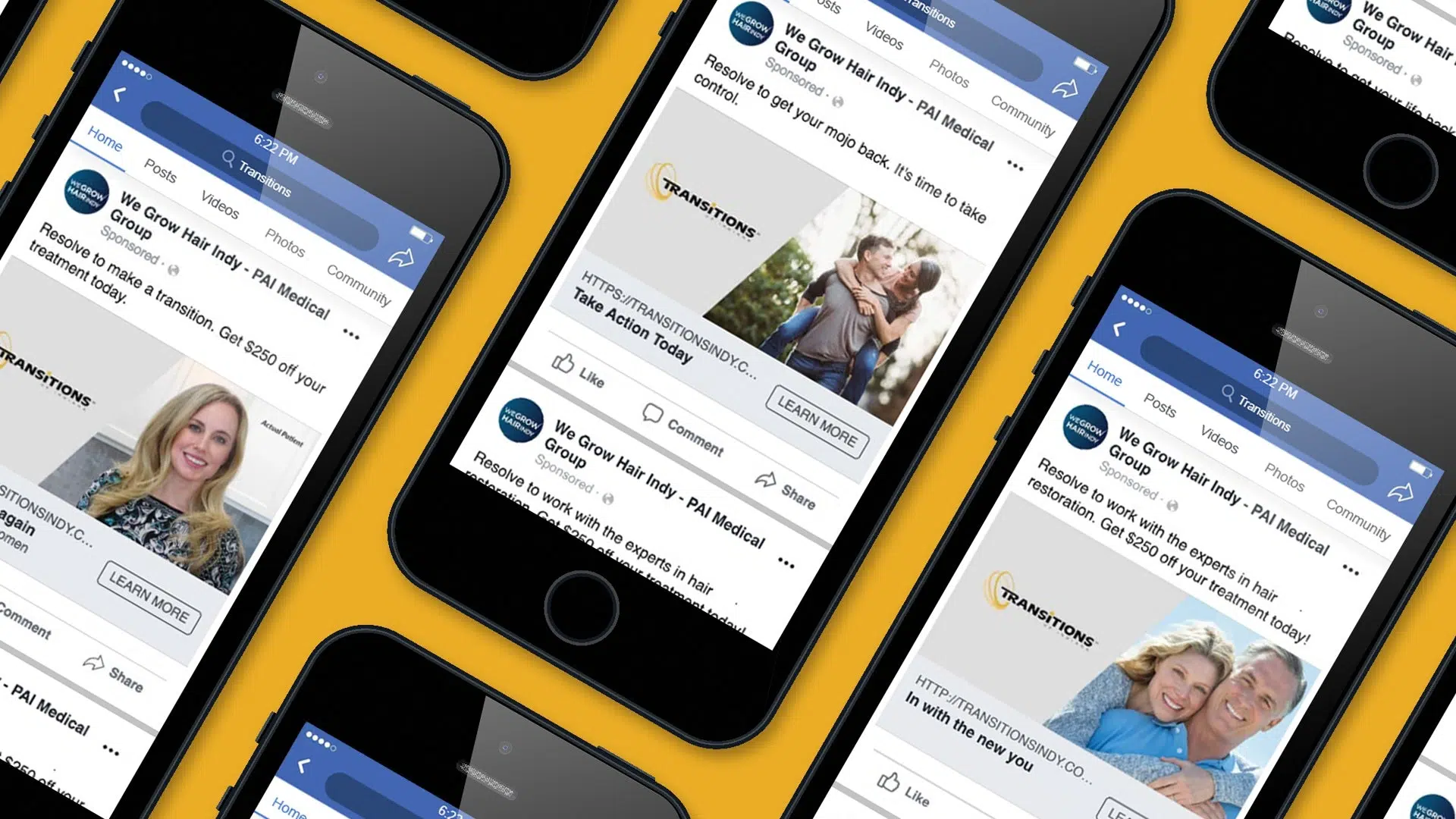 OVERVIEW
40%
Increase in user searches for branded keywords
80%
Increase in website traffic
40%
Increase in leads
The search for stronger results.
Element Three saw an opportunity for Transitions of Indiana, a hair restoration and replacement clinic, to find their target audience more efficiently through expanding digital channels outside of paid search. Their existing paid efforts targeted the bottom of the funnel exclusively, and a major consequence was that a very small number of people were specifically seeking out Transitions Indy by searching for their name in search engines.
Historically, Transitions has spent a substantial portion of their media budget on advertising via traditional channels (local TV and radio), with some dollars directed to paid search. They turned to Element Three for assistance in expanding their efforts across new channels, looking for a way to more effectively and efficiently spend their marketing budget. And we were more than ready to jump in.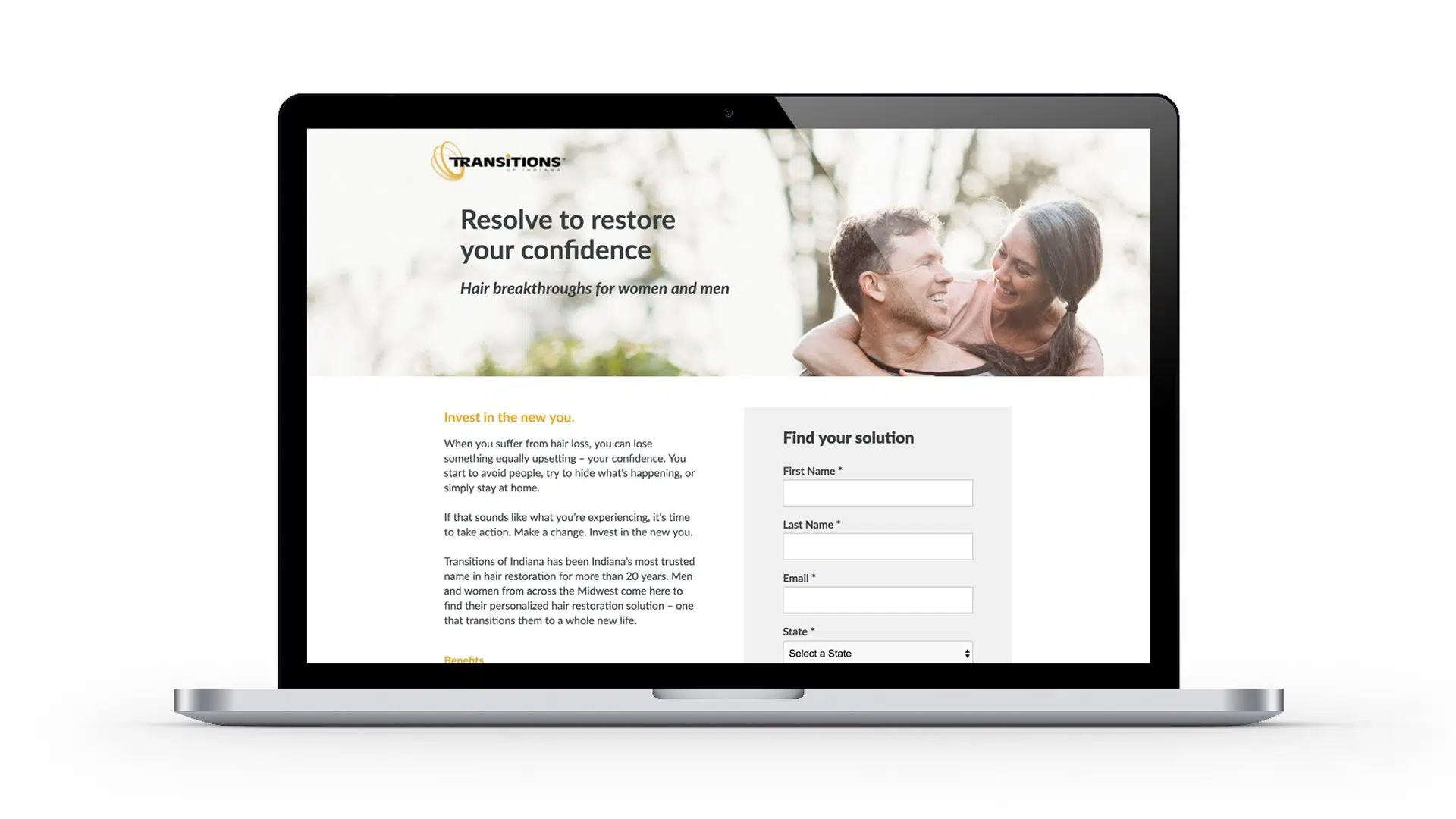 Transitioning to a new strategy.

We started by tailoring a full-funnel advertising strategy for Transitions that had very specific goals for each tactic. Using a two-month media "heavy-up" test, we aimed to increase traffic to the Transitions website and ultimately drive leads.
We ran Facebook, connected TV, digital audio, and display ads through The Trade Desk, which gave us the ability to target impressions much more granularly—reliably reaching Transitions' key audiences more efficiently.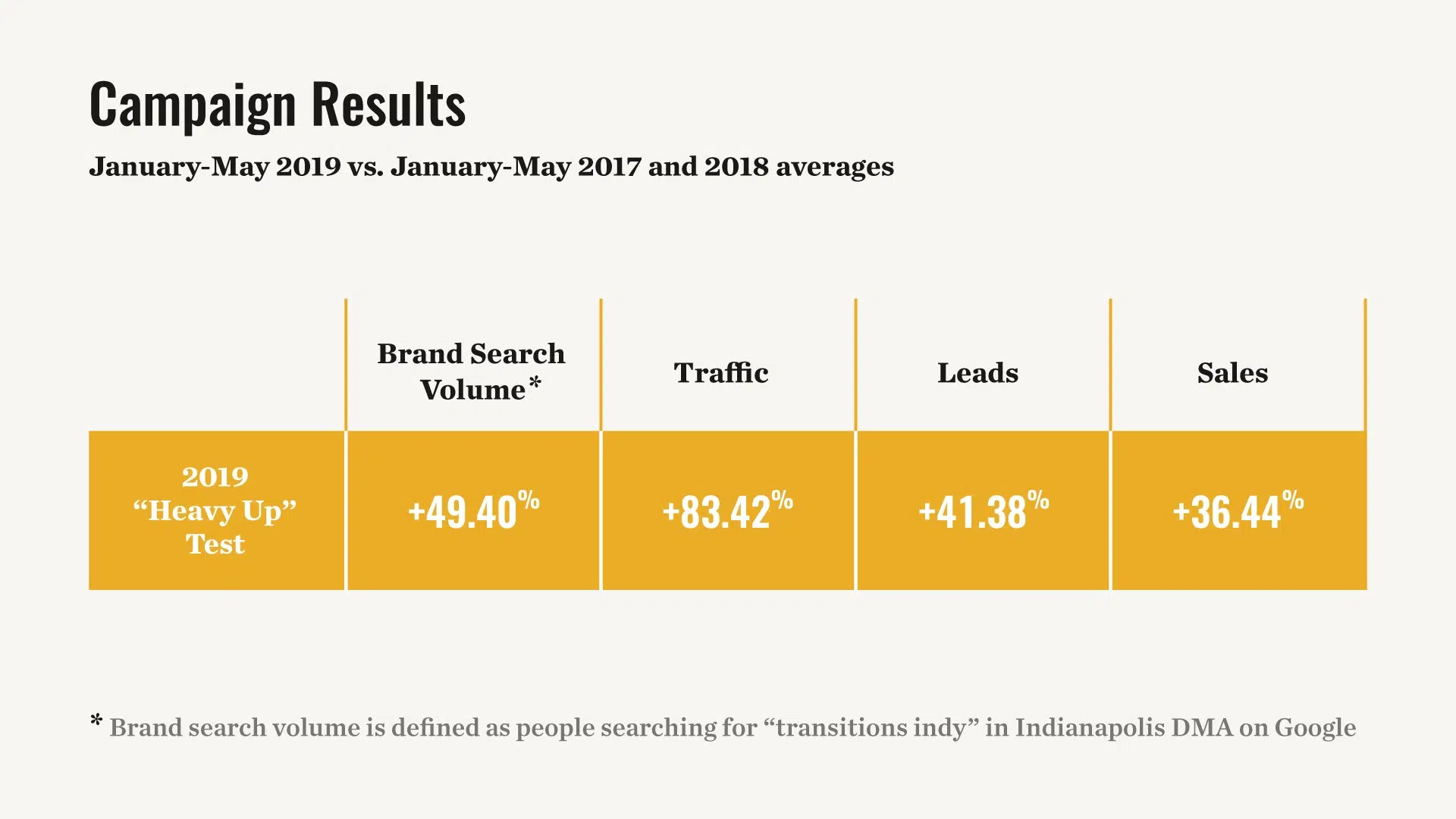 Targeting just the right audiences.

By employing programmatic targeting in The Trade Desk, we were able to take advantage of even more data sources when creating our hair loss target audiences. In traditional TV and radio media buys, audience targeting is commonly done by age and gender. Our approach was far more refined, using crafted audiences available in The Trade Desk such as "hair loss prevention researchers," and therefore more effective in reaching exactly the audiences we wanted.
Mixing the old with the new.

While setting up the new campaigns, we found some major cost efficiencies for Transitions. First, we repurposed their existing traditional TV and radio spots in such a way that they could be run on connected TV and digital audio. We also used their existing paid search ads. This meant the only things we needed to create from scratch were display and Facebook ads.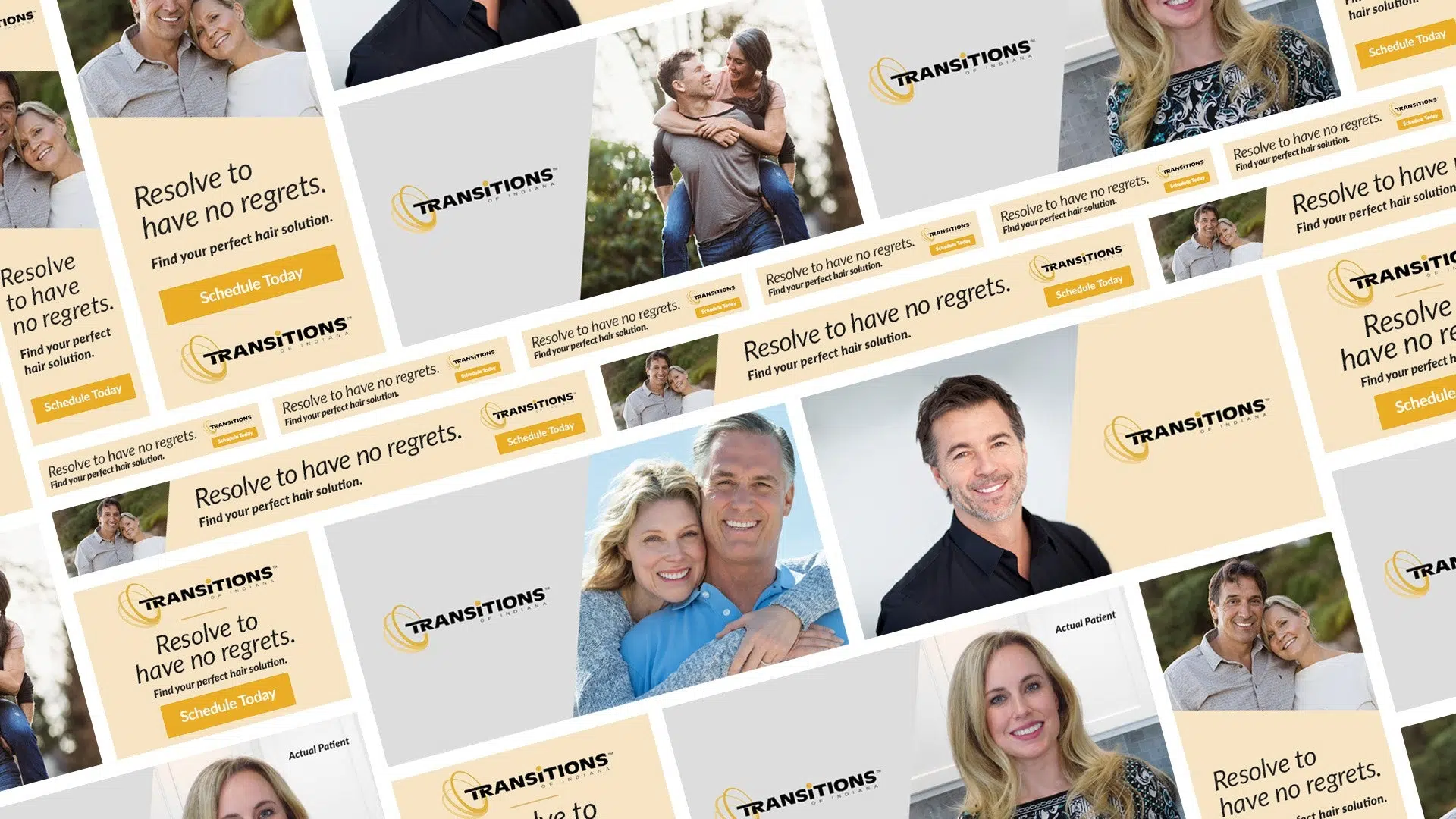 Boosting brand awareness and slowing seasonality.

In just under two months, we saw strong results. By combining awareness tactics with consideration and lead generation tactics, we helped Transitions increase brand searches by more than 40% and increase traffic to their website by more than 80%. We also saw an increase in leads of more than 40%.
Typically, Transitions experiences a steep drop in leads after the end of January. This year, we significantly slowed the rate at which leads decrease: it wasn't until May that we saw a drop-off, and leads were up 66% during the period of February–May 2019 compared to the average of February– May over the last four years.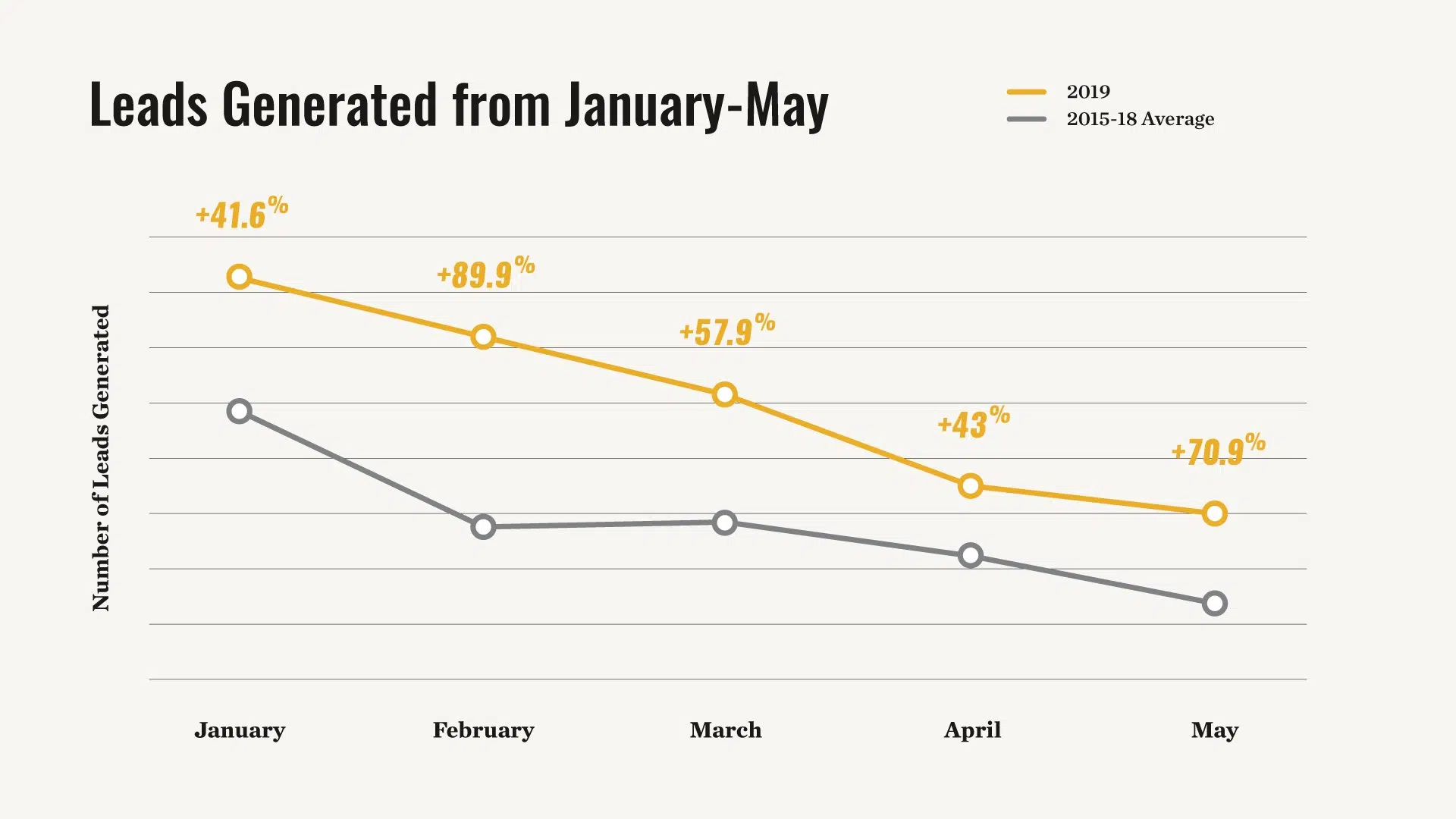 Turning good into great.
After implementing our strategic recommendations, we were able to generate better results for Transitions than they had ever achieved from digital advertising. Not only did we help refine their targeting by using The Trade Desk, but we also worked with them to create cost-effective creative ads and implement a full-funnel marketing approach that boosted impressive results—including a 40% increase in both leads and branded searches, as well as an 80% increase in website traffic.
The heavy-up test allowed us to reach a different audience than who we've historically been able to reach through traditional TV & radio. Partnering with Element Three allowed us to expand into these programmatic channels through The Trade Desk, which we wouldn't otherwise have access to buy media through. It's very helpful to have an understanding about results we can expect from an increased amount of digital spend. We knew we'd see the increase in traffic to our site, but it was great to see the huge increase in brand search volume, leads, and sales."

Ashley Stark
Director of Marketing, PAI Medical Group of Indiana
Start getting better results.
Take your marketing to the next level. We can help.