Newmar Luxury Motor Coach Brochures
While many of today's product brochures exist exclusively in digital form, sometimes the most effective means of capturing your audience's attention requires a return to a more traditional medium.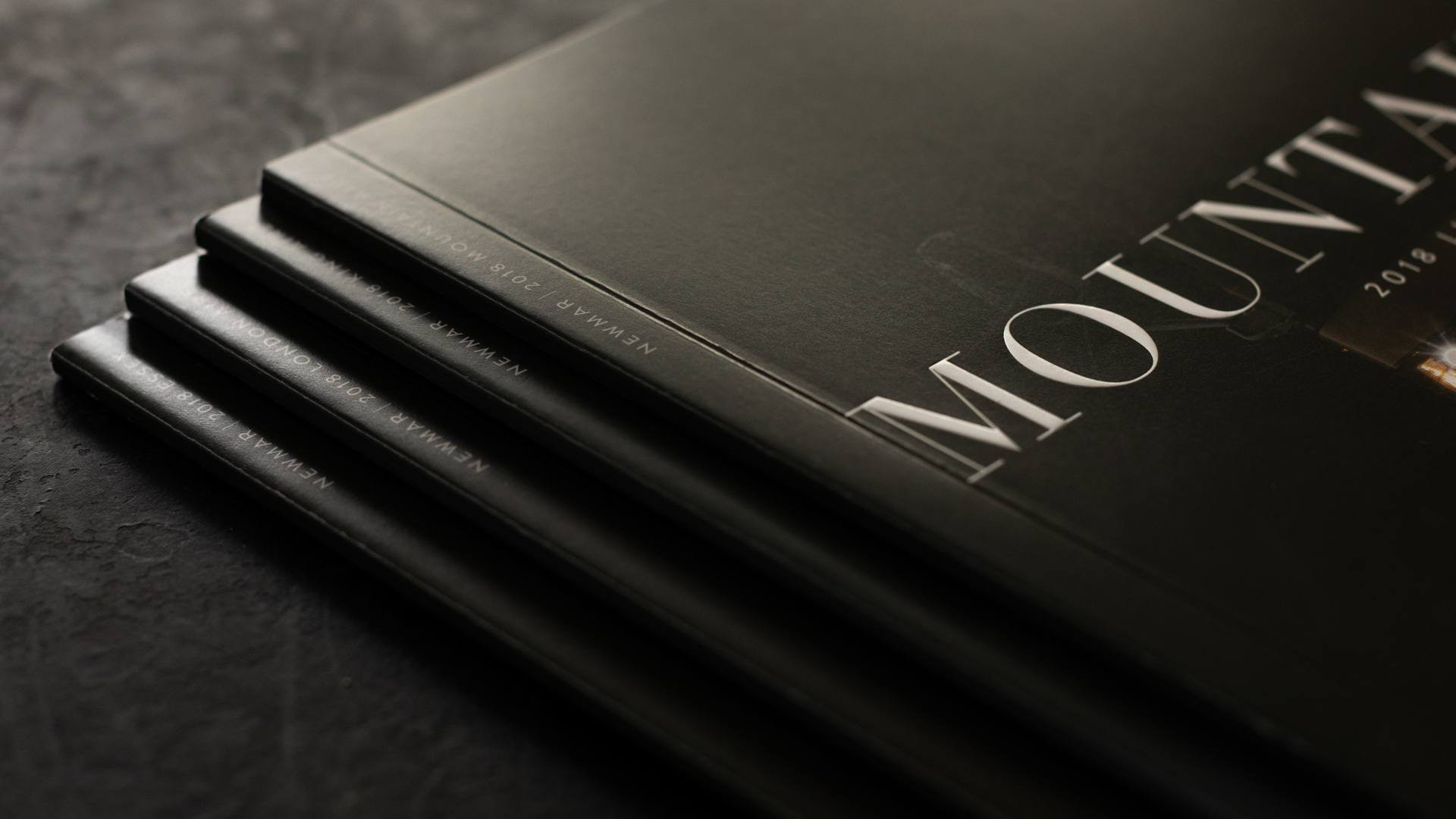 Nailing the first impression.
When you're selling the world's most indulgent motor coaches, it's not easy to capture the quality and precision of the product at hand within a digital-only brochure. Newmar Corporation not only want their brochures to be tangible, they want them to further separate their RVs from the competition by showcasing the details you can only nd in a Newmar. To create something fitting for Class A motorhomes, we use cutting-edge printing techniques, materials, and photography to introduce RV enthusiasts to the Newmar brand.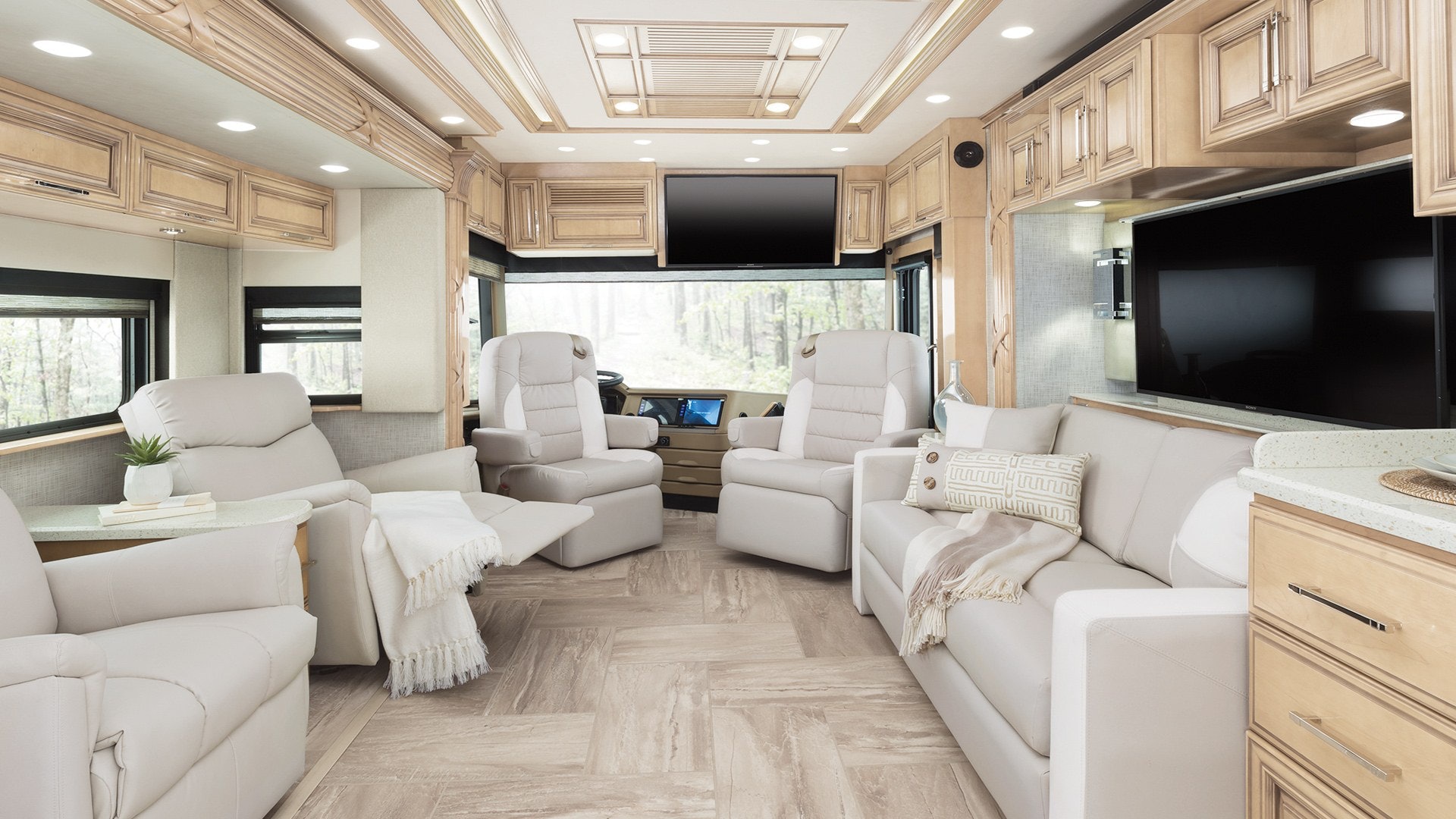 Design forward.
Newmar offers dozens of textures, materials, and designs that you'd expect to find in a modern home. The luxury brochures embrace these residential qualities like never before by bringing the elegant interior designs found in Newmar coaches right to the front cover—an unprecedented move in the RV industry. You get a sneak peek of what's inside the brochure before you ever open it. And you experience just how fun it is to select design options.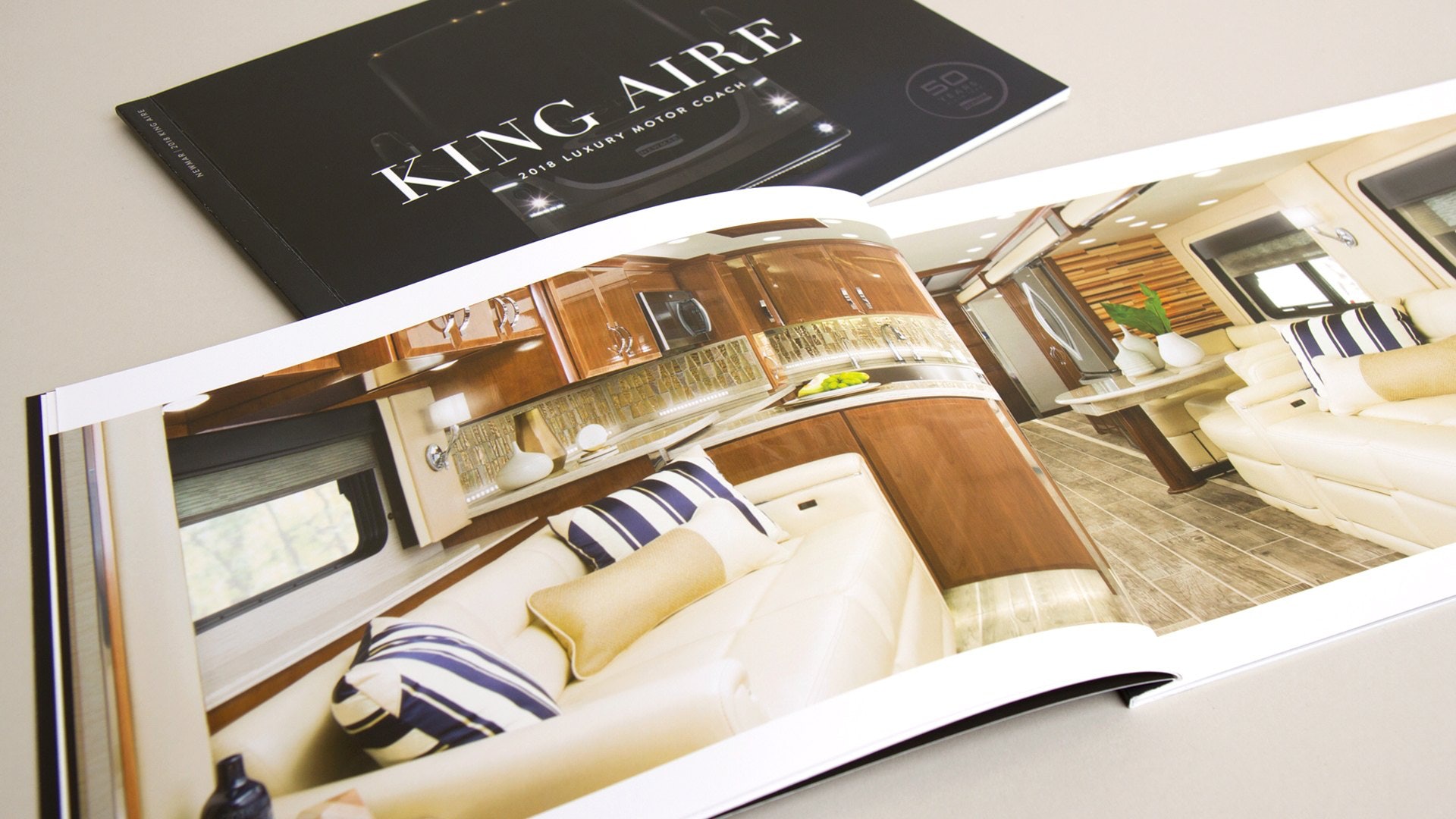 Picturing life in a Newmar.
Every brochure is designed to make shoppers feel like they're building a home as they browse floor plans and finishes. They're able to imagine themselves inside a specific model, something that wouldn't have been possible without purposeful photography.
Because photo shoots take place inside a studio, special attention is paid to making each interior space feel open and inviting. Precise lighting techniques play a big role, as do outdoor landscapes that are photoshopped into each window space.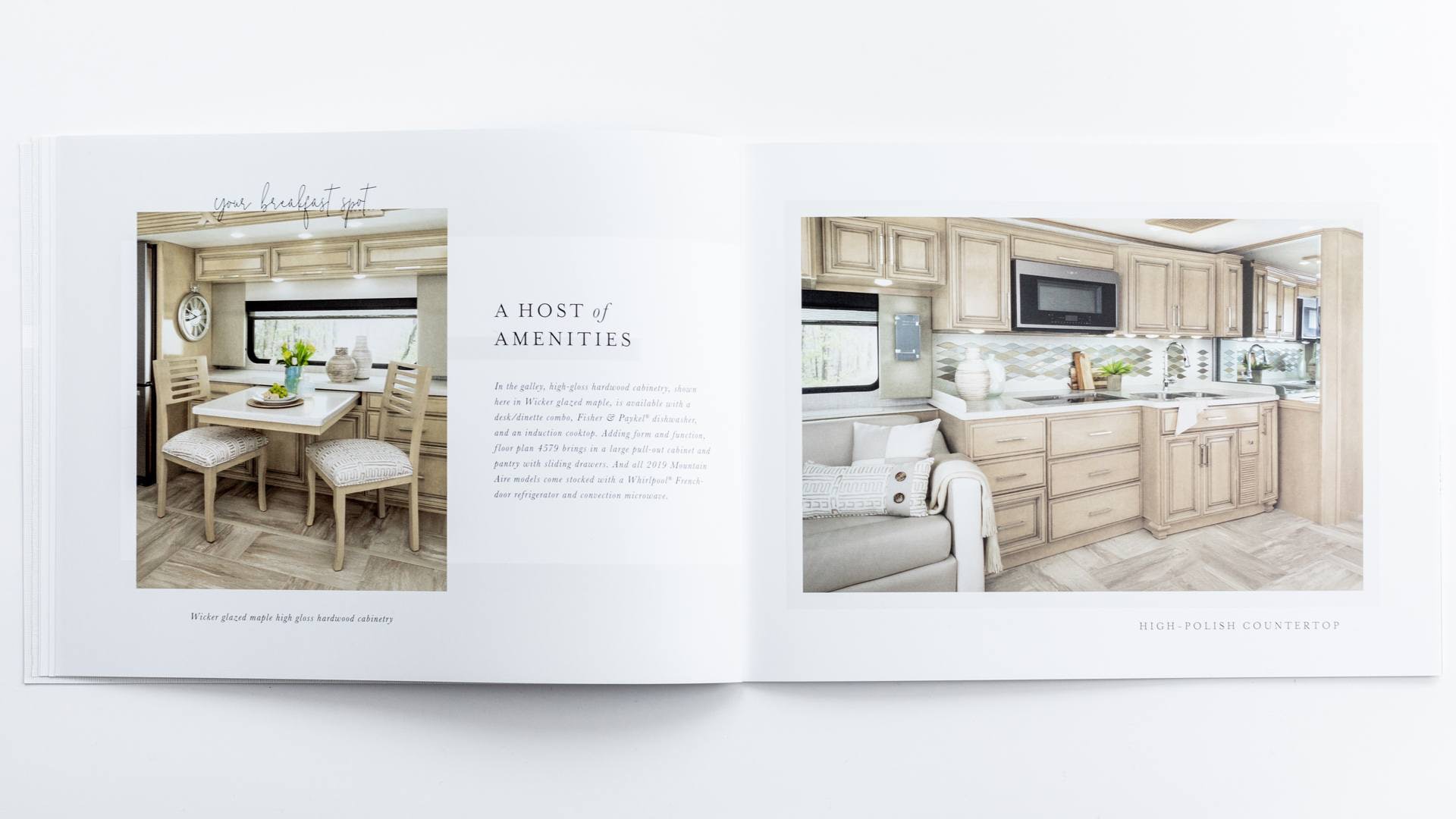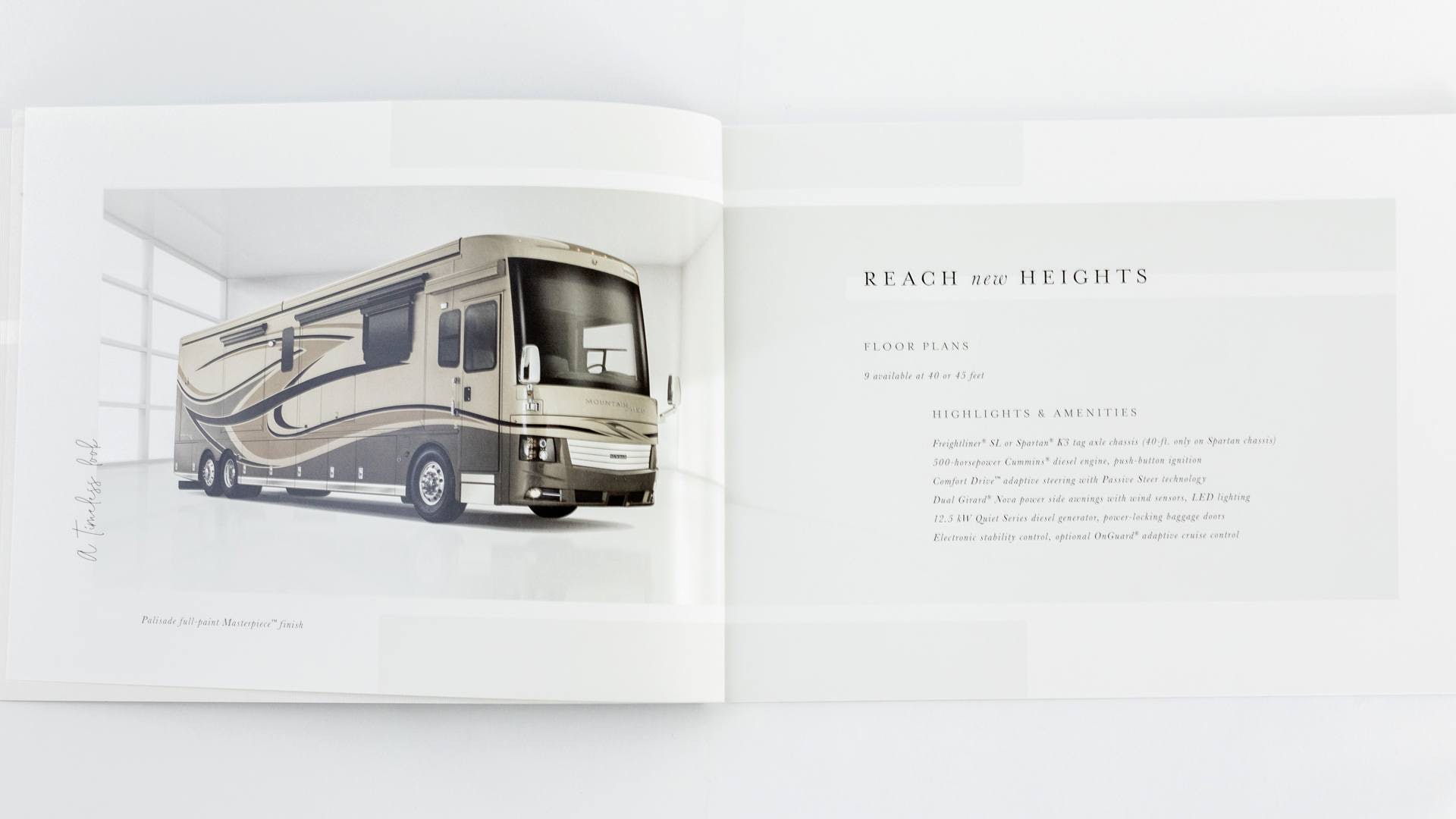 Before final files are sent to print, each brochure is subjected to a round of color corrections, which are performed using physical representations of every available paint option, décor choice, and cabinetry selection. Additionally, we make certain to perform in- person checks to ensure absolute quality, with the press checks for each of the four models taking roughly two days to complete.
It's a lot of work to ensure that kind of accuracy. But just like Newmar, we don't cut corners.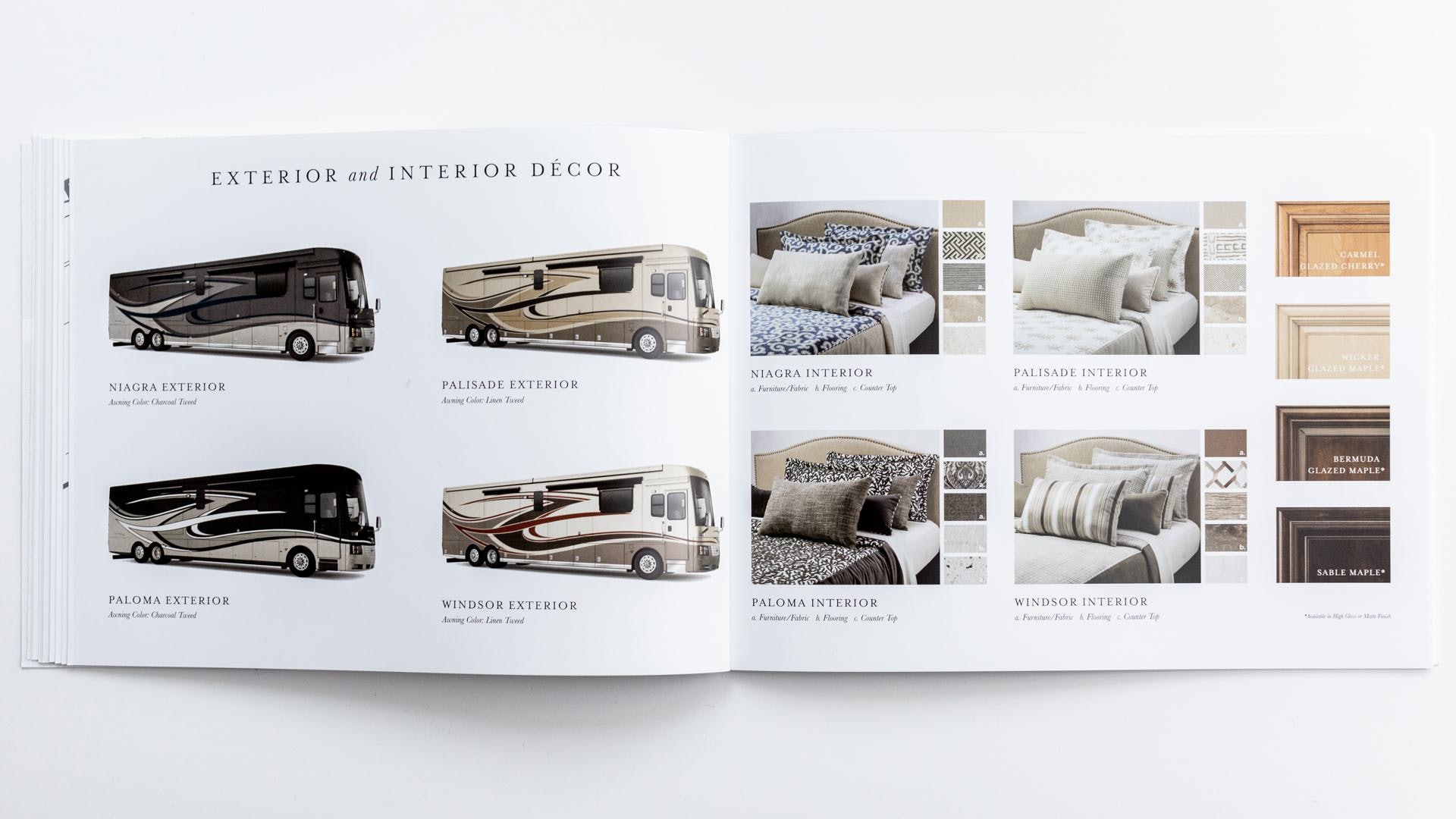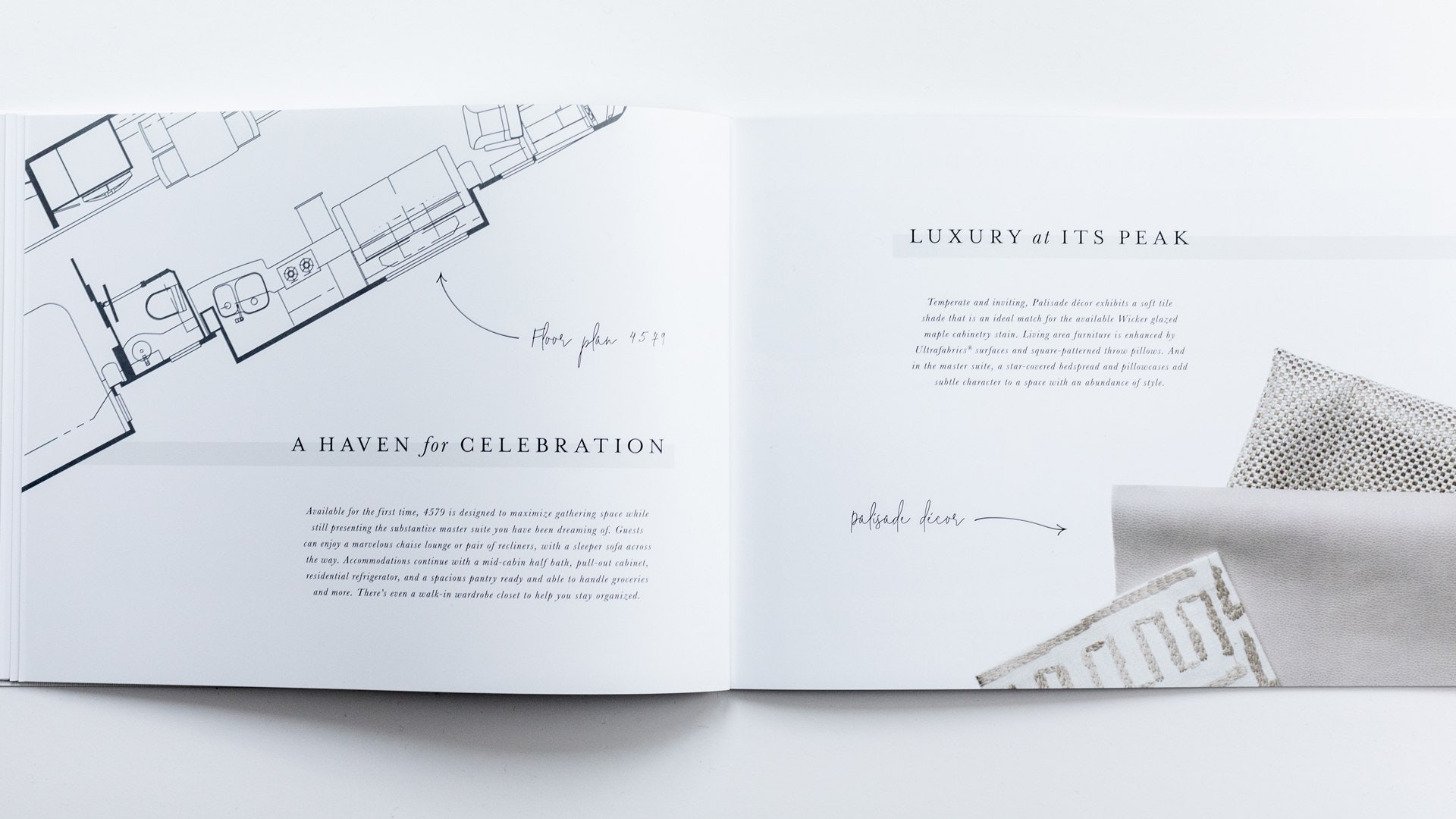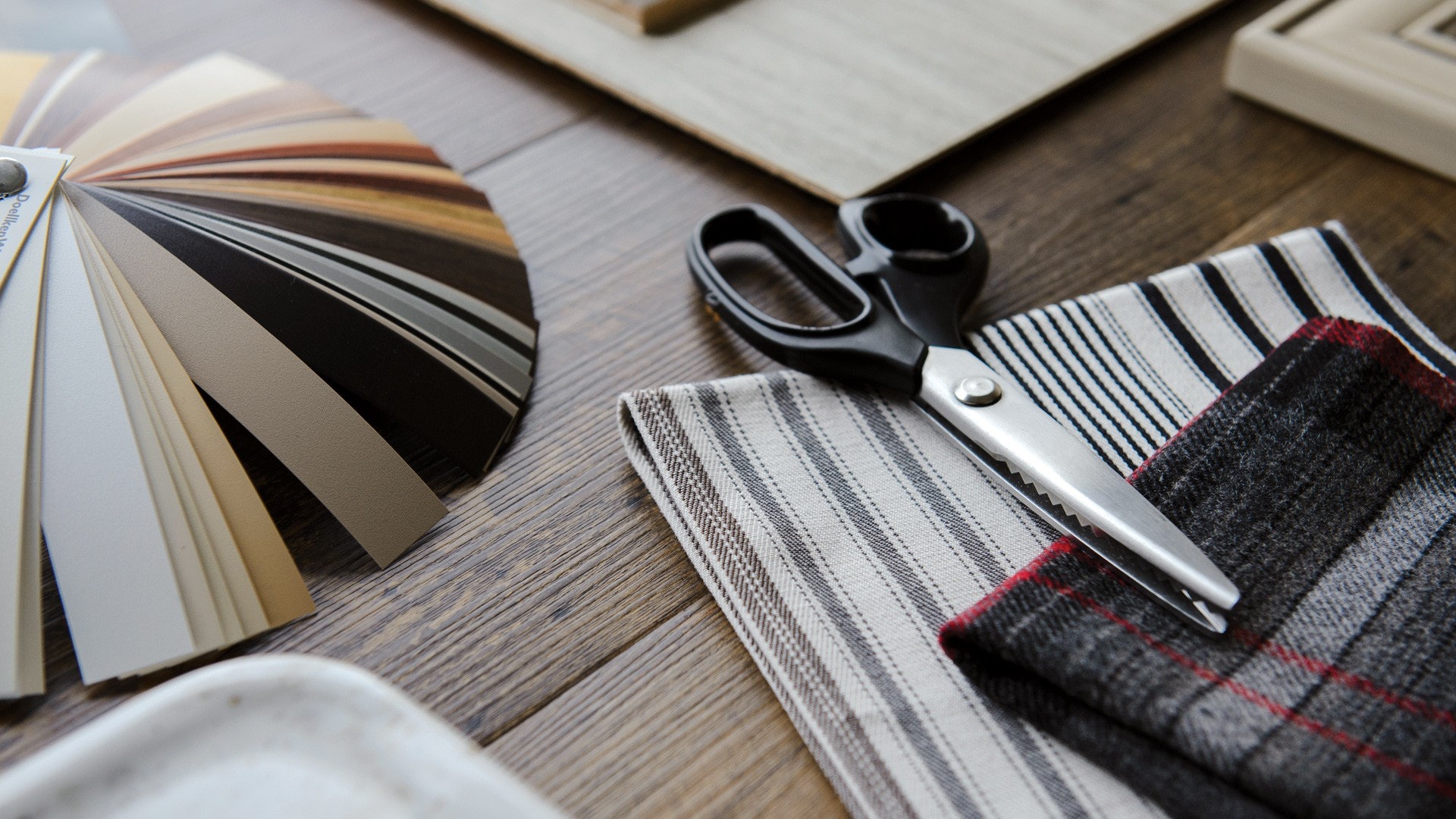 Turning a brochure into an experience.
Receiving a printed product brochure at a dealership or in the mail is nothing new. However, when your brochure is as high of a caliber as Newmar's, it demands attention.
RV shoppers can either request a printed copy of each brochure online or pick them up at one of the more than 60 Newmar dealers throughout the U.S. and Canada, where Newmar-trained sales professionals use them to help customers select a coach that ts their interests and aspirations.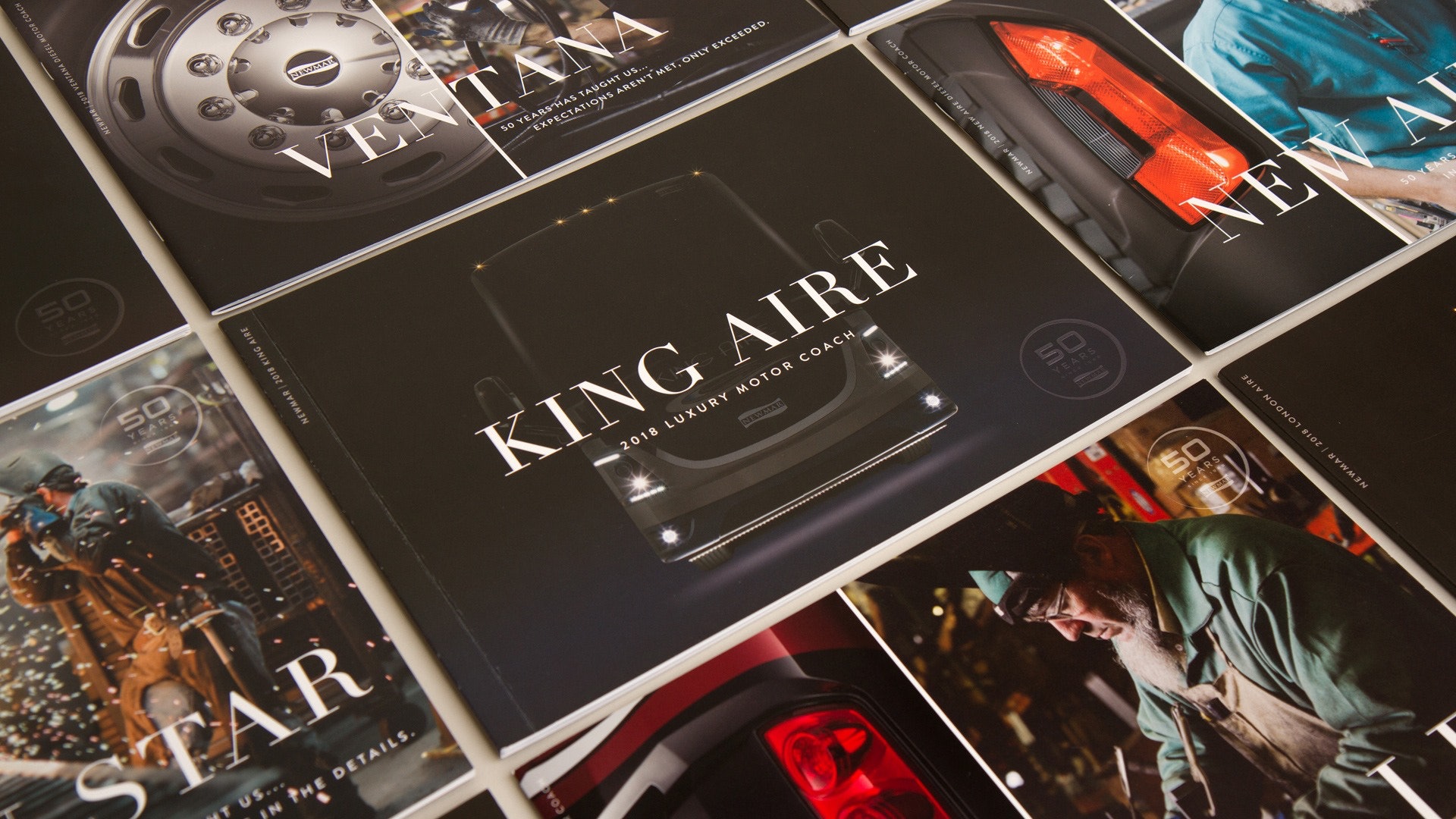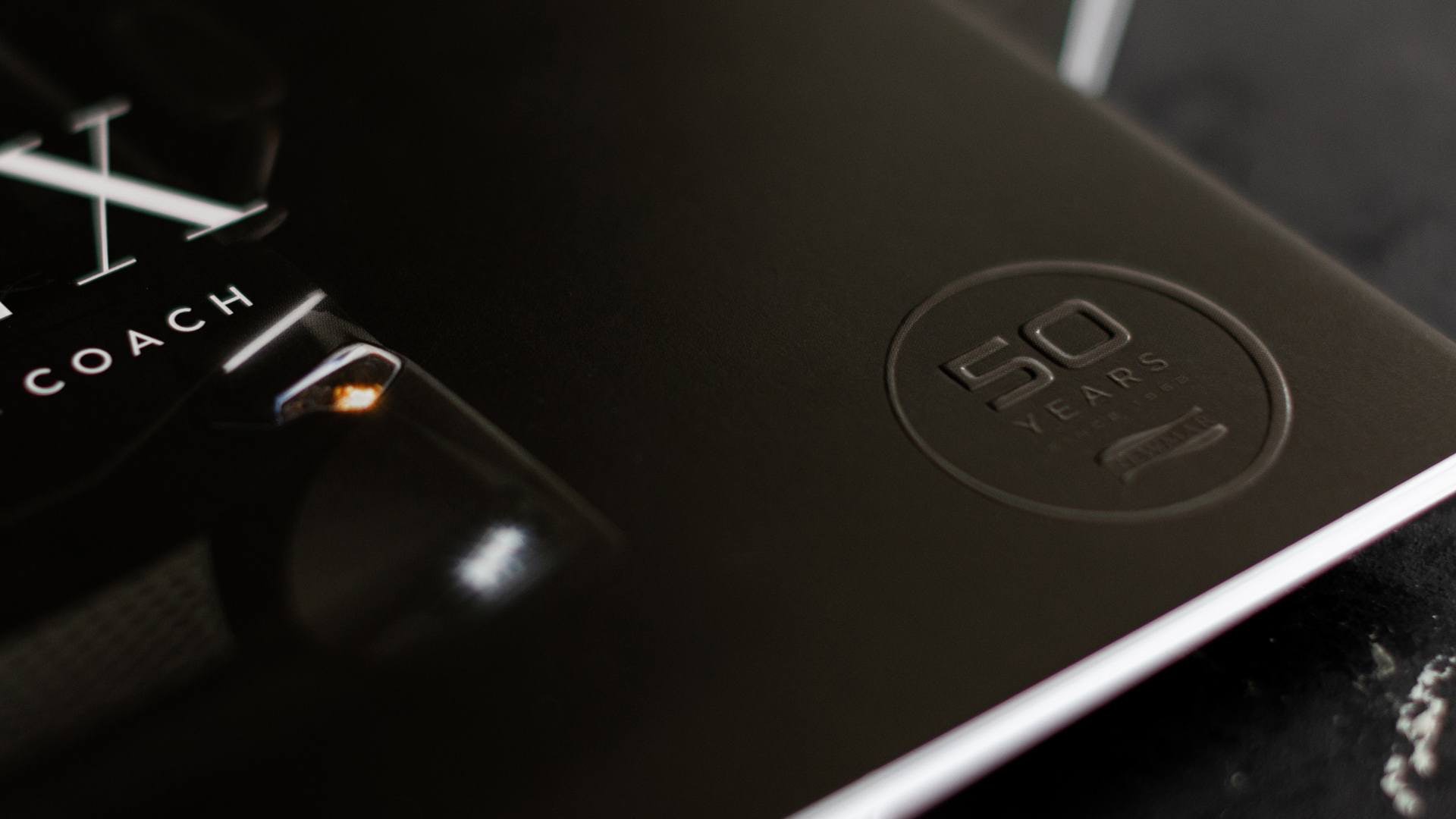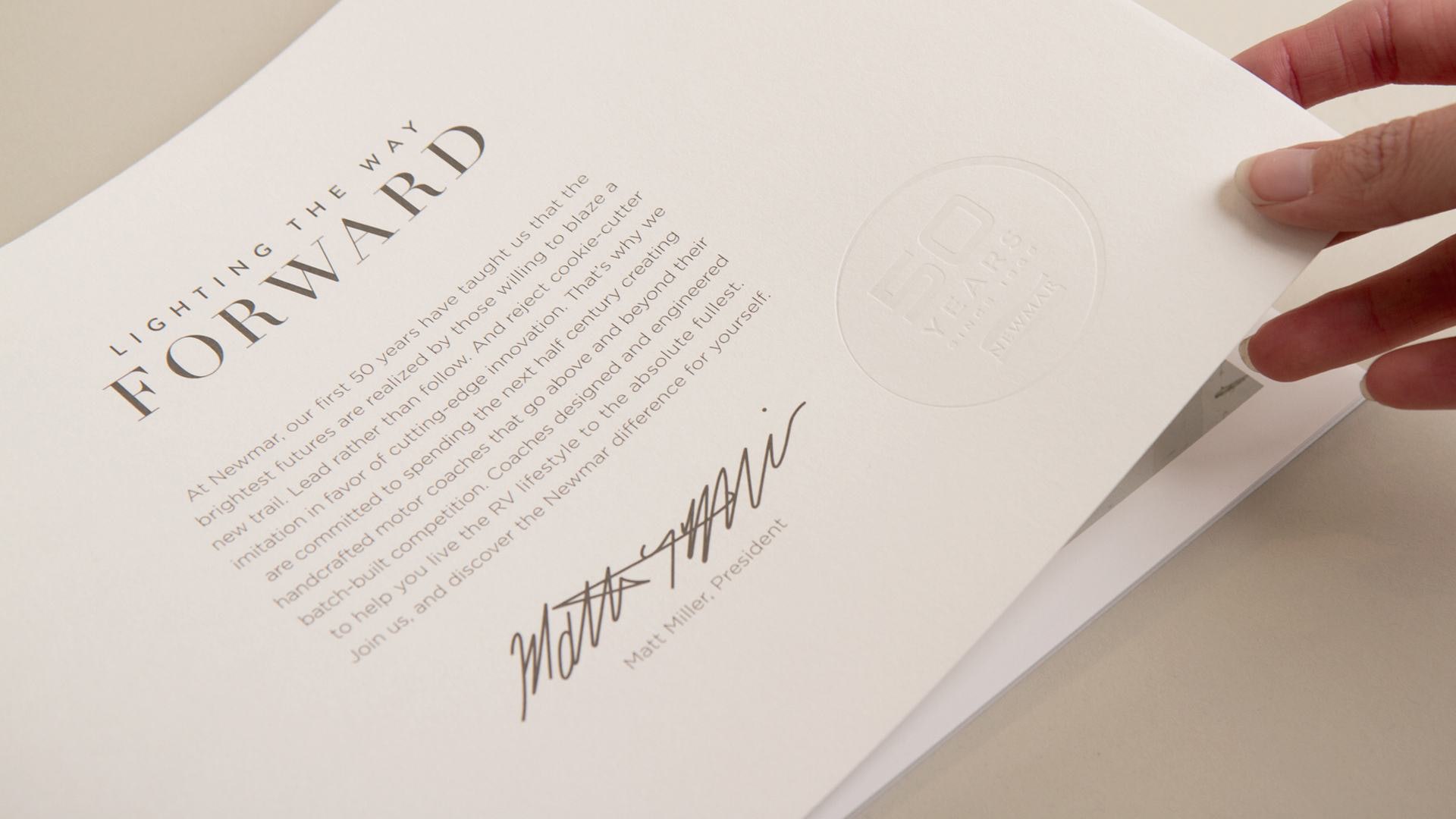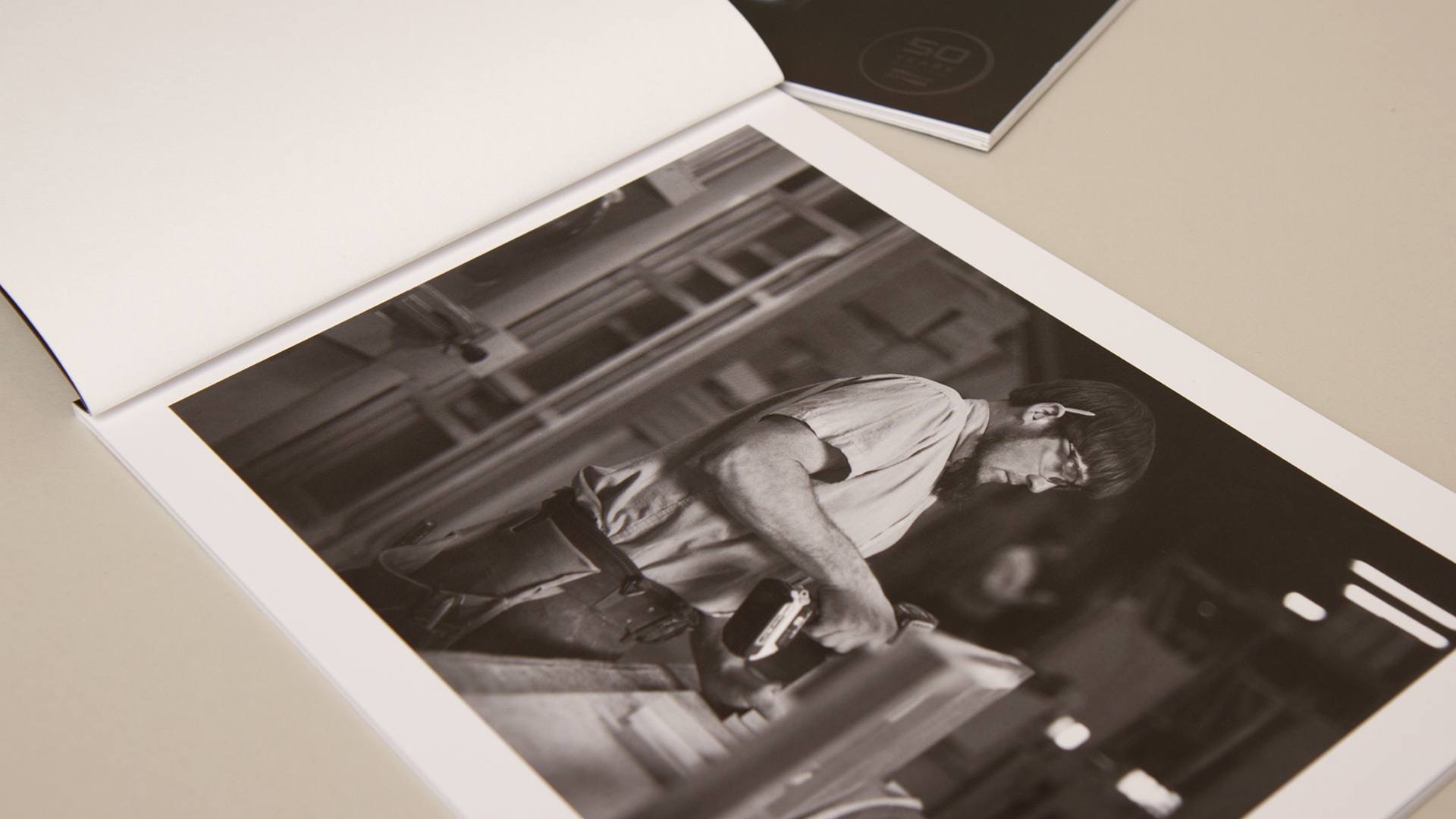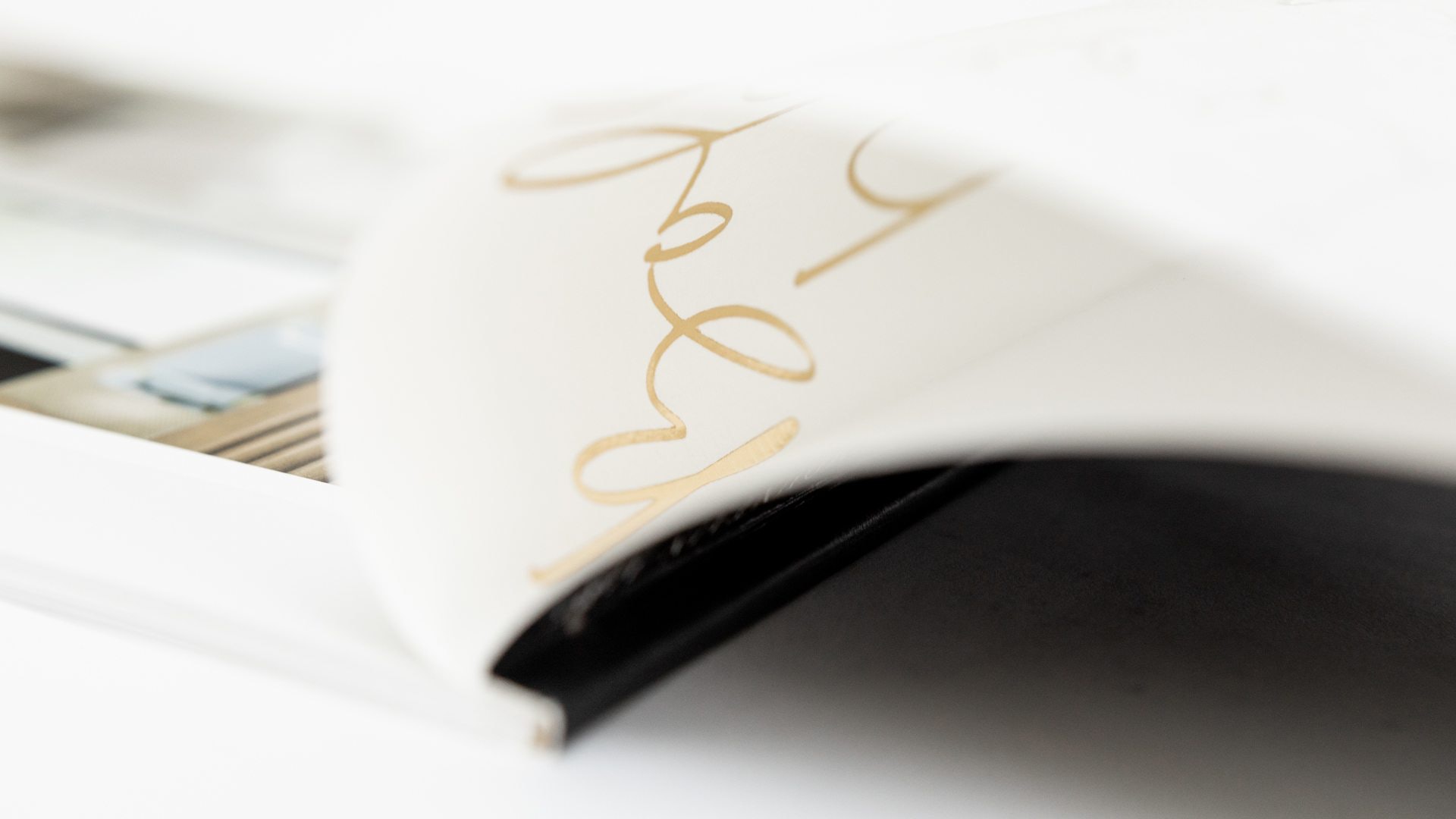 As a bottom-of-the-funnel offer in a comprehensive marketing ecosystem, the Newmar brochures are an effective final nudge to help close the deal with the prospects most likely to buy, giving them a taste of what it's like to own one of the world's most indulgent motor coaches before they ever sign a contract.
Our positioning in the marketplace is built on quality craftsmanship, innovation, and superior customer care. Our (award-winning!) brochures are a reflection of the people, products, and ownership experience Newmar delivers, and do justice to all of the work and attention to detail that goes into everything we build. I couldn't be more proud!"

Shannon Stover
Marketing Manager, Newmar Corp.
Start getting better results.
Take your marketing to the next level. We can help.