Smashing an Indy Eleven Attendance Record

Selling out the home opener for Indy's soccer team.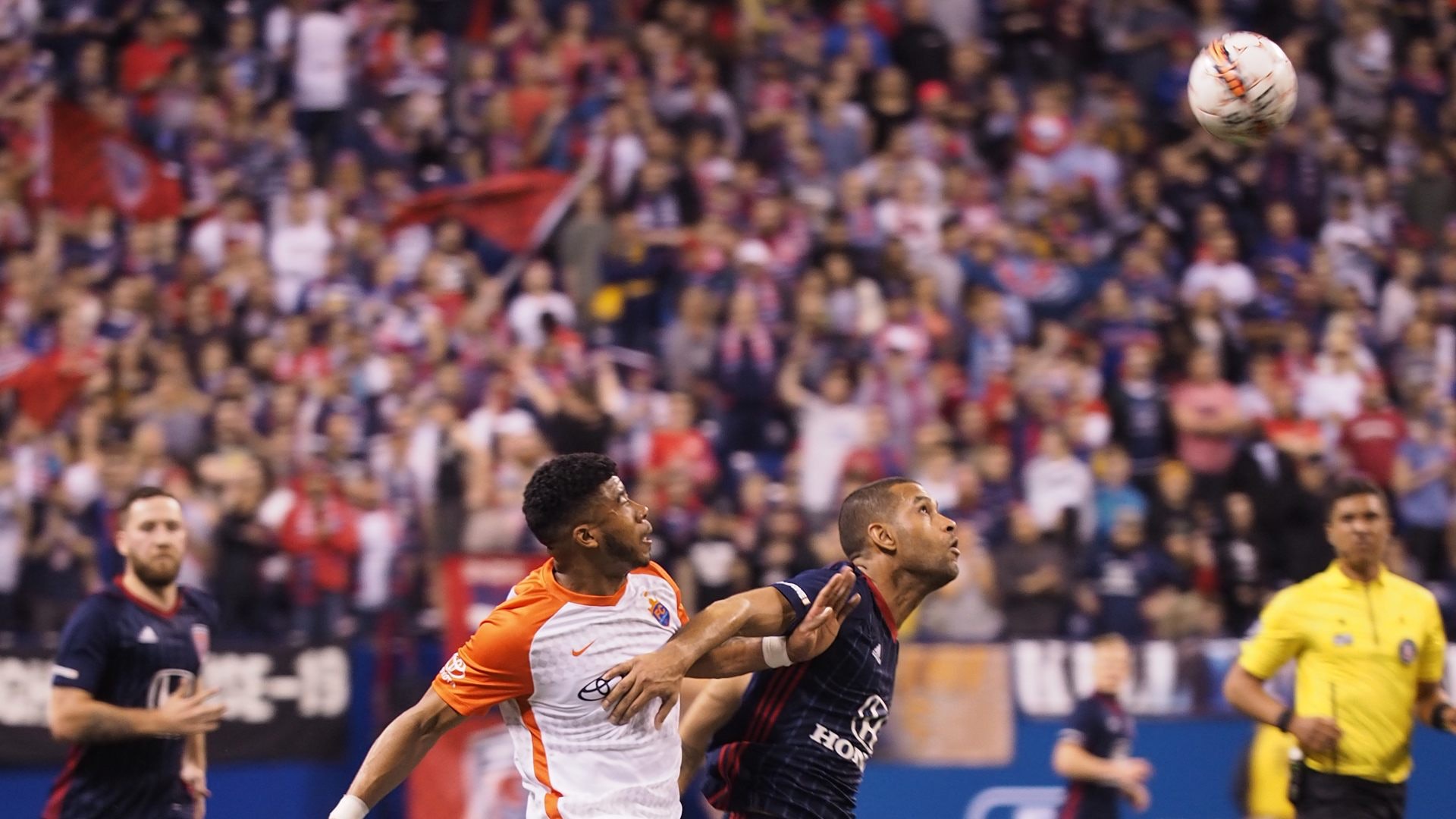 OVERVIEW
17,535
Attendees at the home opener
43.6%
More sales than previous record
50.3%
Opener revenue directly attributable to E3 campaigns
40 Days. 15,000 tickets.
Indy Eleven needed to sell out its home opener on March 31, 2018. The team had moved from Carroll Stadium on the IUPUI campus to Lucas Oil Stadium, and joined a new league to boot. Add in a new coach and a roster filled with new players, and the team wanted to make a big splash on day one.
Element Three was tasked with creating a holistic marketing campaign from scratch—and helping sell 15,000 tickets to the opening match—in just 40 days. We also needed to understand Indy Eleven's sales attribution and reporting as they transitioned between ticketing systems.
Galvanizing fans with a multi-channel campaign.
DIGITAL CAMPAIGN ASSETS
10 Paid Social Campaigns (34 Ads, 239 Variations)
6 Paid Social Videos
10 Paid Search Ads
13 Emails
10+ Digital Display Ads
TRADITIONAL CAMPAIGN ASSETS
Vehicle Wraps
Kiosk Wraps
Broadcast TV Spots
Radio Spots
Print Ads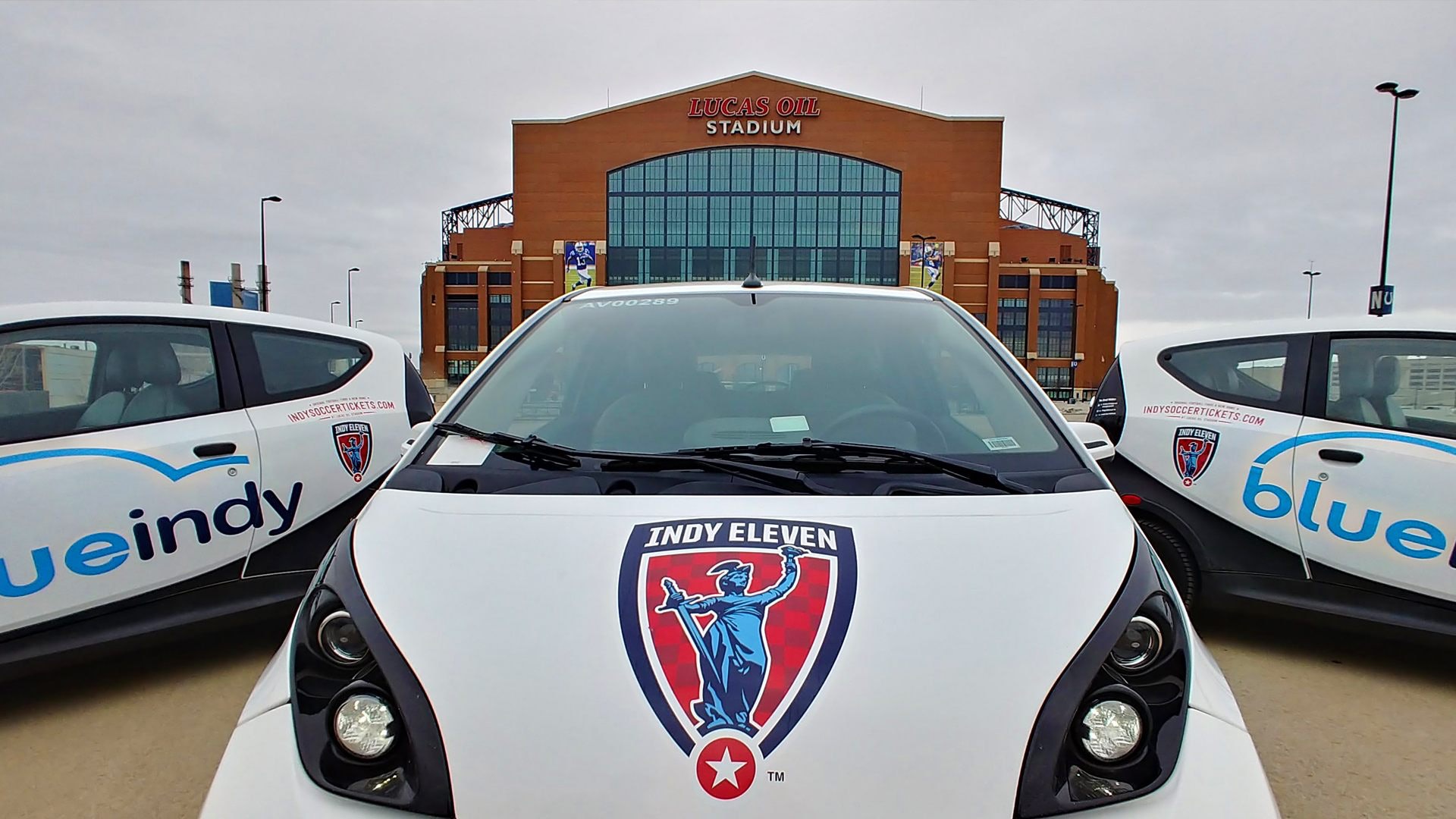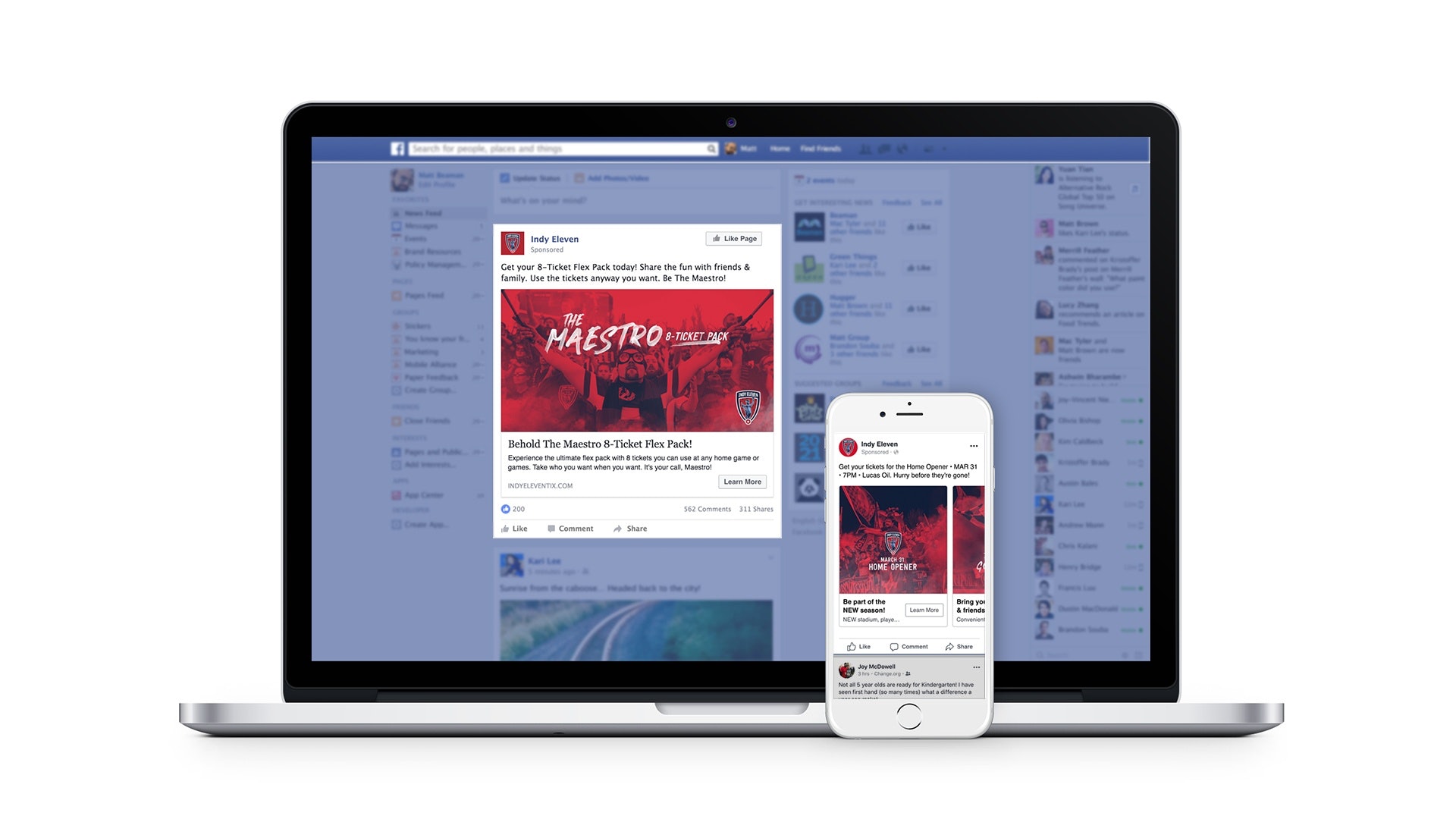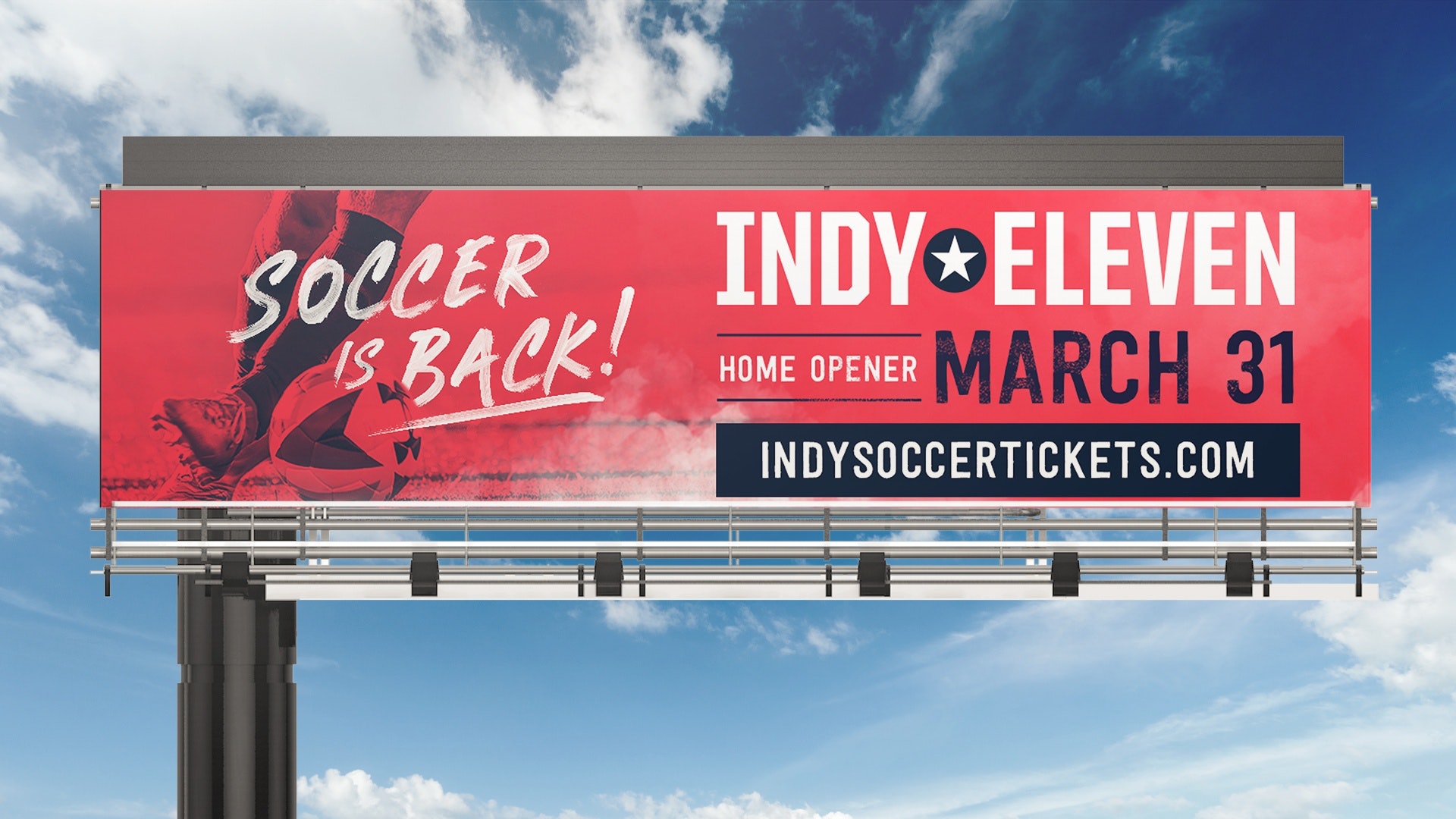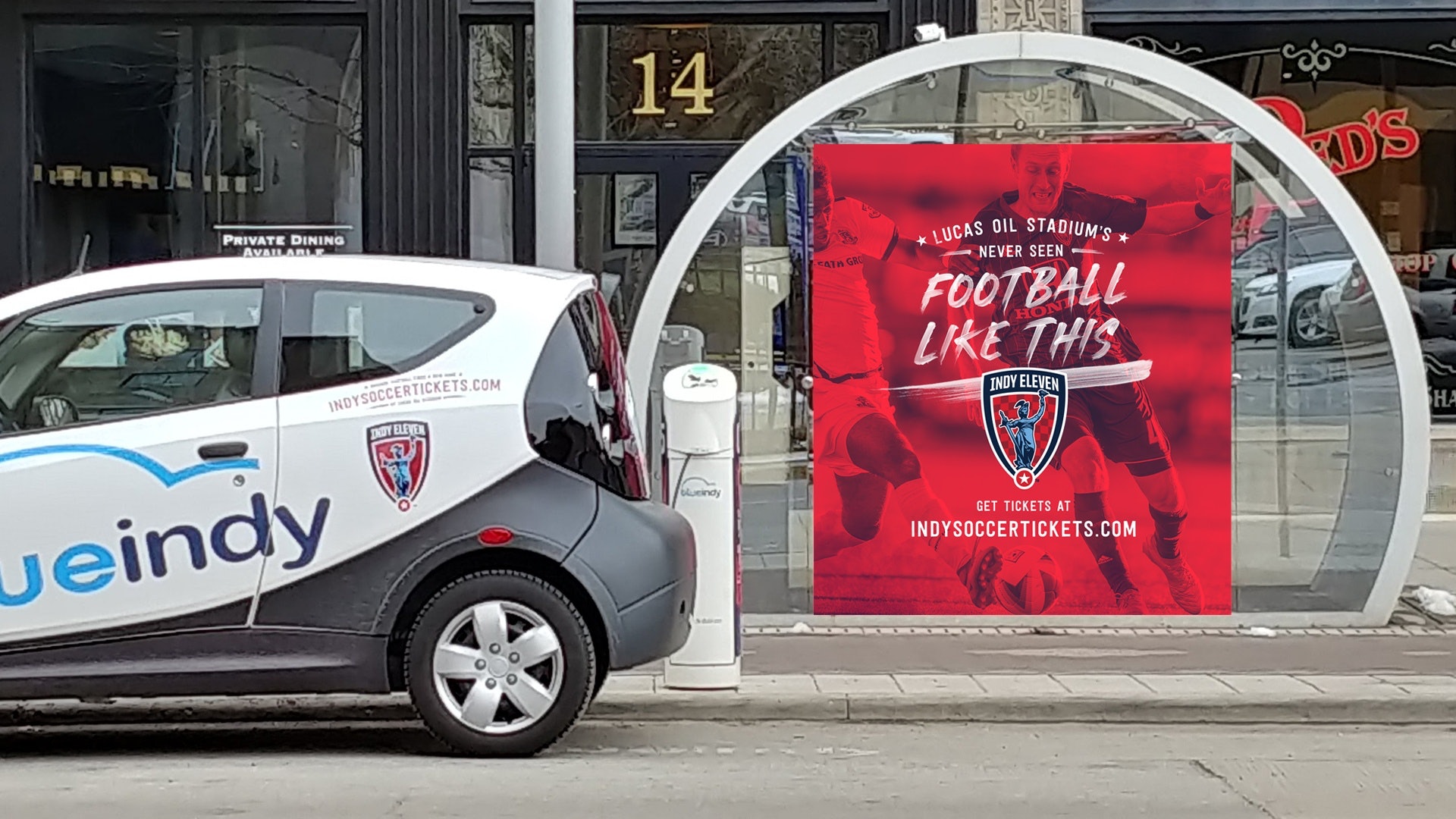 Building synergy between Indy's two footballs.
Soccer in the States is growing fast, but football is king—which in Indianapolis means the Colts. With Indy Eleven moving into the Colts' home at Lucas Oil Stadium, it was a perfect opportunity to leverage the strong brand equity the Colts already have to build momentum for the Eleven.
To make things even better, we were able to find a way to work with a locally owned business to bring the Indy Eleven and Colts brands together. Stacked Pickle, a local chain of sports bars, is owned by former Colts linebacker Gary Brackett, who is not only a still-beloved part of the Super Bowl XLI winning squad, but also a formidable businessman. It just made sense to put Stacked Pickle and Indy Eleven together, especially when our research revealed a close geographic correlation between the chain's brick-and-mortar locations and the people who buy Indy Eleven tickets. The connection was made, and an idea was hatched.
Our creative team delivered a number of scenes following Gary Brackett's "return to football" as a member of Indy Eleven, including Brackett diving on a "fumble" (really a penalty kick), spear-tackling a player lining up a free kick, and discovering with horror that "the whole team is kickers." The resulting video and audio clips ran primarily on owned media, including televisions in Stacked Pickle restaurants and existing radio campaigns, but also as part of a limited paid social run in the days leading up to Indy Eleven's home opener.
A HUGE shoutout to Element Three for coordinating such an incredible production. Excellent work from a truly dynamic team!"
Gary Brackett
Former Colts linebacker, Super Bowl Champion, and CEO of the Stacked Pickle
Coming through in the clutch.

E3 helped Indy Eleven turn their Lucas Oil debut into a resounding success, despite a weekend filled with Easter events, a Final Four game, Comic-Con, and Spring Break for local schools.
And that success for Indy Eleven extended beyond just ticket sales. We supplied creative that could be used for future marketing, and integrated their software systems so they could glean new insights from their data.
Start getting better results.
Take your marketing to the next level. We can help.