Flooring it to market dominance.
Thor Industries is the sole owner of operating subsidiaries that, combined, represent one of the world's largest recreational vehicle manufacturers. And while they hold a spot in the Fortune 500, their corporate brand was relatively unknown among consumers.
To continue building market share within the RV industry, Thor partnered with us to develop, launch, and execute a high-level, evergreen marketing campaign—one that would drive them (and their subsidiaries) to success for years to come.
The campaign had to engage. Inspire. Resonate with their current audience and reach new prospects alike. With a destination in mind, we took the driver's seat and set out to grow awareness and increase market share.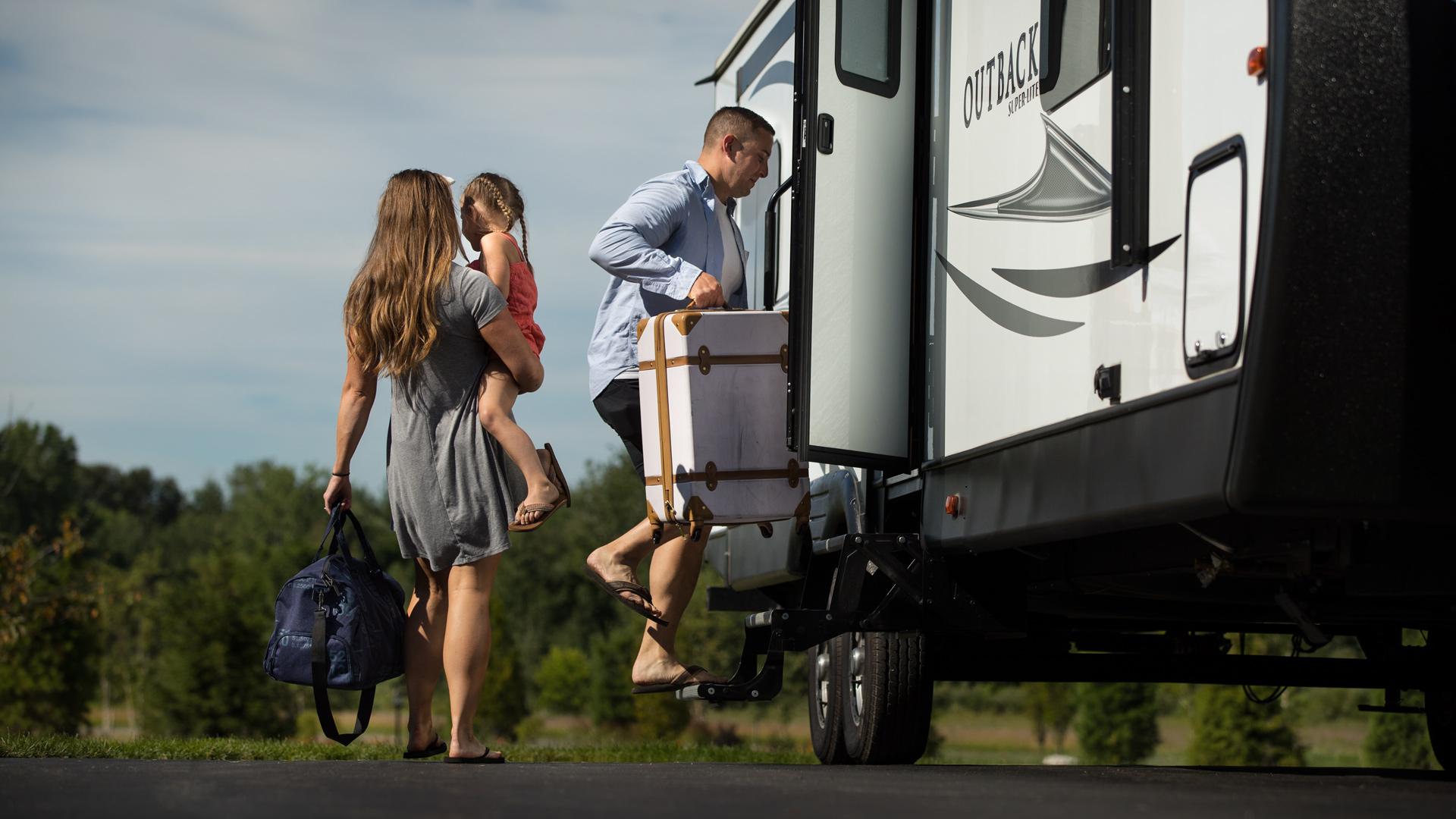 Inspiring a "Go Your Own Way" mentality.
To reach an audience you have to talk their talk. And when it comes to RVing, there's one thing that can't be denied—the feeling of freedom. Getting away. Chasing your daydreams and making them a reality.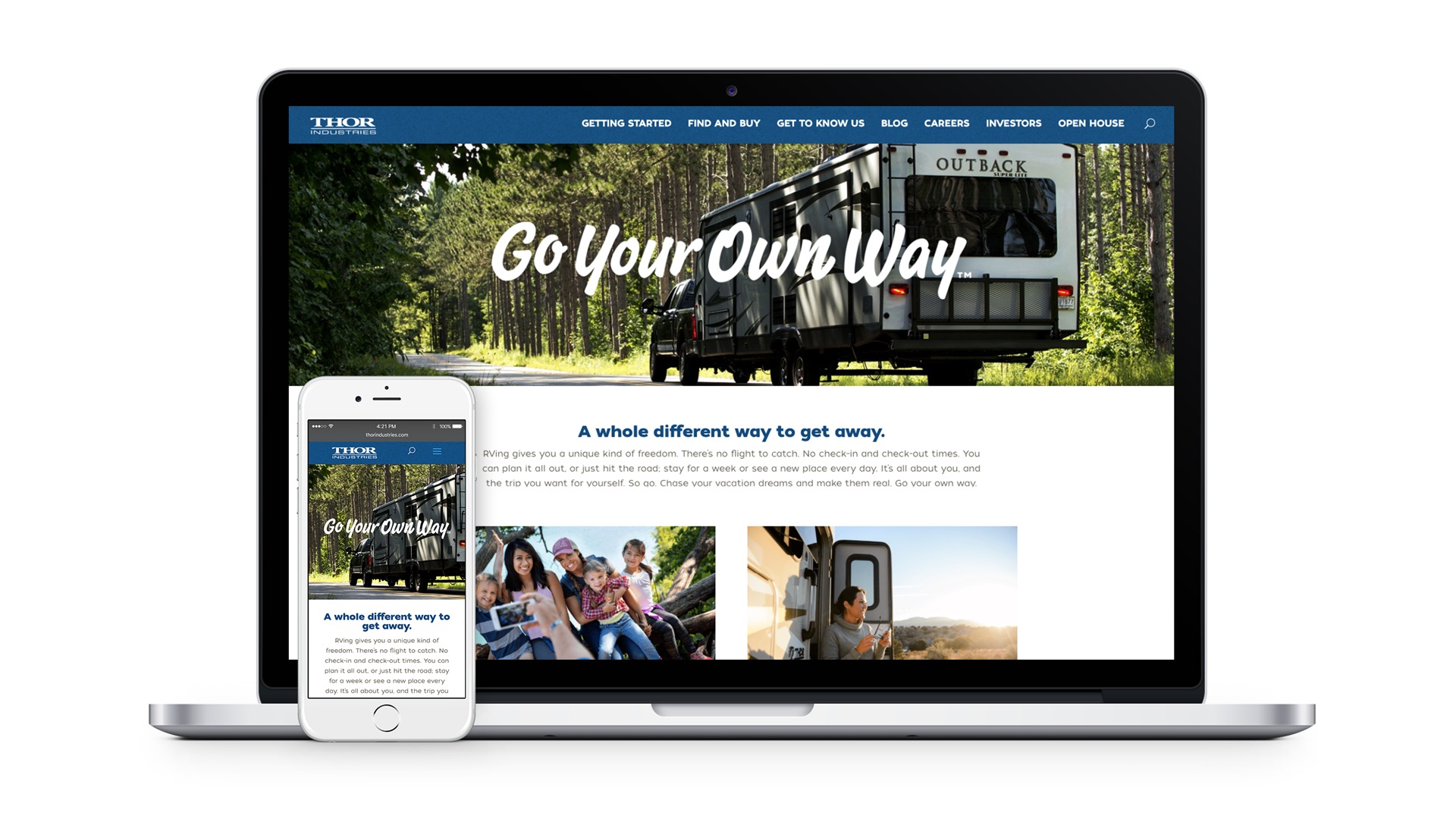 Our "Go Your Own Way" campaign became a mantra for the RV lifestyle—candid, honest, authentic. Leaning into the diversity of products Thor's RV subsidiaries offer, we encouraged users to not just take to the road, but to find the exact right RV, and take the kind of trip that really spoke to them and only them.
The campaign captured what Thor's audience already loved about RVing while inspiring those who knew nothing about boondocking, rigs, or slide-outs to consider what the RV lifestyle might offer: a whole family of ways to get away.
Where story meets strategy.
A compelling story needs a strong strategy. And in this case, that strategy meant placing Thor in front of audiences through old and new channels alike.
We went big, executing a roadmap that included everything from paid social and search to display advertising and programmatic video buying. The year-long campaign also required consistent maintenance to stay in front of users, which meant publishing content, creating new landing pages, and refreshing ad creative—about 335 different assets and paid media posts, to be exact.
Channels Used:
Facebook
Display advertising
YouTube
Instagram
Pinterest
Paid search
Content Created:
335 ads and social posts
7 videos
3 website guides
Bringing us to the (marketing) game was herculean. In every interaction I had with Element Three, there was a genuine effort to deliver what I asked for.

Ken Julian
Senior Vice President, Thor Industries
Grow awareness, grow market share.
Through the "Go Your Own Way" campaign, Thor was able to engage new audiences and grow its total market share in the process. During the nine-month campaign, Thor Industries' market share increased by 0.74% from 2017, and the campaign generated a 76% increase in new users to the site. 
The campaign proved efficient, too. With an average of $0.69 ad CPC and 132.4M total ad impressions, Thor Industries got their name out there and laid the foundation for a long road of success going forward.