Crafting a Warm Welcome for New E3ers

How we propelled our award-winning employee onboarding experience to a whole other level.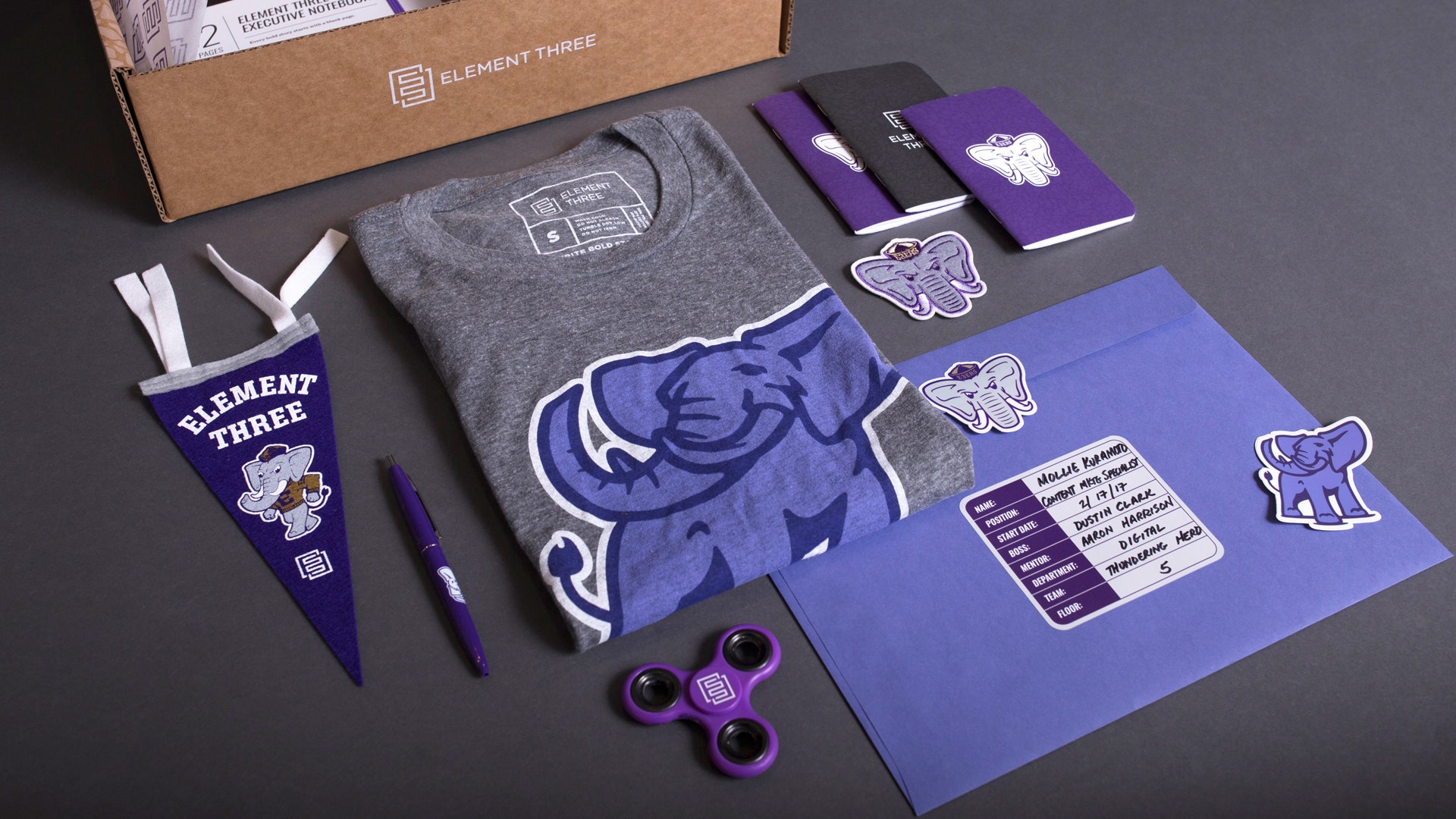 An onboarding experience in need of an update.

According to SHRM, 69% of employees are more likely to stay at a company for three or more years if they had a positive onboarding experience. And while our agency had built a strong onboarding foundation in the past, growth, cultural shifts, and a redefined brand required an updated onboarding experience.
Our end goal? Deliver a best-in-class employee experience by acclimating new hires to our technology, tools, office space, and culture. In essence, we wanted each new E3er to understand the ins and outs of our agency as seamlessly as possible in a way that felt true to who we are as an agency.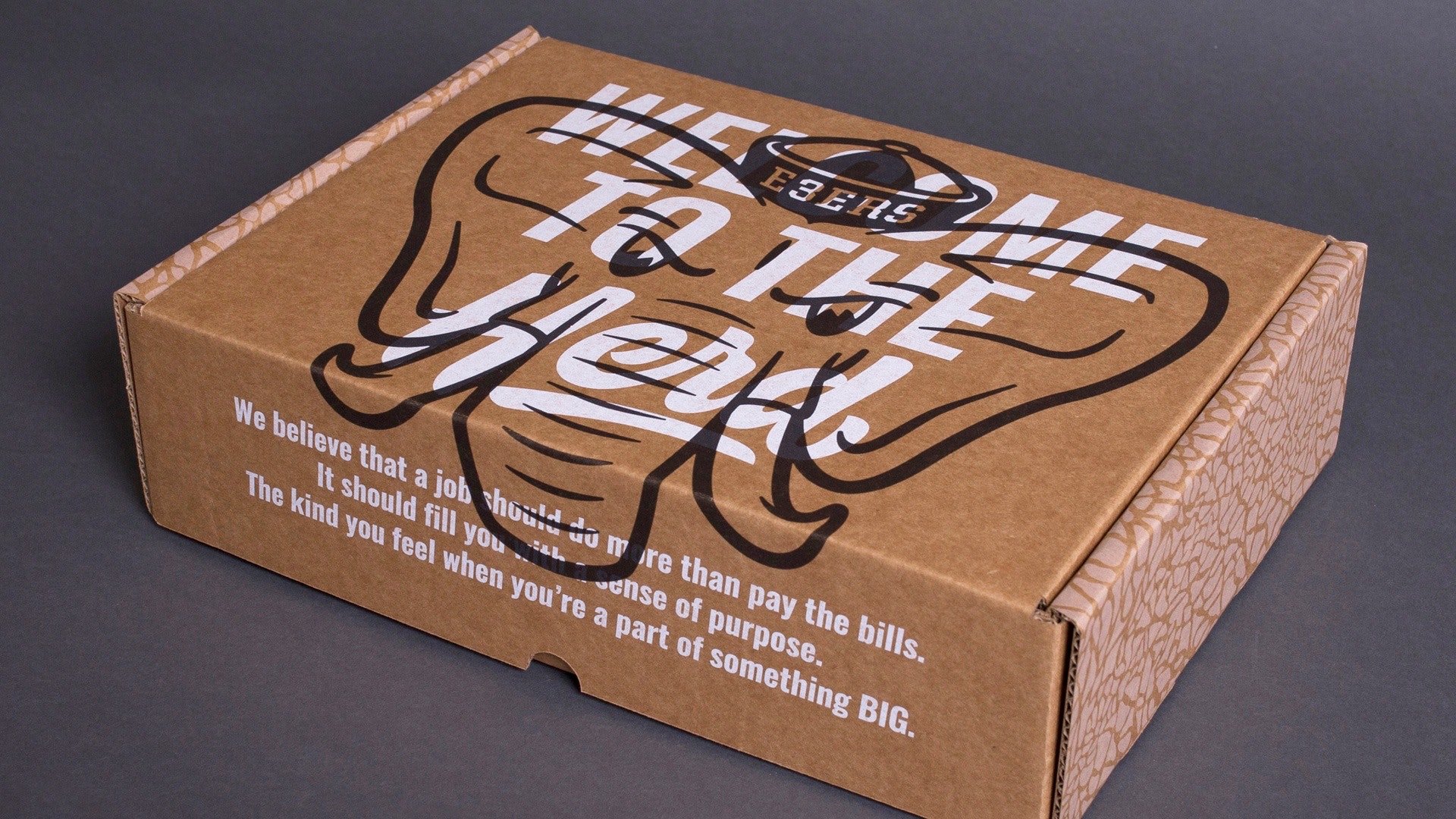 Bringing our brand into the box.

Our 2016 onboarding box was a success. It was clever, beautifully designed, and even won an ADDY award. The only problem: it no longer felt like us, and didn't reflect any of the updated brand assets we'd been accumulating since it was created. It seemed out of place.
We knew our onboarding experience needed some love. So when we went to revamp it, we decided to lead with our revitalized brand. Build on what we already had. And brainstorm what could be added, what should be cut, and what needed to be altered to ensure our culture rang true through the entire experience.
We didn't just want E3ers to feel welcome. We wanted to offer them a glimpse into what we're all about from the get-go.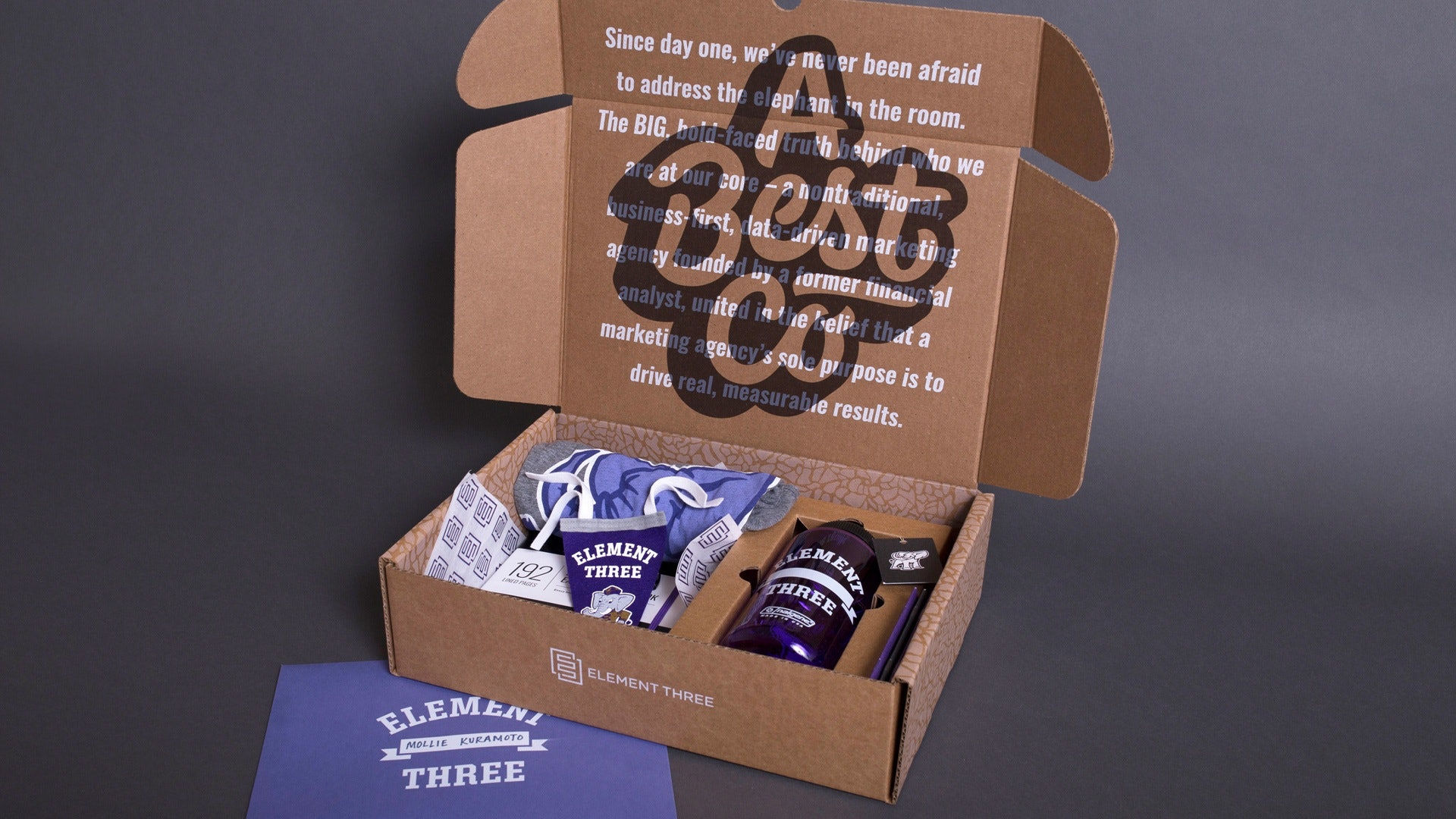 An inside look.

To bring our brand into the onboarding experience, we created a custom box that housed everything from E3 swag to paperwork delivered in a personalized, branded envelope. The box itself pulled inspiration from various office murals that represent our values, mascot, and culture, while the inside featured subtle elephant print and a summary of our agency.
With updated swag including a t-shirt, water bottle, pennant, notebook, and pen, plus a personalized note from E3 President Tiffany Sauder, we brought all of our brand elements together to show new hires who we truly are—and where they fit in.
It's more than just cool swag; we're telling the new employee a story about who we are through all of the details of the packaging and components."
Kevin Spahn
Art Director, Element Three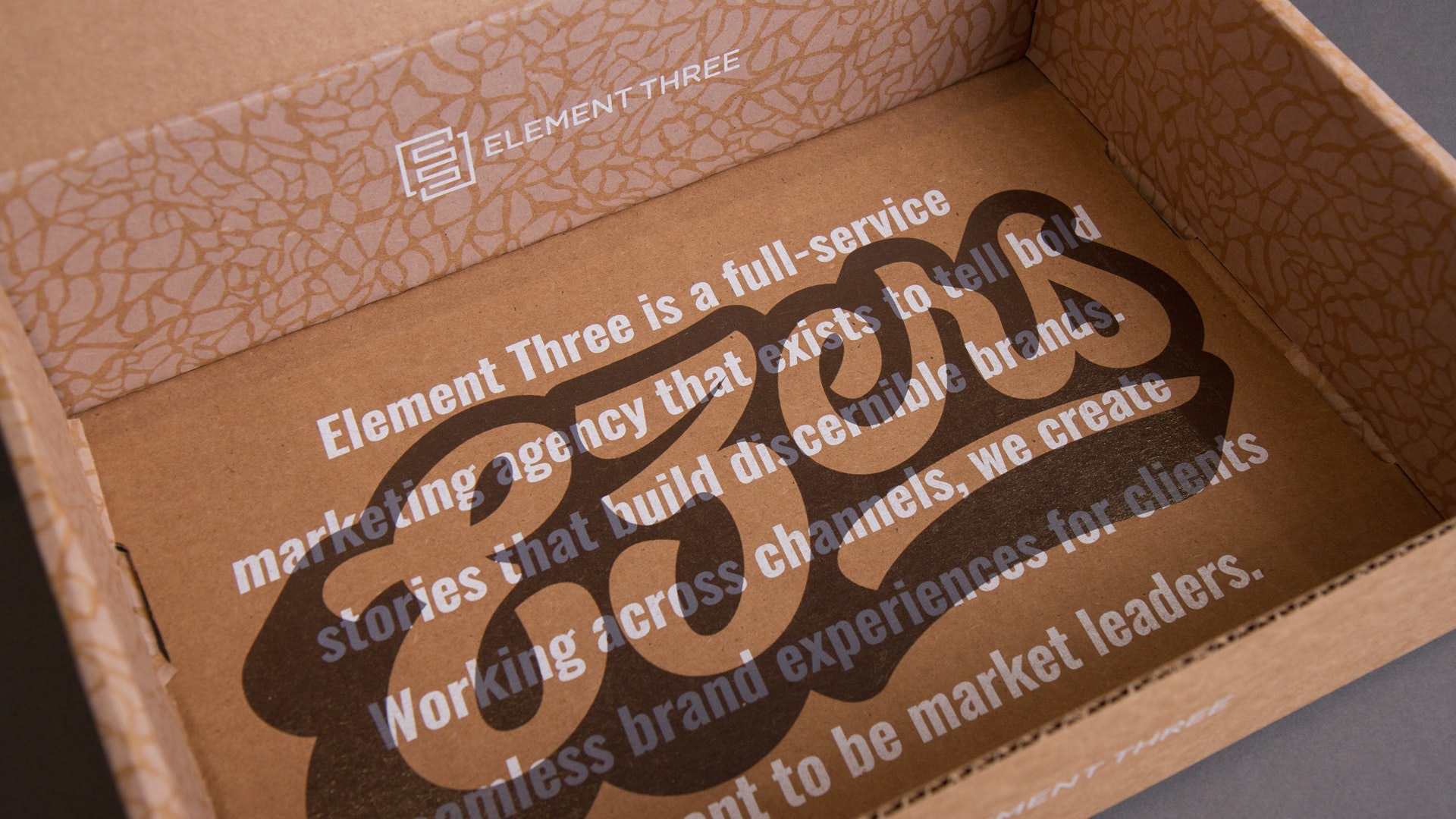 Authenticity over everything.

While sharp design and top-notch swag are certainly nice, great onboarding is about authenticity. Opening up about your culture. Your people. And delivering something that makes a new hire's first week a little less stressful and a little more fun.
By putting our brand and culture front and center in a candid way, our onboarding box and experience won a 2018 ADDY Award. But more importantly, we created something that tells our story, welcomes new hires with open arms, and feels true to who we are in one neatly packaged experience.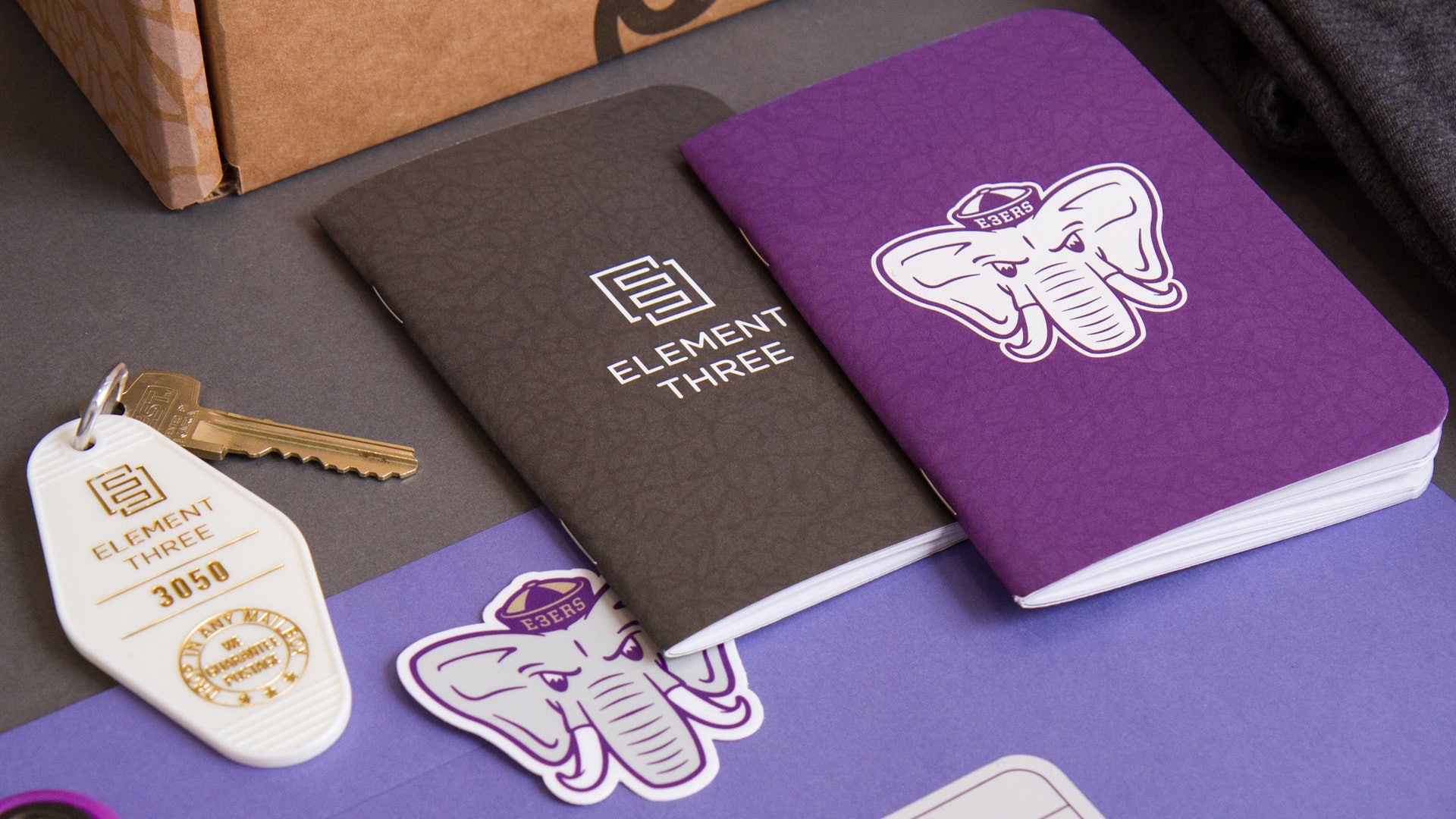 Joining a new company can be nerve-wracking for anyone. Walking into an environment where everyone is already connected and engaged with each other takes guts, so we think it is really important to let our new hires know right out of the gate that we are happy they're here."
Karen Seketa
VP of Talent, Element Three
Start getting better results.
Take your marketing to the next level. We can help.