One Media Platform Switch. 499% More Leads.
Proactively finding ways to broaden the reach of Boston Whaler's digital advertising campaigns.
OVERVIEW
499%
Increase in leads in 90 days of The Trade Desk results
59%
Decrease in cost per lead
A 101 in digital media purchasing.

There are billions, maybe trillions of places where you can pay to place your ads online. Interacting with every website or publisher out there would take up all of your (or your agency's) time, and the inconsistency would be maddening.
Our paid media management team works with platforms like Google Display Network, which allows you to buy ads on any site that's part of Google's advertising network (all kinds of sites and publishers, big and small, who've partnered with Google to sell ad space).
That's where our long-time client Boston Whaler's digital campaigns lived initially, but we had an idea for how to broaden their reach even further: The Trade Desk.
Wait, what is The Trade Desk?

The Trade Desk is similar to Google Display Network in structure, but much larger in reach. It opens up access to publishers who speak to our target audiences but aren't featured on Google Display Network. But most impressively, it allows us to fine-tune our ad buys so they're more relevant to the user and more efficient for our clients.
The Trade Desk is a demand-side platform that competes in online ad auctions to place buys across hundreds and even thousands of sites at a time on our behalf, and allows us to adjust bids on a multitude of factors to pay for an impression based on the value of the individual user at that moment in time. For example, we might want to pay more to reach a user at 2 p.m. than we would at 2 a.m., even on the same site.
The little things matter, and The Trade Desk lets us see far into those details to take action where we couldn't before. From there, we apply our own digital marketing strategy and watch how it works along the way.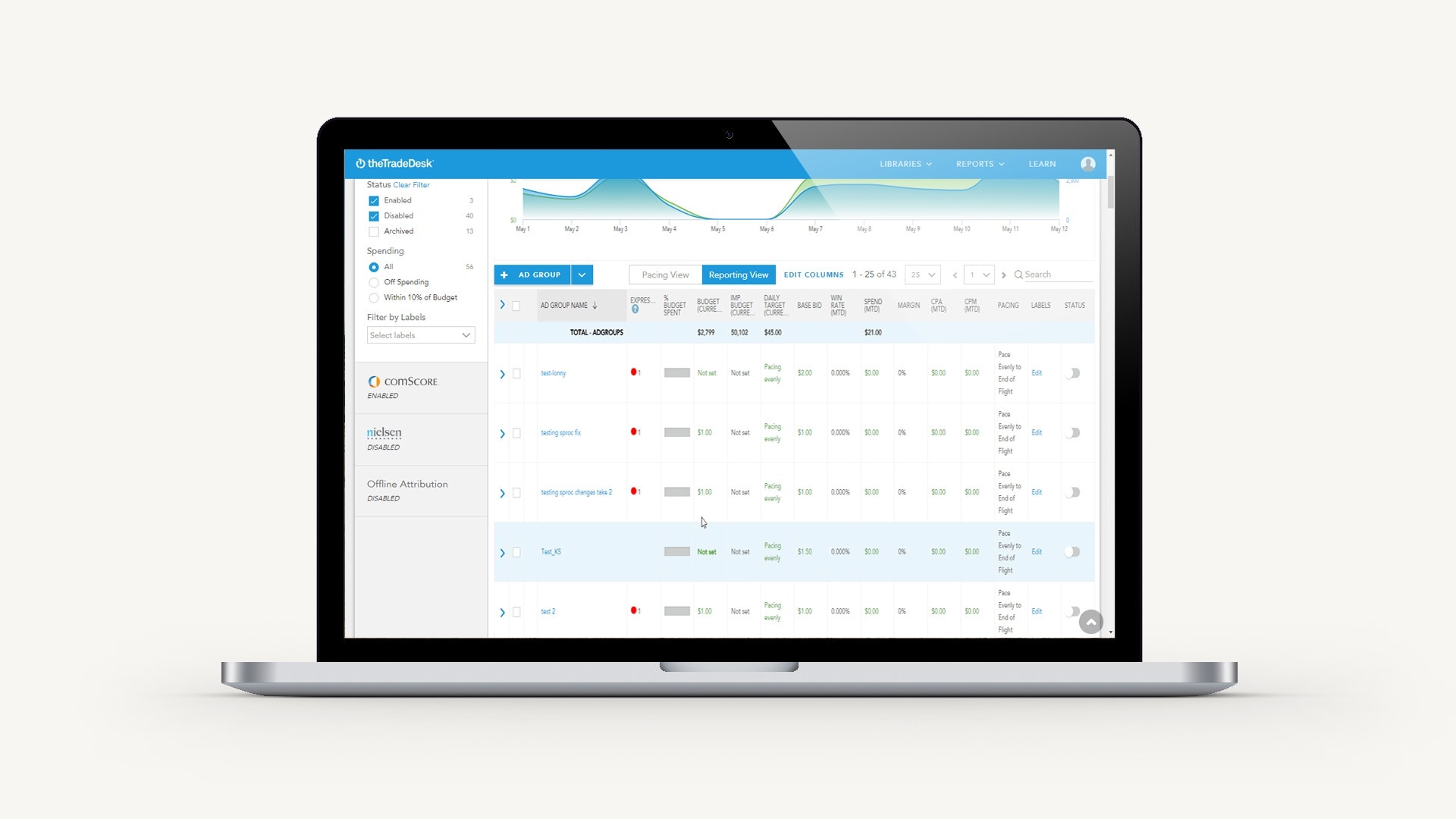 When trying one small idea takes off like whoa.
Boston Whaler's retargeting campaigns were successful by every measure, bringing in industry-standard leads at costs the client was more than happy with, considering the return they get out of spending a small amount to advertise for luxury, high-class boat sales. But we had an idea: It would be simple and easy to try The Trade Desk for Boston Whaler.
Boston Whaler works with multiple vendors and is digitally sophisticated in their own right, so The Trade Desk wouldn't just be an efficiency on our side but also on theirs. Plus, we just saw a huge potential for more leads that would cost less. And that's what really mattered here.
Without changing the creative other than monthly refreshes, we moved one retargeting campaign to The Trade Desk for a simple 90 days. And this happened: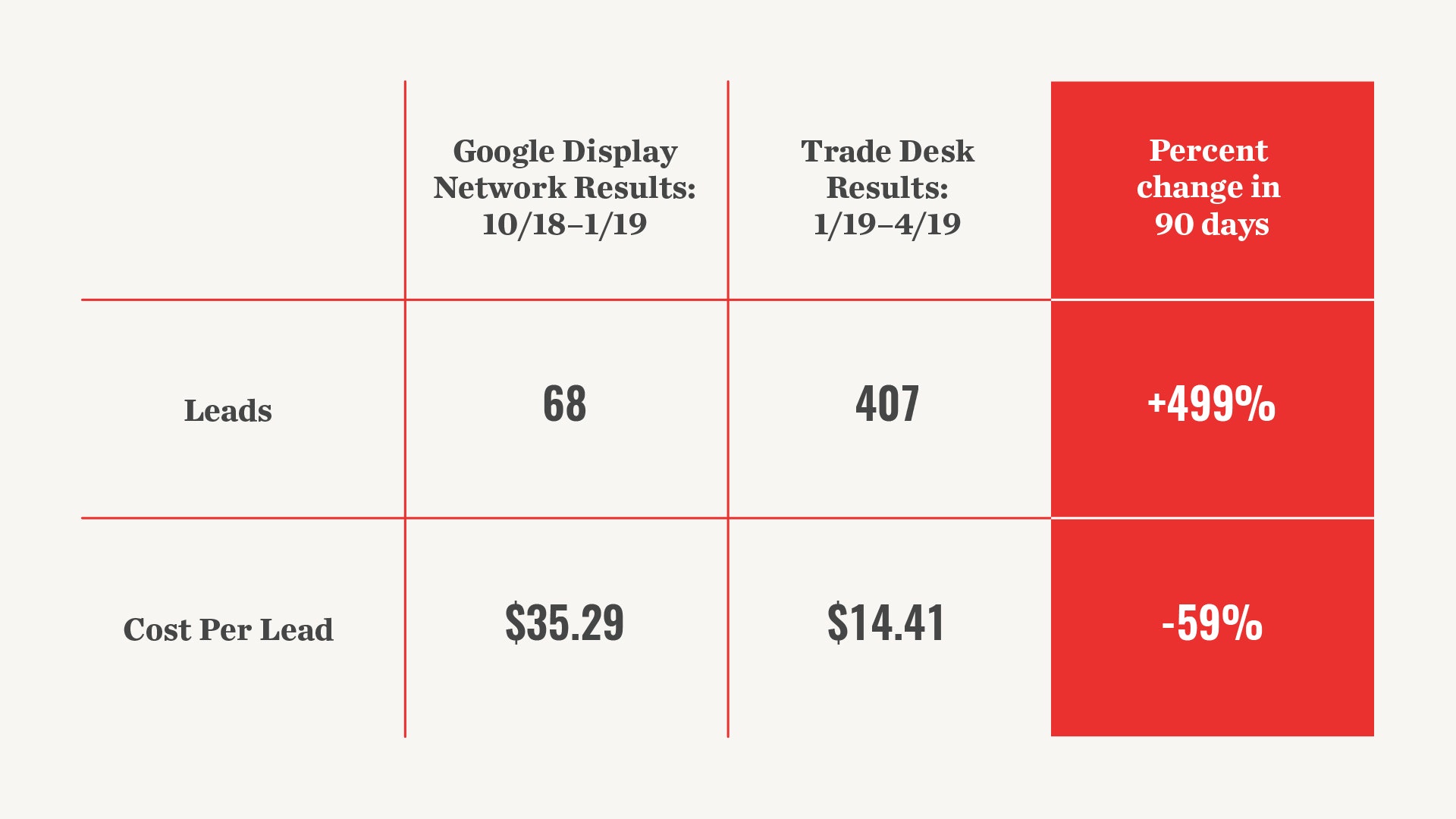 Element Three continues to challenge us in the best ways possible. Switching to The Trade Desk generated tremendous results for our business, which are directly tied to their ability to bring new ideas to the table— time and time again."
Katie Freeburn
Digital Marketing Specialist, Boston Whaler
This is the kind of stuff we love, and not just the results.

After several successful campaigns over the years, E3's relationship with platforms like The Trade Desk has grown and put us on the forefront of new ad tech like connected TV, offline conversion tracking, and more. We're constantly searching for ways to take a strategy and maximize it, and to find completely new ways to think altogether.
That's what our paid team gets paid to do (pun sort of intended). They look at something that could be seen as formulaic and add a personal, individualized approach to it every single time. They find the little cracks, and the little ways to blow past results out of the water. They make sure your ads are relevant, useful, engaging, and seen by the exact right people.
Start getting better results.
Take your marketing to the next level. We can help.