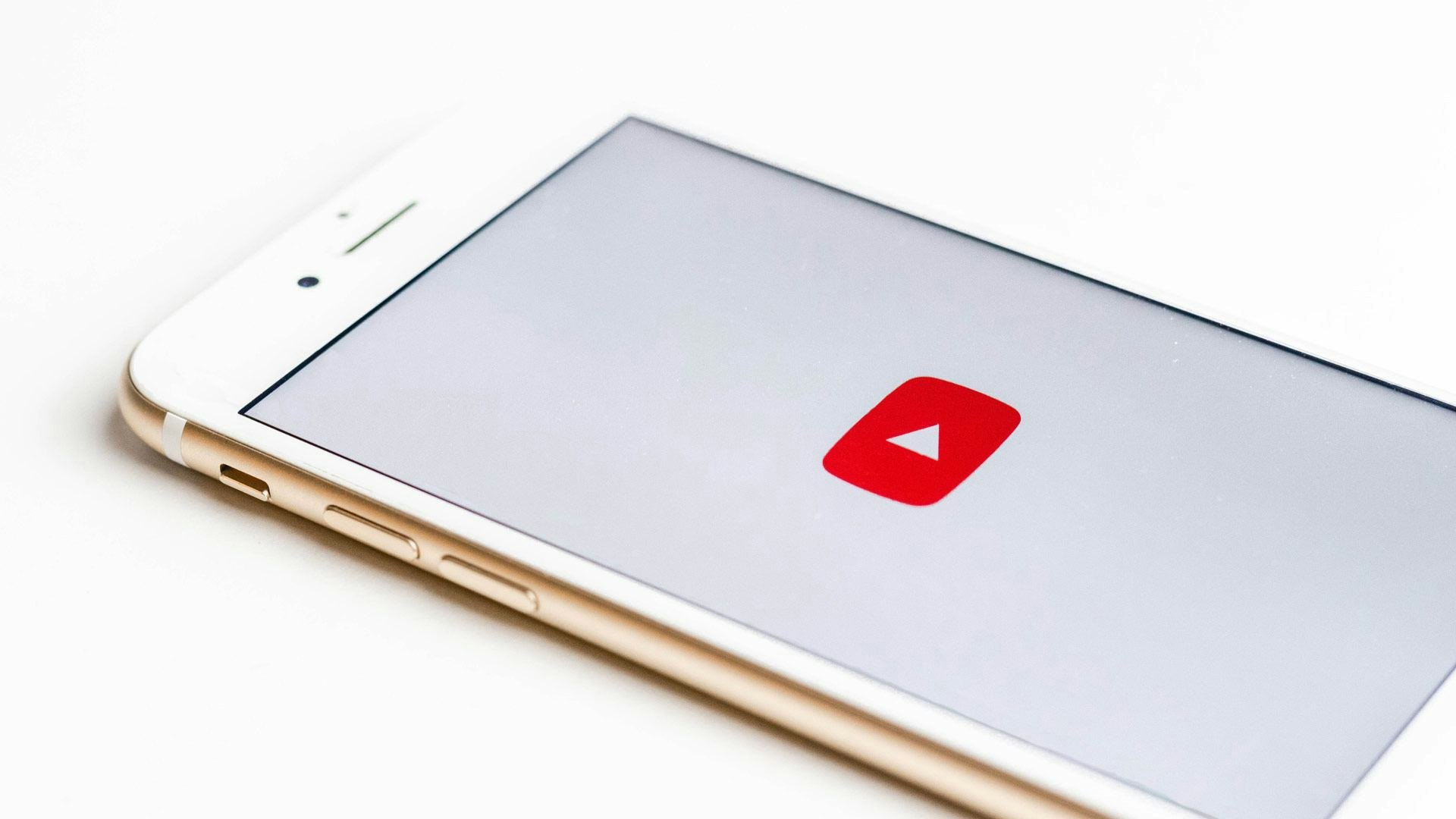 YouTube is the second largest search engine on the internet, after only Google. With 1.9 billion monthly users—and 60 percent of people saying they prefer watching YouTube over live TV—it's hard to miss that there is a large audience that's shifting to the video streaming platform. If you're not using it to your brand's advantage, you might be missing out on potential reach to your audience.
From large organizations to small businesses, marketing teams are incorporating YouTube ads more and more regularly into their paid media strategies. In this blog, I will discuss how to get started using YouTube ads, some different types of ads, tips and advice, and how to make advertising on YouTube work for your company.
Types of YouTube Ads
YouTube ads are different from advertising on other platforms. There are a few different types of ads available, each with their own benefits and drawbacks depending on the situation. Let's take a look at what's out there.
Non-Skippable Ads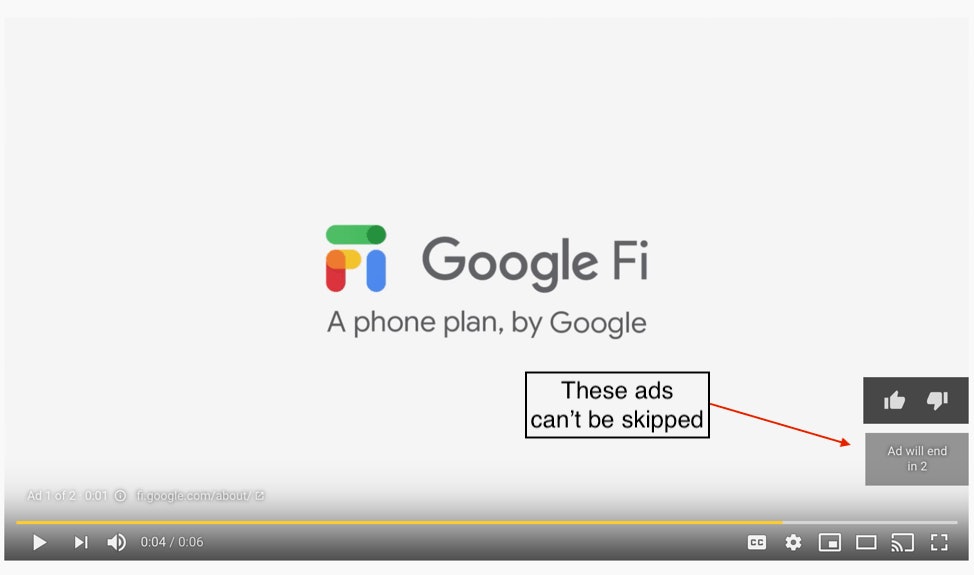 As the name suggests, these video ads cannot be skipped to watch the YouTube video you clicked on. They last 15 to 20 seconds (or a mere 6 seconds, if they are bumper ads) and the duration is dependent on geolocation. In the past, these ads were 30 seconds long, but YouTube changed their duration rules for a better user experience. You might get less time in front of your audience, but they will be 10-15 seconds happier, so it's probably a win for advertisers in the long run.
Even with the duration reduced, though, non-skippable ads aren't viewed as positively as other ads by the majority of YouTube users. You could, though, make the case that a growing audience is becoming indifferent to the delay and getting used to the format, as the amount of negative insight has reduced significantly.
Let's talk about 3 types of non-skippable YouTube video ads: pre-rolls, mid-rolls, and bumpers.
Pre-roll ads
Pre-roll is a video ad that appears at the beginning of a YouTube video before the video plays. They have a maximum duration of 20 seconds.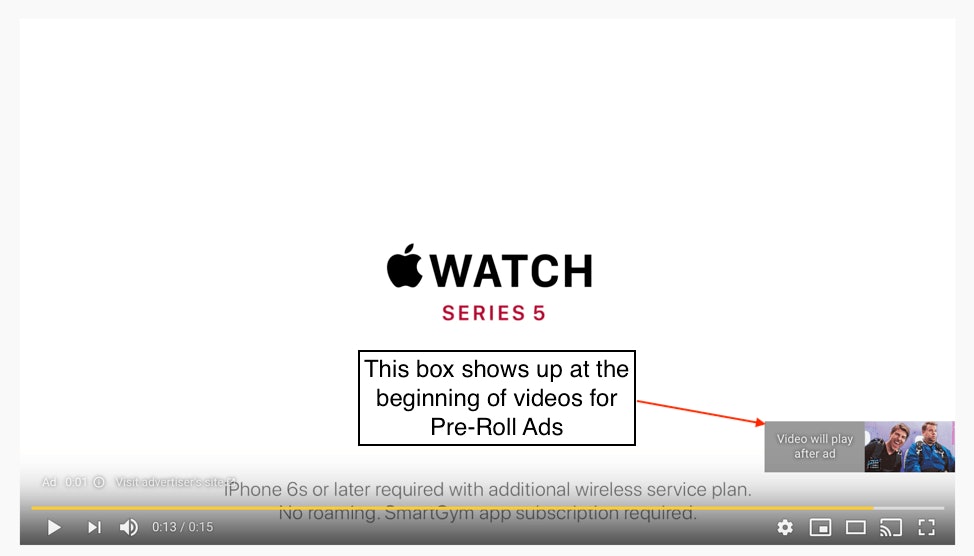 Mid-roll ads
If the video you're watching is 10 minutes or longer, a mid-roll ad can be inserted in the middle of the video. These ads are also up to 20 seconds long.
Bumper ads
Bumper ads are the shortest ad format on YouTube, lasting only six seconds. These ads play before videos or at the end of videos. Bumper ads allow you the ease of reusing older video content for snackable ads to quickly capture your audiences' attention and avoid the inconvenience of longer unskippable ads.
TrueView ads
The most common ads on the YouTube platform are TrueView ads. These ads can differ in the content displayed based on the viewer's preferences. TrueView ads are also different than the ones we've discussed thus far because they can be skippable or non-skippable; however, there are restrictions on length. Skippable ads can run up to six minutes, while the non-skippable ads must be 15–20 seconds. Paying for these ads is very similar to PPC, where you will only pay for them when people watch at least 30 seconds of the ad or if they click on the ad.
There are two types of TrueView ads: video ads and discovery display ads.
Video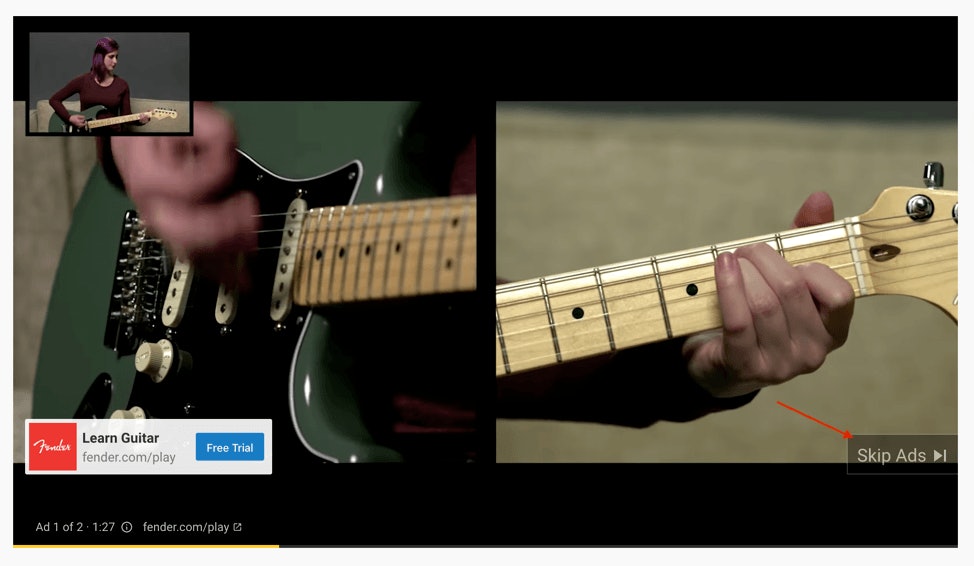 In-stream ads are placed before the YouTube video. If the ad is longer than 20 seconds, the viewer has the option to skip it. To convert, viewers can click on the CTA overlay or the smaller link next to the view timer.
Video Discovery Display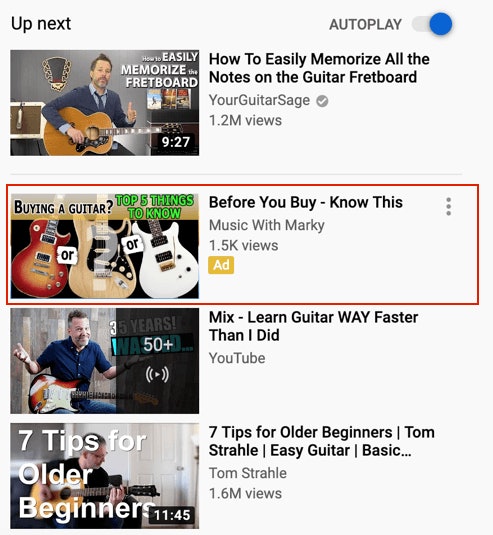 Discovery display ads appear in multiple locations for advertisers—the YouTube homepage, the "related videos" sidebar, and at the top of search result pages. The ad displayed may not always relate to what the viewer is searching, but for the most part it will.
YouTube Video Ad Sequencing
This is technically not an ad type, but it is an important ad feature. A video ad sequence is a series of video ads that you'd like to show to a user. Within each step of the series is an ad group and a video ad. Your users move through the ad sequence based on impressions, views, or skips. The criteria are typically set up at the campaign level. An ad sequence is similar to an email automation workflow, where each step is determined by the user's previous engagement and your defined, preset criteria.
For example, for a person to move to the second step in your sequence, an impression must be counted on the first video ad they see. The more engagements the better, even compared to a single but longer engagement. Create a YouTube campaign by relying on multiple videos to communicate your message, not just one.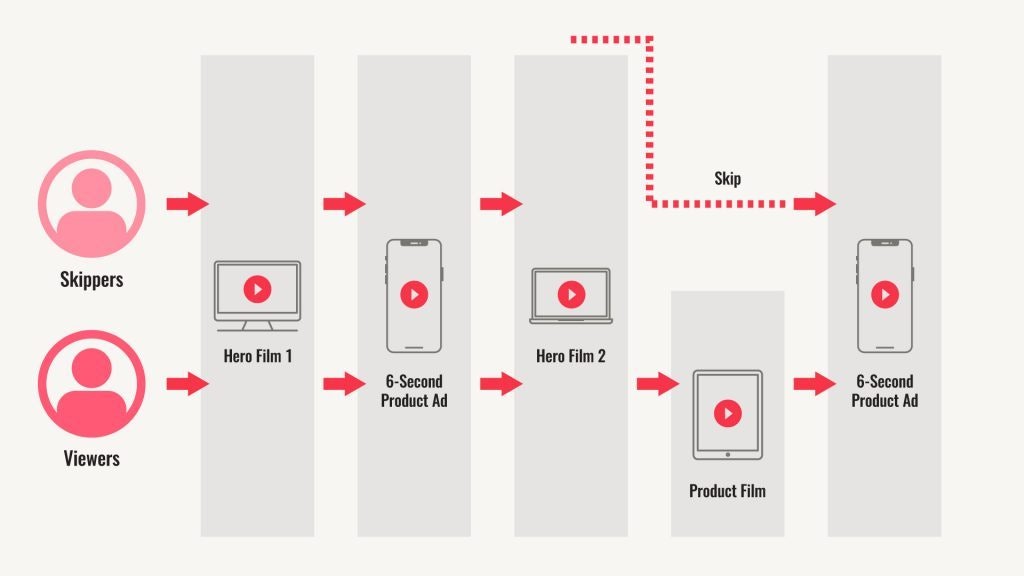 Key Metrics to Track for Your YouTube Ad Campaigns
Now that you're running your YouTube ad campaign, you need to know how it's performing and what changes or optimizations need to be made. You should probably link your YouTube campaigns to Google Ads to see deeper insights. However, if you are unfamiliar with the Google Ads dashboard, you might be clueless as to what metrics you should be looking for or whether the results you're getting are standard for your industry. And all the data in the world won't help you if you don't know what any of it means.
Here are the key metrics you'll need to be aware of in your Google Ads account:
Awareness
Impressions: how many people were exposed to your video (and thumbnail)?
Views: how many people watched past the 30-second mark?
Consideration
View-through rate: the percentage of impressions versus the amount of views
Cost-per-click (CPC): how many people clicked on your ad per dollar spent on advertising
Watch time: total amount of time people watched your video ads, shown in seconds
Clicks: people who clicked on your ad
Click-through rate (CTR): the percentage of ad viewers who clicked on your ads
Earned actions: a YouTube viewer engages with your YouTube channel after engaging with an ad

Earned views: views of other YouTube videos from viewers of a YouTube ad
Earned subscribers: viewers who subscribed after viewing an ad
Earned likes: viewers who liked a video on your YouTube channel after viewing an ad
Earned shares: viewers who shared a video on your YouTube channel after viewing an ad
YouTube Ad Targeting
Hands down, the best way to continue to improve your ad performance is to make sure you're getting them in front of the right people. YouTube has created many unique audience targeting types that allow us as marketers to discover and get in front of our target audience. There are plenty of YouTube targeting options and navigating them can be difficult for anyone. Here's a brief overview of the targeting options you might use for your YouTube ads.
Demographic Groups
Targeting by demographic is nothing new to paid media marketers. What's different with YouTube ads (and Google) is that campaigns can now use the more detailed demographics options to target groups like college students, homeowners, and new parents.
Life Events
In addition to detailed demographic targeting, YouTube gives you the ability to target users based on their major life events—enabling you to present them with content relevant to the things happening in their lives. For example, if a user is placed in the "job change" life event audience segment, then it's likely that they're going to search for a job board website. There are subcategories within each of these larger buckets:
Business creation
College graduation
Home updates
Job change
Marriage
Moving
New pet
Buying a home
Retirement
Consumer Patterns
YouTube targeting also allows you to reach users based on their online patterns and consumption habits using pre-built audiences. YouTube uses user signals across all of Google's platforms to develop these audiences. Some of the potential consumer patterns audience segments include:
Grocery
Department store shoppers
Convenience store shoppers
Frequent restaurant goers
Custom Intent Audiences
One of the more useful new audience types available for YouTube advertising is the custom intent audience. This allows advertisers to target users based on specific keywords they have searched on Google. Just select your desired keyword list to target, and YouTube will constantly refresh the audience to include all potential users who have searched those terms.
Remarketing audiences
Remarketing audiences on YouTube are no different from all other paid media platforms. You can target users who have visited a specific page on your website, create custom remarketing audiences in Google Analytics for YouTube, and send middle and bottom of funnel ads to users who have engaged with an ad or web page.
YouTube Ads Tips and Advice
We know what our options are, how to measure success, and who to target. But how can you make sure your ads are, you know, actually good? Here are a few steps you can take to assure you aren't making this effort in vain.
Quality, quality, quality content
Demonstrating your products or services through YouTube ads and supplemented by additional content on your YouTube channel is one of the best ways you can reach potential customers and guide them to purchase. 70% of shoppers watch YouTube videos to research products before purchasing, so making a good first impression can go a long way.
If you started a YouTube channel to elevate your brand, you have to commit to it. Publish, publish, publish! Determine a cadence of how often to upload videos and stick to it. The last thing you want to do is have users click on your ads only to find a dead channel. Your ads can be catchy, but if they don't lead to content that is informative and useful to the consumer, then you are leaving money on the table.
Fast Fact:
"How-to" guides are the most popular video type on YouTube, according to a recent study from Think With Google. How can you leverage this with your brand?
Optimize for search to be found
You might have a library of useful videos for your customers to find, but no one will see them if you aren't thinking about search first. Do some keyword research and write simple, to-the-point titles that directly relate to the questions people interested in your product are asking. Since product video and display ads are used typically for awareness about a product, your goal should be making sure you're found by interested and potential customers on YouTube—since, after all, it's the platform you're advertising on.
Create a community of subscribers
Purchase doesn't always happen the first time a user sees an ad. Typically, after several (or many) touchpoints, a user finally buys. If your ads are good, they will get people excited about your brand, but even great ads might not get your audience ready to commit to purchase. If they aren't yet ready to buy, guide them to subscribe to more of your content on YouTube. The more they see, the more likely it is they'll take the plunge. This will also allow you to reach a wider audience with paid and organic content.
Another great thing they can do is "Join" your channel. People who join your channel are paying to become brand ambassadors. A badge is added to their profile showing that they support you and your channel. Other perks include custom emojis and member promos—another way to sell your products or services.
Optimize, analyze, repeat
To gain the benefits of YouTube advertising, you'll need to keep working on improving the KPIs and metrics of your ad performance. Analyze the data provided by YouTube Analytics and Google Analytics, and make changes as necessary. Don't spend money on practices that don't work! Make every dollar spent worth it! Success with YouTube advertising requires a commitment to optimizing performance and growing your skills to stay up to date with trends and changes.
Now it's your turn
YouTube advertising is an incredible way to get your video ads out in front of your target audience. Yes, video content takes more work (and money) than normal PPC ads, but the awareness piece to your audience is valuable.
Keep in mind that if no sees your video content, it won't do you much good. Do everything you can to optimize the current video content you have. With this guide and new YouTube ad knowledge in your arsenal, you are well on your way to launching a successful YouTube advertising campaign!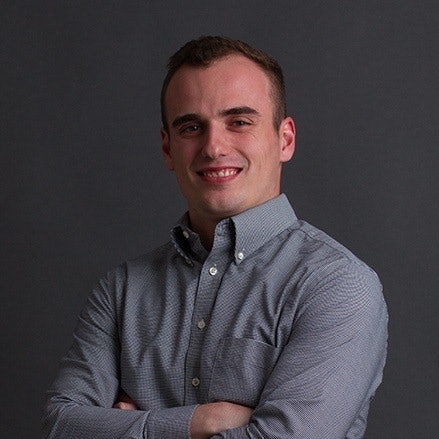 Ian is a Marketing Analyst at High Alpha, a venture studio that creates and funds B2B SaaS companies.
Feed your marketing mind and keep your skills sharp by opting into our weekly newsletter, packed with lessons we've learned firsthand. You won't regret it.
Subscribe.
Fill out the form to receive weekly insights, straight to your inbox.