When marketers throw out terms like multichannel marketing, integrated marketing, cross-channel marketing, and omnichannel marketing—to name a few—there can be a lot of confusion about what that actually means. We're here to clear things up.
What is multichannel marketing?
In a nutshell, multichannel marketing (sometimes called cross-channel marketing) simply refers to using a variety of online and offline channels to engage with—and market to—your audience.
Some commonly used marketing channels include:
Social media platforms such as Facebook, Instagram, LinkedIn, Twitter, and more
Email marketing
SMS and text messaging
Direct mail
Physical stores and locations
Billboard and outdoor advertising
TV
Radio
With this definition in mind, multichannel marketing applies to any business that markets to their audience through a combination of channels—everything from direct mail to Facebook. A simple example might be a jewelry store that uses a website, physical location, social media pages, TV and radio ads, and email to market to and attract potential customers.
With the surge of smartphones and social media, it's pretty difficult to find a business in the modern era that doesn't use multichannel marketing in their efforts. That said, just because a business has a variety of channels to market through doesn't mean they'll be successful, especially if they don't have a strong multichannel marketing strategy.
What is a multichannel marketing strategy?
A multichannel marketing strategy lays out how different channels work together and integrate to successfully market to an audience (hence why many marketers use the term "integrated marketing" when coordinating messages across channels). Whereas the channels are the tools and make up the plan, the multichannel marketing strategy is the blueprint that shows how all the elements relate to one another.
A few simple examples of a multichannel marketing strategy include:
An email containing a discount for customers to use when purchasing on the website.
A Google ad that allows a customer to call and place an order over the phone.
A TV ad with a special coupon code for viewers to apply at checkout.
When creating your multichannel marketing strategy, it's important that you think about how the channels work together, and which audiences you're targeting. While there are a lot of different opinions about the roles consistency and messaging play across different channels, the consensus is pretty clear that marketing in channel-specific silos is bad practice. Brands can get away with channel-specific offers like "online-only" products or sales, but those offers still tend to mingle with other channels (for example, email). In short, your channels should all be part of the same conversation.
Why is multichannel marketing important?
Multichannel marketing is important because your customers, prospects, and users are all digesting information, buying products, and engaging with brands in different places and in different ways. If you limit yourself to a single channel, you're missing out on a large chunk of your audience if they don't use that channel.
A few key benefits to multichannel marketing include:
Engaging your audience through the channels they like to use
Reducing friction in the buying process
Increasing your brand awareness by showing up in more places
Improving your customer experience
If a company has grown in a specific channel, that doesn't mean they shouldn't expand or explore new channels. Amazon, a company that exploded due to their vast online marketplace and quick delivery, has been testing physical locations over the last few years. They've also spun up Amazon hubs across the country, where users can purchase products online or through their app (one channel) and pick up their product from the physical hubs (another channel). They're allowing customers to purchase through the most convenient channel to them, which reduces friction and improves the overall experience.
What is the difference between omnichannel and multichannel marketing?
The main difference between omnichannel marketing and multichannel marketing is the focus on the consumer or user. While multichannel marketing allows customers to interact with the brand across a variety of channels, omnichannel marketing goes one step further: it lets the user pick their own destiny—then adjusts all other channels to fit the customer's specific need.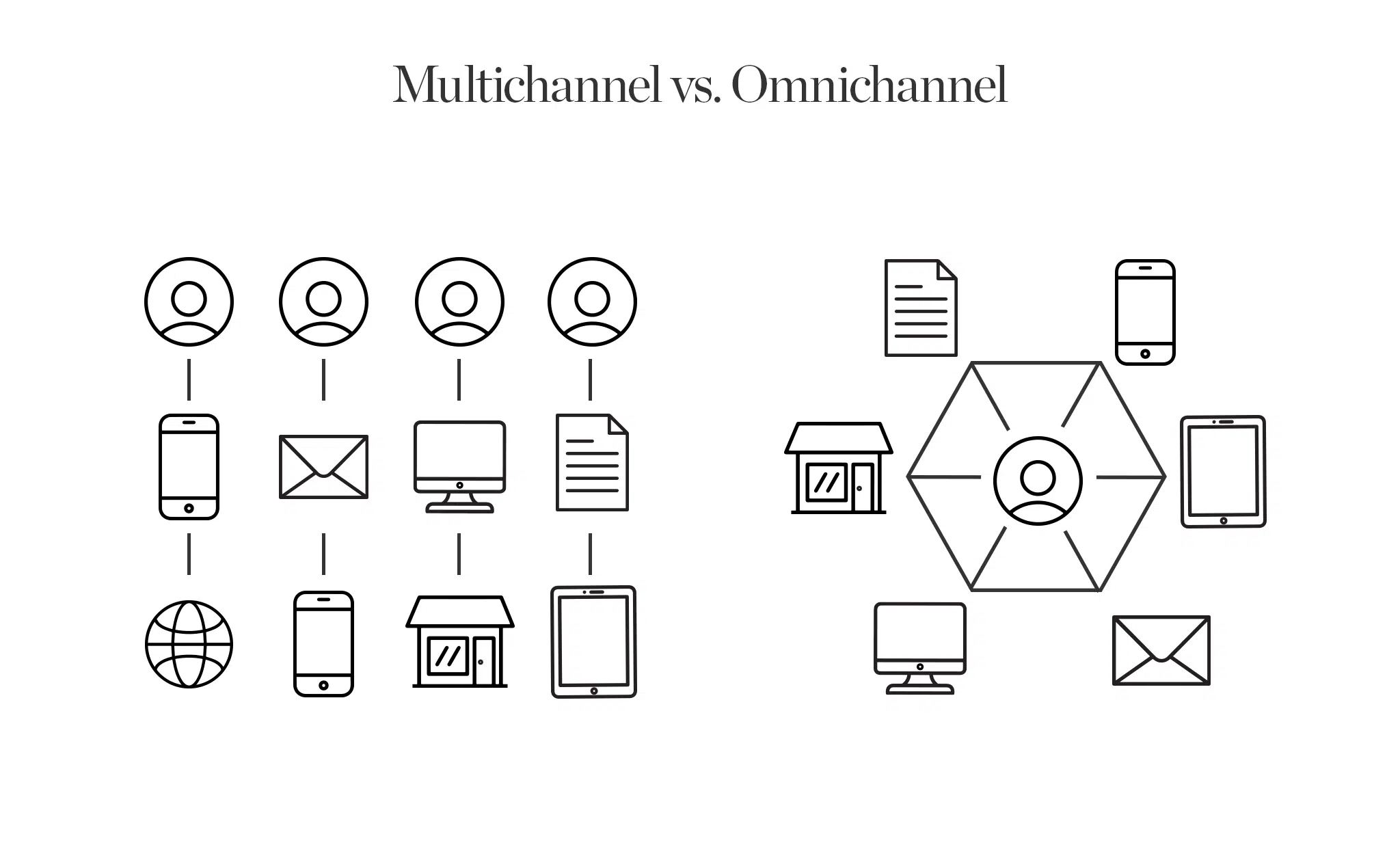 Omnichannel marketing sounds sexy…and it is. It's what you think of when you open your Starbucks app and it recommonds your daily grande iced coffee with almond milk. Through the app, you can purchase your drink, pay, and pick up your order at the nearest location—ready for you upon arrival with your name printed across the infamous Starbucks cup.
Omnichannel marketing is highly personalized—it adjusts messaging, offers, and recommendations to each individual seamlessly across every channel from your smartphone and computer to the Hulu ads you're served and the direct mail you receive.
The downside? Omnichannel marketing is really freaking difficult to implement and get right. You need a lot of technology and data. So while it's not impossible to execute (especially with the explosion of marketing technology), it's also no walk in the park.
How do you create a multichannel marketing campaign?
The first step in creating a multichannel marketing campaign is to think through the high-level strategy. This includes answering questions like:
What is the purpose or goal of the campaign?
What is the offer, content, or substance of the campaign?
How do we expect this campaign to impact the business?
Who are we targeting?
What budget or resources do we have to work with?
When does this campaign need to be executed?
As you can imagine, understanding who you're targeting, what you're offering, and why will determine which channels you choose to use in your multichannel marketing campaign.
Since there will likely be a lot of moving parts—from bringing in subject matter experts to project managing the campaign and optimizing accordingly—it's helpful to have a plan or template that communicates with individual contributors and key stakeholders alike. At Element Three, we like to refer to this as our campaign blueprint—a document that graphically lays out the elements of a multichannel marketing campaign to help identify the purpose of each part of the overall campaign.
It's pretty much your multichannel marketing plan template. And it's essential.
Which are the most popular multichannel market pairings?
While your multichannel marketing strategy can include a variety of channels, there are a few that have remained popular throughout the last decade.
Back in 2013, Media Post reported channel duos that led to the highest reach. It included pairs like:
Computer and mobile phone
Mobile phone and TV
Computer and TV
Mobile phone and radio
Computer and radio
Radio and TV
Print and TV
All of this said, this report is from 2013. Things change. When thinking through the channels you'll push your campaign through, the most important thing to think about is where your audience is—and how they digest information.
For example, if you have an older audience that watches a lot of network TV and rarely shops on their smartphones, maybe a more traditional multichannel marketing campaign will produce the best results. On the flip side, if you're targeting a tech-savvy audience that's in their early twenties, it might be better to push your campaign through a variety of social channels and a quality mobile app.
Multichannel engagement matters. Embrace it.
Semantics aside, giving your audience the ability to engage with your brand and business through a variety of channels is critical in a world of smartphones, social media, streaming services, and more. And while you don't have to be in every channel, you should show up in the channels your audience uses—and even loves.