When it comes to digital marketing, there's one crucial practice that often gets overlooked: user experience (UX). Every organization wants to convert leads into revenue, but when you're missing a large piece of the puzzle, you miss out on the broader scope of success for your organization. In an age that prioritizes quality and easy-to-consume content, it is vital that organizations focus on both UX and digital marketing. Here's how they are successful together.
Search engine optimization
Building links to your site and targeting specific keywords to rank for is the basic principle of SEO. SEO is centered around identifying, publishing, and optimizing content that will attract users. However, the idea that optimal keywords and proper link building are the only success factors for SEO is outdated and untrue.
Vital elements of UX have now been shifted into SEO best practices. Quality content, site speed, user engagement, site navigation, site security, and mobile optimization are now key factors in ranking well for search engines just as much as the basics.
For example: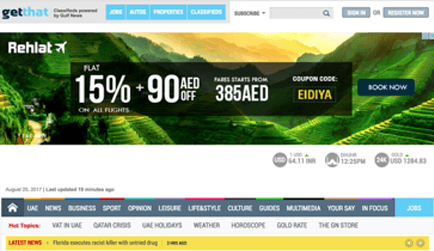 This website has information overload within their navigation bars (top and bottom). As a user, I am going to be overwhelmed by the amount of information that is presented to me. If I know another site is going to provide more direct information to what I need, I will bounce off this site. If I decide to stay and attempt to find the information I need, I may quickly get lost within all of the information offered. If users are bouncing from your site because of its usability, its overall search ranking will be affected.
While SEO focuses on search engines, UX targets your site's visitors. The two are not mutually exclusive, but they are mutually beneficial to your users and your site's ranking. To boil it all down: what's the point of having a useful website that none of your users can find in search engines? And what's the point of being seen by users if your site has limited value it can offer?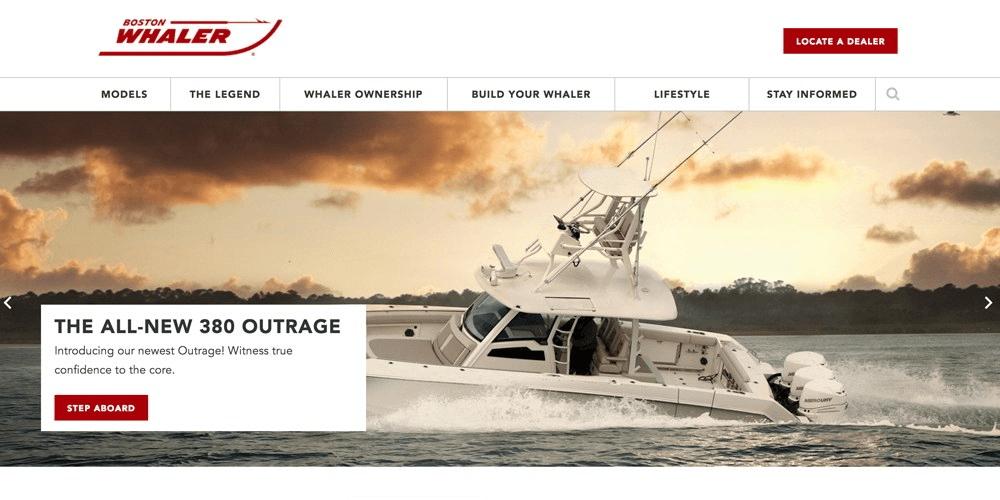 On the flip side, Element Three worked with Boston Whaler to alter their website experience to provide users with an adaptive journey through their website. On top of restructuring content, the look and feel of the website is modernized by adding lifestyle and product imagery throughout the site, and we created a responsive design to improve user experience across all devices. This resulted in a 99% increase in organic traffic and a 130% increase in SQL form submissions, and the newly rebuilt site won the 2016 Neptune Award. Check out more details on what we did to contribute to Boston Whaler's website success.
Content strategy
Site structure and ease of use are significant benefactors in the cohesion of content strategy and UX. Content strategy's primary focus for user engagement is traffic, leads, and sales generation. Creating content that your audience wants/needs is essential, and good UX can guide them to the information users seek. The relevant visuals with interesting design help users to accomplish the task efficiently.
Proper UX design focuses on page layouts, and design that allows users to reach conversion points easier. Even the most engaged user isn't likely to convert if they can't find where to do it. Once your site is SEO-optimized and your UX is tip-top, you can use metrics like bounce rate and new users to craft your content to meet the needs of your target audience.
Conversion rate optimization
Focusing on driving conversions is vital for a digital marketer; however, if you do not enhance your website's user experience, the chances of making a real difference are slim to none. No amount of optimization of your on-site content can improve poor site layout and design.
When seeking to increase conversions, UX and digital marketing should go hand-in-hand. From CTA button color change to rearranging content on your homepage, A/B testing is crucial. Continually A/B testing to increase conversion rates allows for better content and enhanced user retention. Even if the results of a test don't lead to any conclusive insights, it still provides information about the user's behavior.
CRO provides results backed by data. It eliminates the "stab-in-the-dark" approach that marketers can take in an attempt to increase conversions. It allows for more informed decision-making and testing to reach your intended audience. When UX and CRO work together, it can result in increases of both quality and the amount of conversions on your site.
A truly impactful website is one that successfully forms a harmonious relationship between optimization for conversions and enhancing user experience through design.
Real changes. Real impact.
Over the past few years, Airstream—manufacturer of the iconic "silver bullet" travel trailer—has increased their audience, causing their email list to grow by 70% in 2015 alone. As their email list grew, it became apparent their newsletter, The Rivet, needed an upgrade. That's where Element Three stepped in. With improvements in imagery, messaging, content, CTA usage, and mobile-first design, The Rivet saw a 24.72% increase in overall click-through rate, mobile open rate grew 19.46%, and newsletter traffic from mobile devices to Airstream's website increased by 57.36%.
It's all about the user
Digital marketing and UX design must keep the user at the forefront when developing their strategy. UX design and digital marketing working together will garner promising results for your team and organization. It's like they always say, "You can't have the experience without the conversions, but you can't have conversions without the experience," or something similar to that.