Earlier this week, I wrote a review of our top 5 takeaways from Gartner's 2016-2017 CMO Spend Survey. Gartner's research is one of the most important resources for understanding which trends are going to have the greatest impact on marketing budgets over the year ahead, and I highly recommend reading the report if you haven't already.
The first takeaway I highlighted was the increase in average marketing budgets to 12% of organizational revenue, up from 11% going into 2016, and 10% in 2015. I think it's worth diving deeper into this particular trend to understand what's factoring into these rising budgets. Unsurprisingly, there are a lot of variables contributing to that one percent increase, each of which is worth consideration as organizations begin the process of implementing their 2017 marketing strategy.
The larger the organization, the greater the percentage of revenue spent on marketing
As organizations grow, so too does the percentage of their revenue they spend on marketing. While the organizations in Gartner's CMO Spend Survey spent an average of 12% of revenue on marketing, that number dropped to 10% for organizations under $500M in revenue.
Clearly, there is a measurable cost to scaling a marketing organization. The larger a company becomes, the more susceptible it is to having to devote more resources to navigating internal bureaucracy and pushing work through slow, overly complex processes. Especially in the case of organizations in which each business unit or division maintains responsibility for its own marketing, it's also likely that larger organizations end up spending money on redundant or unused technologies and processes.
There are positive reasons larger organizations might spend a greater percentage of their budget on marketing (as you'll soon see in the case of innovation spending), but the lesson to be learned is that marketing departments run the risk of wasting money the same way other departments do, and it's important that all levels of leadership look for opportunities to create efficiencies without sacrificing impact.
Takeaway: Focus on scaling your marketing budget and marketing team (internal and external) appropriately. It's generally better to make upfront investments in setting up efficient processes and infrastructure than it is to consistently hemorrhage time and cash because you moved forward without a plan.
Organizations are buying more and more technology (and not always using it)
The more marketing technologies there are on the market (currently nearing 4,000, according to the latest marketing technology supergraphic by our friend Scott Brinker), the greater pressure there is on marketing executives to examine and purchase platforms representing categories that may not have even existed a year ago. Four thousand marketing technologies isn't just overwhelming – it's unmanageable (and we apparently haven't even begun to reach the point of market oversaturation).
It should come as no surprise that with all of this technology on the market, there are a lot of platforms that are being purchased and then neglected. Rachel Balik wrote a great article for Martech Today in 2015 in which she aggregated research highlighting many of the problems created by the overabundance of marketing technology (and this was at a time in which the number of options totaled 2,000, not 4,000):
17 - number of marketing technologies the average company has in use
72% - percentage of organizations that have marketing technology with overlapping capabilities
56% - percentage of organizations who reported they underutilize their marketing technologies
21% - percentage of organizations who have technologies that have become shelfware (not used at all)
And yet, marketing executives are bracing for an even larger technology budget in 2017 than in 2016 (leading to the prediction that 2017 will finally be the year the CMO technology budget overtakes that of the CIO).
We will continue to cover the challenges (and opportunities) posed by the number of technologies, but the important note here is that it's important to be on the lookout for new or improved platforms as they enter the space, but you must also be discerning when it comes to the particular technologies you plan to purchase, maintain, upgrade, or drop in 2017.
Takeaway: It's still important for marketing executives and teams to attempt to stay in the know when it comes to new marketing and sales technologies. But it's equally important to be discerning. Not everything that seems useful when it's presented on a website or by a sales rep really is. Cover the basics (CRM, marketing automation, analytics, social media monitoring/publishing), and then grow your technology stack strategically from there.
Innovation has become a more significant priority
Larger companies might be at a greater risk of wasting money on efficiency and redundancy, but they're also more likely to invest in innovation. Marketing executives at some of the largest organizations ( > $5B in annual revenue) report spending 11% of their marketing budget on innovation.
The reason:
Because competition comes from all directions. It doesn't take long for a small, nimble startup to start eating away at your market share, even in industries in which the barriers to entry are thought to be high. What larger organizations lack in agility, they make up for in scope – more personnel means more people who are able to be your eyes and ears responsible for remaining at the forefront of marketing innovation. The trick is having the right processes and incentives in place to make sure your team is encouraged to stay curious, and that they're heard whenever they do bring new ideas to the table.
No matter the size of your organization, it's important you consider how (and if) you're incorporating innovation into your marketing strategy and budget. The marketing landscape can change quite a bit over the course of a year, and if you aren't intentional about leaving your team room to respond to these changes, there's a good chance you might end the year far behind everyone else.
Takeaway: Make certain you've allotted for innovation and room to change course within your 2017 marketing budget.
Marketing channels are demonstrating their value
When asked about how their spending will change across a number of marketing channels from 2016 to 2017, marketing executives appear prepared to increase their spend across multiple channels:
Eight of the 14 channels on Gartner's list saw over 50% of respondents express that they planned to slightly or significantly increase their budget for that particular channel, and none of the channels drew more than 12% of respondents who intended to decrease their budgets for the channel in question.
Although there are a number of variables that could inspire spending more money on a particular marketing channel, I think it's safe to say that as marketers are growing savvier on how to manage multiple channels simultaneously, the individual channels are producing better results. As we're able to increasingly attribute outcomes to particular interactions across the audience journey, we're able to feel better about the investments in each of those interactions.
Do not interpret these responses as a sign you have to invest more money in all of these channels in order to keep up. At the end of the day, your stakeholders aren't going to care if you increase spending on digital advertising by 25% and get a 50% increase on click-through rates if that extra spending doesn't contribute a dollar to revenue. Instead, you should use them as a proof point to demonstrate that a large variety of marketing channels can and do work – the trick is now to determine which particular mix is best suited for your department, something that can only be determined by having the right strategy and reporting infrastructure in place to be able to make, test, and improve your hypotheses.
Takeaway: Most marketing executives are planning to increase spending across multiple channels in 2017. So long as you have the right strategy, reporting technologies, and talent in place, you should be seeing results. If not, it's time to reconsider the approach you're currently taking.
What's impacting your budget?
It's always useful to be aware of the larger market forces at play and how they might be affecting your organization, but ultimately, it's up to you and your organization to know which forces are relevant and which don't apply. I would love to hear more about which trends have influenced your marketing budget (and I'd be happy to share more about which trends have influenced ours). Just email me at aaron.harrison@elementthree.com or tweet me at @howaaronsees_it and let's help better inform our decision-making.
Part 1: Unpacking Gartner's 2016/2017 CMO Spend Survey
Part 3: Why CMOs Will Outspend CIOs on Technology in 2017
Access Gartner's full 2016/2017 CMO Spend Survey here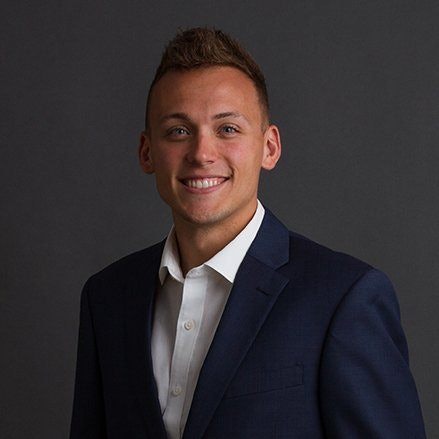 A curious, wondering soul, Aaron channels his love for adventure and change through his approach to modern marketing. As the Enterprise Demand Generation Manager at MedBridge, Aaron works to catalyze growth and create opportunities through a variety of digital marketing channels.
Feed your marketing mind and keep your skills sharp by opting into our weekly newsletter, packed with lessons we've learned firsthand. You won't regret it.