Want to know which industry trends are going to have the biggest impact on your marketing budget in 2017?
While there are a lot of 2017 budgetary predictions out there, the Gartner's Annual CMO Spend Survey should be your primary guidepost. Now in its fifth year, the 2016-2017 CMO Spend Survey asked 377 marketing executives from both mid-market and enterprise organizations in North America and the U.K. about how they plan to invest their marketing dollars in 2017.
Our top five takeaways from this year's survey:
Marketing budgets will climb to 12% of a company's revenue in 2017, up from 11% last year and 10% in 2015.
The CMO marketing technology spend is on track to exceed the CIO technology spend in 2017.
Digital marketing expenses will continue to dominate.
The more responsibility and control a CMO has over P&L, the higher the budgets they have allocated to marketing in 2017.
CMOs are taking more responsibility, as Sales, IT, Innovation, and Customer Experience are becoming a part of the Marketing department.
1. Marketing budgets will increase to 12% of revenue
Looking at 2017, most businesses seem bullish about the impact that marketing will have on driving organizational success. Marketing budgets are expected to increase to 12% of organizational revenue, up from 11% going into 2016, and 10% in 2015.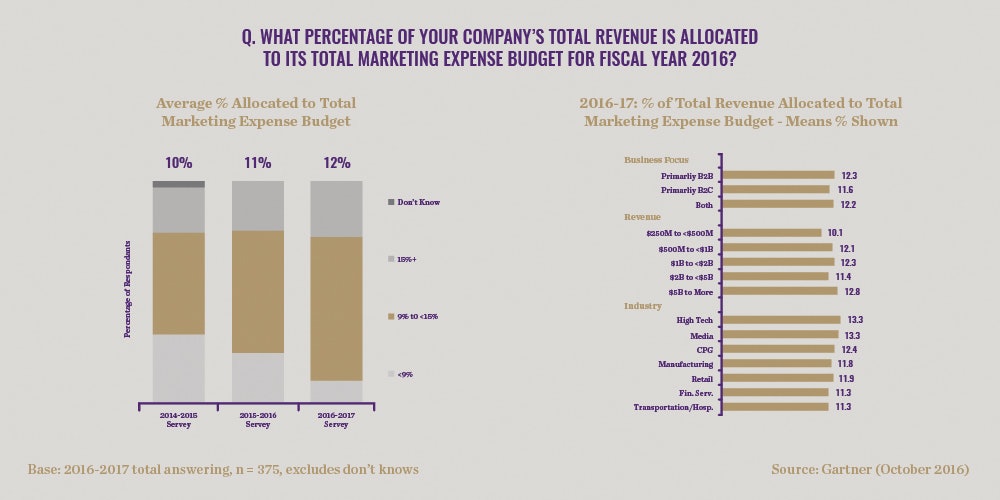 While 10% has long been the gold standard for organizations trying to determine the appropriate investment in their brand and marketing efforts, the steady increase in marketing spend over the past two years demonstrates the importance of marrying strategies to business objectives. If marketing is a successful driver of business objectives, then it makes a tremendous amount of sense to invest more money in it unless and until the return begins to diminish.
Marketing budgets were divided across the following categories:
Technology: 27%
Labor: 28%
Services: 22%
Paid Media: 22%
Other: 1%
2. CMOs will outspend CIOs on technology in 2017
In 2012, Gartner predicted that in five years time, CMOs would be outspending CIOs on technology. Well here we are, five years later, and that prediction looks like it's about to become a reality:
CMO Average Tech Spend in 2016: 3.2% of revenue
CIO Average Tech Spend in 2016: 3.4% of revenue
Given the annual growth rates in technology spending for both departments (12% for marketing, 3.1% for IT), marketing is finally poised to assume the mantle of responsibility as the primary purchaser of technology within an organization.
Here's what this could mean for your company:
If you're one of the few organizations where IT is making sales and marketing purchasing decisions, you're now officially in the "laggard" category of the adoption curve.
It is incredibly important that you remain up-to-date with the technologies on the market, without latching onto every shiny new thing that comes your way. Greater control of your technology budget comes with the responsibility to spend those dollars wisely.
3. Digital marketing expenses will continue to dominate
Diving even deeper into the breakdown of marketing expenses from this year's CMO Spend Survey, it's clear that the digital marketing spend will only grow: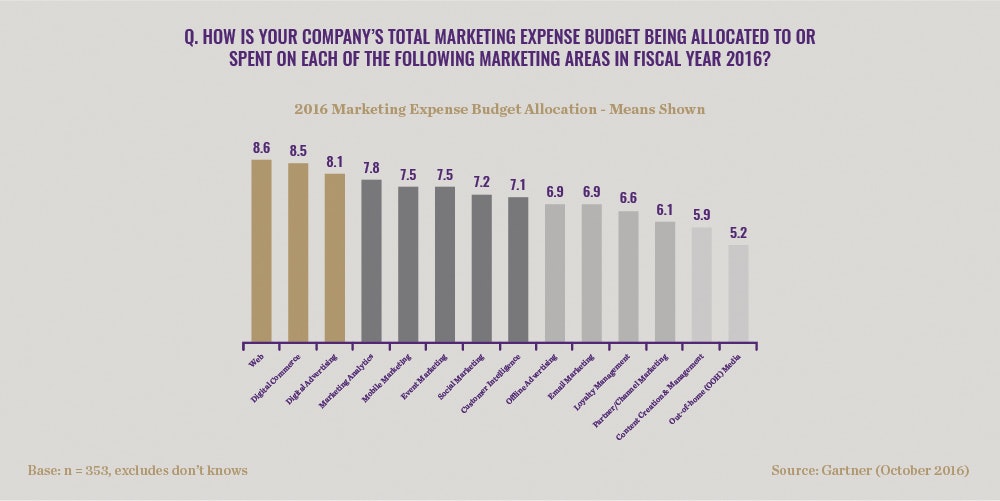 Despite what you may have read about the "death of digital" as a separate discipline  (in favor of an integrated approach), it's still critical that you're setting aside the dollars and hours necessary to invest across digital marketing channels.
Already difficult to measure, offline channels are growing more expensive every year, meaning your traditional-media spend needs to be supplemented by increased spending on initiatives where ROI is easily measurable.
4. The more responsibility a CMO  has over P&L, the higher the marketing budget
I asked Anna Maria Virzi, a Service Analyst for Gartner, which finding surprised her team the most:
@howAaronsees_it @GartnerDigital Marketers who own/share P&L get larger budgets (12% of revenue) than those w/out plans to own/share P&L
— Anna Maria Virzi (@AnnaMariaVirzi) December 9, 2016

So while the average company will spend 12% of revenue on marketing in 2017, those organizations in which marketing has absolutely no ownership over P&L will only allocate 10% of annual revenue.
In other words, the more responsible marketing is for driving results, the more autonomy and flexibility the marketing department is given.
If you're one of many organizational leaders who see a budget of 12% for marketing and start to get nervous, it might be worthwhile to examine the responsibility your organization has given to its marketing department along with the results you expect your marketing efforts to achieve.
5. CMOs are taking on a greater share of responsibility
This particular finding is perhaps the most surprising, considering what the state of marketing looked like just a decade ago. Not only are marketing budgets rising, but CMOs and marketing executives are becoming increasingly responsible for functions that used to exist outside of the marketing department.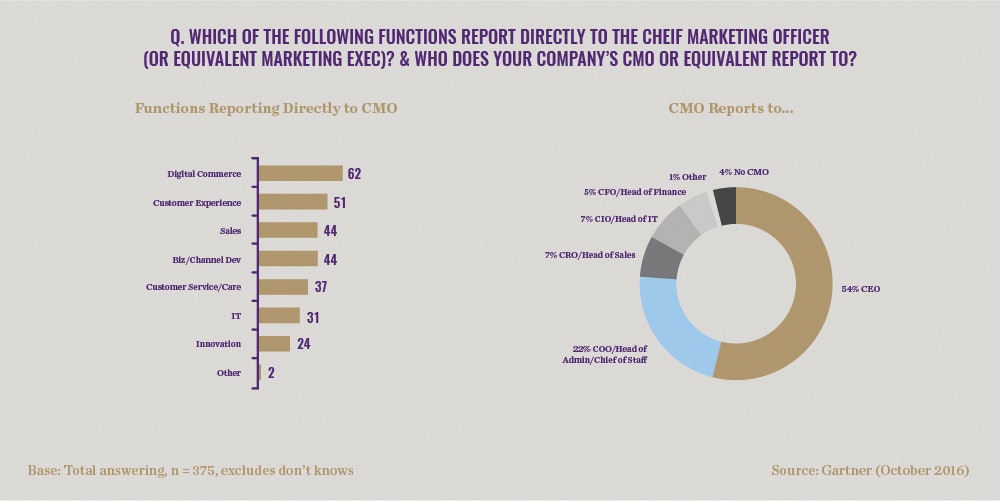 While it seems unlikely that 44% of companies have their entire salesforce reporting to marketing, certain functions within Sales, IT, and Customer Experience are being reclassified as marketing-driven responsibilities.
Here's why:
The line between Marketing, Sales, Product, and Service continues to blur as companies focus less on siloed disciplines and more on serving the needs of their audience throughout the customer journey. Taking a 360˚ approach to audience engagement means it is more important than ever that functions serving each stage of the customer journey are connected, operating under a shared strategy and vision.
Out of all the findings in this year's CMO Spend Survey, this is probably the most difficult to adopt, especially for larger, more established organizations. To serve each stage of the customer journey, your organization's leadership must be in alignment on how your audience's needs will be met. Anything less is a barrier to implementing an audience-centric approach.
If you haven't read the 2016-2017 Gartner CMO Spend Survey yet, you can access the full report here. Let me know what surprised you most from this year's results by sending an email to marketing@elementthree.com.
Part 2: How Marketing Budgets are Expected to Change in 2017
Part 3: Why CMOs Will Outspend CIOs on Technology in 2017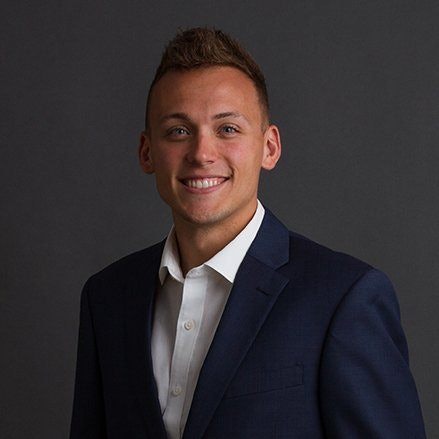 A curious, wondering soul, Aaron channels his love for adventure and change through his approach to modern marketing. As the Enterprise Demand Generation Manager at MedBridge, Aaron works to catalyze growth and create opportunities through a variety of digital marketing channels.
Feed your marketing mind and keep your skills sharp by opting into our weekly newsletter, packed with lessons we've learned firsthand. You won't regret it.