Now over 80 million members strong, millennials have beat out baby boomers as the largest living generation in the U.S. And with their digital-savvy mindsets and devices constantly at their fingertips, they're also the most distracted generation of all time. 95% of millennials are doing other things while shopping—watching TV, waiting in line, dining with friends, Ubering to their next destination, and even working. They're also shifting between media platforms up to 27 times per hour.
When it comes to successfully selling to millennials and driving them along the purchase funnel, keeping them focused and engaged is key. Hyperconnectivity and digital distraction continue to be constant hurdles for brands across all industries, who all seem to be asking the same thing...how do we crack the millennial code?
The best way to figure this out: go straight to the source. The SmarterHQ Millennial Report surveyed 1,000+ millennials on their shopping habits and marketing preferences to help brands everywhere understand how to better cater to their needs. Here are the top takeaways for marketers to start implementing, stat:
1. Stop Sending So Many Emails
Email is one of the top-ranked revenue-driving channels out there. Brands everywhere understand that email marketing is a solid strategy to implement and drive engagement. But while marketers have mastered the use of emojis in subject lines and how to drive higher click-throughs, they're not quite understanding how often millennials want to see these messages in their inboxes. 74% of millennials report they receive too many emails—they feel bombarded by marketing messages and are frustrated with the amount of emails they receive from brands. Instead, the majority would rather receive 1-3 marketing emails per month.
How many of you are sending emails multiple times a week, or even multiple times a day? If brands keep sending endless emails, they risk this audience getting overwhelmed and glazing over them altogether. Dial back those sends to deliver only your most important offers and the content millennials will actually care about. Which brings us to...
2. Provide Personalized Content & Product Recommendations
Mass newsletters are a continuing strategy for marketers. But millennials want you to know something: don't waste your time on batch-and-blasts, because it wastes their time, too. 70% of millennials say they are frustrated by brands sending irrelevant emails; they prefer to receive personalized emails offering certain information, such as discount notifications for previously browsed items or categories, sale notifications for previously carted items, and recommended products based on their interests. And with 70% of millennials also saying they are comfortable with brands tracking their purchasing and browsing behaviors if it means they'll receive more relevant communications, this is a must-adopt strategy for marketers.
Sending messages catered to individual customers rather than the masses will also help you create brand loyalty with this crowd. Though millennials admit they're not hardcore brand loyalists per se, their brand loyalty does increase by 28% on average if they receive personalized marketing communications.
3. Make In-Store Experiences Matter More
Probably the most common misconception about millennials' shopping habits? They no longer shop in stores (which is so very wrong). Despite the growth of online shopping, a whopping 50% of millennials report they still prefer to shop primarily at physical locations. After in-store, 27% prefer desktop/laptop, 22% prefer phone/tablet, and 1% still browse physical catalogues.
Marketers' priorities and strategies continue to shift to digital, but it's important for brands to place an emphasis on brick and mortar as well. Better yet, they need to understand how to marry online and offline data to create a seamless experience for customers who prefer to interact with brands on more than one channel (which is also overwhelmingly common). This way, marketers can encourage in-store shoppers to make their next purchases online, and send online shoppers to storefronts for same-day returns.
4. Keep the Deals Coming
Millennials shop for all sorts of reasons. Of the shopper personalities out there, 30% of millennials refer to themselves as a bargain shopper, followed by those shopping for a specific purpose (18%), the researcher types (17%), the casual browsers (14%), and so on. With sale-seekers at the top of this list, if there's a deal out there, millennials want to know about it.
Over 60% of these bargain shoppers prefer to shop in-store versus online—yet another reason why in-store experiences matter greatly to millennials. Millennials who prefer shopping online are typically researching a product or casually browsing, while the more serious shoppers (the seasonal, bargain, goal-oriented, impulse, or brand loyalist types) favor storefronts. To truly appeal to this audience, brands need to effectively identify and track the purchase behaviors of their customers and communicate future offers based on those behaviors in a timely manner.
Prove to Millennials You're Paying Attention
Ultimately, brands need to take a step back and make sure their strategies align with what millennials really want: fewer emails in their inboxes, more relevant and personalized messages, prioritized in-store experiences, and timely communication on deals. If marketers start here, you'll prove to millennials you're not only listening, but you'll show you understand and respect their wishes, too. And with that, let the engagement and revenue roll in.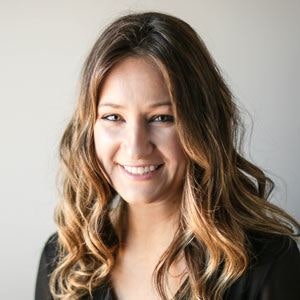 Kristen Hamerstadt is the VP of Marketing at SmarterHQ, a leading multichannel behavioral marketing platform, empowering B2C marketers to personalize individual customer interactions in real time. They work with some of the world's largest brands—such as Bloomingdale's, Santander Bank, CarRentals.com, and Finish Line—to drive outstanding business results. SmarterHQ has been recognized by Forbes as technology to push B2C companies into a new era of personalization, and by Forrester's Total Economic Impact study for delivering 667% in ROI.
Feed your marketing mind and keep your skills sharp by opting into our weekly newsletter, packed with lessons we've learned firsthand. You won't regret it.
Subscribe.
Fill out the form to receive weekly insights, straight to your inbox.