The truth is, no one can be all things to all people. You have to pick a thing. To a business, that may seem like limiting your marketability, but in reality you'll only expand it when you find your competitive edge and lean into it. Once you find your edge and the people who really love it, you can focus on being the best possible answer to a need, making the strongest connection with your users, and growing along with them for a lifelong connection to your brand identity. Rather than trying to be everything to everyone, you'll be the right thing to the right people—the people you can help the most. Plus, having that knowledge simplifies almost every decision you make. Worth it.
Let's take a look at a few businesses that have nailed this, and then see what your business can do to set yourselves along that path as well.
Amazon: The most options
Sometimes it's scary how much stuff is available on Amazon, and equally scary how much of my money they get each month. Amazon was already an online shopping pioneer back in the 1990s, when they mostly sold books. Then they added electronics, home improvement, games, food, and soon enough, we all started to think of them as an everything store. Now they're one of the pillars of American business.
As direct-to-consumer trends are on the rise, with customers choosing to buy directly from companies' sites as opposed to stores that sell multiple brands, Amazon seems to be the exception that proves the rule. They're holding strong as one of the world's most valuable public companies, and they don't show any signs of slowing down—particularly after 2020, a year in which we all got used to having to do everything online. Amazon's thing is having the most options, not only in products but also in price. And they deliver them right to your door. Now probably more than ever, that's a major selling point to consumers.
Aldi: The fewest frills
If you know about Aldi, you know. Their strategy flies somewhat under the radar, but it's also kind of brilliant. It started in the 1960s as a discount grocery chain in Germany and has since expanded worldwide.
What sets them apart is that they have made some unique choices and stuck by them. They want to keep costs low (about 30% lower than Walmart) without dragging quality down. To do that, they have to get serious about cutting out the extras.
Instead of stocking the shelves with individual, free-standing products, they stock with the boxes the products come in.
They offer all the standard grocery items, but limit the amount of brand variety. Many items are Aldi's own brand, or they're sourced from local vendors. That's how they keep quality high and prices low.
They ask you to rent your cart so they don't have to hassle with cart return.
They ask you to bring your own bags so they don't have to stock bags or use baggers.
Overall, they create a lean, no-frills shopping experience in exchange for lots of savings—while still managing to keep quality high. And that idea really speaks to people who are looking to make an essential like groceries less of a hassle and less of a hit to their wallet.
Seventh Generation: The most sustainable
Perhaps the most important part of the Seventh Generation brand isn't its products—household goods that help you tackle anything from laundry and cleaning to skin and baby care—but instead, its mission:
We're inspiring a consumer revolution that nurtures the health of the next seven generations.
It's a tall order, but also an inspiring one. And it makes everyone who buys the products feel like they are part of not just conservation, but a huge forward-facing effort for the sake of this planet and for humanity. All of this comes together to put Seventh Generation among the top sustainable cleaning and household product brands year after year.
Airstream: The highest quality
I'm a little biased because they're our client, but I'm far from the only one who will tell you that Airstream tops the entire RV category when it comes to quality. Not only do other RVs not look like Airstreams, they don't last like Airstreams, either. In fact, 75% of the Airstream travel trailers built since the 1960s are still on the road today.
Airstream travel trailers are made with custom aluminum sheets, curved and riveted together to form a superstructure not unlike an airplane's fuselage. Everything on the inside is crafted by hand, carried in through the door, and attached to that structure, which makes the whole trailer stronger and ready to stand up to generations on the road. And the brilliance of the aluminum is a defining part of the design aesthetic. That's been Airstream's edge since the very beginning in the 1930s. And it's at the heart of the story they continue to tell now.
Target: The most fun
Target might not always have the lowest prices out there, but that's not really the point. The point is fun. The way the store looks, the way the sections are designed, and how the shopping experience feels. Is it fun enough to introduce you to a new product? Is it enticing enough to elicit an impulse buy? Will you walk out of there with $100 worth of stuff in your cart and not really know how it all happened? The answer is usually yes.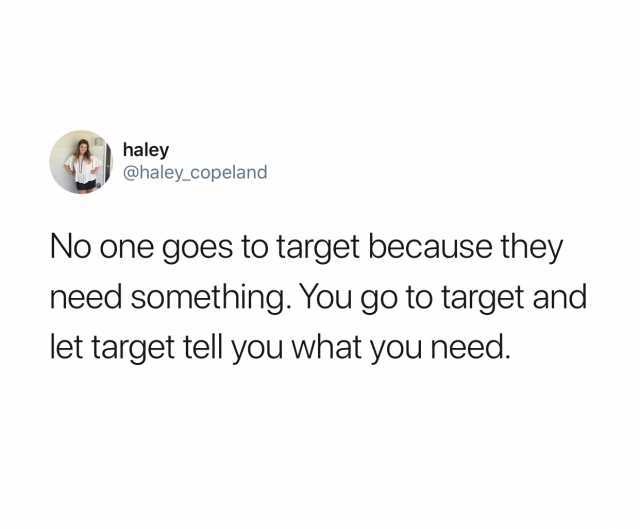 Your edge always comes from who you are. Find that first.
1. Find your why
We all know by now that consumers don't buy what you do, but why you do it. Give yourself a refresher on Simon Sinek's famous TED talk if you need it. Then get to the introspective work of defining what your "why" really is. What inspired you to get into your business? What has kept you doing it, even when it's difficult? What makes you proud of what you do?
Look inward, but don't do it in a vacuum. Ask people within your company what it is they believe in most about the company and what keeps them coming in every day (besides a paycheck). Seeing why people choose to be a part of what you're doing is an amazing way to start figuring out why someone would want to buy from you.
2. Ask your customers
Your already loyal customers are also a goldmine of information about how you're perceived and what's making them buy from you instead of someone else. Ask them to take a quick survey and see what common threads emerge. That'll give you a good idea of what matches up with your own thoughts on your competitive edge, what doesn't match up, and what you might have never thought of.
3. Create a brand wheel
A brand wheel is a templated approach to understanding your brand by breaking it down into five categories: attributes, benefits, values, personality, and essence. Starting from the outside in, this process can help you define who you are and what your core mission—or brand essence—is.
Once you have your edge, stick to it.
Be consistent in your storytelling. Stick to the values you set out for yourself, the ones you really believe in. Lean into the people who are your people, and be your genuine self with them always.
And don't be afraid to challenge perceptions. Maybe someone challenges your values (think of some of the things you've probably heard people say about Aldi) but if you believe in it enough, you might be able to sway them. Tell your story, tell them your why, mean it, and then let them make up their mind.
Simon Sinek says in his book Find Your Why:
Another way to think of the WHY is as a piece of a jigsaw puzzle. When you know what your piece looks like, it's much easier to see where it fits or doesn't fit.
Get an outsider's perspective and help.
I may be at risk of sounding self-serving here, but once you've done the internal work of defining your edge, you can expand on its power by asking for the help of people who have a wider view of brands, industries, and customers. That's what marketing consultancies like us do, and when you need a gut check or a new level of insight that just isn't in your field of vision, we can help. That's actually the work we love the most.