Part of crafting your story and brand identity involves looking inward and defining who you are. If we were going to define this as a formal branding exercise we would say we're creating a "brand plan," but really it's just having conversations internally and externally and putting down who you are and how you want to talk about yourself.
This is where brand essence wheels come in handy.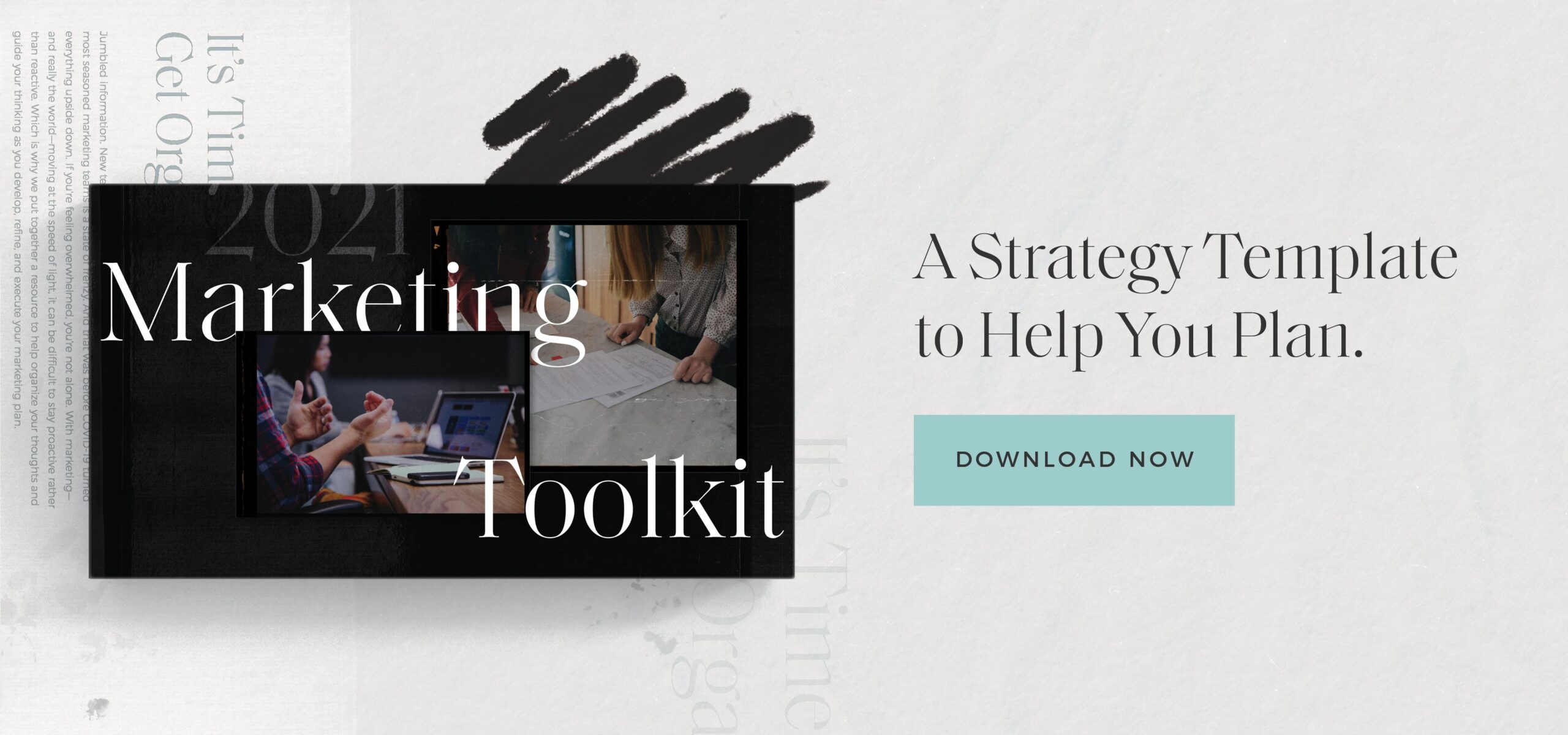 What is a brand wheel?
One essential part of the brand development process is the "brand wheel," a templated approach to understanding your brand by breaking it down into five categories. Those include:
Attributes
Benefits
Values
Personality
Essence
Starting from the outside in, this process of creating a brand wheel can help you define who you are and what your core mission—or brand essence—is. Asking yourself the questions in this branding exercise, as obvious as they may seem, can enable you to discover your purpose and ultimately create something people love. It's the best way to do the important work of defining your brand.
Let's look at a brand wheel template—in this case, we'll use Element Three's brand as an example.
Attributes
The outer rim of the brand essence wheel, attributes are surface-level facts about your company. At Element Three, some of our attributes are:
We're a marketing consultancy founded by a financial analyst
We're a strategic partner that builds and defends market-leading brands
We've been named to the Inc. 5000 list six years in a row
Google Partner and Bing Partner
We focus strongly on brand and story, marketing strategy, and data and analytics
Notice that while all these attributes give you high-level information about the company, they all come from data and verifiable information. They're all objective facts and could find a place on a sell sheet for your company as viable marketing options.
To figure out your brand attributes, ask yourself:
If I was at a cocktail party, and my college nemesis asked me about my company, what would I say?
If I'd just been hired, what's the first thing I would tell my grandma to describe my new place of work?
If a newspaper was doing a story on my business, what would I want in the sidebar?
These are things likely to be part of your list of brand attributes.
Benefits
Since we just got done talking about surface-level facts, you might think benefits are the obvious things your employees get. Nope! These are the benefits you as a service or product provider give to your clients and customers. It's who you work with and what you provide them. Think about the decision makers in your accounts and think about their concerns and needs.
At Element Three we deal with those who need a fearless partner who is straightforward and doesn't beat around the bush, who can honestly assess their current efforts and help them win. To learn what your benefits are, ask yourself:
What business problems lead my clients to come work with me?
What does my product or service do that others don't?
What is it that tangibly sets us apart?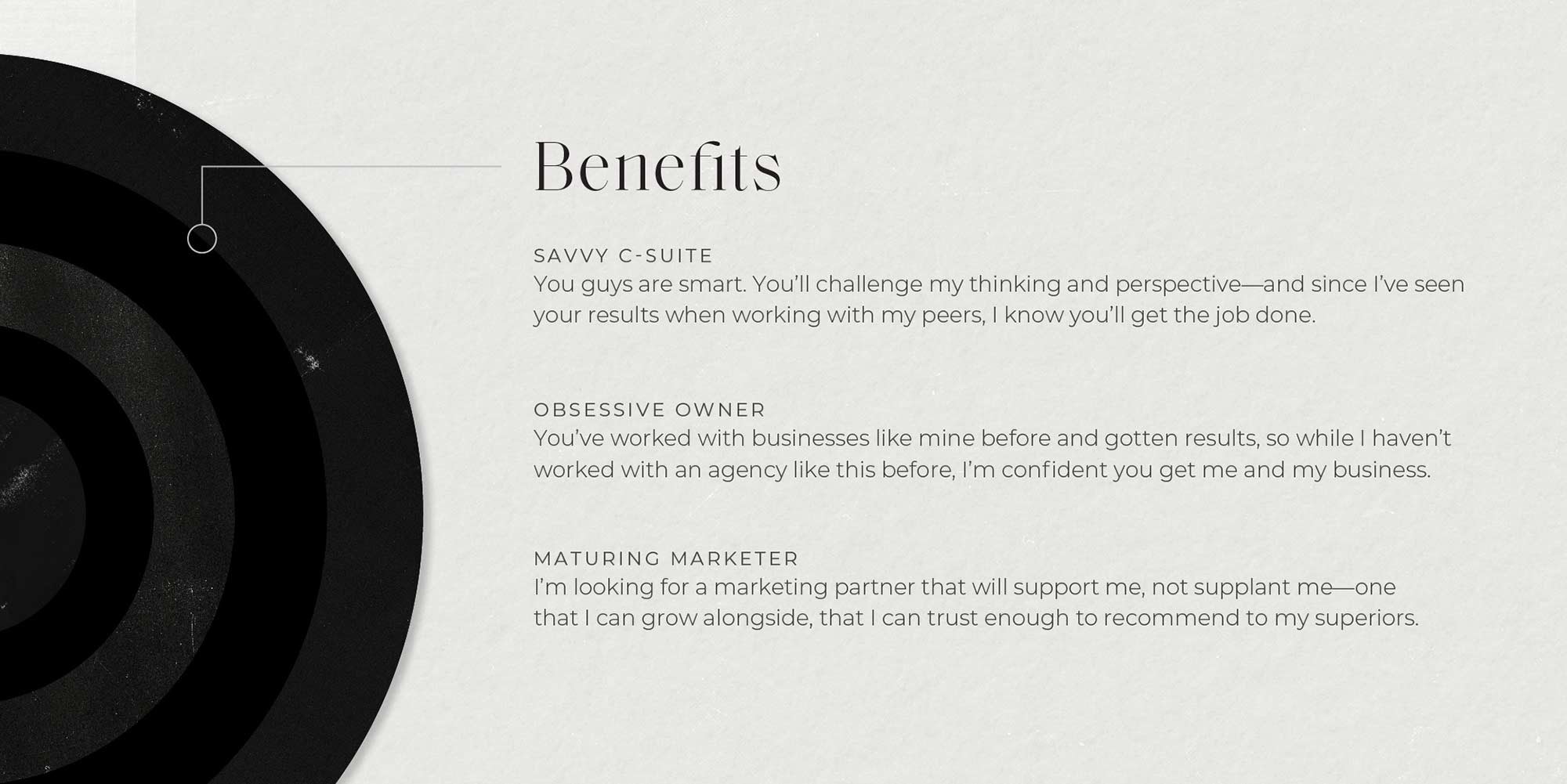 Values
Values are what we celebrate and promote. When we're talking about what kind of company we want to be, this is what we refer to. Here we're getting into more of the internal-facing message; this part of the brand wheel can be integrated into your internal message as what you strive for and do every day.
At Element Three our values are defined by the acronym "A BEST CO," and we integrate those values into our daily workflow starting with our onboarding process. If you haven't already defined your core values, ask yourself:
How do I want my employees to describe the way we conduct ourselves?
How do I want the outside world to understand the things we hold sacred?
What are the most important things a person needs to be able to do or believe in to be a part of our team?
Personality
The personality of your company is not just the median descriptors of all the traits your employees possess. Your personality defines the working style that you operate with and how people solve problems together.
These are the things we look for in new hires—the personality can be taught, but it's better for someone to show that spark or passion, hard work, and creative strategy when they come in. This is what helps define whether a person will "click" with the team or not. You can have all different personality types working together effectively, but possessing a few key personality traits will make your team successful. To figure out how to define yours, ask yourself:
What are the soft skills I want the next candidate for an open position to have?
What are the traits I want my brand to convey to my audience?
If my company were a person, what kind of person would it be?
Brand Essence
Defined simply, your brand essence is the core of who you are as a business. All the definitions you have created up to this point should help you focus in on the idea of your brand essence, and looking at all the information together should help you define it. Your brand essence is your slogan, your tagline, what you bring to the table in a few words. At Element Three our essence is that we are a growth catalyst. The essence itself is simple, but everything within the brand essence wheel supports our core conclusion. To get down to the heart of it all, simply ask yourself:
How can I summarize the purpose of my business as it's defined within this brand wheel?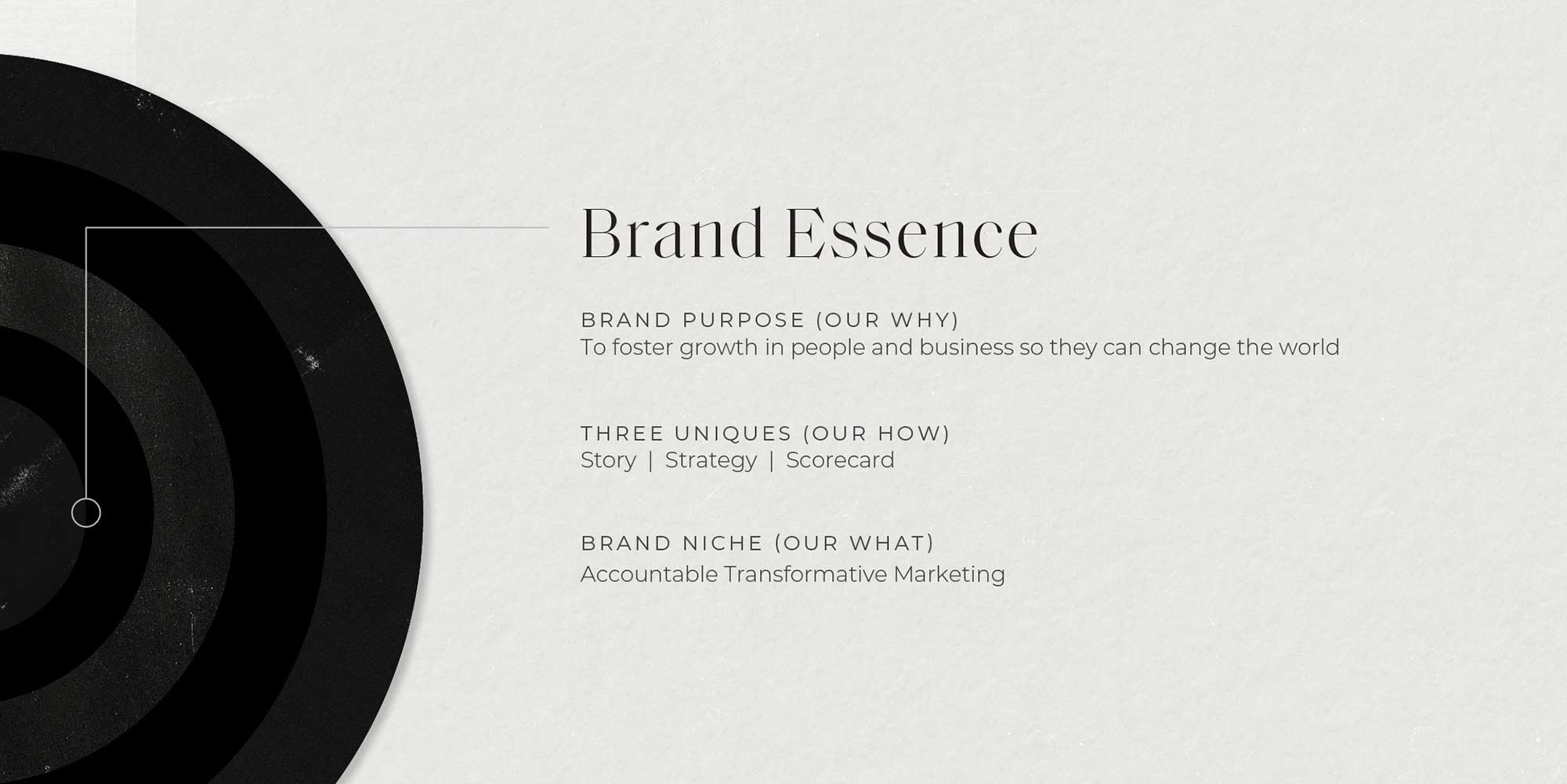 Moving Forward
Defining your brand and finding its essence is hard work and takes constant reflection. Although your answers to this exercise might not be lengthy, the impact they have can be powerful. As you look to the future and who you want to be, knowing who you are and what you stand for is an important step in creating the future for your company. Everything from your founding date and accolades to your brand essence makes your role in your space unique, and knowing what makes up your brand wheel will help define you in your space.