Blogging (and by proxy content creation) has always been a cornerstone of generating organic traffic. You write about topics that users are searching, they get to your website, they read, they pay for your products or services. But creating blogs can be both a business-critical endeavor and also the first thing to get pushed to the back burner when things get hectic.
A quick googling indicates that the number of blogs on the web isn't really known, but suffice it to say that there are hundreds of millions, and that number is continually growing. Which really makes me ask—is every new post truly a new idea?
Lots of things can happen that might push your content creating capabilities to the limit. Like, for example:
Your team has gotten smaller
Your regular-sized team now has a lot more responsibilities
Your budgets are cut
Your content calendar just got lit on fire because of events or launches being canceled or pushed back
You've been doing content creation a long time and you're just tapped out of ideas
Everything is normal, but you just wonder if there's an easier way to create content
You want to improve your organic traffic relatively efficiently
So, if you find yourself in one of these scenarios, it might be time to explore the ideas of repurposing and refreshing content. Think of this as an exercise in working smarter, not harder.
Research
Overall, your blog topics should be targeting non-branded, high-volume keywords that are relevant to your business in order to generate web traffic. Before any writing takes place, do your research to make sure you're moving in the right direction.
How much traffic is your blog driving?
First, understand your current blog. How much traffic is your blog driving? Are there certain posts (or types of posts) that are driving more traffic than others? Use a 3-month look-back period to get a fairly holistic view. You can use Google Search Console to figure this out—and you can also see the queries that users are typing to get them to particular blogs.
Look up those keywords in a tool like SEMrush, Moz, or Keywords Everywhere to determine the keyword volume. Ideally, you're ranking for general phrases that have low competition but a high monthly search volume.
Talk to your customer service team
This research recommendation is setting you up to execute "They Ask, You Answer" content generation. This strategy is relatively simple, but it's effective. Make a list of all the questions your customers ask throughout the buying process, and write articles that answer them. Talking to your customer service or sales team will help generate that list.
For instance, if you sell water heaters, these might be a few of the questions someone asks:
How long do water heaters last?
When do water heaters go on sale?
Can I replace my water heater myself?
What is the difference between a tankless heater and non-tankless heater?
What size water heater does my family need?
Run this list through a keyword planner like SEMrush to find high-volume, low-competition keywords that are relevant to your business.
Develop keyword topic models
Create a matrix of topics and the ways in which they align in your funnel like in the diagram below. Use color coding to illustrate where you have a lot of content (even if it's outdated) and where you might have gaps. A darker color could indicate where you have many posts about a topic whereas a lighter color might mean you only have two or three pieces.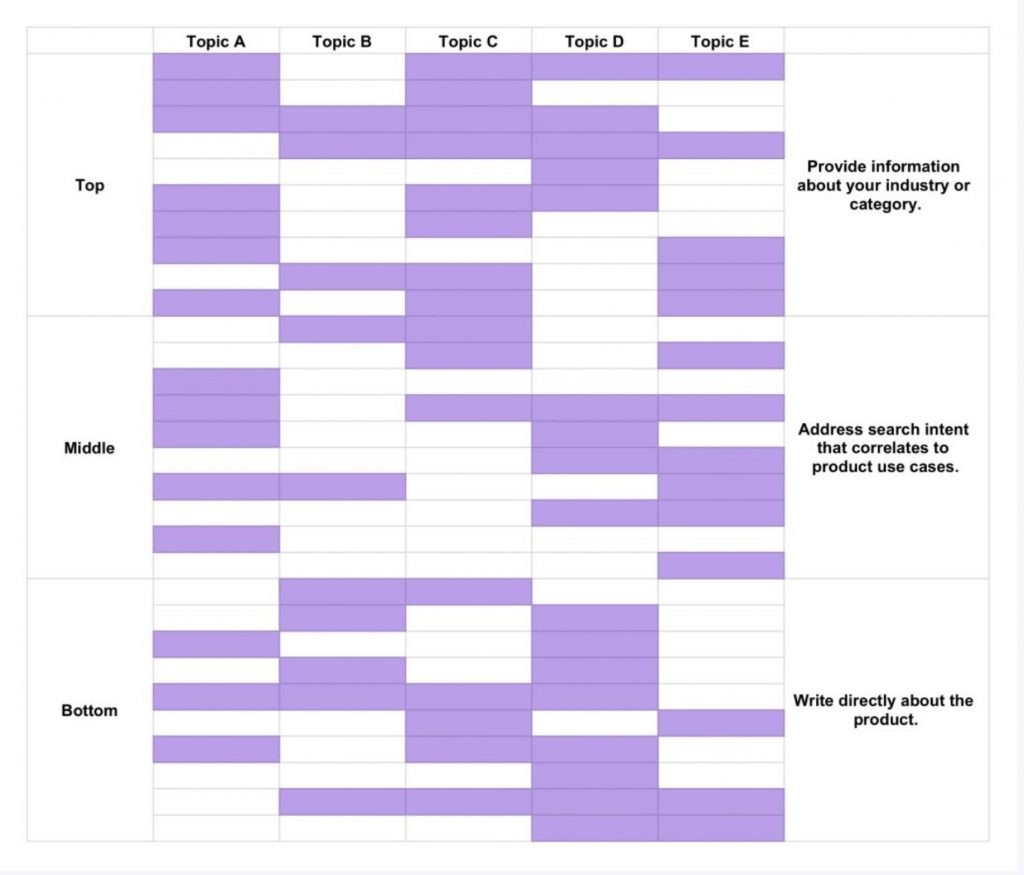 For example, if you run a construction company you might have "home renovations" as a high-level topic. Here are some examples of possible subtopics:
Maintenance-level renovations (HVAC, plumbing, electrical, etc.)
Renovating a bathroom
Easy upgrades to make your house sellable
How to apply for a loan to fund renovations
Which renovations have the largest return on investment
Uncover opportunities from existing content
Between the analytics research you did, your talks with your sales team, and the matrix you created, you should have a really good idea of what content you have already and how it's working for you.
Now it's time to make lists! Your list should include:
Blogs that could use some refreshing, such as blogs published more than 6 months ago or historic traffic drivers that have plateaued
Longer blogs that could be broken into several different posts
Topic gaps that exist in your matrix
Sales questions that get asked but haven't been answered
How to Repurpose and Republish Existing Content
I know, I know—I say there's this relatively easy way to create content, and then I bury you in what feels like hours of research. But, you know what they say: "fail to plan, plan to fail."
If you're updating an old blog
This means that the content is still relevant to your industry, business, and/or audience, but it maybe could just use some sprucing up.
Here are some ways you can refresh and republish said blog.
Add new and improved imagery (this can include charts, infographics, even video!)
Update or remove outdated or irrelevant content
Add internal links to other (newer) related pieces of content on your website
Optimize the post's meta description
Update the publish date (consider adding an "editor's note" to let users know that the post has been updated)
Keep the URL the same
For example, maybe you wrote about bathroom renovations a while ago. Bathroom renovations are still relevant to your business, but styles have changed. It might make sense to go back and add imagery with brass fixtures and subway tile and include copy about how to pick a classic design.
If you're repurposing a blog
Maybe you wrote a blog like "10 Kids' Activities When It's Raining"—I don't know, go with me here. In theory, each of those activities has its own subheading with maybe a paragraph of text accompanying it. If the blog's driving a lot of traffic to your site, you could make each of those sections its own post and expand with more detail. Then, in the original blog you could add internal links to the new expanded blogs.
Follow up
So, once you've done all the research and have started to republish or repurpose your content, you're going to want to know how it's doing. Which is why I recommend starting a spreadsheet that tracks what posts you updated and when. You could annotate in Google Analytics, but that might become really busy and it's maybe a little bit overkill.
After you update the content, look at the page in GA (or whatever reporting platform you use) and see whether traffic has increased. It might look a little something like this:

As you can see, nothing all that crazy happened when you look at it in a pretty short period of time. It's not like traffic rocketed up to a wild level—after we repurposed the blog, it drew a fair amount of traffic, but it's not like we reinvented the wheel here. But when you look at it over a longer period, you see something a bit more impressive.

Here, you can really see what repurposing a blog can do. Traffic to this post was very low for over a year. It got some attention here and there, but nothing major and nothing sustained. Then we republished it. Traffic increased drastically. It didn't take a ton of work, we didn't have to come up with a new idea or totally rewrite the existing post. Just a refresh, and it was good to go—and drive some traffic to our site.
If you want more details on what your repurposed blog is doing, you can also look in whatever keyword tracker you use to see if the post is now ranking for more terms and/or in higher positions.
Let your content drive more content
Generating content is a demanding task in the best of times. When your team or budget shrink, or your goals and means change, it only adds to the challenge. Obviously, repurposing content is not the only solution. But going back through your content history and revisiting successful posts from the past is a powerful tool for your content team, whether things are going great or you're a bit stuck.