We all know the value of organic search traffic, but in case you need further persuasion, here's a few stats to think about:
Roughly 70-80% of Googlers only focus on the organic results and ignore paid ads altogether.
On average, search traffic converts at a 10x higher rate than social media on desktop.
93% of online experiences start with a search engine.
Not only is generating organic traffic important, it's a common goal for digital marketers, marketing managers, SEO specialists, and content marketers (like myself).
The only problem? Most information out there about increasing traffic comes with the caveat that you need at least 17 people on your team and access to every fancy schmancy martech tool out there. It's just not terribly helpful if you don't have that luxury.
Whether you're an enterprise brand with a small, agile marketing team or a growing startup that's still trying to figure everything out, here's some tips to increase traffic as a one-person show, with examples of what we did at Element Three to more than double our own traffic this past year.
But first, let's talk about content and SEO.
Just to make sure we're all on the same page, let's talk about how Google ranks content in the search engine results pages (SERPs). When a user goes to Google, Bing, or some other search browser out there, the browser will display results that are best suited to meet the user's needs or answer their question. To earn organic traffic, you'd better hope that the content you're creating shows up in the SERPs.
Now, there are a ton of factors that go into how these search engines rank and crawl content and websites. A ton. And while things like technical SEO and audits, page load speed, and mobile experience all matter, this blog post is about using straight content—mostly, blogs and resources—to increase your site's traffic.
But why focus on content specifically?
In my experience, content has impacted SEO and organic traffic more than pretty much any other one element (assuming you have a reasonably clean, fast, structurally sound site). That's not to say things like sitemaps and link building aren't important. They are, 100%. But, if you're really trying to increase organic traffic dramatically, improving and creating content will be your best bet because it's essentially what your site is made up of. Plus, great content can help you earn links and boost your traffic in other ways so it's what you should start with anyway.
So, let's dive in. Here's what you can do to truly make an impact with your content marketing.
1. Repurpose Old Content
The number one reason we hit our traffic goal this year was because we were diligent and committed to repurposing and republishing old content. Necktafy supports this idea, and does a great job explaining what they call the "two-year blogging nosedive." Summarized, the blogging nosedive is when a piece of content stops generating organic traffic, typically after two years.
To make sure that you're still getting the most from old content, repurposing and republishing is a great option. It's also ideal because the content has had time to brew in Google, and you can actually use data gathered in Search Console and Google Analytics (both free) to strategically repurpose the post.
The other beautiful thing about repurposing content is that it takes less time than creating brand new stuff. In other words, it's wonderful for that intern you put in charge of all your content marketing, or for when you have one hour to dedicate to your blog next week.

Above is an example of one blog post we repurposed and republished. As you can see, the page has seen a bump in traffic over the past few months.
So, here's how you do it.
Step One: Find the old content
First, you need to know what content is old. If you have a content inventory, this should be simple. If you don't, you can use Screaming Frog (free up to 500 URLs) to scrape your blog content and publication dates. Or, if you're more of a manual person, go into Google Analytics and see which blogs are driving traffic and check when you published them. Tedious, but effective.
Step Two: Find keyword opportunities
Remember what I said about content "brewing" in Google? Well, this is it. Go to Search Console and bring up performance metrics. You can filter by URL and it should show you the keywords that are driving impressions and clicks. These are going to be the keywords you should target when repurposing your post because you already have some traction.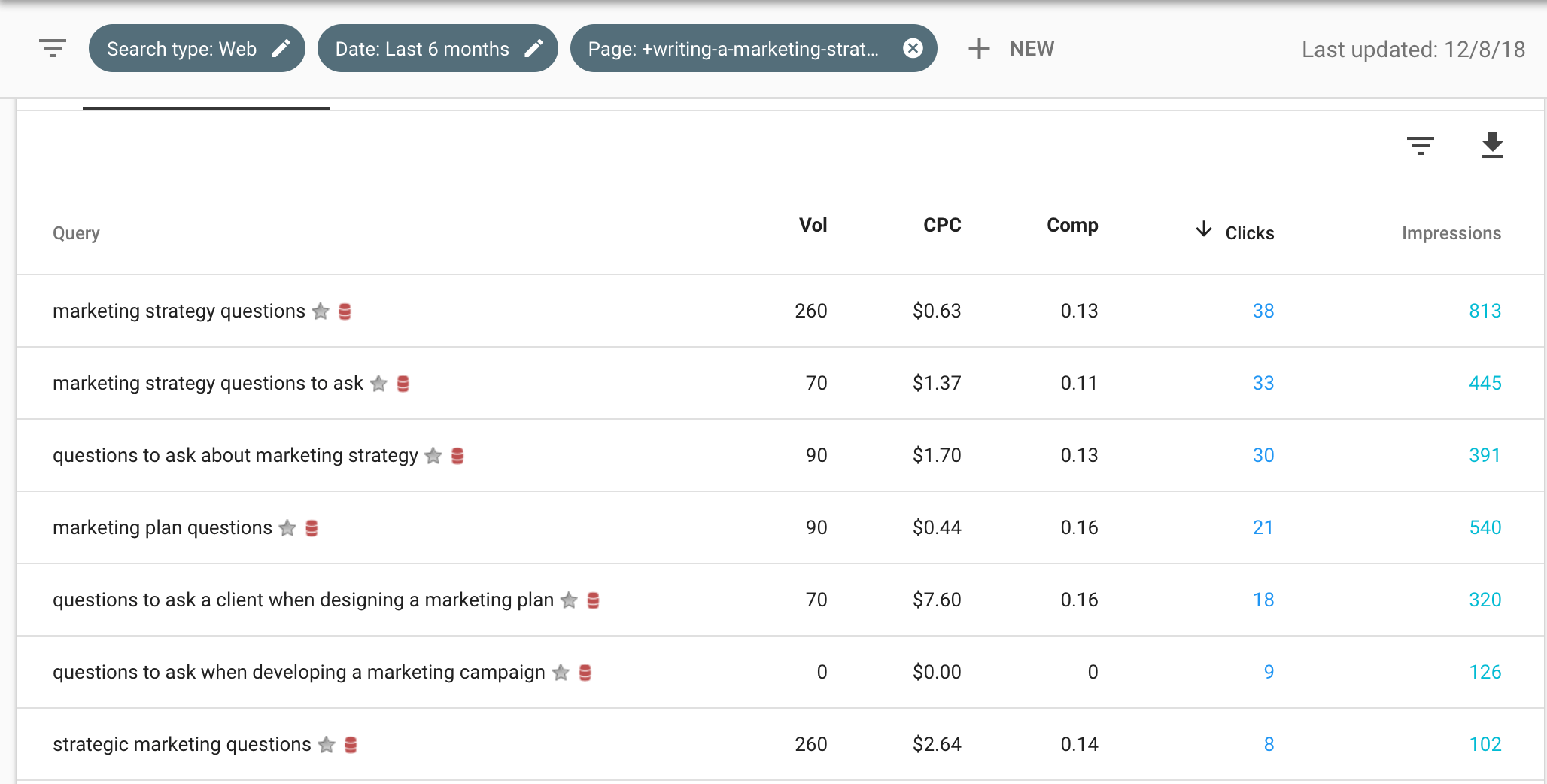 Once you've found your keywords (it doesn't hurt to try and find new keywords, either), look at your old content and see what you might need to add to optimize your content for these striking distance keyword nuggets of gold. Hint: that could include adding new paragraphs and topics, cutting irrelevant content, adding new graphics, adjusting title tags and meta descriptions, etc., etc.
Step Three: Google it
Once you have the piece of content you want to repurpose and the keywords you're optimizing for, Google it. Type in the keywords and hit enter. Then, compare your content to the content that's front and center on page one. What are they talking about that you're not? Are there any topics you need to add? Is the content even relevant to what you're trying to say? Based on the content, what can you assume the user's intent is with that particular keyword?
Phew, that's a lot. But, once you do it a few times, it gets easier and easier. Next up…
2. Link It Up
If your content contains zero or few links to other content, this can be a quick win. The idea is that you want to link to other relevant content on your site as well as to external, credible sources. Explained in this Search Engine Land article, interlinking can help you see an uptick in organic traffic because it passes link juice from one piece of content to another, helps improve user experience, opens pathways to less-accessible content for SEO spiders, and more.
This is important to remember when you're creating new content or updating old content. And if you're using external resources (either from outside your company or inside), make sure to encourage them to utilize both external and internal links as well.
3. Think Topical Keyword Research
First things first, if your goal for content is to drive traffic to your site, then you should be treating your blog like a library, not a publication. Which means you should be creating content with highly-searched keywords (and, of course, business objectives, services, etc.) in mind. After all, no search volume, no chance you drive organic traffic.
That said, I think we get too hung up on optimizing for the perfect keyword, instead of the perfect keyword topics.
What I'm getting at is using Google's related searches to your advantage. Google related search queries are exactly what they sound like—searches that Google has algorithmically associated with certain groups of keywords. So, if you find a keyword that has high volume, is relevant to your target audience and business goals, and has relatively low competition, your job isn't done. Instead, make sure that you're taking note of related searches to ensure your content is in-depth and fully addresses the topic.
Google related search in action
Let's pretend that you're a local farmer's market and you're creating content about the best apples for baking to go along with the fall season. You notice that "apples for baking" is a hot search term with relatively low competition.

Using the search bar, you can find related keywords that Google has associated with the term you're searching. So, while you may not have intended on including applesauce in your content, adding it could bump search traffic from that term, too.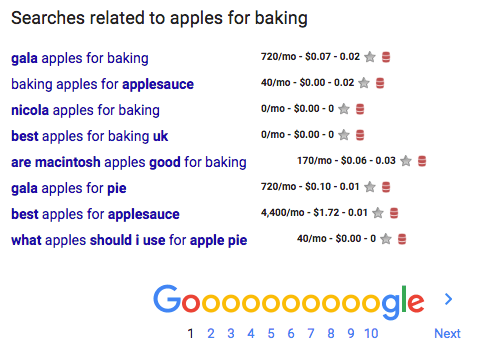 If you notice in the screenshots, I have relative search volumes with competitive scores (not 100% accurate, but it gives you a good idea) next to search terms thanks to this free Chrome extension. It's truly life-changing and will make your life easier. Trust me.
4. Leave Perfection Behind (It's Overrated Anyway)
This isn't necessarily anything really technical, but rather subjective. In my humble content marketing opinion, perfection is overrated. Now, does that mean you get to skip out on the research and publish crap? No, no. Instead, it means that there is a point of diminishing returns and sometimes, it's better to ship it, assess performance, and revise.
In fact, our top-performing content has been edited one, two, sometimes three times. You launch, measure performance, and use it to inform and alter the content to better fit the needs of the users. It's what it's all about.
One final thing to note on this subject: you're probably not the sole writer of every piece of content that will be published. Which means you're going to receive some stuff from outside contributors that might be a little rough around the edges.
Help your contributors out by clearly outlining who they should be writing to (your target audience), how you want them to portray your company, brand, service, or product (make sure it's on brand), sharing a few examples of great content out there (politely nudge them to fulfill your content marketing vision), and encouraging them to include links to research, etc. (SEO best practices).
5. Last But Not Least, Do Something with the Traffic
Okay, okay. This isn't a tip to increase traffic from content, but rather to use the traffic you're generating to drive business impact.
Sad fact: because you're focusing on answering user questions and blog content tends to focus on top-of-the-funnel users, bounce rates will almost certainly be higher on your blog than on other parts of your site. Don't let that hurt your feelings—it's normal. But, you should still be optimizing your blog posts to encourage further site navigation and newsletter signup or other lead capture techniques.
Some ideas:
Use your blog content as a way to drive newsletter signups. We use HubSpot lead flows and they work wonderfully.
Make sure you're linking to relevant internal content throughout the post.
Ensure the UX is intuitive and that they can easily navigate to other blog posts.
Recommend topic-related content the user might be interested in.
Retarget users that have visited with other downloadable marketing resources (you'll need to be careful here, but it is a strategy!)
Content is a grind. Take it one step at a time.
I know this seems like a lot. In many ways, it is. But I promise you, implementing these five tactics (if you haven't already) will help you build momentum going forward. And as a content team of one and a half (at E3, we get the luxury of using our awesome talent to contribute…and edit!), I assure you this is very doable.
To summarize:
Repurpose content to drive even more traffic from older performing posts
Always link to relevant content
Utilize Google related searches to build better content for users
If it's not perfect, it's okay. You can make it better.
Use the traffic you generate.
Good luck! And if you have questions, reach out to us. We're always here to help.