If you feel like you don't fully understand the value of marketing technology or if you feel like you've purchased a suite of marketing products that are being severely underutilized, you're not alone.
Marketing technology and the talent and services required to use it together account for 27% of the average marketing budget today, according to Gartner's most recent CMO Spend Survey.
Yet despite the considerable amount of time and resources marketing departments are devoting to technology, 56% of organizations report underutilizing their technology, while another 21% have platforms or tools they've purchased that aren't being used at all. Only 9% of marketing departments feel they have all of the marketing tools they need and fully utilize them. 
There are several reasons why marketing technology doesn't get used. And there are several more why organizations constantly feel like they haven't purchased enough technology to do the jobs they need for it to do.
But the reality is, technology is a foundational element of the modern marketing department. There is no choice but for you to figure it out, whether internally or through an external partner.
And unfortunately, there's no magic bullet, no secret formula, no single tool or resource you can use to completely transform your marketing efforts overnight.
That doesn't mean we're just going to say "goodbye and good luck," however. There are some critical items to consider when determining how to build or improve your marketing department's technological foundation – let's walk through them.
Know which sources of information to trust
Authenticity and trust in marketing and sales matter. Just as you should know that when you read an agency blog, one of our primary objectives is to demonstrate our approach to marketing so you begin to understand what it would be like to work with us, know that when you read content published by a martech company, they have an agenda that is, in part, self-serving.
That doesn't mean you should discredit content published by organizations trying to sell you their products or services – on the contrary, much of the best content in our industry is published by the companies that fit this bill (think Moz, Google, Contently, Salesforce, etc.). It just means that if you're going to purchase a product, it's worth investing in the 2-8 hours of dedicated research to look at multiple sources of information, from independent industry publications to review sites.
Here are our go-to sources of information for marketing technology news and reviews:
Cover the basics
In his most recent marketing technology landscape (published in March 2016), Scott Brinker identified almost 4,000 marketing technologies classified across 49 distinct categories. And those numbers are only going to continue to grow this year.
We can't say which tools are best for your business without knowing your business specifically. But we can say that when considering adding a new tool to your utility belt, you should carefully think about its purpose and how it aligns with your overall business and marketing objectives. If you do this, you can move forward with confidence knowing you've identified something that helps you accomplish your goals.
And before you move to more niche advanced technologies, you need to make certain you have solutions for the three main categories you can't live without:
A customer relationship management (CRM) tool to manage interactions throughout the customer lifecycle;
A marketing automation platform to handle actions like sending emails and managing online forms, and
Analytics tools to measure the success of your various marketing efforts.
Customer Relationship Management (CRM)
Your CRM is important primarily because of the significant role it plays in keeping marketing and sales in alignment. Used to measure, evaluate, and track a prospect's path through the customer lifecycle, it can be tied to specific marketing actions and improve the relationship between your organization and individual prospects. Don't let your CRM fall solely under the purview of your sales or marketing team - both departments need to share responsibility for updating the system and utilizing the insights it provides. Information is power.
Marketing Automation
No matter how skilled your marketing team, it's imperative you have a structure in place to streamline your communications with prospects and customers. A good marketing automation tool does more than schedule emails and social media posts. It integrates with your CRM and analytics tools, and it serves as the platform through which you manage communications based on the information you're collecting and recording.
Analytics Tools
Get more out of each dollar spent. There are thousands of different tools that collect data on, well, just about everything. Want to know which pages on your website are visited most often? Which links are being clicked the most? How far down a page your visitors are scrolling? What other websites your visitors are visiting most often? These tools can gather valuable information – but what's more important is how you use that information to work more efficiently and cost effectively.
Technology, Meet Business Objectives
Lastly, it's important that your marketing technology stack and marketing technology strategy are married to your business objectives or your business pains. If you're looking to improve your audience-specific message or conversions, then you need to invest in tools built for audience segmentation. If you're having trouble measuring the impact of your marketing, then it's probably time to invest in martech that focuses on marketing attribution. And if you're dealing with a large technology budget you feel like is being wasted, then it's time to examine why you're not using the technology you've purchased.
Marketing Technology in 2017: Not for the Faint of Heart
The irony of marketing technology, and business technology in general, is that while we have more tools at our disposal than ever before, these tools have created a new set of challenges – namely, learning how to develop and manage this infrastructure safely, efficiently, and in a manner that ensures your martech works for you.
Especially as we continue to see the balance of tech purchasing power shift from CIO to CMO, we cannot emphasize enough how important it is for you to invest in the right people to achieve these objectives. For some firms, this may mean hiring a dedicated in-house marketing technologist. For others, it may mean working with an agency capable of informing and managing your martech infrastructure for you. Whatever your answer, if you don't have an effective martech strategy, that needs to change today. Because it's 2017, and you simply can't put it off any longer.
Whatever your answer, if you don't have an effective martech strategy, that needs to change today. Because it's 2017, and you simply can't put it off any longer.
As you can imagine, there is a lot more to consider when building up and using your technology stack – but don't worry, we've got you covered. Over this series, we're diving into what we've seen as the most pressing martech challenges facing organizations today. Check out the whole series, and see the value of a well-organized tech stack – and where you should take yours.
Part 2: Why You Need a Strong Marketing Technology Stack: Audience Segmentation
Part 3: Why You Need a Strong Marketing Technology Stack: Marketing Attribution
Part 4: 3 Reasons Why the Marketing Technology You've Purchased Doesn't Get Used
Companion Piece: Your 2017 Marketing Toolkit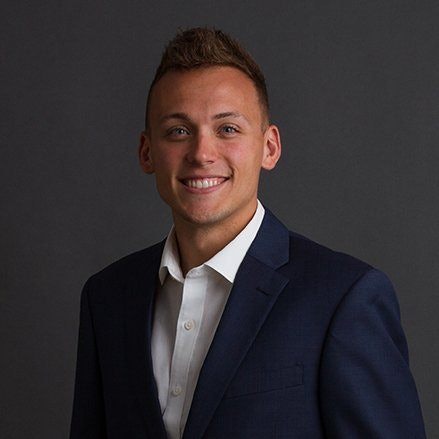 A curious, wondering soul, Aaron channels his love for adventure and change through his approach to modern marketing. As the Enterprise Demand Generation Manager at MedBridge, Aaron works to catalyze growth and create opportunities through a variety of digital marketing channels.
Feed your marketing mind and keep your skills sharp by opting into our weekly newsletter, packed with lessons we've learned firsthand. You won't regret it.