Why Would We Want to Bring Video Production In-House?
As a veteran with 20 years of traditional advertising agency experience under my belt, the answer to whether or not we should bring on an in-house video production department seemed pretty simple to me: no, of course not.
Why would we want to bring video in-house? To start, when I joined Element Three in 2014, we weren't coordinating video production for many of our clients. When the need did arise, there was a simple solution: pick up the phone and call a producer. Let them handle pulling the pieces together.
After sitting in on several client strategy sessions in early 2015, it became obvious that the only way we could continue to meet our clients' needs would be to figure video out. The growth of our agency and the growth of online marketing video trends (like the fact that video marketing accounted for 50% of all online mobile traffic in 2015, to name just one) meant that if we were going to remain a results-driven agency powerhouse, we would need to either hire internal video talent or develop a permanent outsourced video partner.
So, like I'd done in the past, I picked up the phone and started outsourcing projects to determine which video production house would be the best long-term partner. While outsourcing seemed like the easy solution at the time, it created several challenges for the content that we were tasked with producing:
Budgets
Gone are the days of high-budget, multi-day shoots for even the largest of enterprises. Because video is more accessible than ever, consumers expect brands to use a lot of video to create engagement, which means video production has to be nimble. Keeping a tight budget can be difficult when working with an outside vendor. There are fees for the videographer, the sound guy, the grips, the editor, and any other crew – and it can all add up quickly.
Timelines
Video projects often come with quick turnaround times for all of the same reasons they come with tight budgets. Finding the right vendor to meet deadlines can be tremendously challenging when you're competing with the other projects in their queue.
Quality
We've worked with some incredibly talented video production companies, but working them into our clients' schedules wasn't always easy. That meant if we had wanted to continue leading video direction efforts for our clients, we would have had to take leaps of faith with unvetted vendors – leaps which we were ultimately unwilling to take.
Playing Producer
To save money, we were sometimes left to produce our own video shoots, which is an art form in-and-of itself. Using inexperienced people to do that complex job often led to unexpected surprises on shoot days.
Despite these challenges, we were able to deliver almost $150,000 in video work for our clients in 2015. But it wasn't easy – a handful of unexpected delays and unanticipated changes in scope created headaches for both our clients and ourselves.
Maybe We Should Bring Video In-House.
Enter 2016, where the demand for video content had only increased, and we were forced to consider whether or not the time had finally come to bring video marketing in-house. But if we were going to do it, we needed to do it right, which meant we would need to find the right equipment and talent to pull it all off.
To help us solve for these needs, we turned to our longtime friends at Wistia, the Boston-based professional video hosting service whose analytics and video marketing tools have taken the marketing world by storm. They had recently launched an agency partner program specifically designed to help agencies develop their own video marketing strategies for their clients.
During a business trip to Boston, I spoke with many individuals at Wistia, including Wistia's own in-house video producers, Chris Lavigne and Trevor Holmes (Wistia has a great article about bringing video in-house that talks about the impact Chris's hiring in 2012 made within the growing technology company). Being in-house video resources themselves, they offered a very clear picture of where we should look for talent capable of the versatility demanded by our client base: we needed to find an exceptional wedding videographer.
Yes, the industry often defined by poor framing, cut-off heads, bad music, and terrible image quality – the kind of work that makes everyone cringe when they see their old high school friends post it on Facebook. So why a wedding videographer, you ask? Because they're typically a one-person show, with experience managing the shoot, sound, edit, and the motion graphics that often bring it all together.
Still, with a bit of skepticism, I came back to Indianapolis to start my search. And I was surprised – shocked, actually. The quality of professional wedding videos is infinitely better than it used to be. The stories many of these videographers are telling and the quality of their product is on par with some of the best branded video content around today.
Video In-House
It still took a little bit of time to find the right videographer. One of our core values is that Awesome Comes Standard, which means we have to be particularly choosy in our hiring process to make certain the people we bring on are capable of producing exemplary work every time. But I'm happy to announce that as of June 1, 2016, we are now able to offer in-house video services to all of our clients, thanks to our new full-time video producer Ben Poenisch.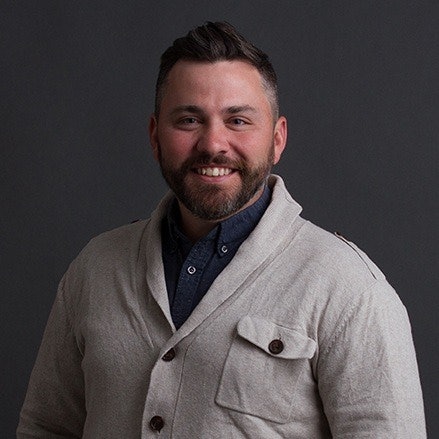 Many thanks to the team at Wistia, especially Chris, Trevor, and Dee Dee deKenessey, the head of Wistia's Agency Partner Program. Without their help, I'm not certain we would have been able to develop the right strategy for in-house video production as quickly as we were.
What does this mean for all of you reading this right now? If you're a current client of ours, then you've probably heard this news and may already be working with Ben and the rest of our team on some pretty incredible video projects. If you're a prospective employee trying to see what Element Three is all about, be prepared to be on camera if you join our team – we're all about sharing who we are with the market so they know what to expect. And if, like most of our readers, you're neither of those things, then we'd love to hear the stories of your own experiences with video marketing, and how you think video will continue to factor into your marketing strategy over the next few years. Email marketing@elementthree.com, and let's get to talking.
Feed your marketing mind and keep your skills sharp by opting into our weekly newsletter, packed with lessons we've learned firsthand. You won't regret it.