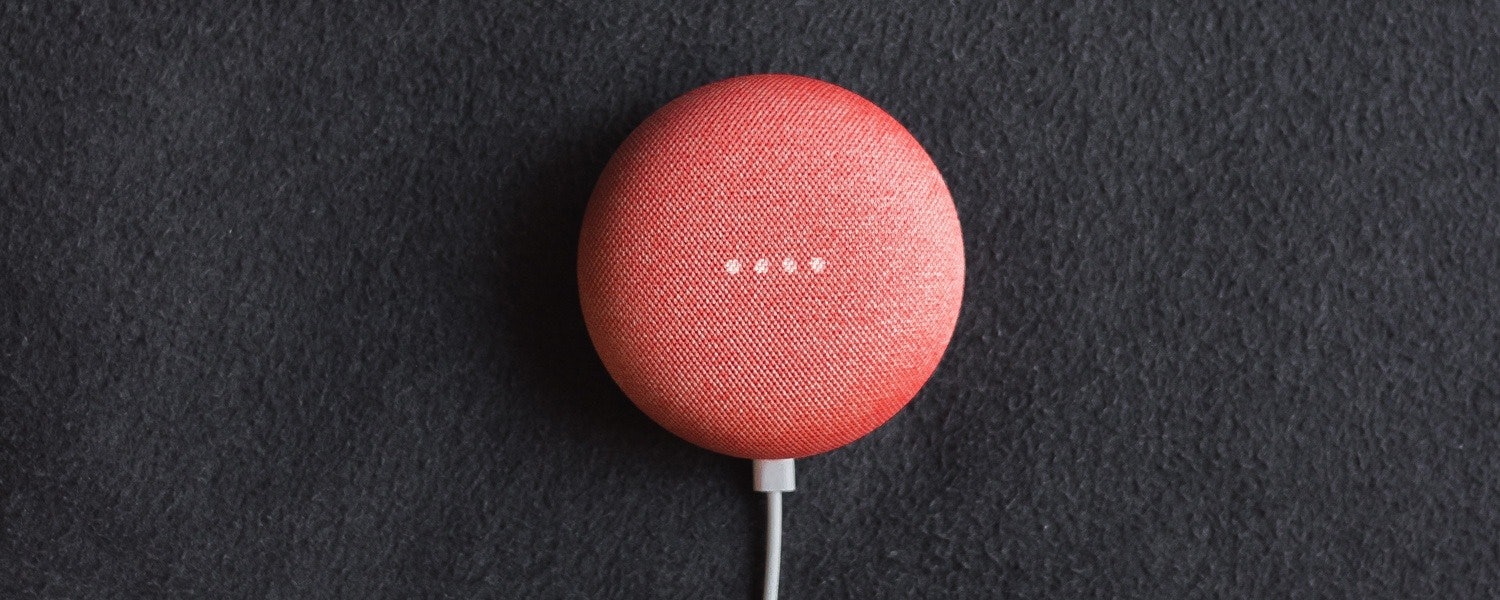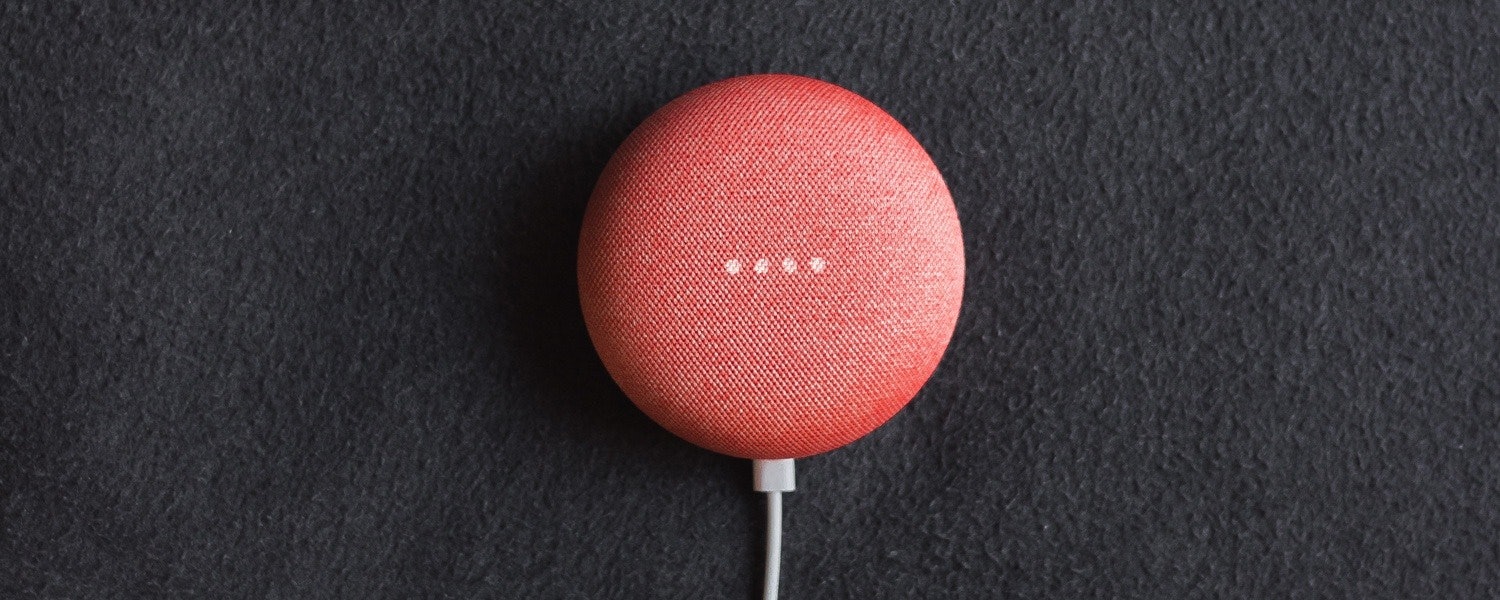 By now, the once-trendy practice of search engine optimization (SEO) is an old friend. It is now a cornerstone of most companies' marketing strategies and a key way to drive traffic to your website. While SEO is well-established, and countless blog posts and guides have been created on it, there is a new face in town—voice search.
What Is Voice Search?
Fundamentally, voice search is relatively simple. Like a traditional text search engine, it takes a question from a user and returns content (be it video, blog posts, website landing pages, images, etc.) it thinks can best answer the question. However, as the name implies, voice search eliminates the keyboard and allows the user to simply verbally ask the question that's on their mind and get an answer immediately.
Voice search has been around for quite a while. In 2008, Google launched the Voice Search iOS app, and voice search became mainstream with the launch of Apple's Siri in 2011 and Amazon's Alexa in 2014. These voice assistants began to normalize the concept of using devices for online searches.
While the concept of voice search is relatively simple, it differs from text search in several key ways.
1. Voice search queries are longer
By now, most people have optimized their search habits for typing. Imagine you are trying to learn some best practices for your brand's video marketing. Open a tab, type in "video marketing best practices," and a host of websites and blog posts are competing for your attention.
Voice search, on the other hand, tends to lend itself to longer queries, using much more natural language. Using the example from above, you might ask your phone "What are the best practices for video marketing?" or "How can I improve my company's video marketing?"
Longer queries mean that you may need to do some SERP analysis and perhaps take advantage of a tool like Google's Broad Match Modifier to ensure you show up in the search results.
2. Voice search is happening on different devices (and search engines)
The landscape of search is always changing. According to Google, over 60% of all searches are conducted on mobile devices. Of those, over 20% are attributed to voice searches. However, the rise of the smart speaker has created an additional platform which is exclusively used for voice search.
The devices that dominate voice search are important because they also impact the search engine of choice for voice search users. According to a study by Higher Visibility, Alexa and Cortana account for 50% of all smart assistant use and both of them rely on Bing to return answers. If the adoption of Amazon smart devices continues to dominate the market, it will be important for marketers to ensure they think about how their websites are ranking within Bing's results—not just Google's.
3. Voice search tends to be local
Many of the primary use cases of voice search are focused on answering questions in the user's locale. BrightLocal conducted a study on how voice search can impact local businesses and determined that almost 50% of users searched for local businesses every day. They also uncovered that most people with smart devices wanted more access to local business prices and information, and that 27% of users who used voice search to learn about a local business visited the website of that business later.
In a highly competitive market, the difference between choosing your business over a local competitor could come down to how you rank for geographic keywords, and how much information is available to inquisitive voice search users.
Why You Can't Neglect Voice Search
Successful trends tend to have a way of starting small, and picking up momentum until they reach a point that leaves people thinking "how did we not see this coming?" Do you remember when Facebook first entered the marketing scene, and it wasn't taken very seriously? Now Facebook generates around $40 billion in ad revenue and is a marketing tool powerhouse.
Voice search already has impressive momentum in the marketing world, with countless blogs and websites heralding it as the next big thing, and many agencies guiding companies through the process of voice search optimization. It is gaining gradual upward momentum which might any day turn into a verifiable explosion. By 2020, over 50% of all search traffic is projected to be voice search.
The world is also increasingly equipped with voice search enabled devices. The Pew Research Center has estimated that 77% of Americans now own smartphones, providing them access to a voice assistant 24/7. In addition, smart speakers equipped with your assistant of choice are rapidly being adopted in the U.S., with over 20% of adults now using a smart speaker just four years after the release of the Amazon Echo. This is an adoption rate higher than that of the smartphone, and on par with the adoption of social media usage…and look how that turned out.
Voice search isn't going anywhere. In fact, the trends suggest we could soon be living in a voice-first world. Right now, optimizing your website and content for voice search might be just the competitive edge you need—but in a voice-first world, it will be a necessity.
How to Get Ready For a Voice-First World
The world of smart assistants and voice search is here, and at first glance it may seem like a complicated one. But the good news is that it is a lot simpler than it looks. Here are some ways you can get your website ready for the voice revolution.
Continue to apply best practices…with a twist
Voice search is still search. This means that you don't have to completely reinvent your SEO strategy to generate website traffic.
First of all, if your company does not currently have an SEO strategy, don't worry. Here is a great guide on how to conduct an SEO audit that will get you on track to ranking at the top of search results and increasing your website traffic in no time.
Voice SEO is still all about creating content that best answers the questions people are searching for. The twist is that the questions people ask with voice are quite a bit different. Take advantage of voice query tools like AnswerThePublic to understand what your potential customers are looking for. Take this example of what people are asking about inflatable pool toys: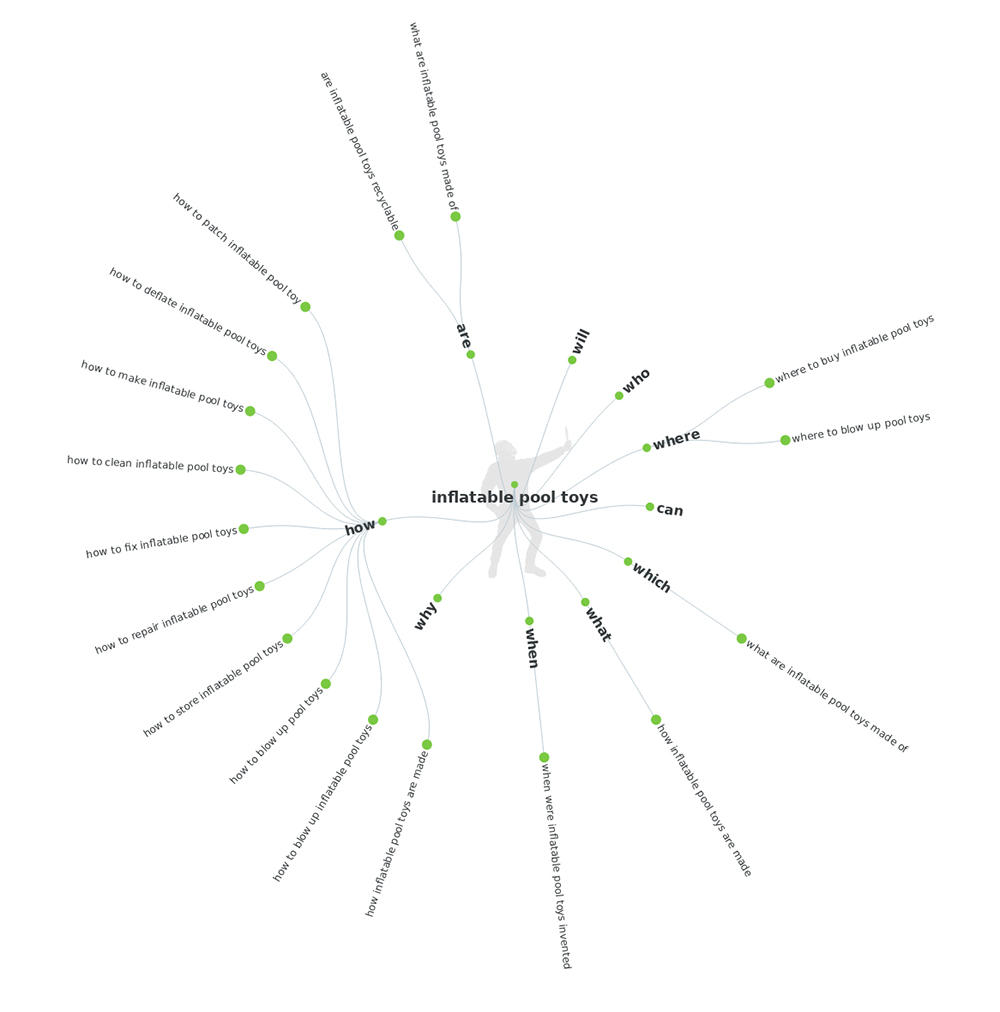 Source: answerthepublic.com
Voice search brings back long-tail keywords, and the 5 W's—Who, What, Why, Where, and When. Apply classic SEO practices such as title tag and meta description optimization to your content, and ensure that your content is focused on answering the questions people are actually asking.
Answer the right questions
When a user asks a voice search engine a question, they are often met with an answer that is pulled from a featured snippet—also known as "position 0" in the search results.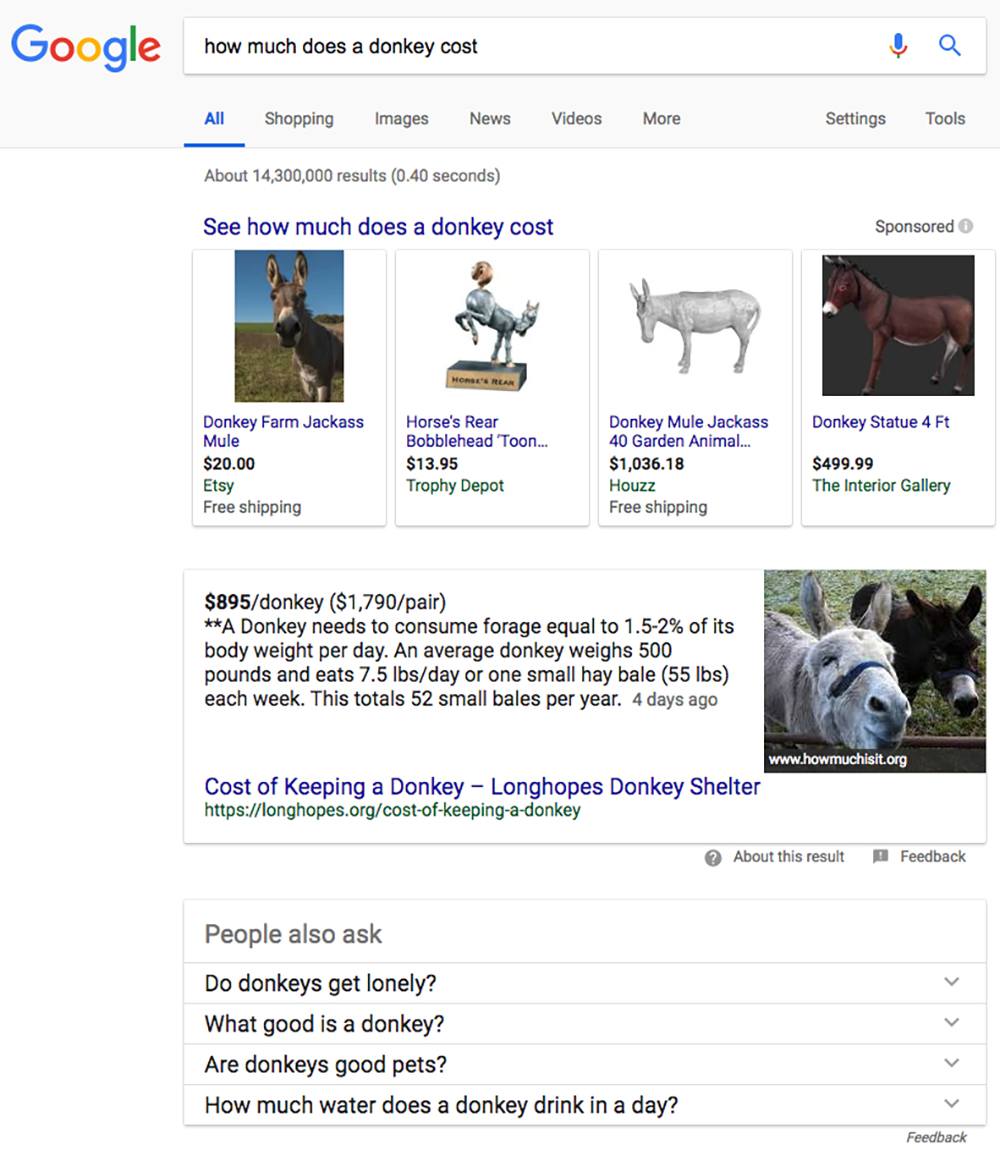 For example, if someone says "Okay Google, how much does a donkey cost?" Google will respond with something like "From what I found online, a donkey costs $895." Good to know.
Featured snippets are the goal for voice search, but with a caveat. If you want to increase traffic to your website, you need to rank in position 0 for the right questions. In the example above, a user might have just gotten all the information they wanted, meaning instead of clicking through to your site, they might start a new search for where to buy a donkey—which might not return your site as a result.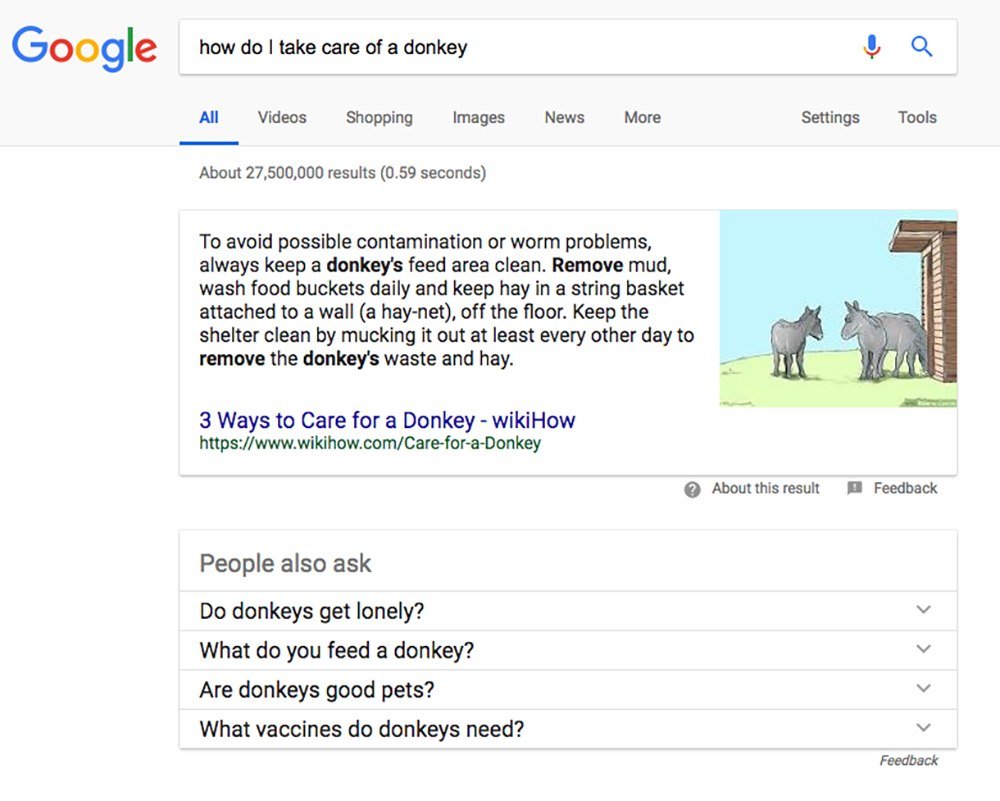 If the snippet you rank for answers the question "how do I take care of a donkey," the response will likely mean the user needs to check out more information, and will therefore click through to your site—and maybe even buy your donkey.
You don't want to rank for questions that don't bring you more traffic. Answering and ranking for the right questions means taking the time to understand what your target audience is asking and then making sure you are answering them.
Stay Curious About the Voice Revolution
The world of search is changing every day, and there is always more to learn. Thankfully, there are tons of great resources out there. Here are some of our favorites.
Voicebot.ai: the go-to website on all things voice—voice SEO, smart speakers, news and more.
VoiceFirst.fm: home to a ton of awesome podcasts and additional resources.
Voice Marketing Podcast: an awesome podcast from Arrovox on how voice and marketing strategy intersect in a voice-first world.
Does a voice-first world sound intimidating? We are here to help. Voice search is here to stay, and your company can't ignore it any longer. Thankfully, with some key tweaks to your current SEO strategy, you can conquer voice search and start driving more traffic to your website.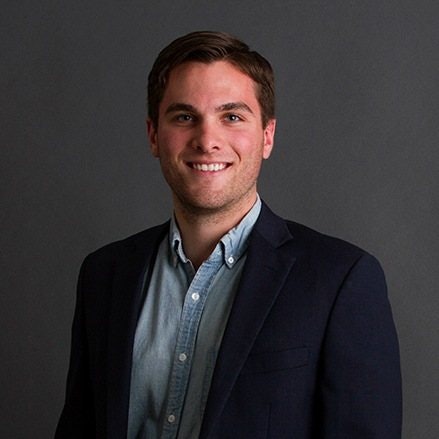 A self-described "data junkie," Josh graduated from Liberty University and earned his degree in Marketing Analytics, which allowed him to combine his love of numbers with his passion for business. As he puts it, "the best digital marketing strategies are data-driven. I love finding the hidden patterns and insights in the data and creating a strategy clients can use to dominate the competition."
Feed your marketing mind and keep your skills sharp by opting into our weekly newsletter, packed with lessons we've learned firsthand. You won't regret it.
Subscribe.
Fill out the form to receive weekly insights, straight to your inbox.