We hate to break it to you, but there's a decent chance your products are boring.
That's not to say they're not great products, just that people outside your company might not be all that interested in hearing all about them—at least not right away.
One of the most important questions you must ask yourself is how you want people to feel when they buy from—or work with—your company.
Why does it matter what people actually feel about you? Because getting people to feel comfortable is a very important step in getting them to buy from you. And because establishing trust is critical.
Emotionally charged content is memorable. When you show you care about what you do, you show your audience you care about them, too.
So how do you humanize your brand?
1. Show the faces of the people who work at your company.
Put yourself out there. When you put faces to names, it creates empathy.
2. Find your story.
Zendesk took a SaaS product and made it a relatable story. They're leveraging a narrative framework.
3. Give people a hero.
This refers to any person or character that creates that emotional connection. It elicits a feeling, an emotional reaction. Give them someone people can relate to, someone they can root for.
4. Videos shouldn't exist in a silo.
Think about your other goals and strategies and identify how videos and the stories they tell can help you reach those goals. You can use video to help demonstrate your products or take a page out of the HubSpot playbook to show what it's like to work at your company.
Get focused with your videos
Most companies follow this typical progression when it comes to making videos:
Conversion: Short-term videos with a measurable ROI (such as product videos and testimonials)
Teaching: Creates ROI in terms of time saved and increased traffic. This might involve augmenting a FAQ page with video.
Feeling: Capturing the emotional power of video with "About Us" videos or videos about the company culture.
You might be apprehensive when it comes to making videos. Will you make the right video? Will it look crappy?
The best videos aren't broad, but have a very clear and focused message. For example, Samuel Adams videos explain one beer at a time. The message is narrow; it's not the complete Sam Adams story.
Tried-and-true video marketing best practices
1. You need a script
It's tempting to want to wing it, especially when you want to sound natural. But it won't sound natural. Unscripted videos are much less snappy and much less compelling.
2. You need a good setup
You don't need a fancy setup, just a clean backdrop and a quiet space. Use the camera you own, whether it's a professional piece of equipment or an iPhone. Good lighting makes a world of difference; it makes your subjects look more inviting, friendly and approachable. Even natural light can get the job done.
3. You need to feel comfortable
If your subjects feel stiff, they probably look stiff on camera. No matter the topic or seriousness of your videos, make certain you're spending time before and while the camera is rolling to help your subjects get loose.
4. Don't be afraid to ask for help
Get feedback from your friends and family and learn. You want to know how someone you don't work with thinks about your story and if they can make sense out of the story you're trying to tell.
5. Don't ignore the data
Data gives you an amazing story of how people are engaging with your content. Pay attention to the play rate, the total plays and rewatches. Also, average engagement rate is the "mac daddy" of measuring successful video content.
People will always rewatch videos that show faces and personality. The bottom line is that you're spending lots of time to find and tell your story. Your data is evolving, so leverage it to drive toward the most engaging, compelling story.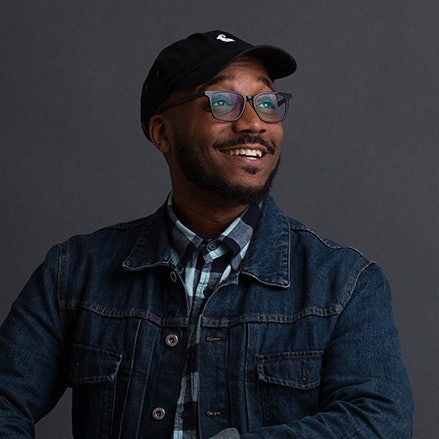 Byron comes from a family of artists, and he definitely shares their talents. He first learned about interaction design right as he was starting his career out of school, and was blown away by the possibilities—which, for him, translated to work with major brands like the NCAA and Rolls-Royce. Now he works at building amazing end-to-end experiences for Element Three's clients that mirror how users navigate and what they want at every stage of the buyer's journey. He also runs a lifestyle brand with his wife, creating bimonthly t-shirt designs under the Blacksheep Collective name.
Feed your marketing mind and keep your skills sharp by opting into our weekly newsletter, packed with lessons we've learned firsthand. You won't regret it.
Subscribe.
Fill out the form to receive weekly insights, straight to your inbox.