So you've decided to invest time and energy into content marketing. You're blogging on the reg, you've released a webinar or two, and you're pushing content through channels galore.
Only problem? It doesn't seem to be working. Traffic is stagnant and the blog posts, ebooks, and webinars you're creating aren't doing much of anything.
You start to panic. Does content marketing not work? Should we stop wasting time and money on a flippin' blog? How does HubSpot make it seem so easy? Do they know something that I don't know?
In my experience, content marketing fails not because the content is poorly written or the images resemble stock photography from the early 2000s, but rather because the topic you're blogging about is irrelevant—to your audience, your business, or both.
In this blog post I'm going to share advice about choosing the right topics for your content marketing efforts. Topics that won't just make an impact on your marketing, but your business, too.
Let's get into it.
Why Choosing the Right Topic for Your Content Matters
Content Marketing Institute defines content marketing in the following way:
"Content marketing is a strategic marketing approach focused on creating and distributing valuable, relevant, and consistent content to attract and retain a clearly defined audience—and, ultimately, to drive profitable customer action."
If you notice in the bolding of the definition above, content marketing is about two entities—your business and your customers or audience. Which means that the topics you choose to blog about or create content around must serve both parties.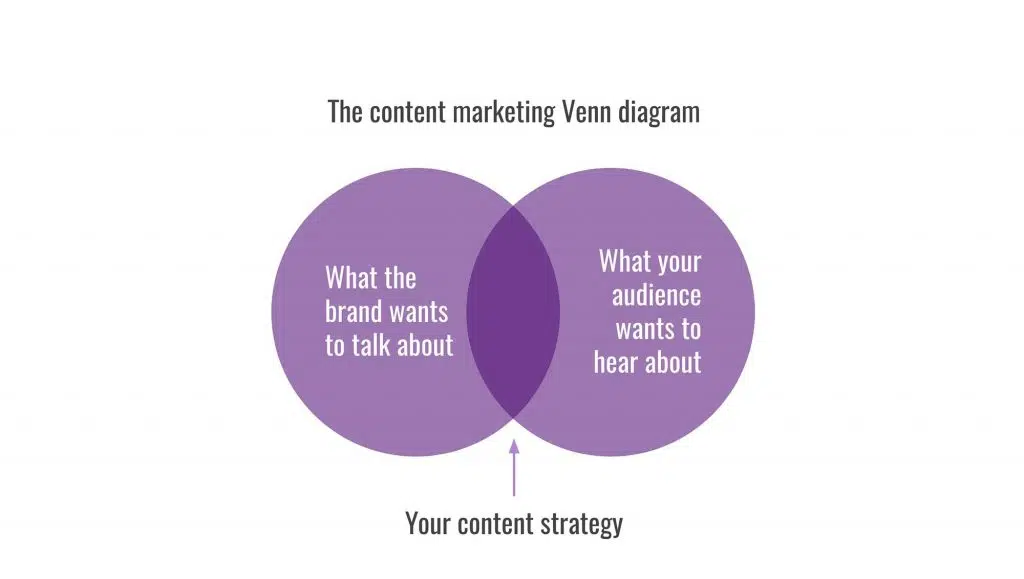 The content marketing Venn diagram. Your content marketing strategy should cater to both your business and your audience.
Choosing to focus solely on topics your business wants to talk about can alienate customers. It comes across as salesy, irrelevant, or just plain boring. Think blog posts that sound a lot like "Why [insert business] is the best choice for [insert problem]."
Creating content solely about things your audience cares about isn't necessarily good either—you'll end up with engaging content that doesn't actually help achieve the goal you set out to hit. If you know your audience loves puppies but you sell tractors, that doesn't mean you get to write about puppies all the time.
So, first and foremost, you'll need topics that fit in the middle of the content marketing Venn diagram. Here's how to find them.
Finding Good Content Topics for Your Business
The reason businesses have adopted content marketing (hopefully) isn't because it's trendy, but because it makes an impact on the business. Content can solve a lot of challenges, and identifying the ultimate goal of your content (i.e., where content fits into your overall strategy) will help you narrow down topics.
A few questions to ask yourself include:
Do we need to drive sales/leads/awareness for a specific part of our business? How can content assist?
Where is our business focusing energy in the next year? What about the next five years?
What is our company an expert in?
What topics are we, as an organization, uniquely suited to write about?
The last two questions relate specifically to writing what you know. This isn't just important for your business (again, you should write to support services or products you actually provide) or even your audience (writing about things you have no expertise in is confusing to people), but also search engines.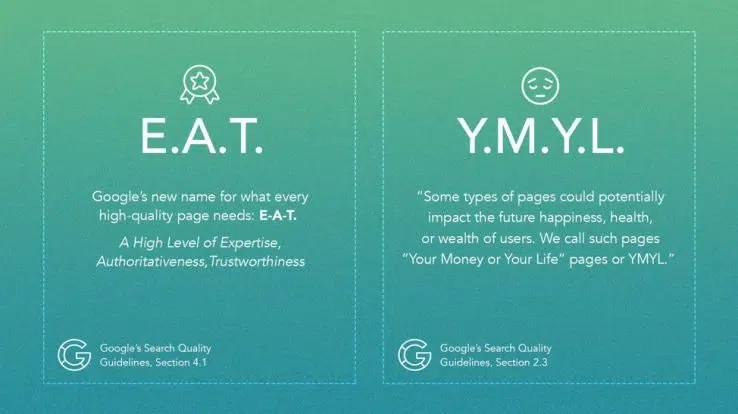 A chart explaining Google's E.A.T. and Y.M.Y.L.
Especially with the rise of spam and fake news, Google wants to show users content that they can trust. So they've come up with a couple of fun acronyms—Y.M.Y.L and E.A.T. These translate to "Your Money or Your Life" and "Expertise, Authoritativeness, Trustworthiness" respectively.
Moz explains E.A.T. well, but to sum it up, Google wants you to write about the things your business is suited to write about. I'll echo that advice.
Finding Good Content Topics for Your Audience
Per the content marketing Venn diagram, you'll also need to take the topics that pertain to moving the business forward and view them through the lens of your users. When in doubt, think about how you can be helpful to your audience. You can do this by asking yourself questions like:
What do my users care about? What drives them?
What confuses them about my product, service, or industry?
What kinds of problems are they trying to solve?
What pain are they feeling? What's frustrating?
Why do they like my product or service?
Now that you have the wheels turning, it's time to really get into some deeper topic research.
Topic Research for Content Marketing
Once you've picked your own brain for topics that relate to your business goals and the things you know off the top of your head about your audience, you can grow your list of ideas by tapping into outside resources—your people, the competition, and your analytics tools.
Use the People Closest to the Customers
The easiest way to uncover the pain points and mindsets of your customers? Talk to them. And if you can't, use the people closest to them.
Depending on the organization, this could be your customer service team, client success team, sales reps, and more. As a marketer, do not silo yourself away from the people in the organization that hear from customers daily. Their insights are content gold.
For example, if the customer service team constantly hears from customers that they're having trouble with x, y, or z, see if there are any opportunities to create content that would help alleviate the problem. Not only does this help your customers, it also helps prospects that may be considering your product or service but haven't called customer service. Not to mention it takes some pressure off your customer service squad, because fewer customers will be calling in with questions.
Win win win.
Check Out the Competition
Another gold mine for content ideas and topics is to simply check your competitors and see what they're writing about. Or rather, what they're not writing about. Yes, you'll likely have content that overlaps, but you also might find gaps in the market that you're uniquely qualified to fill.
Use Your Analytics Tools
Pretty much any SEO tool—we use Moz and SEMrush—has content topic research and competitive research built in somewhere. On the social media side of the spectrum, BuzzSumo is great as well.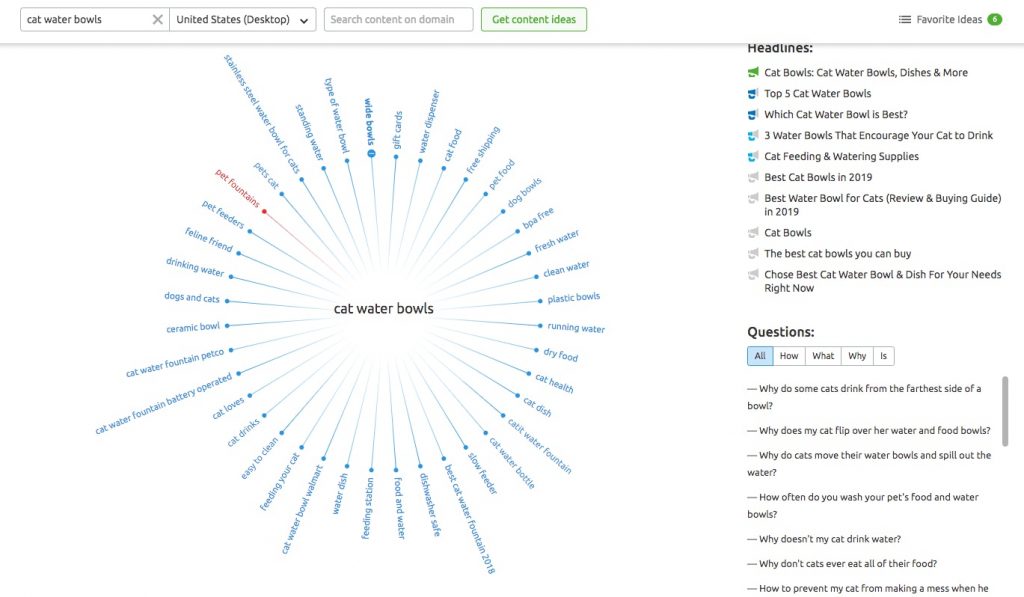 An example of topic research within SEMrush
If you're on a budget, AnswerThePublic is good for generating ideas for different pieces of content, especially different angles you can take on a single topic.
And finally, Search Console can help you find keywords that are already driving traffic to your site while Google Trends allows you to find topics that are gaining traction in search engines.
Where Keywords Come Into Play
Content can serve a variety of purposes. One of the big ones, though, is generating organic traffic.
For content to generate organic traffic, you'll need to invest time and effort into keyword research. Some people like to do keyword research first and then narrow down that list to the topics they want to create content around. I actually think it's easier to move in the opposite direction, performing topic research first and then running those keywords through my keyword research tool.
Either way, unless you have the budget to promote your content through paid channels or you have an avid email database, you'll want to make sure that the topics you're writing have some search volume behind them. That way, you can start to generate organic traffic to your blog.
It's About Depth, Not Breadth
The final thing I'll mention about content creation and blogging is that, unless you're a large publication (and if you are, you probably aren't reading this blog post), you should aim to hit fewer topics in greater depth and quality, rather than hitting more topics a few times.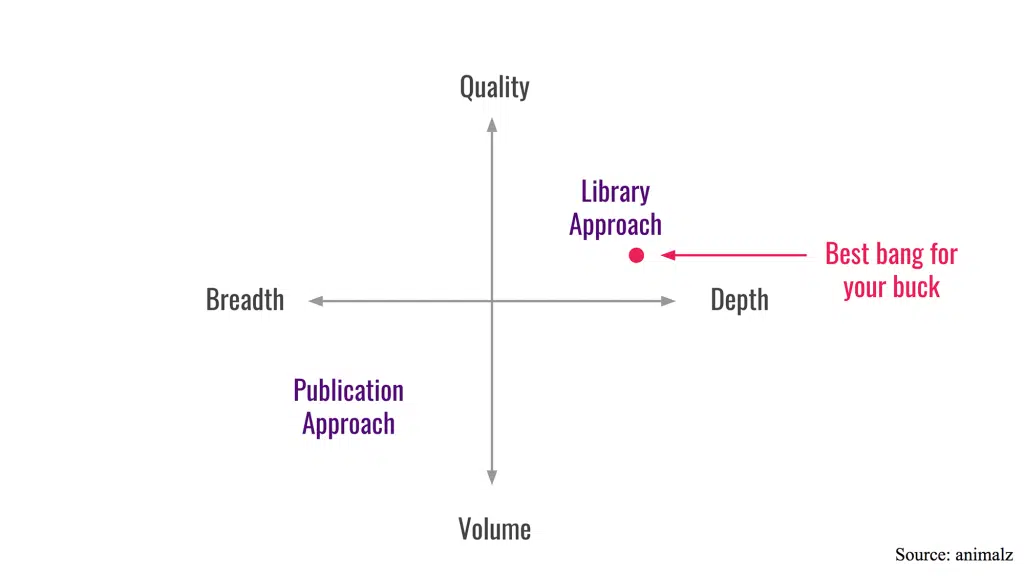 Above is a graph originally published by animalz that explains the library vs. publication approach to content creation
The reason for this is simple—most users coming to your blog are doing so because they need help solving a problem. And with a library approach, you can make sure that you're addressing the most important topics to your organization for users at all stages of the buyer journey.
It ensures that you're providing helpful, in-depth resources rather than writing surface-level content about everything under the sun.
Perfectly Balanced, As All Things Should Be
In content marketing, the topics you choose to build content around will make or break you. If you only serve your business, you'll end up writing incredibly sales-driven content that feels a little icky. If you only cater to your audience, you might end up writing content that's irrelevant.
Find the right mix between your business and your audience (that also plays well with search engines) and you should be golden.