How important is company culture?
More than ever over the past few years, companies have begun to realize the importance of crafting a strong company culture—and for good reason. Studies are pouring in that show the positive effects of a positive company culture, with statistics like:
Companies with an established company culture have a turnover rate of 13.9%, compared to 48.4% at those without (Snag)
94% of executives and 88% of employees believe a distinct workplace culture is important to business success (Deloitte)
Employees' overall ratings of their company's qualities — like collaboration, work environment, and mission and value alignment — are 20% higher at companies with strong cultures (CultureIQ)
Seeing these stats, companies are pouring in more and more resources to ensure that they maintain themselves as a healthy, attractive place to work. Employee experience (EX) teams—a field no one had heard of 10 years ago—are popping up all over the world, working to come up with creative solutions to the issue of employee engagement and company culture.
But what steps can you take to make sure that your company is promoting a strong internal culture? While we don't have all the answers, there's one corner of the problem that we know well, and it's company swag.
It might sound kind of silly, but when used right, the branded merch you distribute at your company can have a big impact on building a positive culture at your workplace. So, what role does company swag play here? Let's look at five ways that investing in company swag can enhance and grow your company culture.
It Enhances Your Employer Brand
One way good company swag is beneficial for your brand is that it boosts your employer reputation. 74% of surveyed HR professionals say a company's reputation is critical for successful recruiting (CultureIQ), and great company swag can boost that reputation.
Corny swag pieces like bad sunglasses or a boxy, ill-fitting t-shirt are a dime a dozen. Order high-quality swag items, though, and people will recognize and appreciate that difference. And soon enough, your company is known as the one with the good swag.
Yes, swag is a small piece of the puzzle. If you want your company to attract top talent, then you better have the culture to back it up. But swag, whether you're handing it out at an event or it's something you mail out to a recruit, is often one of the first impressions someone will have of your company. And in order to position your company as one where people really want to work, your company swag items had better reflect that.
It Welcomes New Employees
When someone new joins your company or a specific team, it's critical that you invest in making them feel welcome. Studies show that during their first couple of months, they're still feeling out whether they fit in with the company/team. This experience is called belonging uncertainty.
Thoughtful company swag can be an awesome way to combat any uneasiness your new hires may be having, and to make them feel at home. Think of how welcoming a well-thought-out onboarding kit is on your first day at work.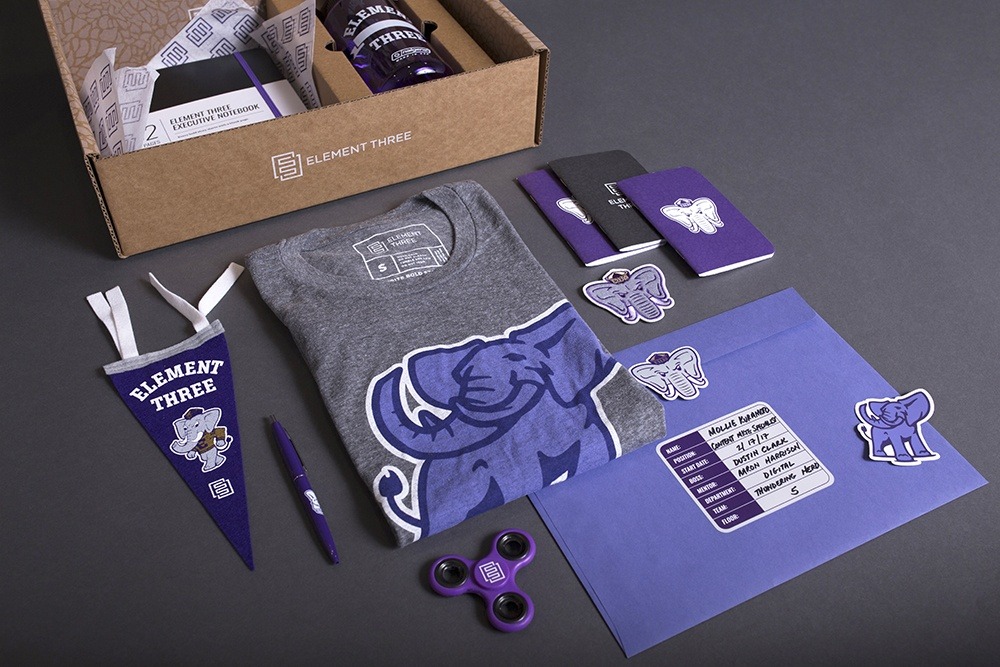 It can include necessary things like a laptop, notebooks, a key to the building, or an employee handbook, but also some of the more fun swag items like water bottles, stickers, t-shirts, etc. Things that get people excited, and give a sneak peek at what the culture is really all about at your company.
Yes, it'll take more than some cool gear to make sure someone feels welcome, but that first day is pivotal. That's when your new hire is going to be making tons of first judgments about whether your company feels like a good fit for them, and a nice, welcoming onboarding kit full of thoughtful company gear can go a long way towards making someone feel at home.
It Unites Internal Teams
A huge part of why company culture is so important is because it unites your internal teams. People work better together when they communicate well and have a sense of pride in the team that they work on.
There's only so much you can do from a corporate and management side of things to promote and build your company culture. You can lay out the vision, but true cultural change doesn't come from the release of a SlideShare presentation on values. It only comes when your people truly buy in.
Ultra-private tech company Palantir uses swag really well in this aspect. Palantir is headquartered in Palo Alto, CA, but has offices all over North America, Asia, Australia, and Europe. Each location has cross-functional teams from different backgrounds—some in design, some in engineering, some in operations—which can make team communication and unity a challenge. To combat this, Palantir will often give out t-shirts specific to each office or project.
Working at such a large company, it can be easy to feel like just one small piece, or even unimportant. Creating t-shirts on a more specific scale not only makes your world feel a bit smaller, it creates a sense of pride in the project you're working on—as well as a sense of camaraderie with the people you're working with.
It Promotes Company Values
Another way to make your company swag work for you is to use it in a way that promotes your company's values. Like we said, employee engagement is a huge problem for HR and EX teams. And a huge contributing factor to low employee engagement is either not knowing the company's mission, or not feeling aligned with it.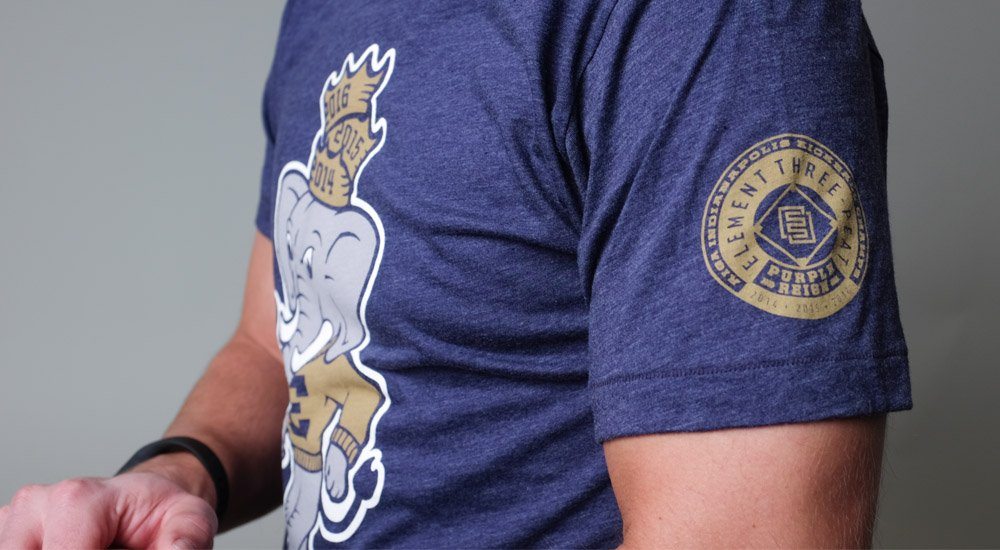 If you're clever and intentional with your company swag, though, it can really help reinforce your company mission and values. For instance, Element Three's notebooks have the company's values printed on them, as well as other humorous bits of info.
Their t-shirts also play a part in sharing company culture. In small details of the shirts, like the hem tag and inside tag print, are E3's mission and different company values, reminding the wearer what they're working for every time they put the shirt on.

Sports teams do this in a similar way. Looking at the Cleveland Cavaliers' uniforms above (image source), you can see where they've embroidered their "All For One" rallying cry in small, hidden spots that only players can see. These small but impactful messages build a sense of pride and help them stay on mission every time they put the jersey on.
It Celebrates Employees
Maybe this goes without saying, but investing in company swag for your employees is a gesture that shows you care. Who wouldn't be excited to receive a custom water bottle or jacket? Yes, they're just material things, but these cool, thoughtful gifts will make your employees feel appreciated.
The key here, though, is to be thoughtful with the items you order. Because if you simply throw your company logo on the cheapest possible product, it can do the opposite for you and communicate that you don't really care. So be sure to take the time to pick out nice, high-quality swag that people will actually want.
A pro-tip worth keeping in mind is: Think about whether or not people would actually use an item outside of the office. If it seems like a product someone might buy on their own anyway, it's probably a good idea.
Where to Get the Goods
If you're wondering where to score some swag that will actually make a difference, here are some suggestions:
Sure, custom swag is a relatively small part of the equation for a strong, healthy company culture. But smart, quality swag can do more for your brand than you might think, and if you're serious about the culture of your company, it's a worthwhile investment.