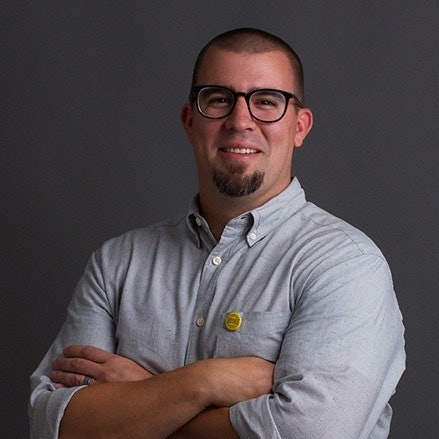 For someone who was never handed a thing, Bob sure loves giving back.
He's the co-founder of INCH x INCH, a non-profit Bob and his old pal Drew started to help fund youth art education, and was an active member of 4-H for 10 years.
Bob's passion for helping others stems from a sense of gratitude. One that he feels toward something many of us take for granted.
"I grew up in a school district that valued the arts. But there are thousands of kids who aren't lucky enough to be exposed to the kind of quality art education that I received."
But Bob wasn't always in a position to make change, and his current role at Element Three isn't something that fell into his lap.
He began as an aspiring architect before becoming a commercial electrician. From there, Bob worked as a trim carpenter and installed doors and windows in custom homes across the state of Florida.
When he arrived back in his home state of Indiana, Bob remained in the home improvement business, this time repairing windows and doors.
Then one day, Bob decided it was time to put up or shut up. Make the dream happen or let it turn into a distant memory. So he enrolled in the Visual Communication program at Ivy Tech, a community college lauded by President Barack Obama as one of the best in the nation.
When he was done, it was on to an entry-level job as a Graphic Designer in a print shop. Then, a Production Artist at an agency, one that eventually promoted Bob to Designer, and finally, Art Director.
He's nabbed several Addy awards along the way, and was featured as a winner in the Communication Arts Typography Annual 5. But despite the all of the hard-earned recognition, Bob's selflessness remains.
I enjoy working with other super-talented folks toward achieving a single goal. That will always be my favorite kind of work.
When he's not at the office or at home practicing lettering, Bob is spending time with his wife, Stephanie, daughter, Ardyn, and son, Nixon.
BACK TO TEAM PAGE