YOUR GUIDE TO FINDING THE RIGHT MARKETING PARTNER
Oh, the sweet innocence of beginnings. As you dip your toe into the dating scene, you'll need to understand the lay of the land. In this chapter, we're starting with the basics—what is a marketing agency? How do they work? And most importantly, why do they matter to my business?
A Quick History of Marketing and Advertising Agencies
Before we really dive into finding and selecting the perfect marketing or advertising agency, consultancy, or freelancer to help your business, it's good to take a look at the industry and how it came to be.
The first advertising agencies date all the way back to the 1700s. Agencies back then made money essentially by buying ad space then reselling it with a markup.
Advertising agencies eventually expanded their abilities, offering services like planning, creating, and executing campaigns. That eventually led to them growing into something we recognize today as "traditional advertising"—radio, television, print, and billboards.
Fun Fact: The first-ever televised advertisement in America didn't air until 1941. It was an ad for Bulova clocks and watches, and it aired before a game between the Brooklyn Dodgers and the Philadelphia Phillies. The ad was only 10 seconds long and the total cost was a measly $9 dollars (about $157 dollars today)! Compared to a Super Bowl ad, that's a pretty good investment, we think.
Advertising stayed relatively the same from the invention of television until the 1990s. Then came the internet, which changed everything—including, of course, the advertising and marketing landscape. The internet introduced us to a world of endless information, and the way that's manifested in advertising has been constant bombardment by ads from brands new and old. Companies now have to put less of a focus on selling and more on providing solutions and the holistic customer experience to keep up with the competition.
What Is a Marketing or Advertising Agency vs. Consultancy vs. Firm?
The internet really shook up the agency landscape. And with it came new spin-offs of the "traditional advertising agency"—whether or not these agencies were actually different than their predecessors.
One reason why it can be difficult to understand the marketing and advertising landscape is because, like dating, looks can be deceiving—agencies that brand themselves in similar ways might offer a very different type of service. This can make choosing to work with one type over the other challenging, especially if you can't quite make out what the differences are. To make it easier, we broke it down for you.
The three major types of outsourced marketing entities are marketing and advertising agencies, consultants/consultancies, and boutiques.
MARKETING AGENCIES
A marketing or advertising agency is usually a full-service organization that offers a wide variety of solutions. Clients usually approach a marketing or advertising agency to enhance their current marketing strategy. That means that the agency will use a broad range of services to accomplish their goals, rather than picking and choosing individual tactics to employ.
Common services:
Marketing strategy & planning
Marketing training
Website design
Web development
Marketing collateral
Digital marketing campaigns
Traditional marketing and media campaigns
Branding & design
Trade shows
Event marketing
Graphic design
Content creation
Social media management
Public relations
Product packaging
MARKETING AND ADVERTISING BOUTIQUES
A marketing boutique implies a smaller group of specialists who primarily offer services in one or two particular areas of marketing. So, think about a marketing agency, but smaller and with a specific area of expertise. Boutiques generally work with smaller clients as well because they're more cost-effective compared to larger agencies. They're a good option for clients looking for a very personalized and specific type of service, no matter their size.
MARKETING CONSULTANCIES
A marketing consultancy helps you know which questions to ask, and leads you through the process of finding the answers. Marketing consultancies will probably also have a team to execute the proposed course of action. They're similar to full-service marketing agencies, but like to think holistically about your strategy and business objectives rather than concentrating on tactics.
If your business knows marketing, you have your strategy nailed down, and you know exactly what you want help with, consider reaching out to a more specialized agency as they likely have deep expertise in a specific marketing tactic. If you're totally stuck, you don't know where to start to change the trajectory of your business, or you just need help with a lot of different parts of your marketing setup, a strategic marketing agency or a marketing consultancy is the better choice.
Now that we have a better understanding of what marketing organizations look like and the high-level agency landscape, let's take a look at the individual parts that make up the marketing whole. If you're looking for a specialty firm, these are popular areas of expertise you'll be targeting.
ADVERTISING/MEDIA
Handles the full execution of traditional campaigns from media planning and buying to campaign optimizations.
DIGITAL/ONLINE MARKETING/SEO
Specializes in any type of marketing that involves the internet. They focus on different tactics that send traffic to a site and engage users once they get there.
BRAND
Focuses on building and/or maintaining a brand's identity. Creative, design, and communication may also fall under their umbrella.
CREATIVE/DESIGN
Converts a brand into visual form through logos, ads, packaging, and more. They often offer both digital and print design services.
PUBLIC RELATIONS
Makes sure a company and its products or services are mentioned in the media—newspapers, magazines, TV, radio, trade shows, conferences, and more.
RESEARCH
Investigates the competitive outlook of your industry, the wants and needs of your audience, and more on behalf of your company. The research can range from focus groups to fieldwork, including street questionnaires.
SOCIAL MEDIA
Helps companies build their social media presence by developing a strategy and executing tactics. Popular platforms are Facebook, Instagram, Twitter, LinkedIn, and YouTube.
WEB DESIGN
Builds, develops, and hosts websites.
How Marketing and Advertising Agencies Work
A marketing or advertising agency's organizational structure can also be a leading indicator of the type of work they offer and what you can expect from them. No two agencies, consultancies, or boutiques are the same, but there are three popular types of agency models: traditional, matrix, and the pod system.
THE TRADITIONAL AGENCY MODEL
Most large marketing or advertising agencies have more mechanistic or traditional organizational structures. Typically in traditional structures, the organization is broken into different divisions (creative, production, client services, and finance) and each division is led by a department head. The department head leads every role that specializes in that field.
The Traditional Agency Model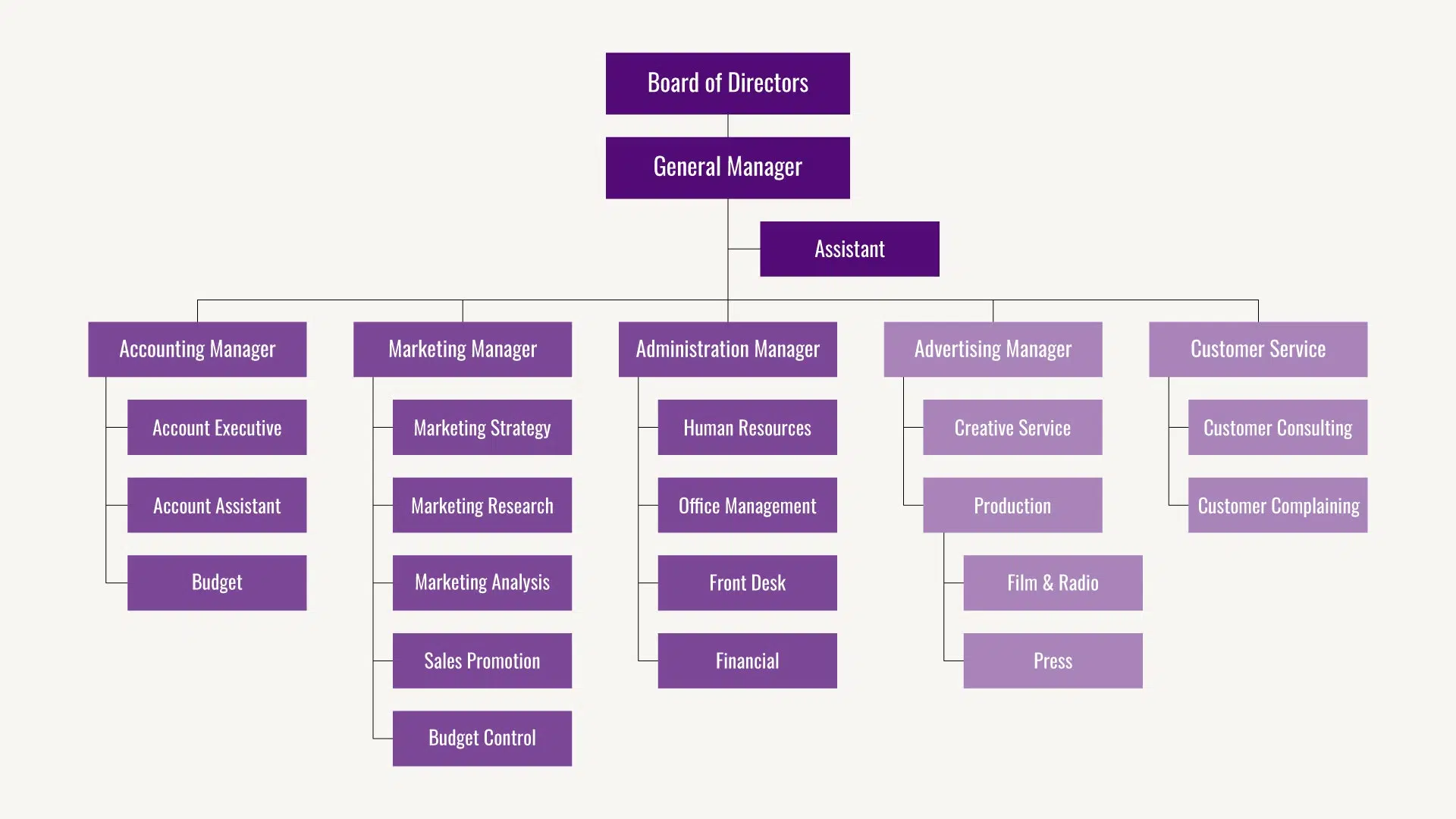 This structure does have a lot of benefits. It allows subject matter experts to collaborate with one another and learn quickly from each other's successes and failures. But it can also put up barriers to collaboration across departments.
This means that as a client, you need to pay attention to how and who you communicate with while working with traditionally structured agencies. They might not be a great choice for your company if the services you need require constant communication, or if there are many moving pieces.
THE MATRIX AGENCY MODEL
A slightly more flexible version of the traditional model is the matrix (or functional) model.
In this setup, all specialists report to a department head (like in the traditional model), but specialists are also a part of a client team that has its own lead. This lead ideally has the most detailed knowledge of the client and their business, while the other contributors on the team are subject matter experts who can work across multiple clients. The lead doesn't necessarily have full department-level power—they can sit in almost any seat.
This structure makes collaboration across departments much simpler. Team members usually have a lot of knowledge about the client's business because the team and client all work closely together and communicate often.
The downside is that the internal team structure can make it hard sometimes to keep track of who you report to. It can feel like having 30 different bosses, and it can be hard to prioritize with so many conflicting needs.
As a client, it can also mean that your projects are more expensive because they're more time consuming. A task that really only needs two people can accidentally pull in the entire team because that's just how they're used to operating.
THE POD AGENCY MODEL
A more modern structure that attempts to break down those traditional silos is a multi-discipline pod system. This sort of throws away the idea of one account manager and gives more accountability and authority to the executors.
The idea of this structure is that it's more efficient because there are fewer people involved and the client usually has direct contact with the subject matter expert instead of having to go through a gatekeeper. For example, the structure might look like this:
Business/Consumer Strategy Lead
Planning Lead
Creative Lead
Project Management Lead
Next up: Agency, Consultancy, Freelance—What Does My Business Need?
Ready to pick your marketing partner? Not so fast. Finding your other half isn't just about understanding the landscape—it's also about looking inward and assessing your own needs.
Yep, it's getting deep. In our next chapter, we cover how to evaluate what your business really needs—and how different marketing partners fit into the mix.
Start getting better results.
Take your marketing to the the next level. We can help.