YOUR GUIDE TO FINDING THE RIGHT MARKETING PARTNER
2. Agency, Consultancy, Freelance—What Does My Business Need?
Dating online is all about figuring out what you're looking for. Is it something casual that you're deciding with a swipe? Or are you looking for your soulmate, diving deep into profiles to find a relationship that will last forever? It's a big decision, just like deciding between keeping marketing in-house, bringing on a freelancer, or hiring an outside partner. Make sure you know what you want before you start looking for that special someone.
Let's Start with CMO Spend
If you're not sure what the norm is when it comes to hiring outside marketing help, here's a benchmark.
According to Gartner's annual CMO Spend Survey, roughly 23% of a CMO's budget is spent with agencies. The same survey stated that CMOs spend 24% of their budgets—just a little more—on labor. That means the average CMO spends nearly the same amount of money on labor as they do with agencies. (While the study doesn't explicitly say this, we're assuming that freelancers and consultants fall within the agency bucket.)
This, of course, is just a benchmark. Just because everyone is doing something doesn't make it right. So if you're spending more or less either in-house or with agencies, there's likely a good reason for it.
It's not about meeting the benchmark (although if you've wanted to work with an agency for a while and currently don't, this might be a good stat to hand to your boss), but rather determining whether or not outside help will be efficient and impactful to your organization.
Percentage of marketing budget CMOs spent on agencies in 2019.
Gartner's CMO Spend Survey 2018-2019
Maybe you're spread too thin. Or maybe you don't have the talent in-house to execute the task at hand. Whatever the case may be, there are plenty of reasons marketers look outside their organization for support. Some scenarios include:
They're not getting the results they need to be successful
They have a big project that needs to get done, fast
They don't have the internal team or knowledge to pull it off
They need an outsider's perspective
Seeking outside help—whether from an agency, consultancy, firm, or freelancer—can help grow your marketing or solve a major challenge for your organization. But there are also times when seeking outside marketing help actually isn't the best option. But before we dive into all of that, let's start with the basics—options for marketing support.
Solving the Problem Internally vs. Externally
Let's pretend you have a big campaign or marketing initiative coming up. If you don't have the necessary resources in-house to execute the project (or those resources are swamped with a different initiative), you have a few options to get the job done. They include:
1. SORT IT OUT INTERNALLY
This means hiring someone to join your in-house marketing team. It could also include repositioning someone within the company to do the job instead.
2. GET EXTERNAL SUPPORT
If you don't have the talent in-house, you can hire an outside expert, whether that's an agency, consultancy, or freelancer.
3. CUT THE CAMPAIGN
Another option is cutting the campaign and simply choosing not to invest in it.
4. SOLVE IT THROUGH TECHNOLOGY
The final option is to find ways to be more efficient to create time to focus on the project. The only thing to be aware of is that technology creates its own set of problems as well.
Now you have a few decisions to make. The first should be whether you want to solve the problem internally or externally, which will likely be dependent on things like your budget, the type of work you need done, if the work warrants a full-time employee or multiple hires, and your investment in the long-term future of this work.
If you feel like this will be a long-term investment and it warrants hiring a full-time employee, then go for it. But if you need a wide variety of skills and don't necessarily want to invest in all the costs that come with a new hire, then looking externally can be a good solution.
Pros and Cons of Hiring In-house vs. Hiring an Agency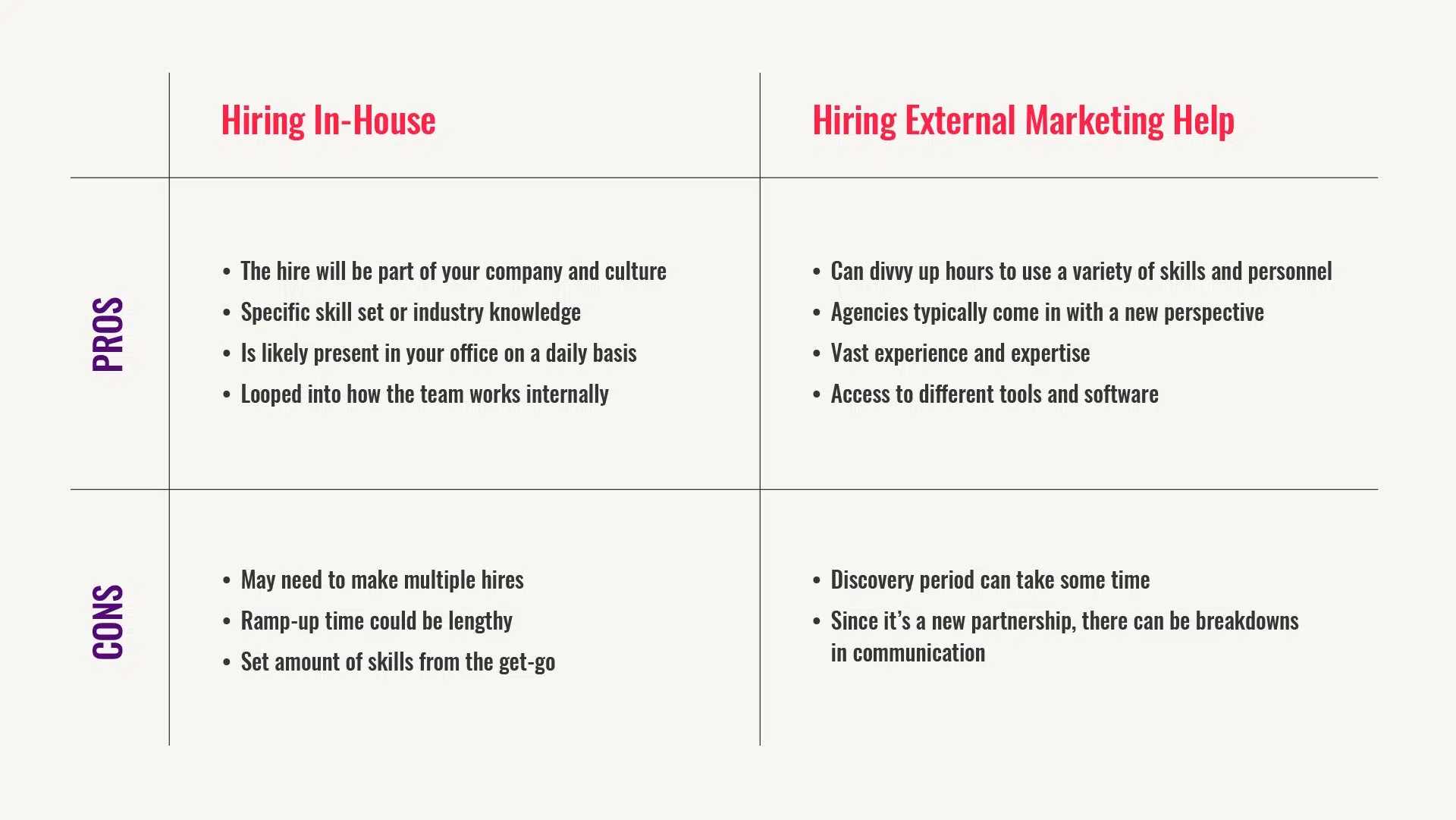 Agencies, Consultancies, Freelancers, and More
Once you've determined that you need external help, you need to figure out what kind of external help you need. There are two major buckets: 
Freelancers and contractors
Agencies and consultancies
In many ways, the pros and cons to working with an agency or a freelancer are similar to bringing in a new hire. A freelancer might give you specific knowledge in your industry and will be more affordable than going with a marketing agency or consultancy, but they're probably not suited to take on huge, complex projects.
Questions to Ask Yourself
Is the project big or complex?
Do I have the budget to bring on an agency?
Do I need help over the long haul, rather than on a one-off project?
Do I need a group of problem solvers?
Do I need access to a variety of roles (such as copywriters, digital specialists, designers, and more)?
If you answered yes to a few of these questions, congratulations! You're shopping for an agency.
Benefits of Working with a Marketing Agency or Consultancy
We've alluded to a few of these already, but there are some major upsides to working with a marketing agency or consultancy.
1. YOU GET ACCESS TO A VARIETY OF INDUSTRY EXPERTS
According to CareerBuilder, 50% of human resource managers say they currently have open positions for which they cannot find qualified candidates. Which means that if you decide to hire someone in-house to do the work, you might not even be able to find the right person for the job for quite some time.
With an agency, you don't just get access to qualified candidates who can do the work, but to a variety of them. Depending on your budget, you'll have access to the insights of experts ranging from copywriters and art directors all the way up to creative directors and brand strategists, as often as you need them.
2. YOU GET ACCESS TO THE LATEST MARKETING TECHNOLOGY
As you're likely well aware, marketing technology is exploding. And the best part about working with an agency? They're using and have used a ton of martech. Because their job is serving tons of diverse clients, they've gained exposure to various martech options and have access to auditing tools that you may not be paying for in-house. They'll know the ins and outs of what's available, and they'll be well-equipped to tell you what you need—and what's not a smart use of your money.
3. YOU CAN LEARN FROM EACH OTHER
When you work with an agency or consultancy and form a true partnership, both parties benefit. On the client side, you gain perspective from experts in the industry and can learn from their findings and reporting. On the agency side, we get to learn your business, your industry, and the pains you experience as a business—what's keeping you up at night.
4. AGENCIES ARE RELIABLE
Whereas your in-house team members or freelancers may have to push timelines back for emergencies or illness, agencies and consultancies tend to be a little more reliable because they have a pool of talent to draw from. Even if a major player on the account leaves the company, the agency or consultancy can typically bring on someone new without much friction.
5. THE BEST AGENCIES WILL TELL YOU HOW IT IS
When you work with a good agency, they'll give you their unbiased opinion, and help you gain some perspective. The same can't be said about new hires…at least not initially. Because an agency is a separate entity, they'll be more likely to help you understand where there are opportunities for growth, and more willing to really push you.
Next up: The Costs of Marketing Agencies and Consultancies
Now that you're up to speed on the pros and cons of hiring in-house vs. hiring external marketing help, we're going to walk through one of the biggest topics that agencies and consultancies really don't like to talk about—pricing.
Start getting better results.
Take your marketing to the the next level. We can help.