Imagine visiting a website that just seems to get you. The images are relevant to the things you like, and might even be a location close to you or something you've recently seen. The words are spot on, and headlines show exactly what you're looking for.
Freaked out? Maybe a little.
But I have news for you: this is the slightly creepy direction everything is heading, as companies strive to truly achieve personalized marketing, also known as one-to-one marketing. More likely than not, you were either a) on a very, very niche website, or b) visiting a website that is utilizing website personalization.
What is Website Personalization?
Website personalization is the process of modifying the experience that users receive when they visit your website by using data gathered from past website interactions alongside other unique information like demographics and personal interests. It falls within the realm of personalized marketing, focusing specifically on dynamic, customized content.
A modified website experience not only helps the user by creating a sense of familiarity, but it also helps guide and influence their journey to a specific desired outcome—one that should benefit your company's goals.
While your company may not currently be using website personalization technology, you as a user likely experience it fairly often as more companies adopt the technology in websites and apps alike.
Examples of Website Personalization
Studies indicate that companies will continue to invest in personalization within their websites or apps. And whether or not you recognize it's happening, you're almost certainly engaging with it regularly. Here's a few examples of how companies are already utilizing this technology today.
1. Amazon.com
It comes as no surprise that the e-commerce giant has built personalization into their website. Once you interact with a few products or product categories, the Amazon homepage is thereafter filled with recommendations to help guide you to more products that you may like…and will probably buy.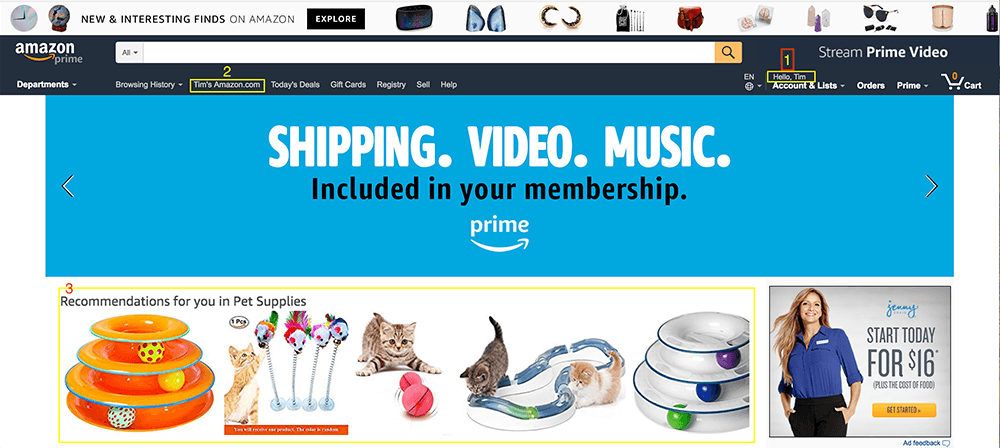 Above the fold, there are already three examples of dynamic content on Amazon's homepage. And yes, I have a cat.
On one hand, Amazon is using website personalization to show you relevant products they want you to buy, but it actually goes further than this—they want to give their users a better experience. Amazon has hundreds of millions of items for sale. Without showing relevant, recommended products, users are forced to scour through the large mega menu navigation or use the search function (which requires them to actually know what they're shopping for). An overwhelming experience, to say the least.
But, by having these helpful (hopefully) recommendations, they are able to provide a unique user experience that makes shopping easier—ultimately leading to increased revenue both per visitor and overall.
2. Netflix
Netflix has utilized website personalization and user data to optimize their user experience to the point that people spend 10+ hours watching at a time (just me? okay). In fact, Netflix has so much data on their users' viewing habits that they are able to determine whether or not a specific movie or TV show will be successful before it even launches.
With this type of data and analytics in hand, Netflix is able to create an experience that is unique to you when you log in. Watch comedies often? You'll start seeing comedies higher up on the screen. It's all about getting the right content in front of users at the right time. Netflix has even mentioned they go as far as customizing the artwork of titles based on members' genre interests and interactions to increase engagement.
This type of personalization provides an overall better experience to users while also getting them to interact with more of Netflix's content by making it easier to find the content they will be interested in. Which is why we're all spending so much time on Netflix.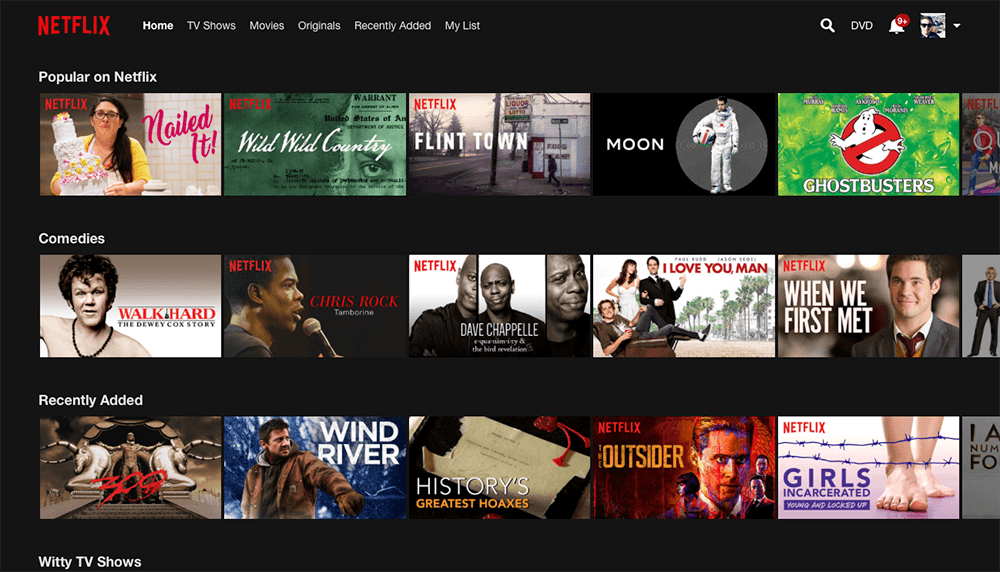 Netflix knows I like comedies, so it's the second category on the page. Only "Popular on Netflix" beats it.
3. Facebook
As you can see on their blog, Facebook is constantly tweaking the way the newsfeed speaks to you based on user testing and feedback. They make these adjustments to create a truly unique experience every time you scroll through your newsfeed.
So why does a unique experience matter to Facebook? Think about how Facebook makes money…ads. The more time users spend scrolling, the more ads the platform can serve up. So by creating this personalized experience where users see the kind of content that they're most likely to engage with, their interaction (and time on site) both increase. Seeing posts that may relate to their interests will likely prevent them from exiting Facebook and moving on to another website.
For instance, maybe you enjoy watching soccer, and Facebook learns this by identifying an engagement you had with a post about soccer. After having interacted with the soccer post, you begin to see more soccer content within your feed, which keeps you scrolling…and scrolling and scrolling and scrolling.
Facebook is able to create this personalized newsfeed with their algorithm, which uses hundreds of thousands of signals to identify the type of content the platform should be serving you to keep you interested in your feed. No wonder people spend an average of 35 minutes per day using Facebook.
Website Personalization Strategy Examples
While there are hundreds of ways you can personalize an experience to a user, there are high-performing strategies already built into some of the personalization platforms.
1. Recommended Content
Being able to show relevant content to users can help guide them to continue interacting with more content that lives elsewhere on your website. This can be done based on past website interactions or even knowing a user's personal information.
For example, let's say you know part of your audience enjoys a fine glass of red wine. You also, consequently, have created a guide to pairing the best red wine with your meals. If you have the content, and you know that part of your audience is interested in it, wouldn't you want to show it to relevant users? Of course! That's the beauty of implementing personalization into your website. So, when your red-wine drinkers visit your website, you can serve up relevant content that they're likely to engage with.
Now, let's say another subset of your customer base is especially interested in finding new hiking adventures, so you create a hiking guide. Would you want to show the hiking guide to your wine-drinking user base? Probably not. You would instead serve the right content to your identified audiences, which will lead to higher engagement.
2. Contextual Messaging
The car-buying process has become much more sophisticated with the rise in available vehicle information online (reviews, blog articles, etc.). Gone are the days of going directly to the dealership to interact with a salesperson to learn all about the product. Today, people are coming to the dealership much more informed about their purchase, ultimately creating a more complicated buying journey.
At Element Three, we will often bring up a thought-provoking Think With Google blog post about how non-linear the car-buying process has become. In one study of a person looking to purchase a car, they actually ended up making 900+ digital interactions before buying. That's a lot of time and touchpoints that your website has to speak to if they are part of those multiple interactions.
With website personalization, you can use contextual messaging to speak more effectively to your users. When a user has already visited your website with a recognizable intent (for instance, they visit and interact with a finance calculator), should your home page messaging lead with the typical "We are X Brand and this is why we exist"? Or, could the messaging become more granular and actually help guide users to their next path, perhaps showing them their closest dealership and the best way of getting in contact with them? I'd say the latter.
With website personalization, you become more helpful to your users, which can lead to a more positive business outcome.
3. Predictive Navigation
One of the most important aspects of navigating a website is…well, of course, your website's main navigation. For companies that offer tons of awesome products, it's only natural to want to stuff them all in the navigation. But to the user, it could be overwhelming.
What if you were able to show the most relevant products first to make it easier for the user to navigate to what you think they are looking for next? Well, you can through predictive navigation!
Using data from past website interactions to determine what page a user may want to navigate to next could save them from bouncing since the user doesn't have to search hard to find what they want. Providing a somewhat dynamic navigation can improve the experience of users visiting your website by showing what their next step should be.
4. Recommended Products
A lot of website personalization platforms have invested heavily here (note: this is different than recommended content, which we mentioned above). It allows you to identify the products that users are most likely to purchase based on their other actions, and then show them to the user at exactly the right time to get a sale. Ultimately, this leads to increased profitability and ROI on your site visits since you increase the chances of converting.
The opportunity to create value in e-commerce by recommending products is tremendous. Companies like Amazon estimate that 35% of consumer purchases come from product recommendations alone.
Recommendations don't have to be overly complicated. For example, let's pretend you own a home electronics e-commerce store. If you can identify that a user is ready to buy for a product category of "TV," you could offer other items that relate to the purchase (TV remote, HDMI cable, TV wall mount) during checkout.
This data can be gathered based on the customer's previous purchases, or even what users are generally most likely to purchase alongside or after a relevant purchase (in our example, a television). This means users' habits decide what recommended products should be shown that can help others during their TV buying process.


Amazon…at it again.
Should You Invest in Website Personalization?
Website personalization is already being implemented by huge brands like Facebook, Instagram, and Amazon, and with the success those brands have seen, you can expect to see the trend continue to spread. Your website's visitors will come to expect some level of personalization and ease of use as they do across the rest of their online experience.
In a study by Janrain, they found that 74% of users online get frustrated with content that has nothing to do with their interests. Optimizely, a leading software vendor in website testing, has also found that many businesses are beginning to incorporate website personalization into planning for future technology investments moving forward.
Failing to personalize may not hurt you currently, but it should become a part of your website strategy moving forward if you want to provide the best experience possible to your users. The sooner you add website personalization as part of your roadmap, the easier it will be to actually implement, since it relies on data collection from new and previous website visitors.
Personalization isn't critical to have today. But if you don't start planning and gathering data now, you'll be hopelessly behind when it is an expected—and welcomed—part of everyone's online experience. Personalized marketing is upon us. It's time to get on board.