I'm sorry to tell you, but the success rate of martech purchasing isn't great. In fact, an outstanding 21% of us have purchased platforms or tools that aren't being used at all.
This statistic is equally surprising and expected. With so many different product options, the explosion of martech solutions has ultimately created this weird dichotomy—it's never been easier to both find the perfect product and pick the wrong product.
This all just means that you, as a marketer, need to make the best buying decision possible. One area I truly believe can determine the failure or success of the product your team chooses (and an area that's often neglected) is the vendor behind the marketing technology. I'm talking about the living, breathing humans who work at martech companies like HubSpot, Zapier, Domo, etc.
But Wait, I Just Want a Good Product
Don't we all. The fact of the matter is that there are plenty of good products out there. But good products can become bad experiences if the company behind the product fails. To get a sense of what I'm talking about, let's look at a few reasons why it's absolutely necessary to evaluate the team behind the marketing technology when shopping for something new and shiny.
Sales Reps Can Make or Break Your Decision
This happens all the time. You get swept away by a personable, smart sales rep during the buying process, and before you know it you're handing over some green and signing on the virtual dotted line. But no matter how charming the person, take a minute to really evaluate them.
Are they asking good questions?
Do they try to understand your brand, product, or industry?
Would they tell you if their product actually wasn't a good fit?
Are they just telling you everything you want to hear, not everything you need to hear?
If you get the sense that the sales rep is just trying to ship you their product instead of determining whether you're a good fit, run the other way. They're probably just looking for another sale and don't necessarily care how long you stick around.
Startups Can Be Riskier
Apologies in advance to all the startups out there, but choosing a newly-launched company is just inherently riskier than choosing the market leader. I know, I know. Market leaders can blow it, too. But a real concern with a lot of startups is if they'll make it…and what will happen if they don't. Pushing all your data to a cloud technology startup only to find out they're filing for bankruptcy and you have 48 hours to get all your data out of there is inconvenient, to say the least.
Another problem you might face when purchasing from a less-established company is a greater chance of outages and bugs. Because they're also likely to have a smaller team of developers, it could take them longer to fix something that breaks.
That Being Said...
Despite the risk, startups can be a good choice. For example, they're much more likely to be willing to update their product roadmaps to meet your particular needs. Established market leaders, not so much. With startups, it might also be easier to get support and quicker responses when trying to troubleshoot an issue.
So, the best advice I can give you is to balance the risk and reward for what you need. Is a cheaper option (likely the startup) worth the risk?
Lack of Knowledge is Lack of Power
Don't go into the sales process naive. Do your homework. Maybe you've already completed some martech research, but how much time have you spent looking into the companies behind the product? If you search for them in the news, does anything show up? Can you find information about their financial situation? When purchasing a new martech, you want to know the full picture, not just what the vendor's website says about them. So, use tools like HubSpot Sale and LexisNexis to get more information about the actual companies, and save third party review sites like G2 Crowd for product research.
Other factors to be aware of are more practical—geographic location, language barriers, etc. These may seem like small things, but they can become big annoyances pretty quickly. If working across time zones or navigating another country's legal environments is going to greatly affect your own company's efficiency and productivity, play it safe with a different vendor.
One Down, Plenty More to Go
Let's recap. Now that you've thoroughly stalked your potential vendors—evaluating sales reps, weighing risk and reward from startups vs. market leaders, and looking for information on review sites and publications—you probably feel good. Or overwhelmed. But like I said before, martech is messy. Evaluating the humans behind the product is extremely important, but it's just one step in the marketing technology purchasing journey.
If you're serious about learning more about marketing technology and how to buy it, download our Marketing Technology Purchasing Guide, or reach out to us with any questions. Good luck!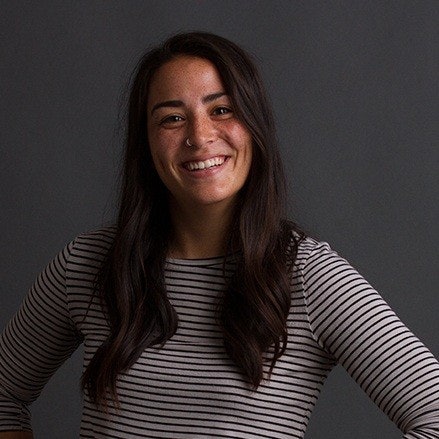 From competing with her brothers while growing up to captaining Purdue's soccer team, Mollie seeks out challenges wherever they may lie. That's why she's perfectly suited for content marketing—building content, measuring results, and trying to top your previous performance is what it's all about, and Mollie knocks it out of the park every time. When she's not creating killer content, Mollie's usually playing soccer, traveling, or drawing, and she hopes to become a part-time cheesemonger someday because "the title is funny."
Feed your marketing mind and keep your skills sharp by opting into our weekly newsletter, packed with lessons we've learned firsthand. You won't regret it.
Subscribe.
Fill out the form to receive weekly insights, straight to your inbox.