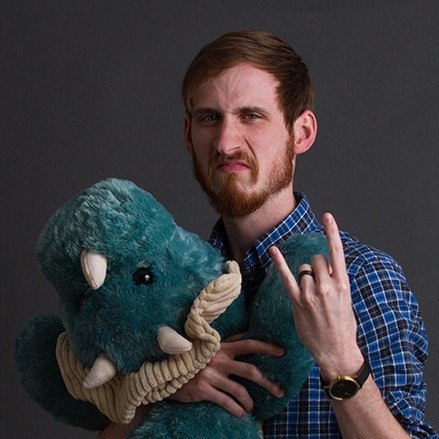 Zack was born and raised in Bedford, Indiana – the "limestone capital of the world," having provided limestone for buildings such as the Empire State Building and the Pentagon.
After years of gaming and surfing the web, Zack became absolutely obsessed with all things tech and design. So he went to Ivy Tech to take as many programming classes as possible and ended up getting his AAS in Computer Information Systems.
From there it was on to a small web design firm where in just a few years he went from intern to Executive Director – how's THAT for a career track? Eventually, Zack decided that he'd like to work for a slightly more "established" company. He found a developer job Element Three had posted online, checked out our website, watched a few videos and decided to give us a call. We're glad he did.
He loves finding judo solutions to problems, as well as finding more efficient ways to work. The beauty of working in tech is that it just keeps getting better and better each year, which gives Zack the ability to be a part of something that continually improves our work as well as our personal lives.
If he wasn't doing what he does, he'd be a musician or a traveling wizard. He learned drums at an early age from his father, who was always drumming in local bands.
Zack lives in Fishers, Indiana with his wife, Noelle, and would like to add a pet to the family as soon as possible. So if anyone knows of any extra pets lying around, be sure to look Zack up on the web. Or given his wizardly digital skills, he'll probably find you first.
BACK TO TEAM PAGE