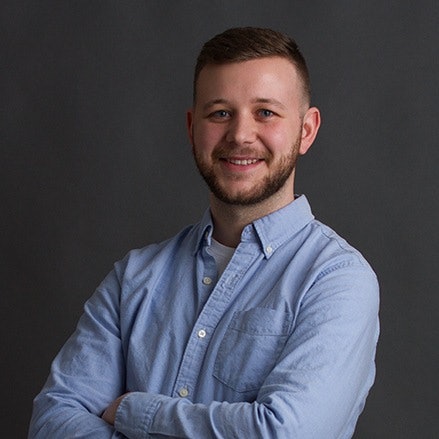 Alex grew up fascinated by the silver screen—especially the Lord of the Rings movies. He absorbed himself in the hours of behind-the-scenes footage showcasing how director Peter Jackson crafted the cinematic version of Middle-earth that brings J.R.R. Tolkien's epic adventures to life on a visually stunning scale.
"I loved seeing the magic behind making movies, so I had my mom drive me to New York City every weekend so I could be an extra in TV shows and movies. My favorite scene I shot was with Jack Nicholson on the set of The Departed. From then on, I knew I'd be making videos in some capacity."
Alex hails from Scranton, Pa., home to Dunder Mifflin, the fictional paper sales company featured in the television series The Office. Since he found pizza to be the only great thing about Scranton, Alex left town to study visual effects and motion graphics at The Art Institute of Pittsburgh. While there, he was thrilled to land an internship with the Pittsburgh Penguins, "the best hockey team in the NHL."
After graduation, Alex moved to Indianapolis with his girlfriend, Melanie. They later got married and put their roots down by buying a house. Since moving to Indy, Alex has worked on video projects for Eli Lilly and Company, the Indianapolis Indians, Kiwanis International, and NIPSCO, among many others. He now works closely with his E3 colleagues and our clients to create awesome videos.
"I feel that collaboration is really important to the work we do. I love to be brought in so we can bounce ideas off of each other and get a good outline for the video we want to produce. Adding motion graphics elevates our work when we want to have a video that requires more than just cutting together footage."
When he's not at work, Alex enjoys working on his house, riding his bike on the trail, catching up on the movies in his IMDB watchlist, and spending too much money on vinyl.
BACK TO TEAM PAGE