Next-level marketing starts with your team.
Assembling a truly great marketing team is challenging. Employees leave companies. Individuals don't mesh. The wrong people sit in the wrong roles. And frustration ensues.
To build a marketing team that delivers real value to your business, you need a strategic vision for growth. Sign up to access our webinar recording—with special guests Kevin Bailey from Powderkeg and Claire Couch from Conga—to learn more about building a marketing team your business can't survive without.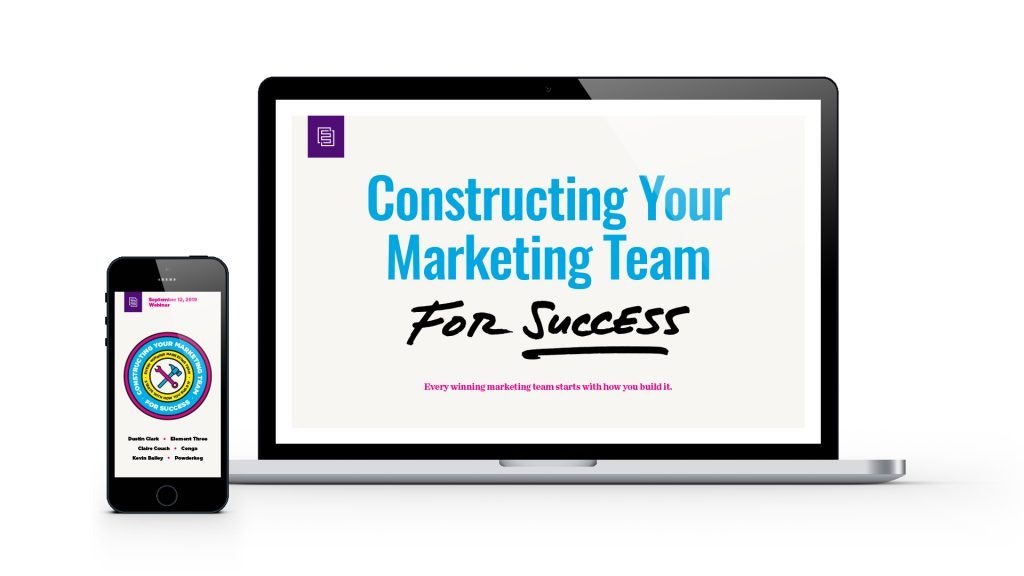 What you'll take away.
Listen to and learn from three marketing leaders as they discuss team structure, roles and responsibilities, and what to look for when hiring.
Walk away knowing where to start and how to respond when your marketing team goes through a massive change.
Gain a better understanding of how marketing teams are organized, and how to ensure your talent is in the right roles to drive value to the business.
Assess when it's smart to seek external help—whether that's through a consultant, agency, or freelancer.
Host: Dustin Clark, Digital Marketing Director, Element Three
A longtime leader at Element Three, Dustin has helped grow the digital department into one of the finest in Indianapolis, taking the team from a single member to double digits over the last few years. He's helped numerous Fortune 500 companies and household brands like Airstream and BraunAbility navigate the digital marketing landscape, and he spoke at HubSpot's conference, Inbound, in 2018.
When he's not writing on the forefront of marketing or leaning into leadership through trueU, you can find him jamming with a guitar or at home with his wife and two children.
Featured Guest: Kevin Bailey, Co-founder and Adviser, Powderkeg
Kevin is the co-founder and current adviser at Powderkeg, a community of tech entrepreneurs, investors, and professionals across the United States. He was the founder of Slingshot SEO, helped build IU's digital marketing curriculum, and is currently working to kick off a new company called Dreamfuel. While Kevin was president of Slingshot SEO, the company bootstrapped to $11 million in annual revenue in five years and was a three-time winner of the Inc. 500 and Best Places to Work in Indiana awards.
Featured Guest: Claire Couch, Director of Customer Marketing, Conga
Claire has spent nearly the last decade as a marketer in the B2B tech space. She currently leads Conga's customer marketing team and has a passion for experiential programs and demand generation. Prior to Conga, Claire led partner marketing at Return Path and supported demand generation programs and corporate events at Salesforce and ExactTarget.
She is the founder of the Indy Marketing Leaders program and outside of work prioritizes health, fitness, and spending time outdoors with her husband and two golden retrievers.