The marketing landscape of 2016 is not the same as it was in 1996, or 2006, or even 2011. That much is obvious. The rising importance and constant evolution of digital marketing have made it increasingly critical as a part of any business marketing strategy, and that devotion to online efforts is only amplified by the advent of social networks like Twitter and Facebook.In this post, we'll talk about exactly what's changing in marketing today, and whether traditional marketing still has a place or if it's been surpassed by other, newer forms of marketing. Are more traditional methods – print ads, billboards, direct mail – becoming extinct? Or can a "traditional campaign" alone still work? What's the importance of tried-and-true methods in a world where all the rules of marketing seem to be changing?
The world is changing – not just marketing.
Remember a moment ago, when I was saying that marketing was totally different from five, ten, or twenty years ago? Well, that's true, but it's not the full story. Not even close. Think about your day-to-day life today. You're constantly connected, getting news from your app of choice or Twitter. Email is always convenient and available, even when you're not at your computer. The best television is being produced for streaming apps, and you can buy groceries online and have them delivered to your door in an hour. Today's world is very different from the one that existed when I graduated from high school.In an story for Ad Age, Havas Media U.S. CEO Lori Hiltz said, "The influence and impact of e-commerce and m-commerce is driving a reset of marketing and sales priorities. The collision of content and distribution is forcing mass advertisers to reconsider their go-to-market model."Barring technological disaster or something like that, these changes are probably permanent. Or at least they're the new baseline – new changes will be forward progress from here, not a reversion to older ways of doing things. That means these changes (not to mention the effect they have on business and marketing) can't be ignored.The paradigm of constant connectivity that's been fostered by the advent of the smartphone must be a part of the thought process behind any new campaign. It's the way of the world now – you can't simply try to ignore it.
Change is nothing new.
While a changing marketing world certainly presents new and different challenges, the challenge of change itself is not new. If anything, ironically it's a constant. The changes in culture are new, but the fact that changes in culture affect marketing is not. And many of the things that are changing today – things like consumer tastes, the strategies of your competitors, and product life cycles – have always been part of the marketer's struggle. It's always been this way. It's always going to be this way. Any firm you choose needs to be agile enough to handle that change, whether it involves traditional marketing or not.
One size cannot fit all.
Niche agencies won't do the job. You might find one that specializes in your business' industry, and think that their expertise will give them a better perspective on what you need. You might find one that specializes in the type of campaign you think you need to be running, and think that means they'll do it better than a full-service agency. But the problem is that agencies like that tend to keep you in a box. For example, an agency that specializes in healthcare marketing is probably going to end up trying to fit you into one template or another. That could work, if you get lucky and happen to actually fit into a template. But you'll probably be better served by something that is built for you, and expands past one angle.Take us here at Element Three, for example. As recently as just a handful of years ago, we considered ourselves to be an inbound marketing agency. If you don't know it, inbound marketing is marketing by creating content that people want to read, that people seek out to learn more about a subject. The idea is that a reader learns from your content, decides that you're the expert in the field, and then buys from you based on that. Here's an example of what that process might look like for a buyer. Anyway, for a while we did inbound marketing, and that's it. And the projects we did were good work, and they had success. But after a while we started to realize that alone, inbound strategy couldn't fix every problem. It wasn't a magic bullet.
[twitterQuote quote="an inbound strategy alone can't fix every problem" ]
So now, we aren't inbound-only. We still do tons of inbound strategy and content marketing, but we also do traditional work like print ads and direct mail. In fact, at the end of last year we concepted, designed, and produced a direct mail piece for Gutwein Law, and it's bringing in tons of appointments from precisely the audience they wanted to target. Could we have done this with inbound? Possibly. But the situation called for something else. Your business needs a marketing partner that can do something else.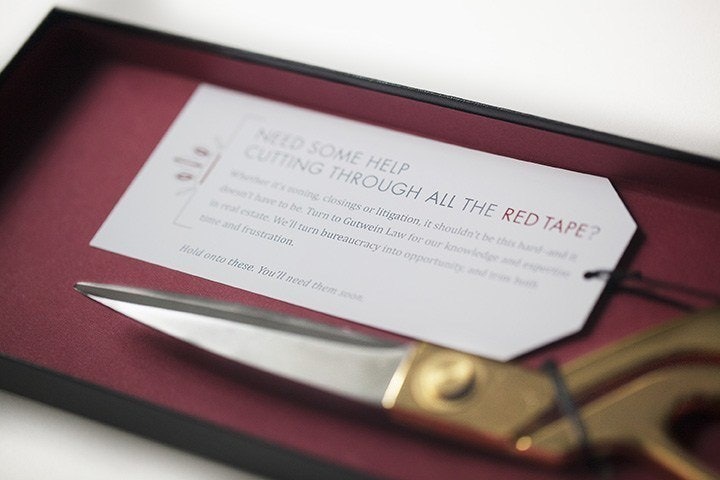 Digital marketing has to touch everything.
The fact that you can do a purely traditional campaign in 2016 doesn't mean that it can be 1996's campaign, though. Print ads are fine. Direct mail is fine. Billboards are fine. But they must be modern, and that means they need to have a digital touch. Even in what may seem to be purely traditional campaigns, knowledge of digital strategy is critical.According to a roundtable hosted by the Guardian:
[regQuote quote="Marketers need to update their skills in order to make the most of these fast-moving, and highly relevant campaigns through digital. They need to work closely with data specialists, web developers and social media professionals." borders="False"]
Why? Well, there are a couple of reasons. First, and most simply, building in a digital component to a traditional campaign makes it a lot easier to study. It's nearly impossible to measure the effectiveness of a traditional advertisement in such a way as to be able to see its precise return on investment. Even if you ask every customer if they saw the ad, there's a lot you won't know. How many people saw the ad, considered it, tried to learn more about you, and stopped there? How many people got the newspaper the ad was in, but skipped the section and never saw it? You won't know how effective the ad was, and therefore won't be able to make adjustments to increase effectiveness.Additionally, all of your marketing has to be able to work together, or else no part of it will work. That's not just all the parts of an individual campaign – everything that you do that faces your clients or prospects has to match up, at least in spirit. If a campaign is missing pieces of the marketing puzzle, you can't expect success.
How we merge digital and traditional
Take as an example the direct mail piece that we talked about earlier. The primary thrust of the campaign was two separate packages that worked together to tell a story. Gutwein Law wanted to communicate in the real estate sphere, telling prospects that they were the answer to a convoluted and complex maze of legal issues that spring up through the real estate process. In short, the message was that Gutwein Law could "cut through the red tape" and make the process go smoothly.The second of the two packages contained a pair of rocks glasses and coasters, intended to signify the celebration of a job done well, and done smoothly. That package included a card with a link to a landing page on it, which allowed recipients of the direct mail piece to download a pair of drink recipes.Those recipes were gated, meaning that we had the ability to track who was (and wasn't) downloading them, and also consolidate contact information that we lacked for our target audience. The two parts of the campaign worked together, and the digital piece provided an avenue to further engage prospects after the initial campaign is over.
Is traditional marketing still "tradition"?
So what is the state of traditional marketing in 2016? In the past, there's been a clear separation between things like brochures and print ads, and digital or content marketing that lives online. But with the pervasiveness of the internet everywhere and in marketing, that separation is becoming less and less of a bright line and more of a grey area.Traditional marketing can still be effective. A well-done, professional direct mail campaign can still impress and surprise the recipient. But if that's all it does – if there's no support behind it from digital, and it doesn't jive well with the way people shop and buy today – that impressive piece may not actually bring in business. And even if it does, you won't be able to trace your return on investment.Marketing has to be modern. No matter what kind of campaign you choose, make sure it fits the digital age. You won't regret it.