Illustrated marketing technology stacks on behalf of client BraunAbility and for the Element Three internal team were also named finalists for the 2019 MarTech Stackies Awards.
INDIANAPOLIS (April 4, 2019) – Element Three, a full-service marketing agency that works across digital and traditional channels to solve real business problems for clients striving for market leadership, is proud to announce it has won a coveted 2019 MarTech Stackie Award for its visualization of client Airstream's marketing technology stack. The winning graphic showcased the marketing technology solutions of Airstream, a maker of luxury travel trailers and touring coaches, on a park map.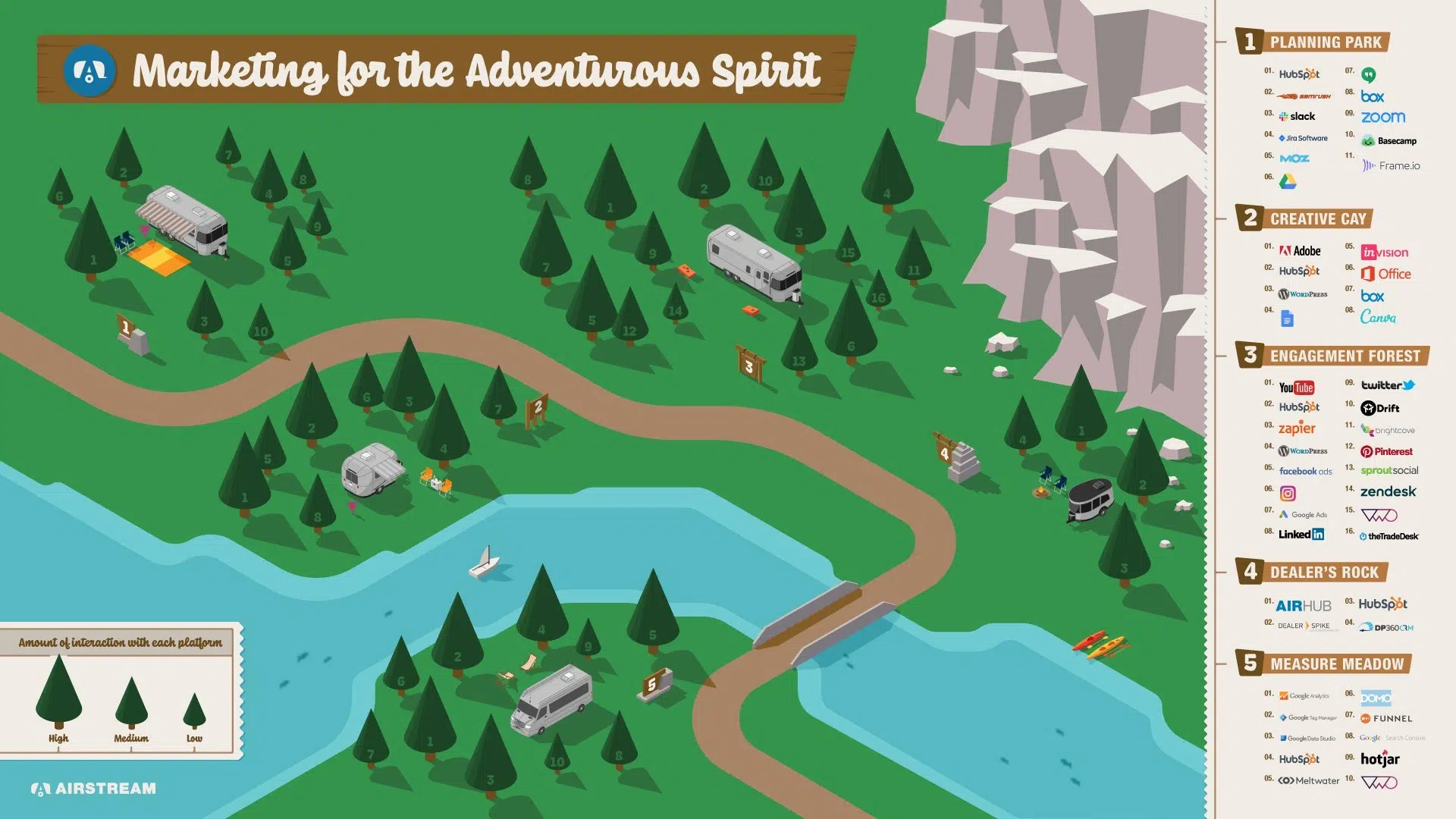 Airstream's 2019 Stackie Submission
"The Airstream brand is iconic, so we wanted their Stackie to not only represent the martech they use to grow their business but also live up to the culture and history the company has worked hard to create," said Bob Ewing, Element Three Art Director. "Needless to say, we're pretty happy with the end result."
The Stackie award winners were announced yesterday at the MarTech Conference in San Jose, Calif.
"Over the years, Element Three has helped us integrate and adopt new marketing technology that is helping take our business, brand and customer experience to the next level," said Adam Grillot, Airstream Customer Experience Marketing Manager. "Winning a Stackie is just another example of how our partnership has pushed the envelope in all areas of marketing. Marketing technology is key when it comes to delivering an exceptional Airstream brand experience for our community."
Tim Morse, Element Three Senior Digital Marketing Manager, added, "As a long-standing partner to Airstream, it's been awesome to see how their marketing technology stack has changed over the years, and how we've been able to help their team iterate to improve business efficiencies."
Element Three team members wanted to depict Airstream's modern approach to marketing and commitment to innovation and performance in their iconic recreational vehicle products within their Stackie entry.
"The entry represents Airstream's iconic silver bullet travel trailers, as well as the RV lifestyle in general, while still capturing the diverse set of marketing software we use together to serve their customers, dealers, and fans worldwide," said Dustin Clark, Element Three Digital Marketing Director. "Element Three is proud to partner with Airstream on their digital marketing efforts, as we share their approach to implementing technology and pushing the envelope for customer-focused communications in the ever-changing digital age."
In addition to the Stackie win on behalf of Airstream, Element Three's Stackie submissions for both its internal team and on behalf of client BraunAbility were also named finalists in this year's competition.
BraunAbility's 2019 Stackie Submission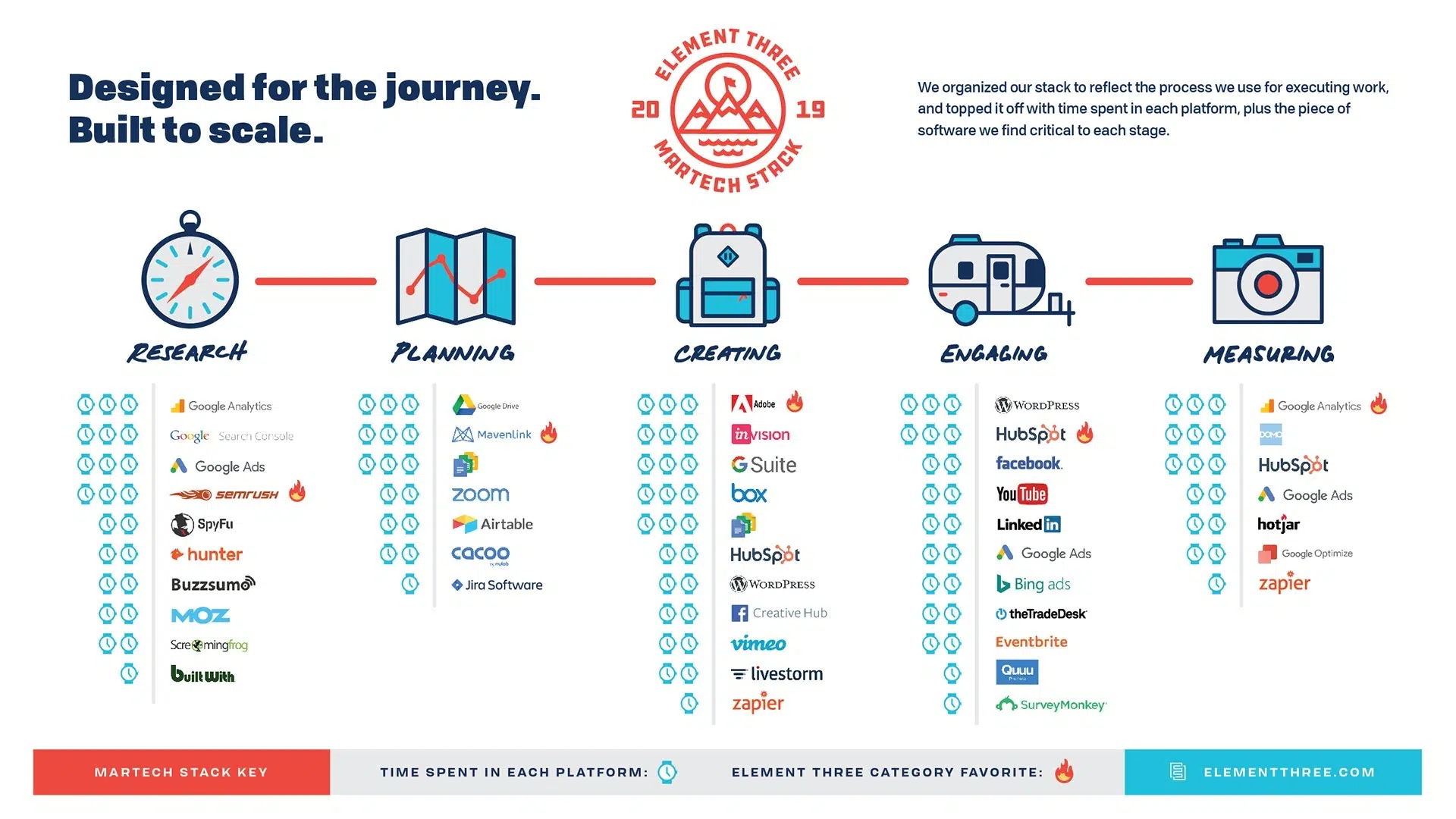 Element Three's 2019 Stackie Submission
This award win comes on the heels of other recent successes for Element Three, including winning eight awards at the American Advertising Federation's ADDY Awards and becoming a strategic partner with Powderkeg, a community of tech entrepreneurs, investors and professionals across the United States.
For more information about Element Three, visit https://elementthree.com/.
###
About Element Three
Element Three is an Indianapolis-based marketing agency that works across digital and traditional channels to create seamless brand experiences for clients who strive toward market leadership. Founded in 2005 by a former financial analyst, the ADDY award-winning agency is a leading Google, HubSpot, and Bing Ads Partner and has been ranked on the Inc. 5000 list for five consecutive years. For more information about Element Three, visit https://elementthree.com/.
MarTech
MarTech® is a vendor-neutral conference that explores the complex marketing technology landscape and how organizations can effectively integrate technologies into their marketing strategy and operations. The conference serves as an inspiring, cross-pollinating experience that transcends traditional business boundaries and encourages creative collaboration across organizations.
Media Contact
Nikki Trojanowski
317.730.3335
media@elementthree.com