Organic this. Homegrown that. Today's market is flooded with the popular idea that if it's not organic it shouldn't be in your life.
Logically, that trend makes the organic industry the place to be. Younger shoppers continue to show considerable interest in organic products, indicating a promising future for this industry. One company that is doing it right and has surpassed all of its competitors is Lush Cosmetics.
Here are five reasons that have pushed Lush into cult brand status.
1. Innovative Products
Lush's trademark is its passion for fresh and natural homemade beauty products. In an industry so saturated with brands that use chemicals and ingredients no human being can pronounce, Lush inevitably stands out. All of their products are handmade and use natural and organic ingredients. They were one of the pioneers of "Bath Bombs" that back in the day were considered too inventive but now have become quite trendy.
2. Discernible Product Branding
The thing that is most unique with Lush's products is the fact that they look like something you can eat. With the wide range of colors, shapes, sizes and smells, it's easy to get confused. Not only are the products themselves distinctive but so are the names. They have names such as "Buffy the Backside Slayer" and "Demon in the Dark." These names make the consumer not only more curious but entertained as well.
3. The Lush Experience
When you walk into a Lush store it's like walking into a candy shop – not only visually but also aromatically. You can test everything in the store; all you need to do it just ask! For example, when I went there last week wanting to try Buffy body soap, they sat me down and explained the benefits and how to use it while they massaged it onto my hand for at least five minutes (free hand massage!). I also wanted to try one of their hair masks, which is slightly hard to sample in store, so they gave me two tubs, which is equivalent to the amount that would come in a standard sized tub. The entire time you are in that store, they make you feel like you are the only customer, making sure you know and understand exactly what you are getting and how to use it.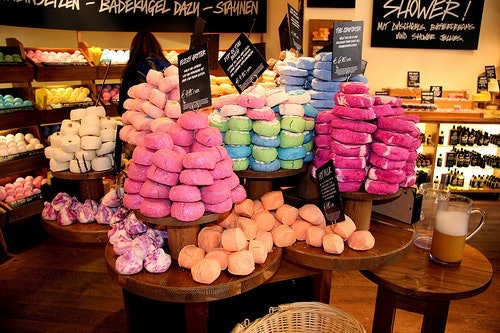 4. Research-backed Store Placement
Lush is very particular about where they choose to locate themselves. Stylish areas are ideal for this brand – preferably next to high-end stores. These areas attract their target audience and help to create a brand image of prestige. Next time you pass a Lush store, pay close attention to the brands around them and you may be surprised!
5. Unconventional Marketing Approach
Products are displayed on wooden tables with minimal to no packaging. Once you decide to purchase a product, it is cut and weighed to determine the pricing, then packaged for you to take home in a simple paper bag. They rely heavily on in-store marketing and word of mouth from their niche customer base. They drive the market by offering innovative products and teaching customers how to use them.
It's no secret that Lush loves what they do and that they believe in their products. Their organic products, in store experience, and eccentric marketing approach are what is catapulting this brand to the top.