When you're selling a product or a service, your marketing shouldn't just be about the thing you're selling. It's about you, and it's about what you can do for your customers—particularly how you can make them feel. But for some brands, it goes even a step further. It almost stops being about the product at all, and is just about cultivating that feeling, or being a part of that community.
These are lifestyle brands. They're the brands that you follow on Instagram even if you don't own anything they sell. Let's look at a few lifestyle brand examples, and how they pulled off the transition from commodity to center of attention.
What is a lifestyle brand?
The academic-sounding way to put it is to say that a lifestyle brand is one that markets itself and whatever it's actually selling (their product or service) to embody the interests and attitudes of a group or subculture. In other words, the interests of this group are central to the company's brand identity. Rather than saying what they're selling is the best widget on the market, a lifestyle brand tells a story and sells the life of the person who's part of the clique. So customers aren't necessarily buying because the product is superior to the competition, but because it makes them a part of the fraternity.
It's a nice place to be—you're not trying to convince people to buy from you, you actually have people racing to come to you. You're not doing all the heavy lifting, advertising to try to get attention—you have dedicated advocates spreading the word on your behalf for free. How can you get there? Let's look at a few of today's best lifestyle brands to find out.
LaCroix: The soda that isn't
If you're like me, LaCroix is known as that mostly flavorless fizzy water that doesn't know how to pronounce its own name properly. But if you're, well, almost anyone else in America (including most of our team here at Element Three), it's practically a way of life. It's gone from the forgotten cousin of the supermarket's soda section to, as Vox put it, "not just generating loyalty but becoming part of how we define ourselves."
How did they do it? Partly it's because health-conscious Americans are kicking their soda habits, and the low-calorie sugar-free LaCroix is a good replacement. It has everything soda has (portability, reasonable serving size, loads of little bubbles) without the bad parts. But it's not just chance. LaCroix saw the soda trends and pounced, using their already robust production infrastructure and savvy social media marketing (not to mention some buzz marketing from bloggers and writers who already loved the stuff) to increase their sales and boost stock prices from $12 a share in 2010 to $55 in 2016 and nearly $60 a share as I write this. Their biggest coup was likely getting approved as part of the Whole 30 diet program, which encourages dieters to share meals on social media—meaning lots of photos with pastel LaCroix cans across the healthy eating community.
The buzz continues to build. Just search #lacroix on Instagram to see how excited people get to talk about the drink online, and you're also likely to see sloganeering shirts ("LACROIX OVER BOYS" is probably my favorite one) and memes and whatever else a carbonated-water-infused mind can think up. It's not a soda, it's not really water—but it is definitely a meme, and a great example of lifestyle branding.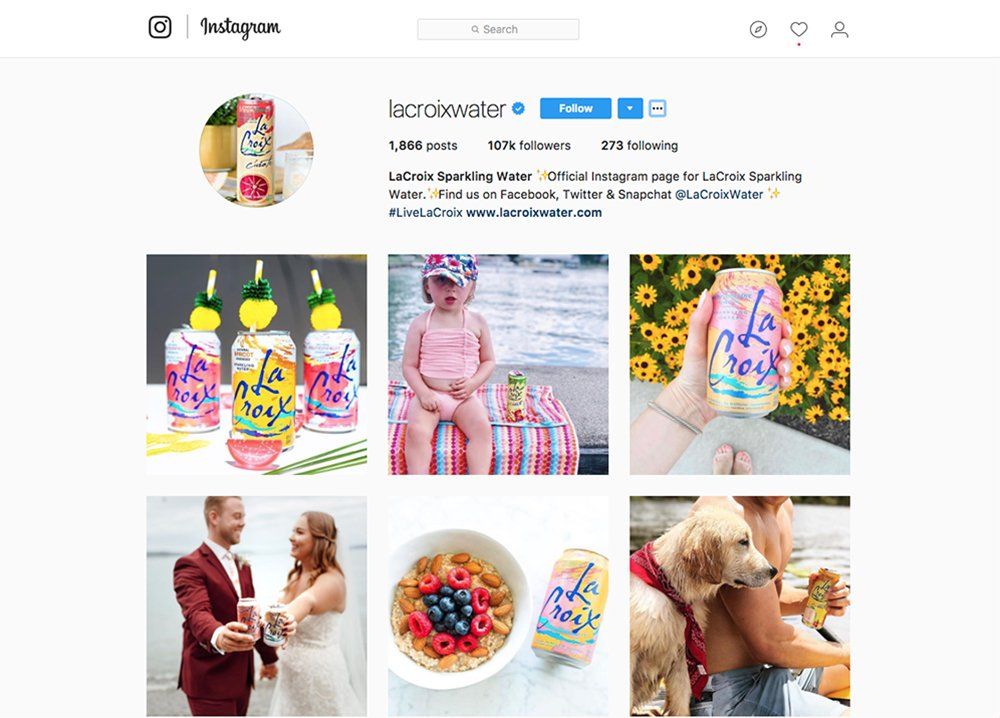 Red Bull: Literally giving people wings
If you're struggling to get through a workday afternoon or a long-distance drive, you've probably tried an energy drink or a dozen. They've been around almost as long as the soda industry has existed, but the popularization of Red Bull at the turn of the century really helped the concept take off in the United States. Now it's an industry worth billions of dollars, and Red Bull is at the forefront.
You've surely seen their commercials, with the minimalist animation and memorable catchphrase (that is, "Red Bull gives you wings!"). But Red Bull has also made inroads on presenting themselves as a lifestyle brand, and while they're a carbonated soda-esque beverage like LaCroix, they've gone in a completely different direction in terms of the lifestyle they promote.
Whereas LaCroix is going after the trendy (or some may say "basic") set, Red Bull is chasing adrenaline junkies. The tagline itself is part of that—it evokes the idea that the drink will give you the energy to actually fly, if you need to. But they've also done it through carefully chosen sports and event promotions that cultivate the extreme feel. In terms of your more mainstream or traditional sports, Red Bull has a heavy presence. American sports fans likely know their MLS team, New York Red Bulls, the former home of all-time great Thierry Henry. In soccer they are also involved with RB Leipzig of the German Bundesliga, FC Red Bull Salzburg in Austria, and others. Red Bull Racing was Formula One's World Constructors' Champions in 2010, 2011, 2012, and 2013, and housed World Champion driver Sebastian Vettel in all four seasons as well.
But they didn't stop there. They also sponsor and fund a wide range of more extreme events, like the Red Bull Air Race, motocross, and rally cars, as well as some truly out-there stunts. The Red Bull Flugtag, for example, is a yearly event in which competitors home-build innovative flying machines, which are then tested and judged for how effective—and how absurd—they are. And perhaps most famously, they sponsored skydiver Felix Baumgartner's successful 2012 attempt to set a new record for highest altitude jump, highest manned balloon flight, and to become the first human to break the sound barrier unpowered.
For some (your humble author included) Red Bull today is more associated with soccer and people jumping off of really high things than they are with caffeine. Other competitors have tried to match them, but Red Bull's dominant sales performance says all you need to know.
Nike: King of sports
If you know sports, you know Nike. It's simply impossible not to, as they're unequivocally the biggest brand in sports apparel. In terms of footwear alone (Nike's origin), in May of 2017 they owned 46.5% of the market between the primary brand and the Jordan label. Other brands like Adidas and Under Armour have gained ground in recent years, but they still have a long way to go.
That market domination means that a pair of Nikes is more than just a pair of shoes. But it's not just their ubiquity that transforms Nike from sports apparel to lifestyle brand. It's the connection with athletes. The Air Jordan line alone is one of the most iconic not only in all of sports, but in all of fashion, in large part because of the legendary Michael Jordan and his own brand value. For many runners, the connection with American distance running legend Steve Prefontaine (not to mention his coach and Nike co-founder Bill Bowerman) makes the shoes practically religious artifacts.
Current athletes help to support the transcendence of Nike as well. For Nike devotees, it's not just the swoosh that they covet. It's the feeling of connection with the superstars you see on television or from the stands. Wearing a custom brand—or even simply a generic version—means that Nike customers have the feel of being a part of LeBron James' team, or Alex Morgan's or Allyson Felix's or Neymar's…whoever your favorite athlete is, there's a fair chance they also wear the swoosh.
Additionally, Nike helps make the average person feel more like an elite athlete simply by supporting them. A big part of their ethos is that any person who "just does it" is an athlete, whether they're winning the World Series or just going for a morning jog. They make elite performance technology like Dri-FIT, Flyknit, and even all the way back to the original Waffle Trainers all available to anyone—not just the pros. They also use the digital and online space to support athletes of all kinds, with a range of apps and platforms that allow users to track workouts, share progress with friends, and get support from other users via social media.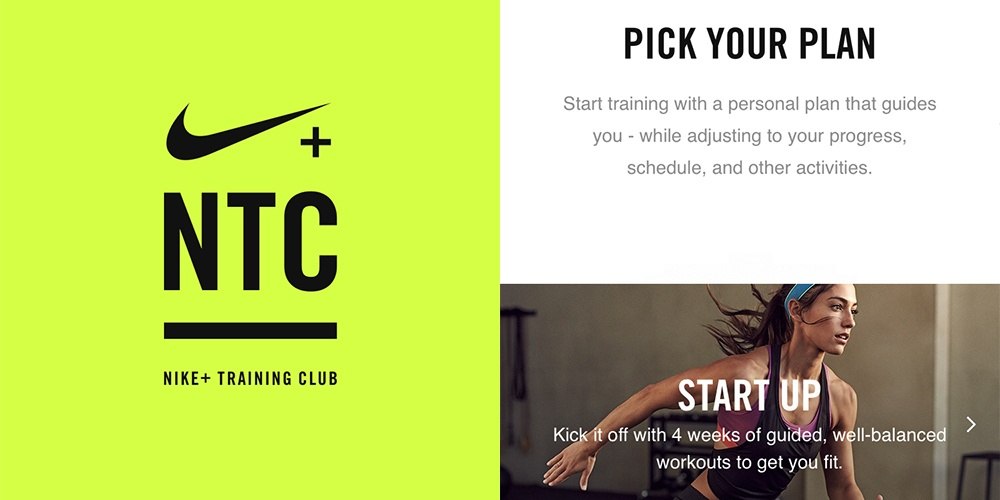 Between the cultural cachet, technical tools, and community built around Nike, it's clear why they're dominant not only in terms of market share, but also as a lifestyle brand. They live and shape their own mission, they're involved in multiple facets of customers' active lives on a day-to-day basis, and they have the community support to back it all up. As far as lifestyle branding goes, Nike's near the top of the heap.
Airstream: Caravaning worldwide
Those who love the outdoors are already predisposed to favor a lifestyle brand over others, because traveling and camping becomes more than a hobby—it's a defining facet of a person's life. Airstream's been at the forefront of that community ever since their founding in 1929, simply because the founder was a part of it. Wally Byam's goal was to "strive endlessly to stir the venturesome spirit" in Airstreamers everywhere, and through things like the Wally Byam Caravan Club International and the massive voyages they went on in Airstream's early years, it was certainly successful.
Much of that remains today, but Airstream has expanded their connection with their customers ever further in the digital age. Through social media, it's possible for Airstreamers to stay connected to the wandering life even when they're at home or work or just not on the road. For example, Airstream's own Instagram account is active, and you can find literally thousands of posts under hashtags like #airstream, #airstreamlife, and #liveriveted where members of the Airstreaming community show off their unique digs and the places they take their trailers. Even if you're stuck at your desk, you can still imagine yourself out in the woods, just by flipping through #airstreamliving.
The community of Airstreamers is just that—and when you take your Airstream out on the road, you can expect at least a welcoming wave from other silver bullet pilots. People are brought together by their shared experiences, inspired by what they see other average people doing, and the community builds. Once you've stuck a pink flamingo in the ground at your campsite, you're in it for the long haul. Airstreaming becomes more than just weekend camping trips, it becomes something you live by full time even if you're not in the trailer.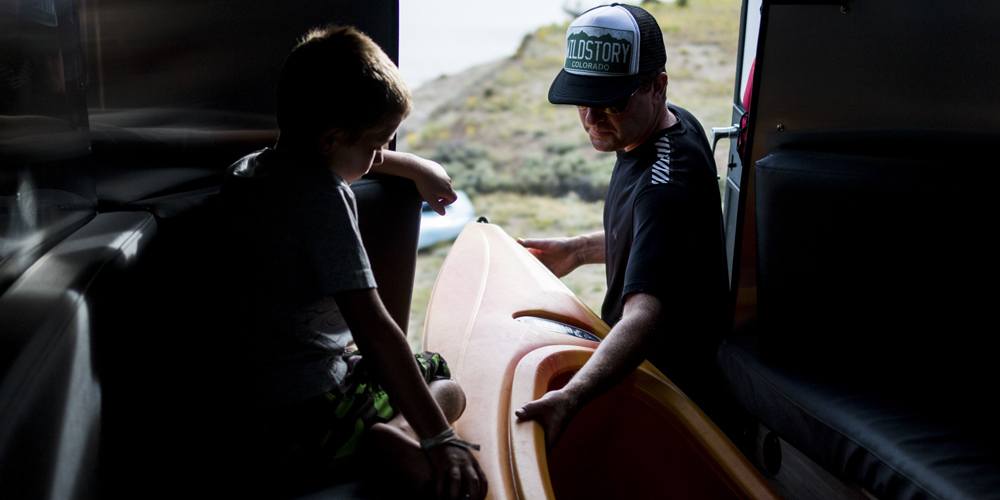 Not a brand, but a family
After a certain point, a business that really nails the lifestyle brand concept almost ceases to sell its products or services. It's not about what they have, it's about who they are. The Air Jordan might or might not be the best basketball shoe, but it's the one that means something. An Airstream travel trailer might only see the road a few weekends a year, but you Live Riveted every day. Even when you're not actively using a product or service, you're thinking about it or living the lifestyle—and you feel like it represents something about you and the people you want to associate with.
In short, it builds a community of people. People who see the outdoors as liberty, or people who like to jump off of things in their spare time. Successful lifestyle brands give their followers added value. The most important thing is knowing your audience, knowing what they want and enjoy, and helping to give it to them in such a way as to build a lasting connection—between your business and your customer, as well as between your customer and the rest of your audience.
Look at what the best lifestyle brands like Nike and Red Bull and Airstream have done, and follow their lead. You'll be a fan favorite in no time.