One More Voice — Voter Registration and Turnout Campaign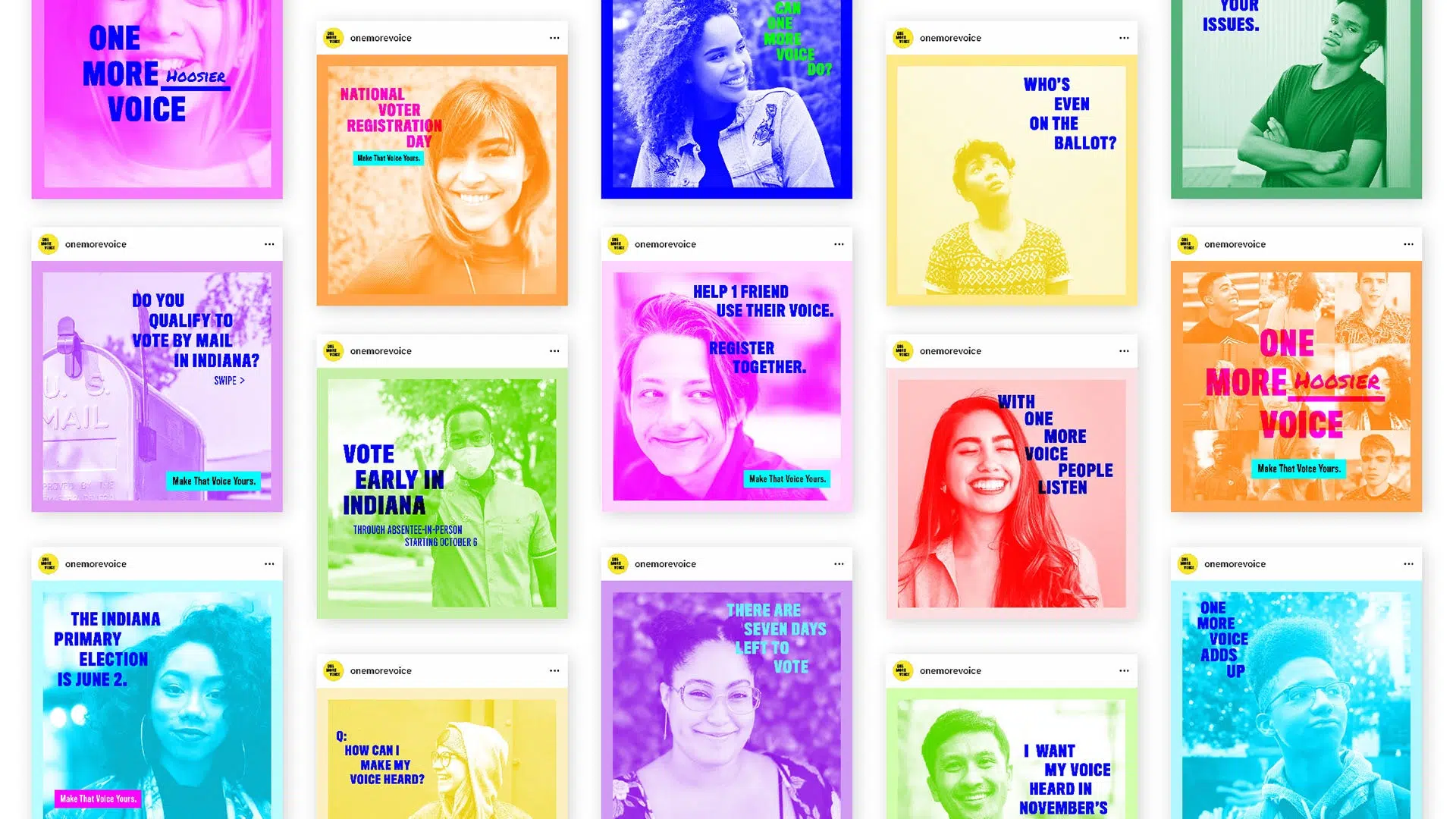 Here's something no Hoosier is all that proud of: Indiana consistently ranks in the bottom 10 states for voter turnout. So why aren't more Hoosiers voting? A lot of people feel like it doesn't matter or make a difference. They say "I'm just one person; what can I do?" Together with The Indiana Citizen—a nonpartisan, non-profit platform dedicated to increasing the number of informed, engaged Hoosier citizens—we aimed to turn that statement on its head for the 2020 election.
RESEARCH
MARKETING, DIGITAL, MEDIA + OUTREACH STRATEGY
BRANDING + LOGO CREATION
CAMPAIGN CONCEPTING
CREATIVE EXECUTION ACROSS 10+ CHANNELS
WEBSITE DESIGN + DEVELOPMENT
Digging into voter feelings, not just their actions.
In 2016, 4.8M Hoosiers registered to vote. Only 2.8M showed up at the polls—a 58% voter turnout. That's a clear disconnect between wanting to vote and feeling like your vote matters. The research phase of this project showed us that the target audience, regardless of political affiliation, felt that voting was important, but they didn't feel confident in their understanding of the issues on the ballot or in their ability to impact them. They felt like one in a sea of many, and they felt that their views were in the minority.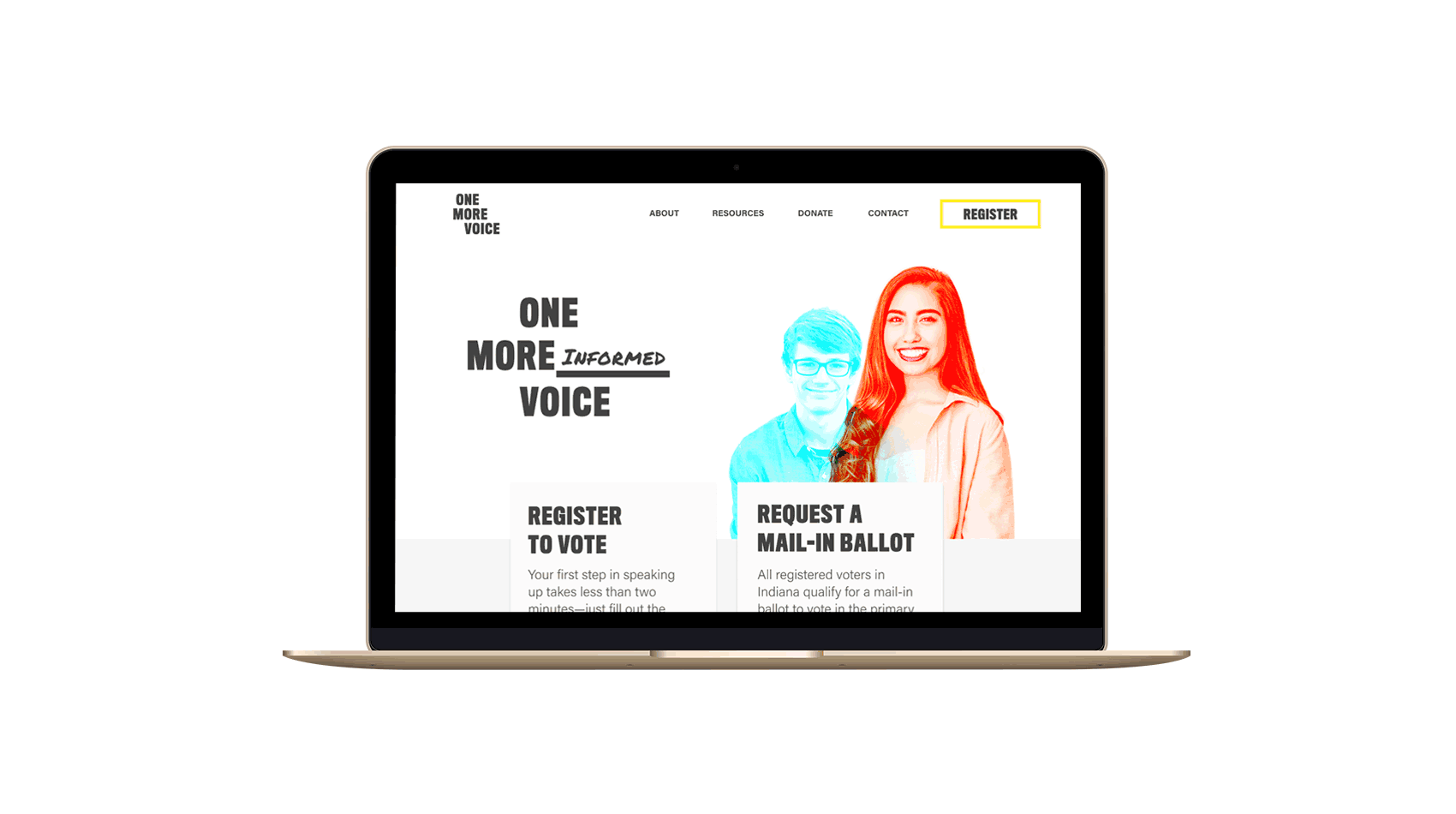 OUR RESEARCH ALSO INCLUDED INSIGHTS INTO WHICH MESSAGES RESONATED WITH THE TARGET AUDIENCE.
The messages that connected the most were:
Issue-related messages: Not just at a national level but at a local level. Educational messages about issues on the ballot resonated the most.
Empowerment messages: Messages that empowered voters about their influence on issues in their own communities, at the state level, and beyond also connected deeply.
It became clear that our campaign should focus on building confidence in
would-be voters.
BUT HOW?
Create a nonpartisan brand that young Hoosier voters feel connected to.
Up to our knees in research and insights, we started with our key messages, positioning, and tone of voice.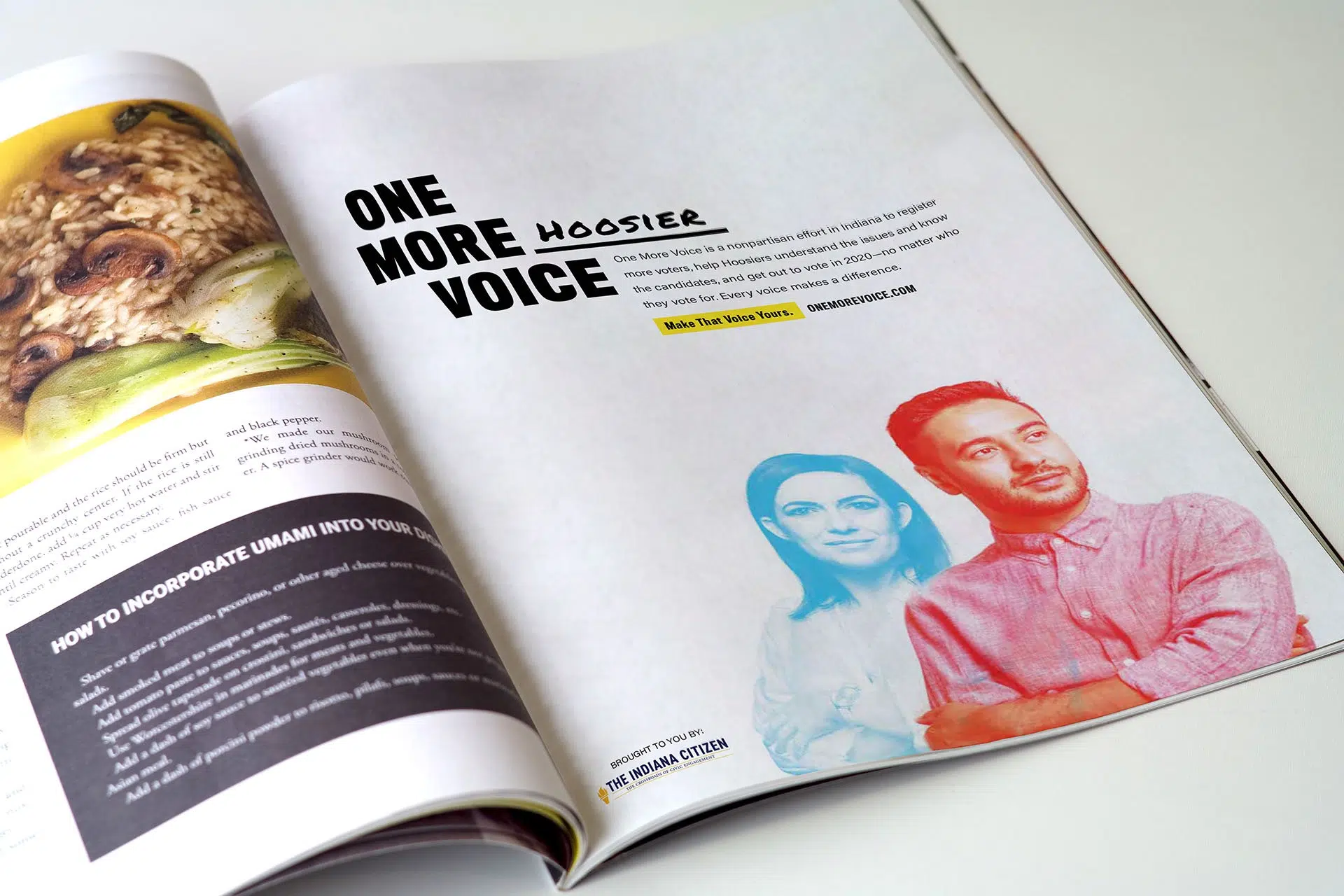 Noble Cause
Empower Indiana residents to exercise their power to vote and impact the issues where they call home.
Brand Promise
To spread a message of empowerment encouraging and building confidence in Indiana residents to find and vote on local issues—thereby impacting them and their state—and illustrating that their vote is their voice.
Positioning Statement
One More Voice encourages Indiana citizens to lend their voices by voting on issues that matter to them and where they live. Every voice adds value, especially to the people and issues they believe in. And every voice adds up. One More Voice inspires voters to make that one more voice theirs.
What We're Doing
We're empowering voters in Indiana to impact the issues that matter to them in the places they call home.
Already a Voter
You may vote already, but you're passionate about elections. So passionate, in fact, that you encourage others to get out and vote as well, regardless of their affiliation.
Likely Voter
You want to vote—you really do—but hassles sometimes get in your way. Given the right encouragement, empowerment, and circumstances, you'd gladly lend your voice to the ballot.
Issue-Focused
You care about local issues. So much so that you dedicate your time, energy, and money to helping inform others about them, and impact them.
Young Hoosier (17-20)
You've been waiting for your chance, and now your vote holds the same power to create change that others do—and you can change the public conscience.
Encouraging, uplifting, lively, instilling confidence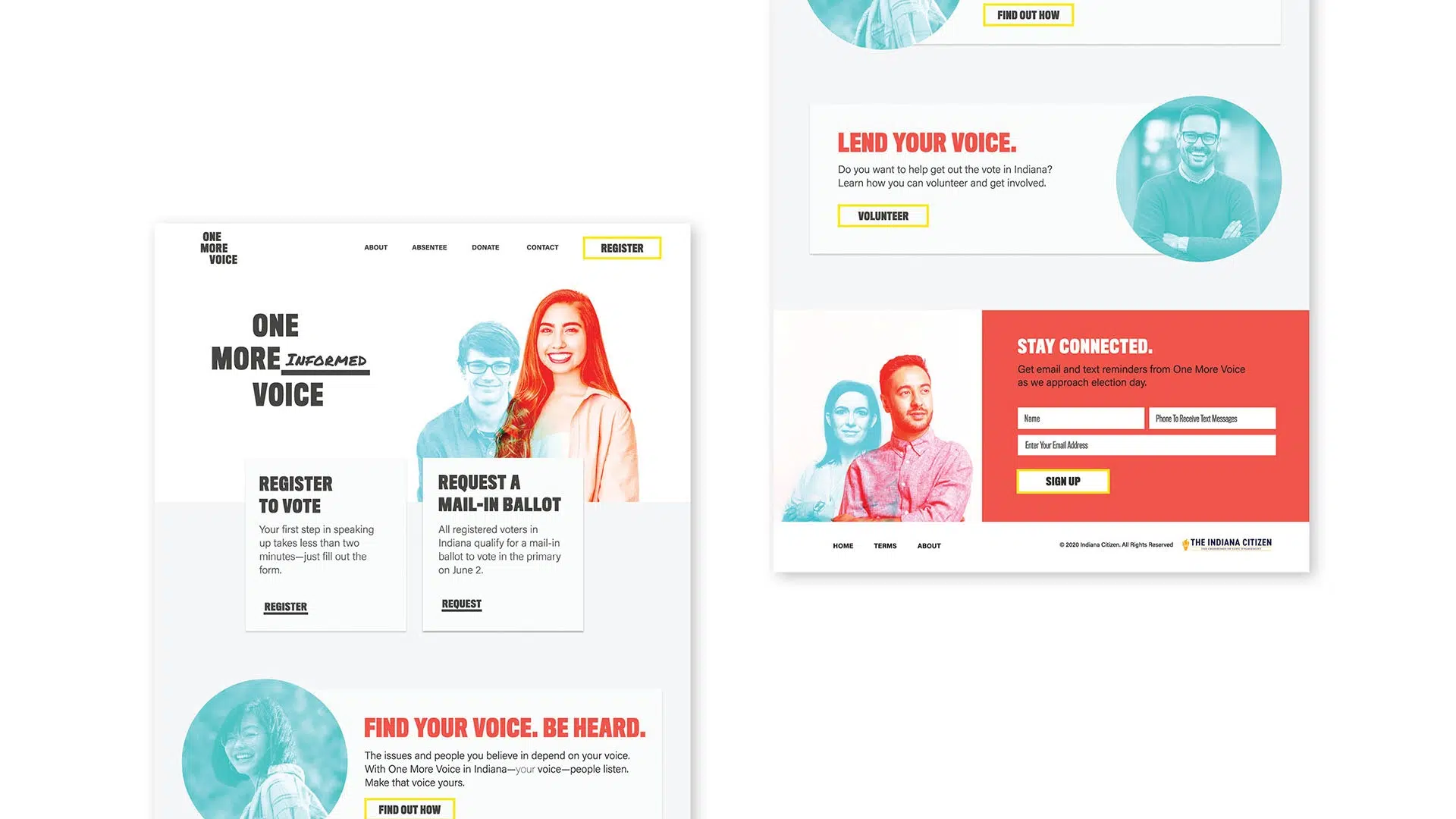 SO WHO DO THOSE MESSAGES COME FROM?
Because it needed to be clear that we were endorsing no particular party or candidate, it was important to create a campaign brand that could stand on its own.
Inspired by the negative.
If voters felt like they were just one voice that could be drowned out, we needed a brand that would turn that idea on its head. Enter One More Voice.
While one voice may be drowned out on a national level, when one voice speaks locally, more and more will add theirs. With one more voice, people hear, people listen, and people see results.
When stacked, One More Voice also includes the letters NOV for November—election time in 2020.
MEANWHILE, BECAUSE OF COVID-19…
Voter engagement efforts work best one-on-one and in person. But COVID-19 hit right as the campaign launched, and we had to pivot our efforts to virtual-only environments. While in-person events got canceled, we channeled our energy into the One More Voice website and great digital assets.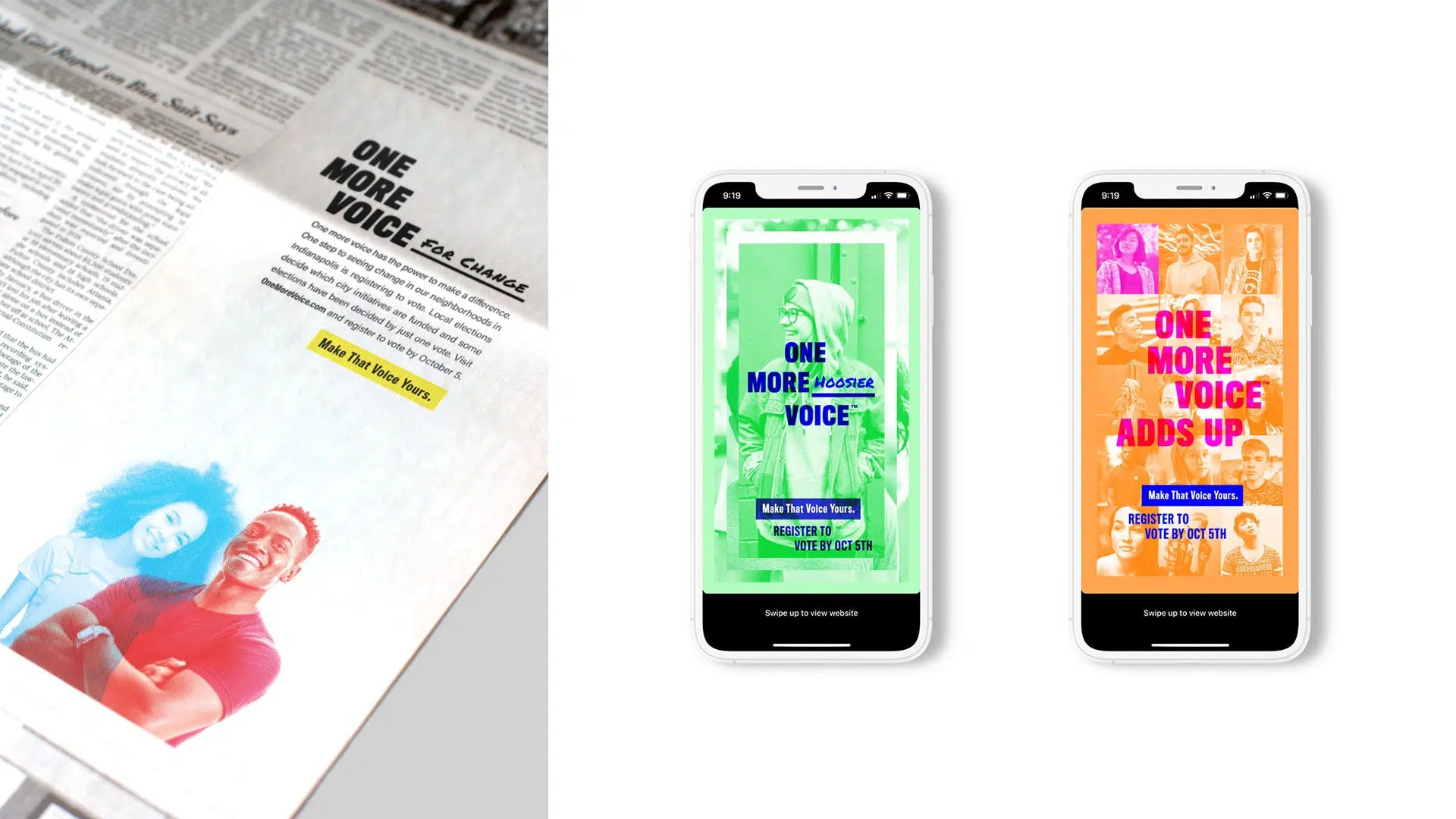 BOLD, COLORFUL, RELATABLE.
Once the One More Voice brand was solidified, we got to work bringing educational, relatable messages in bold, scroll-stopping colors and designs to life. All together, we created 75 social posts on both owned and paid channels.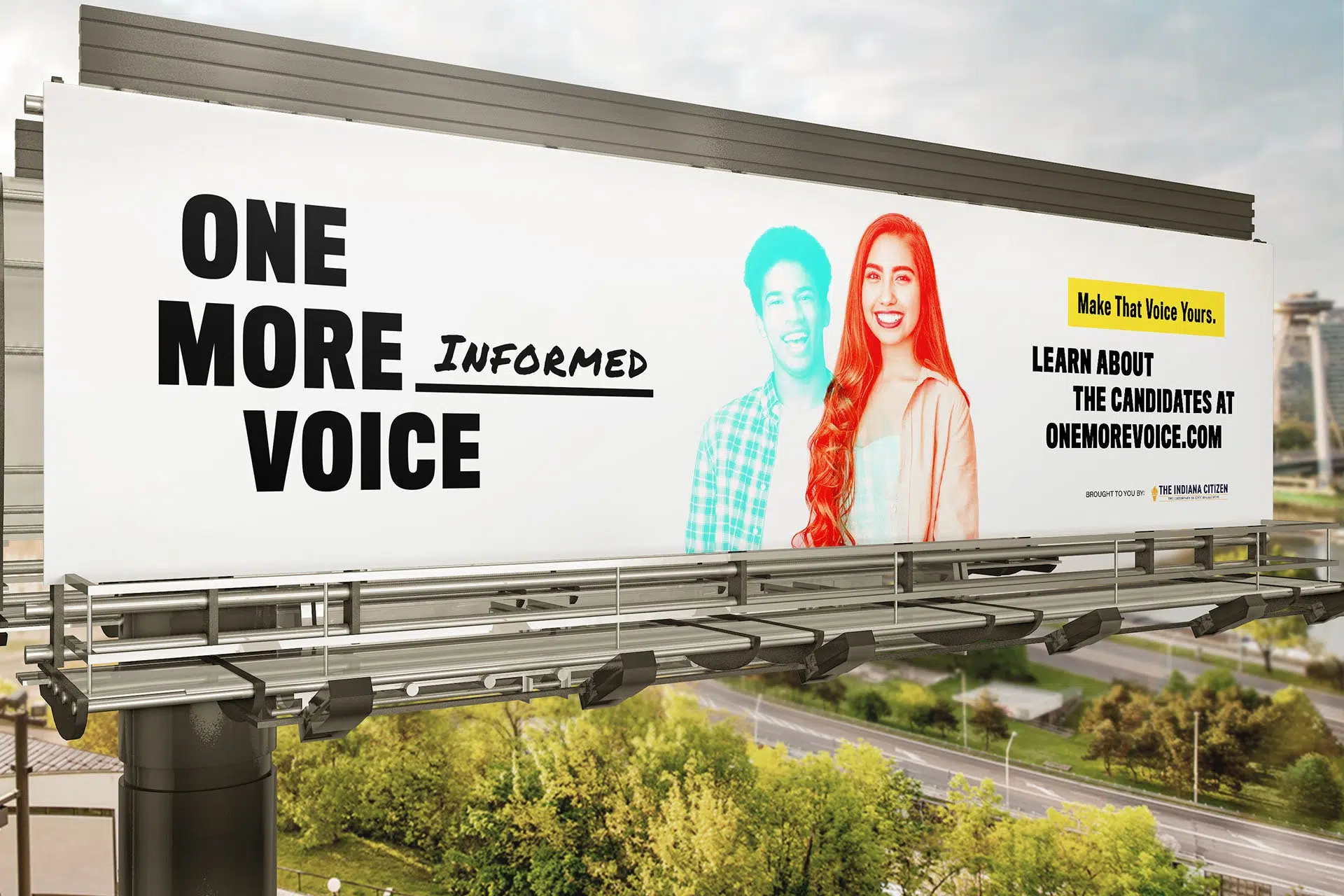 A critical part of the campaign was education, and the One More Voice website needed to fulfill the promise of making it super easy for visitors to find out in just a few clicks:
Who currently represented them
Who was on their 2020 ballot
Where their closest polling location was
In a short amount of time, we built a complex site that merged data from three different APIs (Google Civics, BallotReady, and VoteSmart), all while appearing simple and clean to users.
2020 was a greater voter showing across the U.S., including Indiana
The One More Voice campaign alone generated 13 million impressions at a miniscule cost per impression. Combine that with other national and local voter promotion efforts, and hundreds of thousands more Indiana voters voted in 2020 than in 2016. There's still a lot of ground to cover, but One More Voice got more Hoosiers involved in the voting process, and that's what we set out to do.
13 million total impressions
$0.62 cost per engagement
~153,000 new voters registered* from June to October 2020
260,949 more voters in 2020 vs. 2016*
*Other voting promotion efforts also contributed to this result
Interested in something similar?
Ask Joe how to get started.