Coppes Napanee has been in woodworking since 1876—we helped bring their brand into the 21st century.

The originator of placing the Lazy Susan in a kitchen cabinet,
Coppes Napanee
has been in the business of woodworking and carpentry since 1876. While the Coppes name has in the past been one of the biggest names in the cabinetry industry, recent leadership missed opportunities to maintain and evolve that reputation. In 2017, new leadership purchased Coppes in hopes of resurrecting the company, its reputation, and the overall brand to appeal not just to its past, but what designers and builders are looking for today.
WHAT WE DID
COMPETITIVE RESEARCH
TARGET AUDIENCE RESEARCH
BRAND MESSAGING + POSITIONING OVERHAUL
VISUAL BRAND + LOGO REFRESH
Your attention to detail is amazing. Your work ethic and ambition is refreshing. On my second phone call with Element Three, they all knew more about our company than most people do in our small town.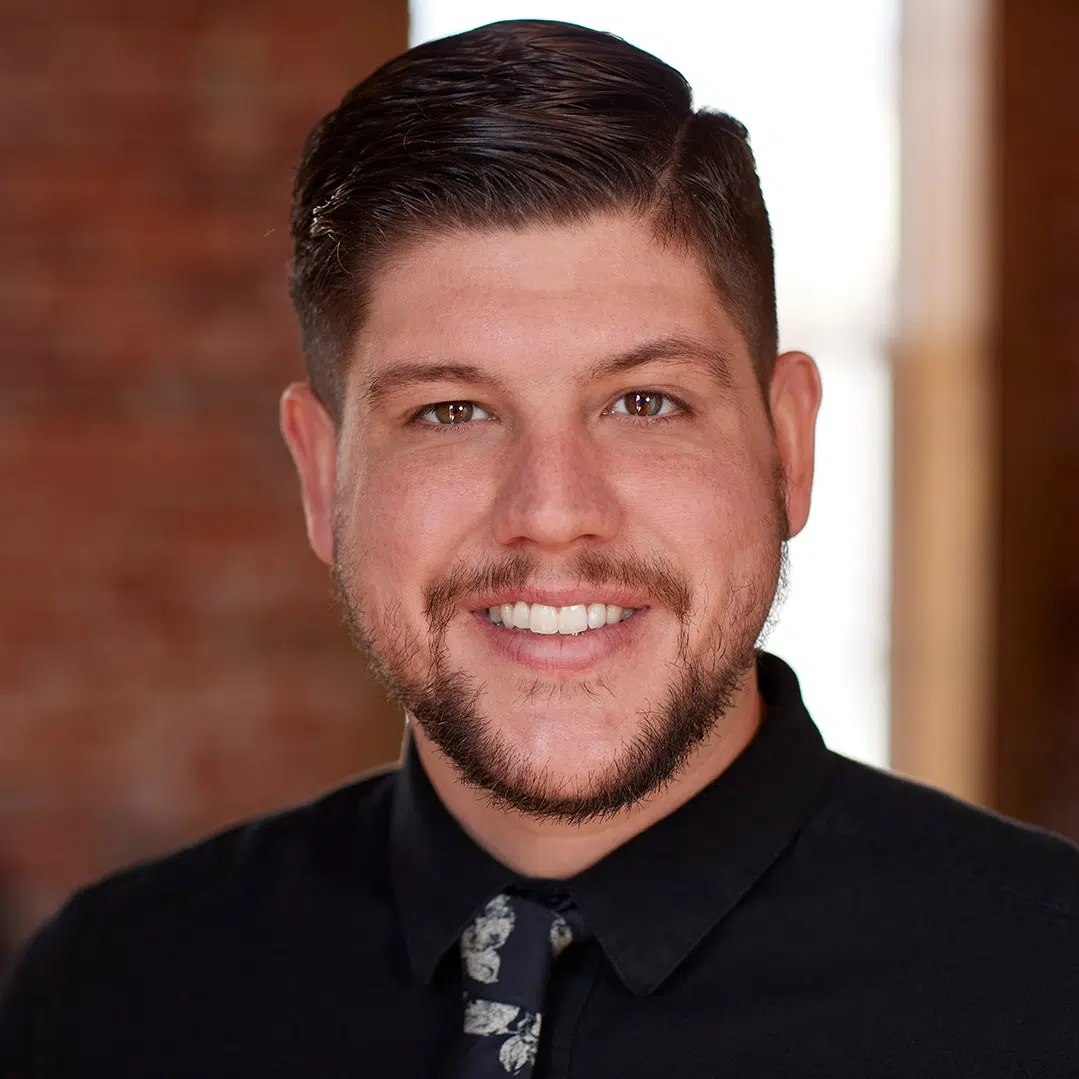 Wesley Mast
President, Coppes Napanee
Not just marketing—re-building a company from the ground up.
Right away it was clear this was more than your average logo or messaging refresh, and while Coppes Napanee was excited to get to marketing, we knew this was the absolute best time to bake in new values, positioning, and brand pillars that would not just support the new company direction, but also help shape it.
We started with a full competitive analysis. If Coppes wanted to stand out, what and who would they stand out from?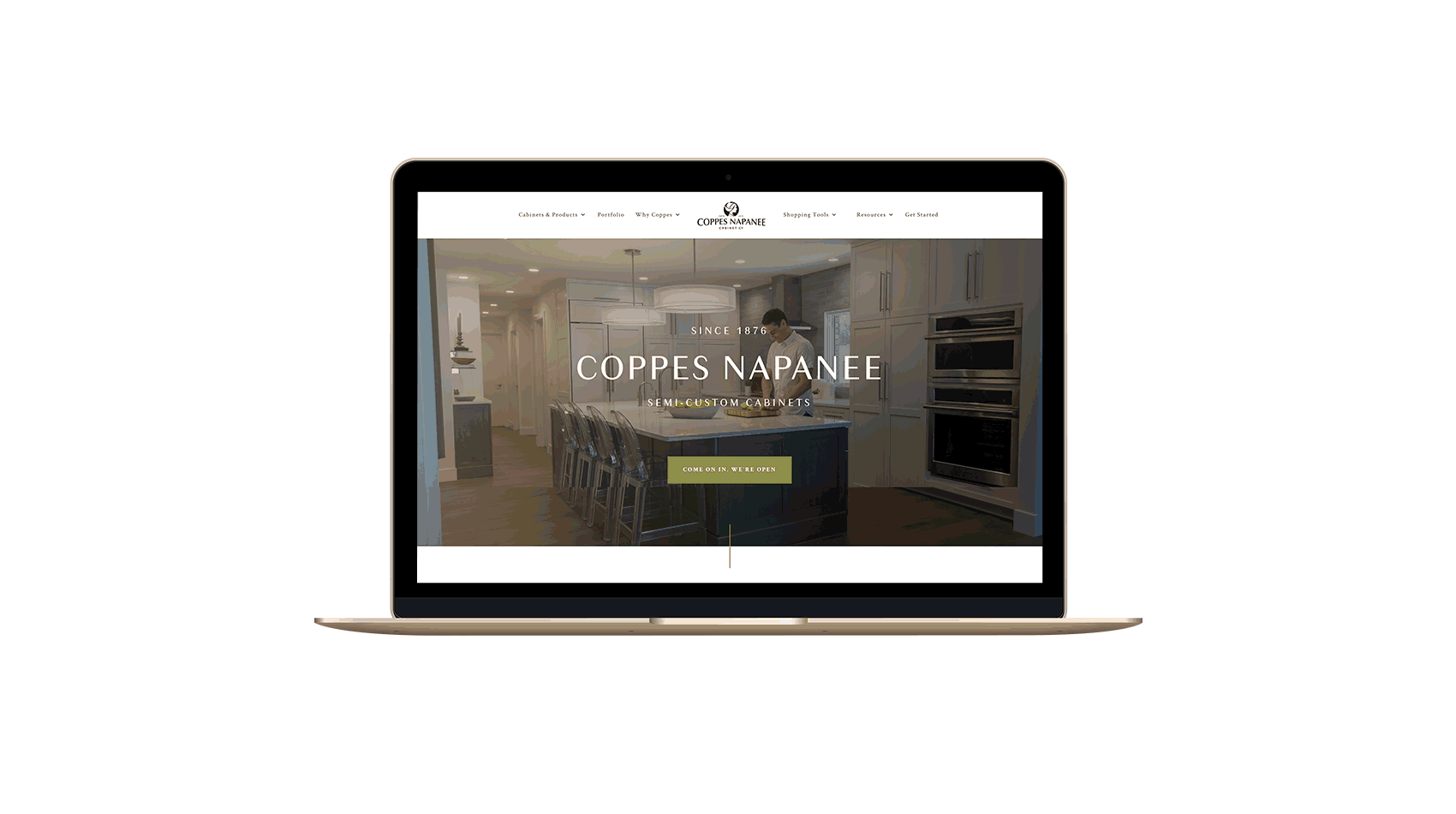 Meet the market, own the comeback.
When we looked at the competition, we found no real discernable brands—instead, we saw expected, average visuals. That told us Coppes Napanee had an opportunity to stand out, striking a balance between heritage and modernity.
To get to a strategy on how to actually stand out and strike that necessary balance, we conducted our own research with designers, dealers, contractors, and builders.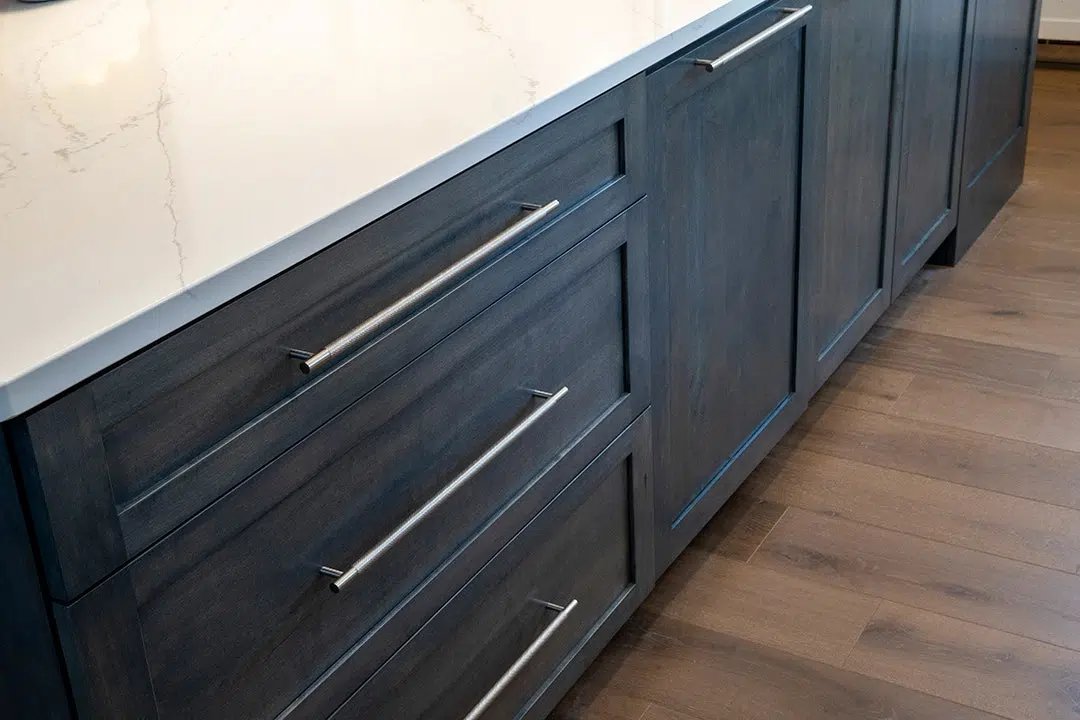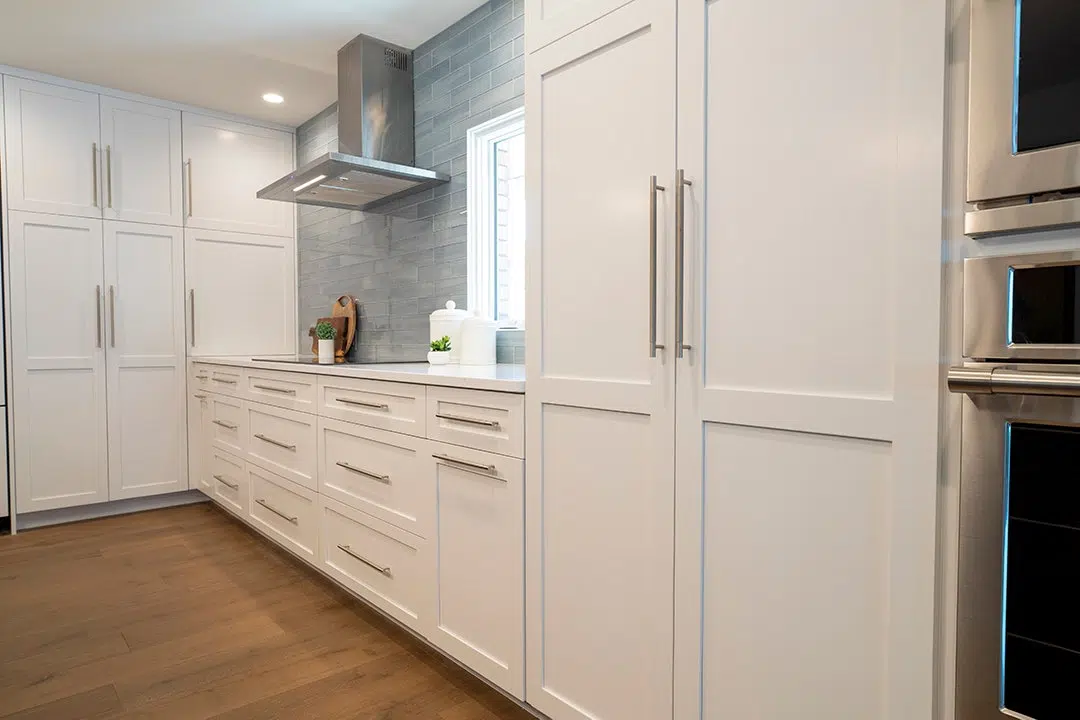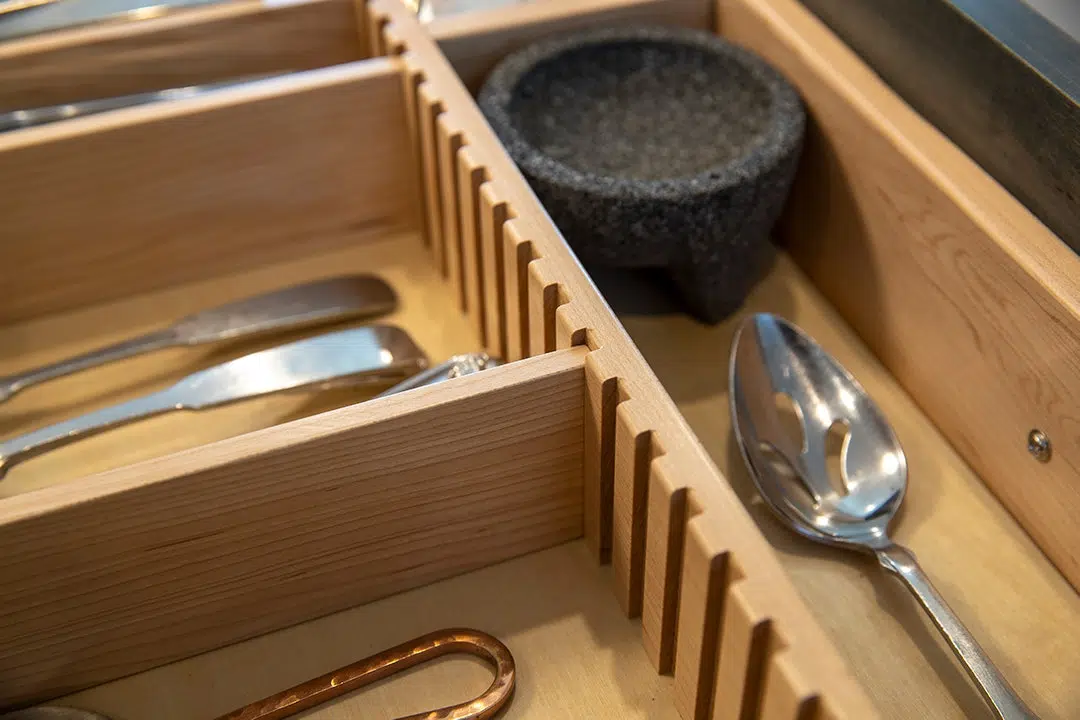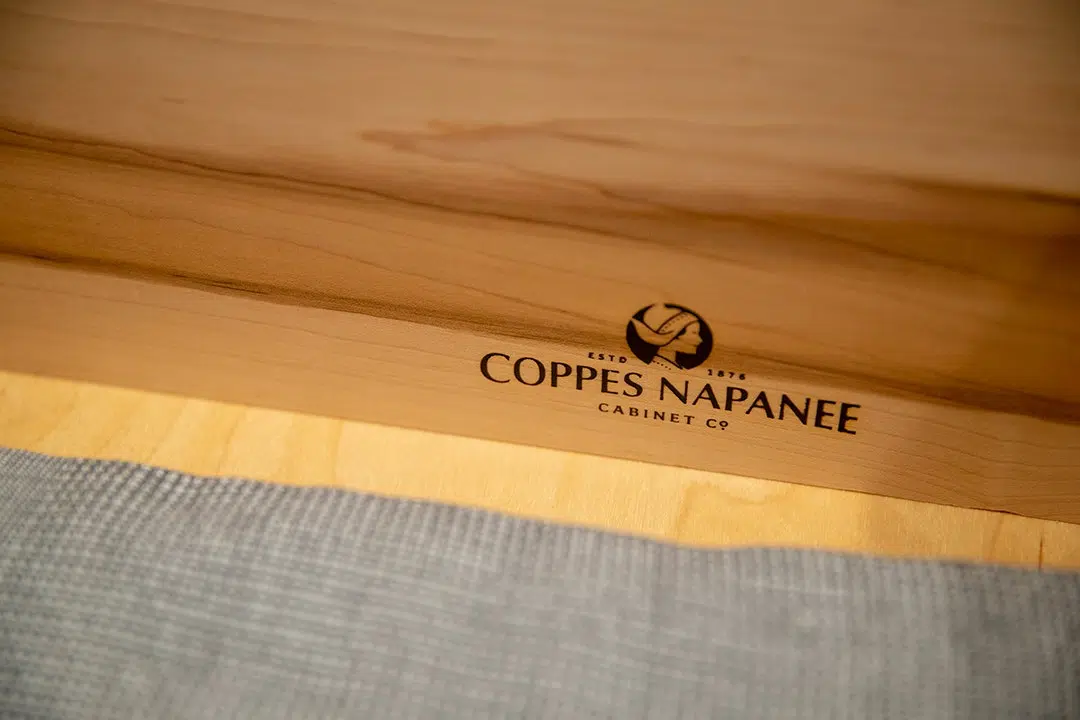 Product imagery to bring Coppes Napanee quality to life.
KEY AUDIENCES
Independent interior designers
Designer-dealers
Homeowners
Custom builders
General contractors
Right from the beginning of our interviews it was clear that Coppes' target audience is looking for the kind of confidence only experience inspires. Their clients are buying high-end appliances with 25-year lifespans. The cabinetry is expected to match that quality and longevity. Coppes can certainly answer that call. 145 years in woodworking has made them experts at crafting pieces that last—a rarity in today's world.
But quality is only one piece. The target audience is also looking for creativity. They want a manufacturer who understands and tracks the trends and can work from as little as an inspiration photo. They need the conversation to start from there, rather than having to educate a manufacturer about a style.
With those insights in mind, we recommended two key goals:
To meet the market, Coppes positioning needed to touch on company heritage, traditional techniques, and quality materials.
To stand out, Coppes had to own their comeback story and invite designers to be part of it.
EVOLVING THE GOLDEN CIRCLE FOR COPPES.
We're far from the first to use the Golden Circle model (inspired by Simon Sinek's popular first TED Talk). It's an exercise that helps any brand focus on what they really sell to the world—besides their products. Coppes had told the what/how/why story before, but it was time for an evolution to reflect more specificity in their promise and more reverence for what their customers are looking for today.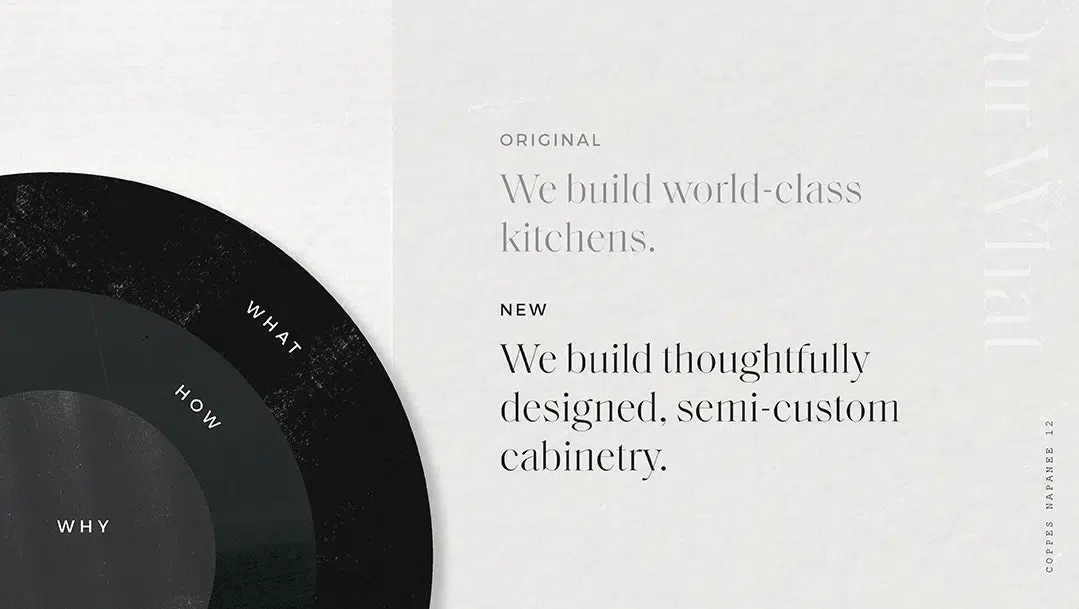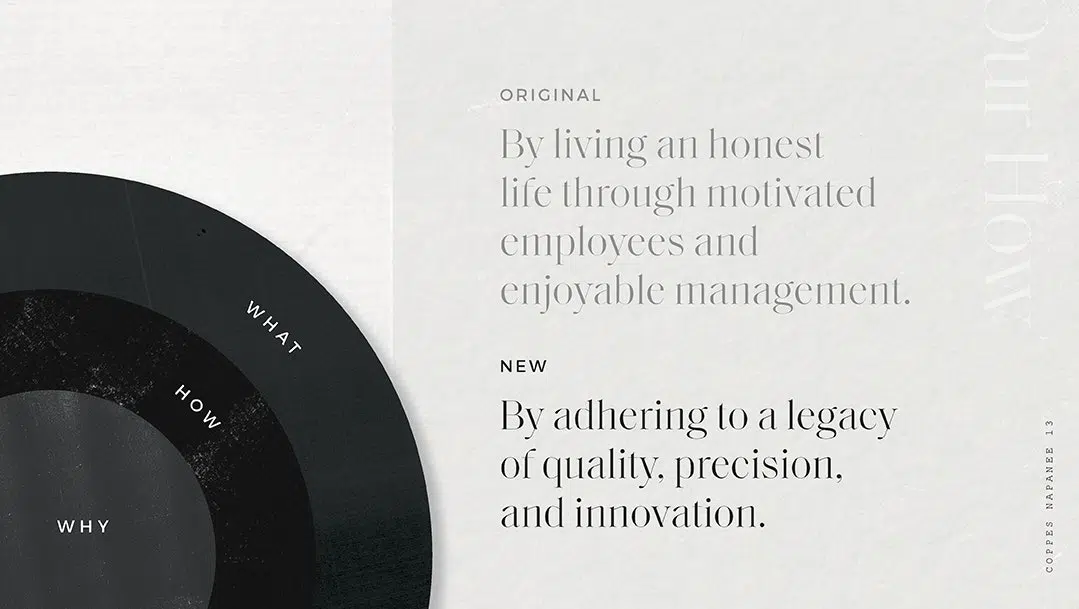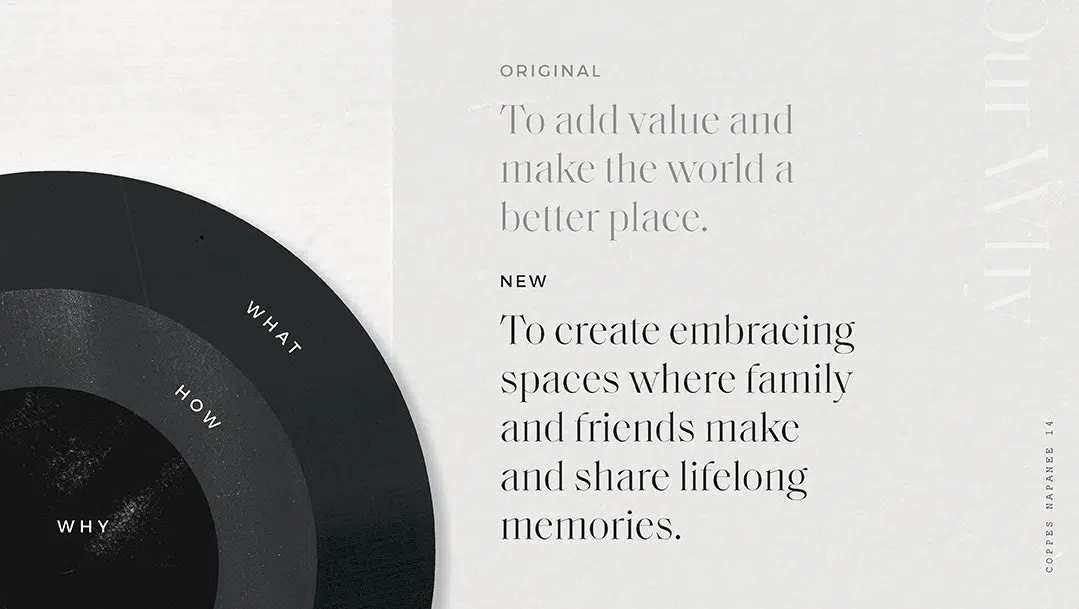 With Coppes under new leadership and through the refinement of the company values and competitive analysis, it was clear that while the current logo was very recognized due to its storied history, it was time to make an evolution and modernize the logo into a full logo suite that could be used in a wide range of places from digital to print to cabinet badging.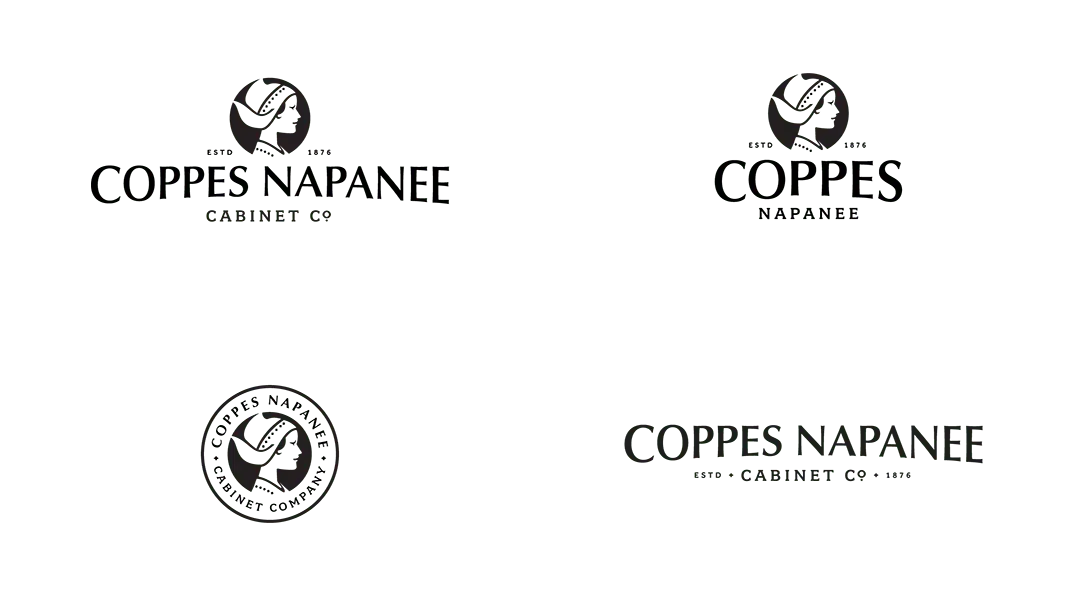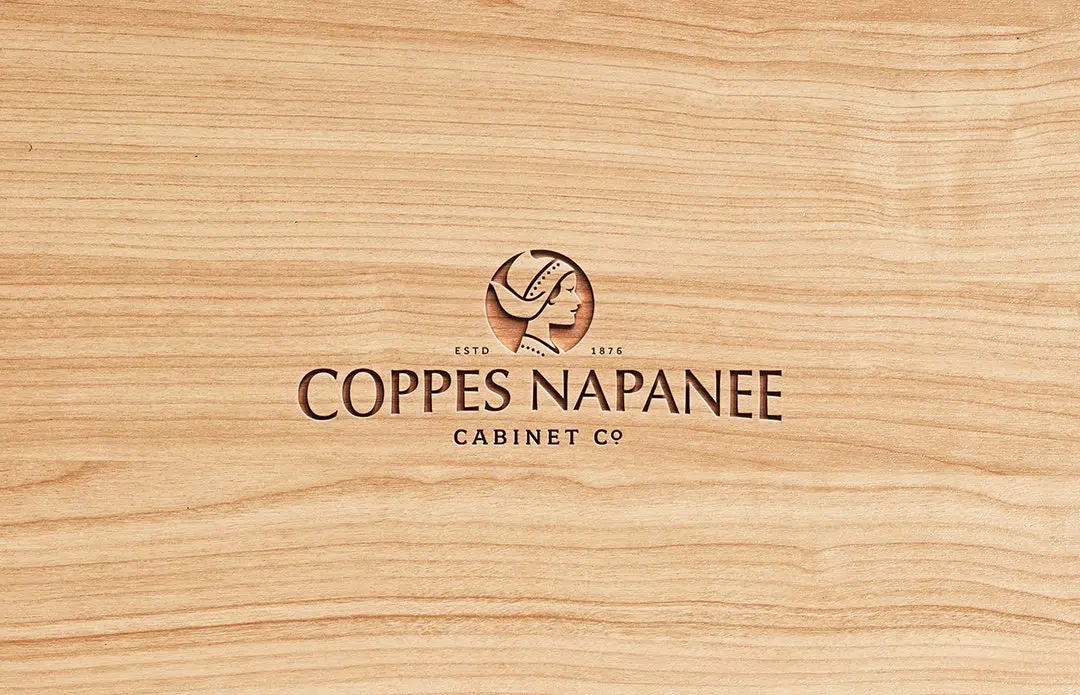 With the rollout of the new logo, Coppes has become a major conversation point within the community, with high praise for the updated logo and work efforts being put into the new products. Many people ask where they can get some of the new apparel that was produced for launch and promotional purposes of the new logo because they like it so much.
Interested in something similar?
Ask Joe how to get started.