A comprehensive guide to the all-encompassing, wildly-important thing we call "brand."
Developing a brand is a journey.
The term "brand" is a big one to swallow. When people use the word, they're often referring to parts of a brand—logos, fonts, color, identity, perception, messaging, mission—but not necessarily what a brand is in its entirety.
In its simplest form, a brand is a culmination of how you represent yourself to the world—and how the world views you, too. Because there are so many elements that make up a brand, creating a great brand isn't just challenging—it's a real competitive advantage. And it's why companies like Nike, Apple, and Disney are worth so much money.
As a marketing consultancy that recently went through this process and has helped clients across the board find their identity, we put this guide together to help other marketers not only understand the brand development process, but execute it themselves. Of course, we're always here if you need help. But otherwise, we hope you find it useful.
---
Let's set the record straight.
A brand isn't just a logo, font choices, and a color scheme. Instead, a brand is the combination of how a company defines itself along with how others perceive the company.
When that perception is misaligned, brands fall flat. If a company believes that their brand stands for authenticity and transparency but their customers have a deep distrust in the company, the brand isn't living up to its promise—and that can cause some real problems down the road for the company. Think angry customers, high turnover rates, and the commoditization of the thing they're selling.
The rebranding process, then, aims to uncover what's authentically true about a company, how that company can leverage their truth in the marketplace, how they bring that idea to life visually, and then how they reach their target audience. In short, rebranding is defining your identity, then making the outside match the new inside.
---
The brand process.
Brand development | The DNA
More strategic
The discovery of a brand's unique distinction and the development of communications about that distinction.
BRANDING | The TOOLS
More tactical
The tactical application and creative expression of that positioning in marketing materials—to deliver the brand's evidence of distinction.
BRANDING Strategy | The Roadmap
Strategic + tactical
A framework that lays out the who, what, when, where, how, and why of the organization's communication of its brand.
Developing a brand—from start to finish.
Creating a new identity and brand is an exciting journey. It's also a long journey. What many don't understand is that from start to finish, the process of researching, analyzing, defining, visualizing, creating, reviewing, revising, and rolling out a brand takes time—anywhere from 6 months to years.
On top of the process taking time, it's also emotional. Every person—from your customers to employees and leadership—feels entitled to the brand, so when a brand deviates from a person's view of what the brand should be, there's friction. On the other side of sticking to the process, though, is typically something great.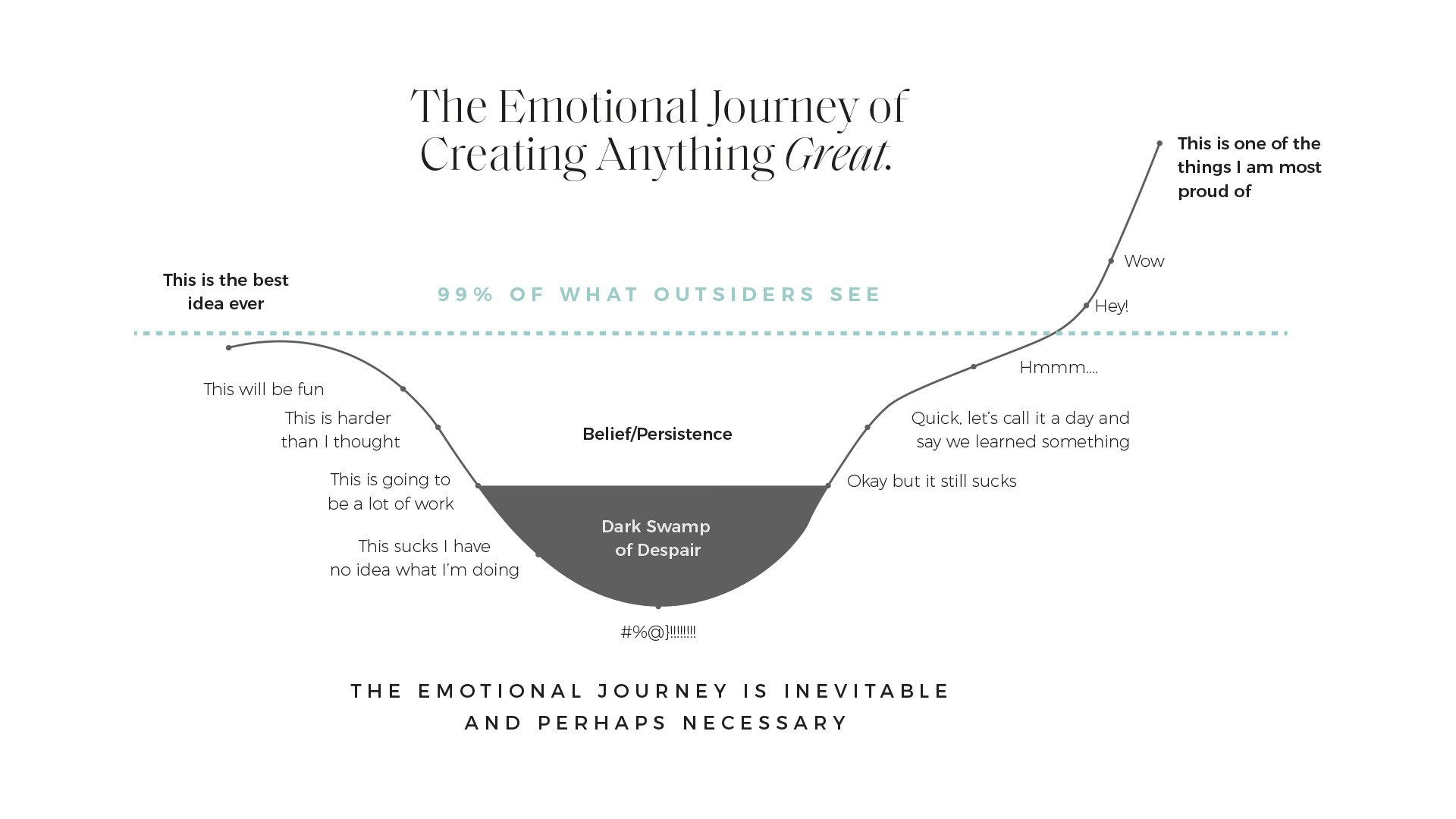 Research and analysis.
Finding the true core of your brand starts with research—plain and simple. You can make some assumptions, but if you only make assumptions, you'll end up spending time and money on a brand that's not all that impactful.
When digging in, the goal is to uncover two different perspectives—internal and external—to help you better understand where you stand in the market compared to the competition, what marketing and communications you're actively pushing into the market, and how others perceive you.
---
Perspectives needed:
Internal Stakeholders
Employees, board members, CEO, investors
external Stakeholders
Customers, clients, users
---
Types of research:
Surveys
Interviews
Focus Groups
Digital Analysis
---
Research outcomes:
Competitive Audit
Answers: What are my competitors doing? What are they doing in the market? Who am I competing with? How do they market themselves?
Brand Audit
Answers: How are we marketing ourselves? What message are we sending to our customers?
Brand Perception
Answers: How do our customers describe us? How do our employees describe us? How does our leadership describe us? What do we stand for?
Analysis
Chances are, some answers and data from your research surprised you—that's good. The analysis part of the brand development process is all about sorting through the data and understanding what rings true to your company at its core.
From the data that you've gathered, you're looking to answer foundational brand questions that will guide every decision you make going forward.
Definition: Why a brand exists. A mission statement.
Example of our brand purpose: To foster growth in people and business so they can change the world.
Definition: Business differentiators. What a brand does that's different or better than the competition.
Example of our value propositions: Story, strategy, scorecard
Definition: A group of companies with whom you compete.
Example of our brand category: Marketing consultancy
Definition: A subset of a brand category that a brand wants to own.
Example of our brand niche: Accountable Transformative Marketing
Definition: What the market thinks of a brand.
Example of our brand position: We build and defend market leaders
Definition: Target audience. The groups a brand sells to.
Example of our personas: Savvy C-Suite (Small Enterprise), Obsessive Owner (Growth Stage Business), Maturing Marketer (Growth Stage Business)
---
Breathing life into your brand.
The difference between brand and branding is, as Associate Creative Director Jess Husek puts it, "the difference between a noun and a verb." Meaning that you work to define your brand, and the creative expression is the process we call branding.
Once you have your brand foundation set, you can start the process of branding—forming the visual identity, messaging, and tone that will wrap around the core of your brand. Defined, branding is really just the tactical application of your brand positioning in marketing materials—to deliver the brand's evidence of distinction.
The process.
Because your brand has a lot of different stakeholders, bringing your brand to life both visually and from a personality standpoint can be a long process. While you want to keep everyone involved—from leadership to the marketers using your brand daily—having too many people calling the shots can lead to a watered-down result.
If you're rebranding on your own and aren't seeking help from an agency or consultancy, be intentional about who is involved in review meetings and when stakeholders are brought in. One one hand, hiding everything your brand team is working through and presenting a "final version" to stakeholders can be risky. On the other hand, bringing in stakeholders too early and too often can lead to a muddled message. Our advice? Be really clear about the roles on the project and the roles of reviewers along the way. When going through our most recent rebrand, we created an accountability chart that looked like this:
Advise: Darren (Executive Creative Director)
Strategy: Tiffany (CEO)
Project Lead: Mollie (Marketing Manager)
Creative/Brand Lead(s): Taylor (Senior Art Director), Jess (Associate Creative Director)
Manage: Amy (Project Manager)
The creative and brand leads would bring their concepts and moodboards to the project and strategy lead. After feedback was given and concepts were revised, the strategy lead would present the concepts to the Element Three executive team. Then, once we felt really good about a direction, the creative and brand leads would build out the visual identity and messaging, and start creating the marketing materials we needed to launch the brand. All of which was coordinated by our project manager.
Brand guidelines.
The end result of rebranding is a new set of brand guidelines—which include everything from elevator speeches and personality charts to logos, fonts, colors, and imagery. The purpose of brand guidelines is simple: to give your brand consistency and flexibility. As our Content Marketing Specialist Thomas Wachtel puts it, "Yes, they are often used by designers to make certain they're using the right fonts, color palette, and versions of your logo. But effective brand guidelines should be much more than that—smart organizations use brand identity guidelines as a resource that everyone in the company can use to understand how to represent their brand."
Here's a look at our own.
---
Get ready for the rollout.
At this point, it's been months—maybe even a year or longer—since you started the brand development process. Don't cut corners on the branding strategy part of the journey—the who, what, when, where, how, and why of the organization's communication of its brand. The branding strategy is the roadmap that shows how you'll get your message across to specific audiences.
In the short term, this looks like the brand rollout—how you'll introduce the rebrand to the market, your internal employees, and your customers or clients. On top of that, you'll need to make sure that everything from your Facebook page to your website and email signatures are all updated and ready to go.
Example asset checklist for a rebrand.
Communicating to all stakeholders.
When we rebranded, we knew we had three distinct audiences to tell—our clients, our people, and the market.
We also knew that the message and the medium for each audience needed to be tailored and intentional to make it meaningful. For our clients, it was about the why behind the rebrand. For our own people, it was about informing them about the rebrand, where to logistically find assets, and how they could help with the external launch. For the market, it was about generating hype. Here's how we approached each audience.
---
Client communications:
Letter from our CEO explaining the why behind the rebrand
Personalized letter from CEO and strategy leads
Hype video and inside look before the actual brand launch
---
Market launch:
Social media push from E3ers
Brand launch video
Content amplification through employees