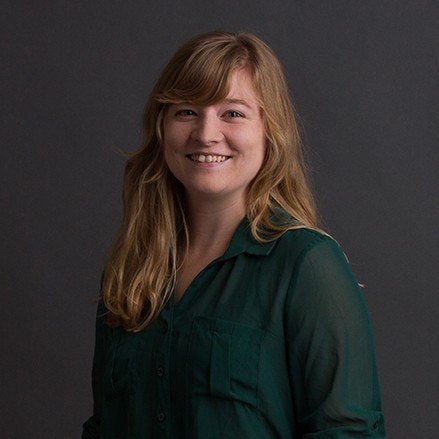 While Laura was born in South Bend, most of her childhood was spent growing up in Wabash, Indiana. Which, in case you didn't know, is known not only for being the hometown of singer Crystal Gayle, but also as the "first electrically lighted city" in the United States. (Okay, it may have been just a single beacon on top of the courthouse, but still.)
We originally found Laura through LinkedIn (yes, it really does work!) and after seeing her outstanding portfolio knew we wanted her here at Element Three doing that same kind of work for our clients.
When it comes to her job, what Laura likes the most is, "the challenge of translating complex ideas into smart visuals and making work that's both effective and good-looking." And as an added bonus, "I get to interact with really smart, funny people all day."
Laura got her bachelor's from Ball State, where she majored in Visual Communications. She also got a minor in Landscape Architecture because, as she puts it, "I'm nerdy about plants." Which would probably explain the three plants on her desk she's nurturing along as well as the fact that her dream job would be to own a greenhouse or do floristry.
Laura currently shares her home life with her brown tabby cat, Winston, who can fetch like a dog and drinks almost exclusively from the faucet.
BACK TO TEAM PAGE