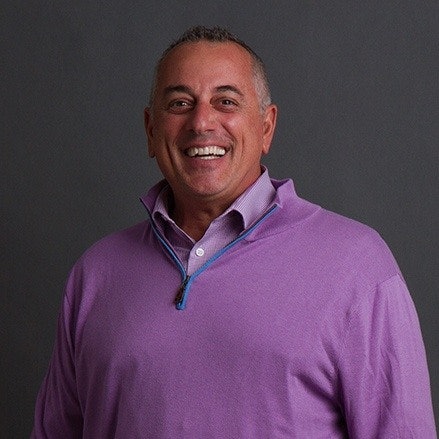 "Creativity is intelligence having fun."
While it's a quote attributed to everyone from a Harvard Magazine author to some guy who went by the name of Albert Einstein, perhaps no human being embodies the above notion quite like Jeff Lewis.
A sharp-minded and enterprising creative molded by more than three decades in marketing, Jeff is a true believer in the power of the BIG idea and has led both agencies and in-house teams on brands like Lowe's, IBM, John Deere, Callaway, and Hilton.
A native of Clarkston, Michigan, Jeff made like Will Smith when he told his parents, "I'm going to Miami" before heading to South Beach to attend college. But his love for art and design was born years earlier, when, as the son of two entrepreneurs, Jeff was able to interact with the marketing agencies hired by his parents.
"I thought, wouldn't it be awesome if I was paid to be creative all day?"
Today, Jeff possesses the equivalent of a masters degree in brand development, interactive and motion design, retail marketing, and more, but perhaps his most meaningful characteristic revolves around his natural ability to get the best out of talented people.
My favorite thing about what I do is motivating and inspiring the creation of great work. Success is the result of culture. The key is surrounding yourself with the right people, garnering their full investment, and working as both a collaborator and a leader with equal passion.
And in spite of all of the hours spent, effort given, and sacrifices made over the years, he's never stopped having the time of his life.
"I've been a creative my entire career and I'm so grateful that I get to do what I love every day."
Jeff lives with his wife, Holly, and their three kids. He loves cooking, traveling, and building furniture, and is an enthusiastic supporter of both cancer research and wildlife conservation.
BACK TO TEAM PAGE