Senior Development Operations Engineer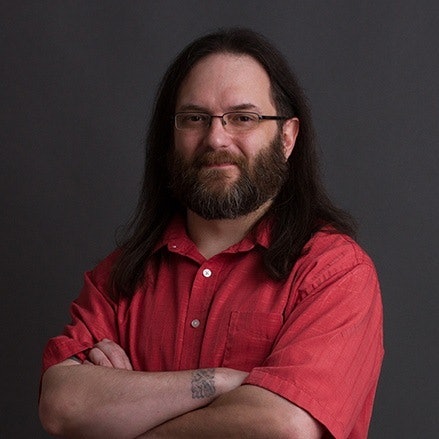 Ed was born in Kent, Washington, just south of Seattle, but spent most of his formative years landlocked in Kentucky. Which was great for him as a boy because he got the chance to do a lot of hunting and outdoor exploring.
After a stint in the Navy, Ed studied music at Western Kentucky University. From there, everything he learned came from the school of hard knocks.
He's done many different things in his life and plans to keep doing so, but what he enjoys about the marketing business is the ability to provide solutions to people's problems. And what he enjoys most about Element Three (and you'd probably hear this from many of us) are the people he gets to work with.
You may not expect this from somebody who was awarded Expert Marksmanship in Pistols and Rifles while in the Navy, but Ed also has his artistic side. One of his many hobbies is painting fantasy and sci-fi miniatures, and he's "fluent" in guitar and drums.
When asked what one item on his desk best says "Ed," he replied, "My replica of Andúril under my monitor."
Ed's an explorer of many things, and we're happy to count him as one of our own.
BACK TO TEAM PAGE