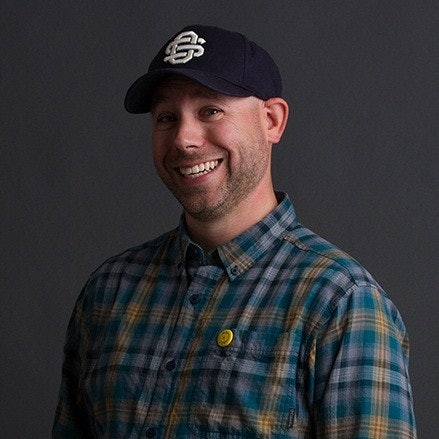 Most people who meet Drew come away thinking, "That guy was born to create." And you know what? They're right.
A second-generation Creative Director, Drew refers to his father as a "jack-of-all-trades creative." But it wasn't Dad who led Drew to his calling. He found it all on his own.
"My dad never nudged me to follow in his footsteps. He allowed me to find my own path."
That path formally began at the Cincinnati Academy of Design. From there, Drew spent 14 years in the advertising industry – winning numerous Addy awards and even a Judges Choice nod at the One Show RX Awards – before landing at Element Three in 2014.
"I can't imagine doing something else for a living."
And even when he's giving back and having fun, Drew is – you guessed it – creating.
He's the co-founder of INCH x INCH, a non-profit monthly button club Drew and his buddy Bob began to support youth art education programs.
Our experience as kids really set us up and put us on the path to where we are today. It's important to us, as fathers and creatives, to find ways to give back to the art community.
Drew and his wife are parents to twins born on Friday the 13th, Preston and California, and Tobie, an English bulldog mix.
BACK TO TEAM PAGE