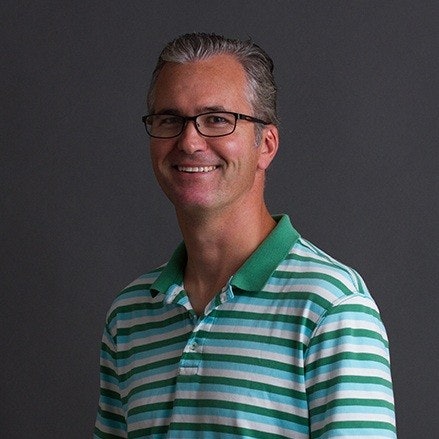 As the son of an Air Force pilot, Derek spent a lot of his youth traveling the globe. Born in Victorville, California, he's also lived in Okinawa, Japan; Abilene, Texas; Austin, Texas; Bossier City, Louisiana; Mildenhall, England and finally Kokomo, Indiana, where his dad retired from Grissom Air Force Base.
Derek left Indiana University Bloomington with a bachelor's degree in English, and after nine years as a reporter, he transitioned to marketing when, as you'd expect from a reporter, he spotted a concerning trend in his field. Namely, his friends were losing their jobs.
So Derek worked for two years at a local search engine optimization company before joining Element Three. He began here as a content strategist before embracing his current role as a copywriter.
Home life's pretty busy at the Smith household. Not only does Derek have two young daughters, Sophia and Susanna, but he and his wife, Michelle, also have a spirited golden retriever named Yeagley. And a cat named Savannah who's usually hiding under the bed.
On a fall Saturday morning, you might find Derek in New Palestine coaching one of his daughters in soccer, a sport he played growing up.
BACK TO TEAM PAGE