Storytelling has been an intrinsic part of what makes us human since there have been humans. From cave paintings and oral traditions to the printing press, radio, television, and the internet, our history as a species rests on the foundation of the evolution of how we tell our stories, and how we communicate. They're part of who we are.
And that's why stories are a critical part of your marketing—probably the most important part. Brand is the story of your business, and emphasizing that story has a lot of benefits for your marketing and for your business as a whole. Let's see what those benefits are.
Stories grab attention
As marketers, we tend to realize that we're interlopers in people's lives. Very few people actively seek out advertisements; in fact, from the DVR to online ad-blockers, most people are looking for ways to decrease the amount of marketing in their lives. Be that as it may, when you're trying to run a business you have to get the word out, so we try to find ways to do that while ingratiating ourselves to our audience—or at least trying to make sure they don't hate us.
Storytelling is one way to do that. People are inherently more interested in reading or watching something fun than they are a string of boasts or list of stats and features. Yes, once a prospect is interested in your brand those things can help close the deal. But that can't be what you lead with. Lead with the family whose life is changed because of your RV, or the business owner who becomes a local leader after your product cuts costs in half. Stories are a huge part of how we make decisions, so starting with story will pull someone in quicker than simply telling them you'll save them money.
Stories sell better
Stories don't just build interest in your brand—that in and of itself would be helpful, as your brand followers can spread the word about your business even if they don't actually buy anything. But you're in this for the sales; luckily, story boosts purchases in addition to simple interest.
Thinking about sales logically would lead buyers to simply compare the pros and cons of each option in the market and choose the one that best fits their needs. But we all know that's not usually how it works. Some buyers ignore the benefits of a superior product in favor of the one their gut directs them toward. Or maybe there are several options that would all be similarly effective, and the buyer simply is forced to make the decision based on other criteria.
This is more common than you might think. For prospects early in your marketing or sales funnel in particular, your story can be what brings them in and gets them to start considering a purchase. Most prospects are buying based at least partly on emotional connection, so if you're not selling that way you may be falling behind. Storytelling is one way to engage emotionally, meaning that if there's a story behind your business and brand, you're likely to start out ahead of the pack when it comes to selling.
Your story sets you apart
One of the benefits of basically living in the future is that technology has lowered the barriers to entry in many industries. It's a lot cheaper and easier to enter the marketplace, which means in turn that the marketplace becomes more crowded. In a lot of ways, this is a positive thing—more competition spurs improvement, as every business fights to get (or stay) on top. But in terms of marketing, it definitely makes things a lot tougher.
Depending on your industry, there could be a lot of businesses saying roughly the same thing about roughly the same products or services. You could simply hope that enough people pick you over the rest so that you can stay in business, but that's as bad a plan as it sounds. Setting yourself apart from the competition is a must.
One way you can do that is by telling your brand's story. As each person has a different life story, every business is unique, even if they appear to share almost all common traits from the outside. Consider, for example, GEICO and Allstate. As insurance companies, they're offering roughly the same product: home and auto insurance, primarily. But they're doing it in very different ways. GEICO was originally formed to cater to employees of the federal government, but has grown into the second largest auto insurer in the country since opening up to the general public (and inundating Americans with commercials, which we'll get to). Allstate was formed as a division of Sears, but is now independent and ranks as the second largest total insurer in the United States. They're behemoths of an industry that many people take for granted, so how do they convince people to buy from them rather than the other (or State Farm, or American Family, or Nationwide, etc.)?
You guessed it—it's through storytelling. GEICO and Allstate speak to prospects in very different ways, which you likely know if you've watched any live television at all in the past ten years. Allstate emphasizes the unpredictability and even danger of life, casting themselves as the ones who can protect us from mayhem. Literally, in their case, as their current mascot is Mayhem, as played by Dean Winters (also known as Liz Lemon's ex-boyfriend and Beeper King on 30 Rock), who ruins everything from tailgates to a Sunday drive to simply having a tree outside your house. According to Allstate, the world is full of danger, but with them, "you're in good hands." It's a little dark, but Winters' performance as Mayhem is entertaining enough and the situations are extreme enough that the ads are more funny than frightening.
Allstate's "Mayhem"
On the other hand, for GEICO it's all about simplicity and savings. They aren't talking about everything that can go wrong in your life. It all comes back to one thing: "fifteen minutes could save you 15% or more on car insurance." They don't make bold claims about their coverage, they simply tell you that it will be easy to get and it will be cheap. And like Allstate, they do it with a bit of style. Actually, a lot of different bits of style—off the top of my head, I can't think of another major company that has used a wider variety of different sub-campaigns. The gecko, the cavemen, the "hump day" camel, the squealing pig, the rhetorical questions...it's a lot. But the fact that so many are memorable shows how GEICO's been able to set themselves apart.
The two insurance giants are selling mostly the same thing, with some details changed. And at the end, those details (the degree of coverage, the cost) may be what solidifies a buyer. But we identify businesses in commoditized industries by their brand—that's where it starts, where one truly sets itself apart from the rest. No matter the industry or the size of the business, the story you tell makes you unique.
Being part of a story is enticing
Everyone wants to be a part of something. Like storytelling, it's just part of human nature. So obviously it's beneficial to leverage that natural impulse when we sell to someone. And storytelling itself is a big part of how we associate with each other. As Pamela B. Rutledge Ph.D., M.B.A., said on Psychology Today, "stories are the pathway to engaging our right brain and triggering our imagination. By engaging our imagination, we become participants in the narrative."
When we build a story around a brand, it gives the brand the ability to "recruit" prospects to its cause. You're not just buying a product or a service, in essence you're joining a team or living a lifestyle. This is true in particular for so-called "lifestyle brands," which have evolved their brand and story to the point where they're not selling a product or service as much as they are selling themselves as an experience. Customers aren't typically buying because the product is the best (though it might be the best), but because it makes them a part of the club. If your brand reaches this point, you've basically beaten the final boss of marketing, and you need to protect and cultivate that at all costs.
This, of course, doesn't just apply to recruiting new customers, but also to new employees. No person chooses an employer because they want to feel like a cog in an impersonal machine. They want to be a part of something, fighting for a cause and doing work that really matters. Your brand story provides this meaning, as long as it's real and not contrived.
Say only what you mean
That's perhaps the most important point: your brand's story has to be real. You can't simply invent something from nothing—everyone you're trying to sell to, from customers and prospects to investors and talent, will see through it. Your story has to reflect something that's inherently true about your brand, which in turn has to reflect something that's inherently true about your business. The best way to ensure this is to set the foundations of your brand and story in the personality and history of your founder or your president, or even in your preferred customers.
Whatever your brand, one thing is certain: in today's crowded landscape, more discerning customers and talent aren't just buying from anyone. They're buying where they feel they connect with a brand. Because of that, storytelling isn't just an important part of your business' brand. It's absolutely critical to your organization's success.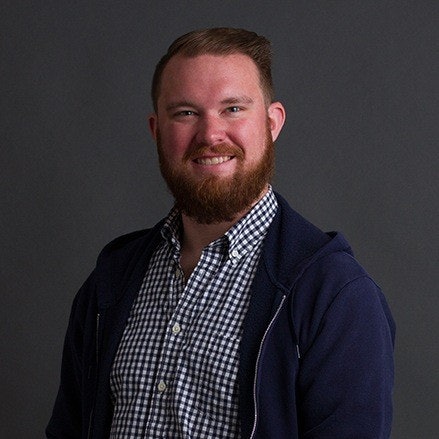 When things get written here, whether it's a blog post, a print ad or a comprehensive brand plan, Thomas is the one who makes sure all the I's are dotted and T's are crossed. Because nothing ruins written work like a typo.
Feed your marketing mind and keep your skills sharp by opting into our weekly newsletter, packed with lessons we've learned firsthand. You won't regret it.